Eyeko Skinny Liquid Eye Liner in Black | £12.00 |
LINK
For me, no makeup look is complete without a pop of liquid eye liner to my upper lash line. When I was younger I remember being told by one of my friends that my known makeup look was a flick of eye liner and mascara - and that really hasn't changed! I've been testing out many liquid liners over the past few years and last year I came across the brand
Eyeko
and their Skinny Liquid Eye Liner that was free with a copy of Glamour magazine. I completely fell in love with this eye liner and only used it on special occasions as I didn't really have the money to repurchase it if it ran out! Obviously after a while I did run out so I had to find new and cheaper alternatives to the lovely Eyeko liner.
Recently Glamour has done the same freebie and I was able to pick up a brand-spanking new eye liner for a mere £2! I've actually seen quite a few mixed reactions to this eye liner, so I thought it would be good to share my thoughts and opinions on the Eyeko Skinny Liquid Eye Liner!
The Eyeko liquid liner comes in a sleek bright blue box and, as you may know, I love it when makeup items come in their own boxes because it always makes them feel a lot more expensive. The liner itself is a thin silver pen that fits in your hand perfectly and makes applying it super easy!

With this month's Glamour magazine, the Eyeko Skinny Liquid Eye Liner came in both a navy and black shade, and as I'm a lover of the classic liner look I opted for the black shade. What I love about this eye liner is how opaque and jet black the liner comes out on the skin. As it has a super skinny felt tip applicator it allows you to either create a super thin line for an everyday natural look or allow you to build up the intensity and create a thicker, cat like effect! The felt tip applicator is also quite long and has a good amount of flexibility which adds to the ease of applying it.
Once applied to the eye, the skinny liquid liner dries fairly quick which helps minimise any smudging or transferring. Throughout the day I find that the liner stays put and doesn't start to smudge or fade until the end of the day. I'm really impressed with how well this liner lasts on the eyes as I've never found it to go patchy or fade, even in really hot weather! Despite being really long lasting, the skinny liquid liner is easy to remove with a bit of eye makeup remover and a cotton pad which is always a bonus for those of us with sensitive eyes!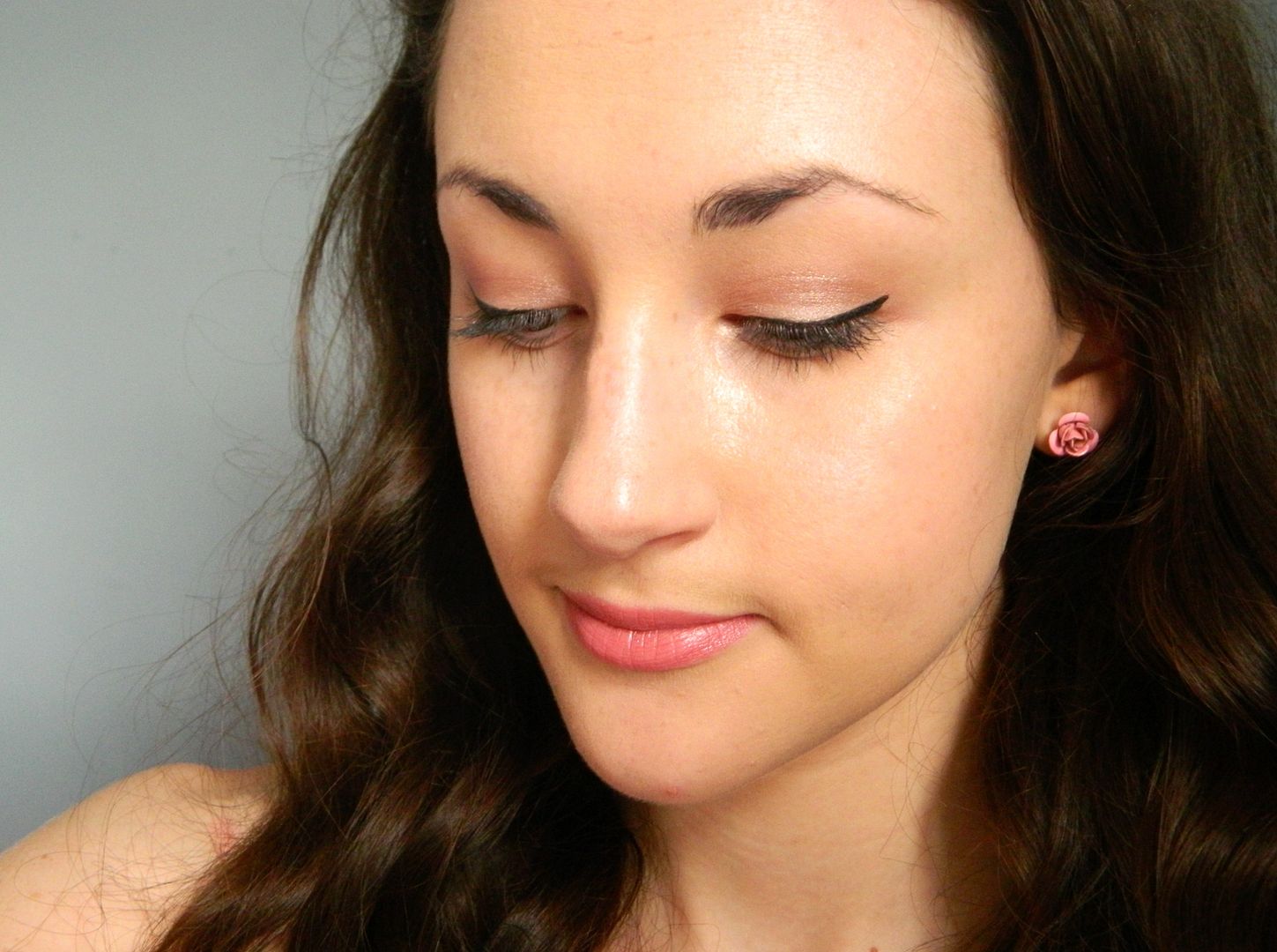 Overall I personally think the Eyeko Skinny Liquid Eye Liner is a great piece to keep in your makeup bag! I've also read that many people found that this eye liner dried up really quick, but even with my older one I never found this to happen and it still produced an opaque black line after a few months of using it. For me this eye liner works really well and is definitely one I would consider repurchasing in the future, or I could always stock up on Glamour magazines haha! I believe you can still pick up this eye liner as a freebie, so be sure to pick up a copy as soon as possible!
Have you tried the Eyeko Skinny Liquid Eye Liner?