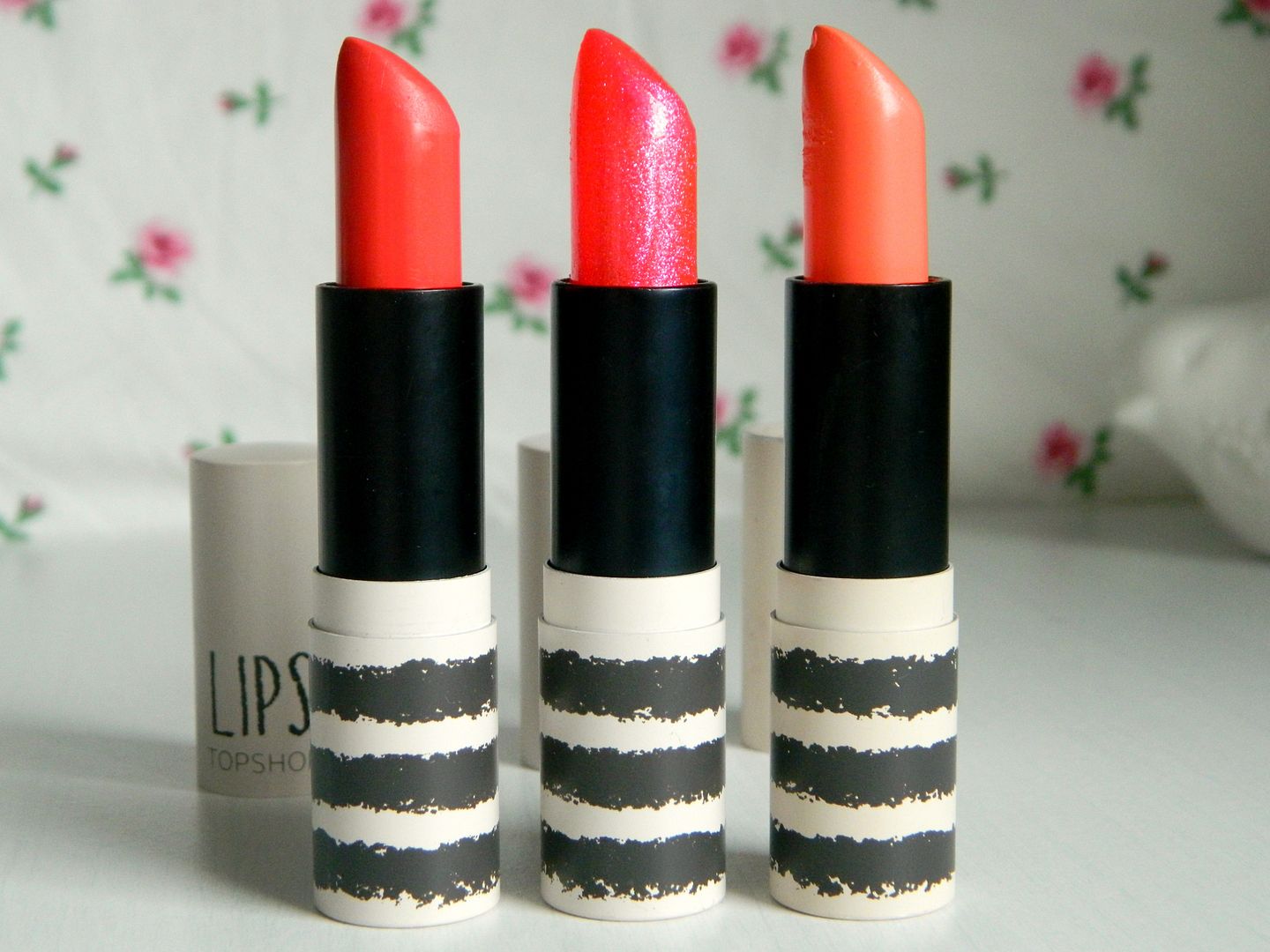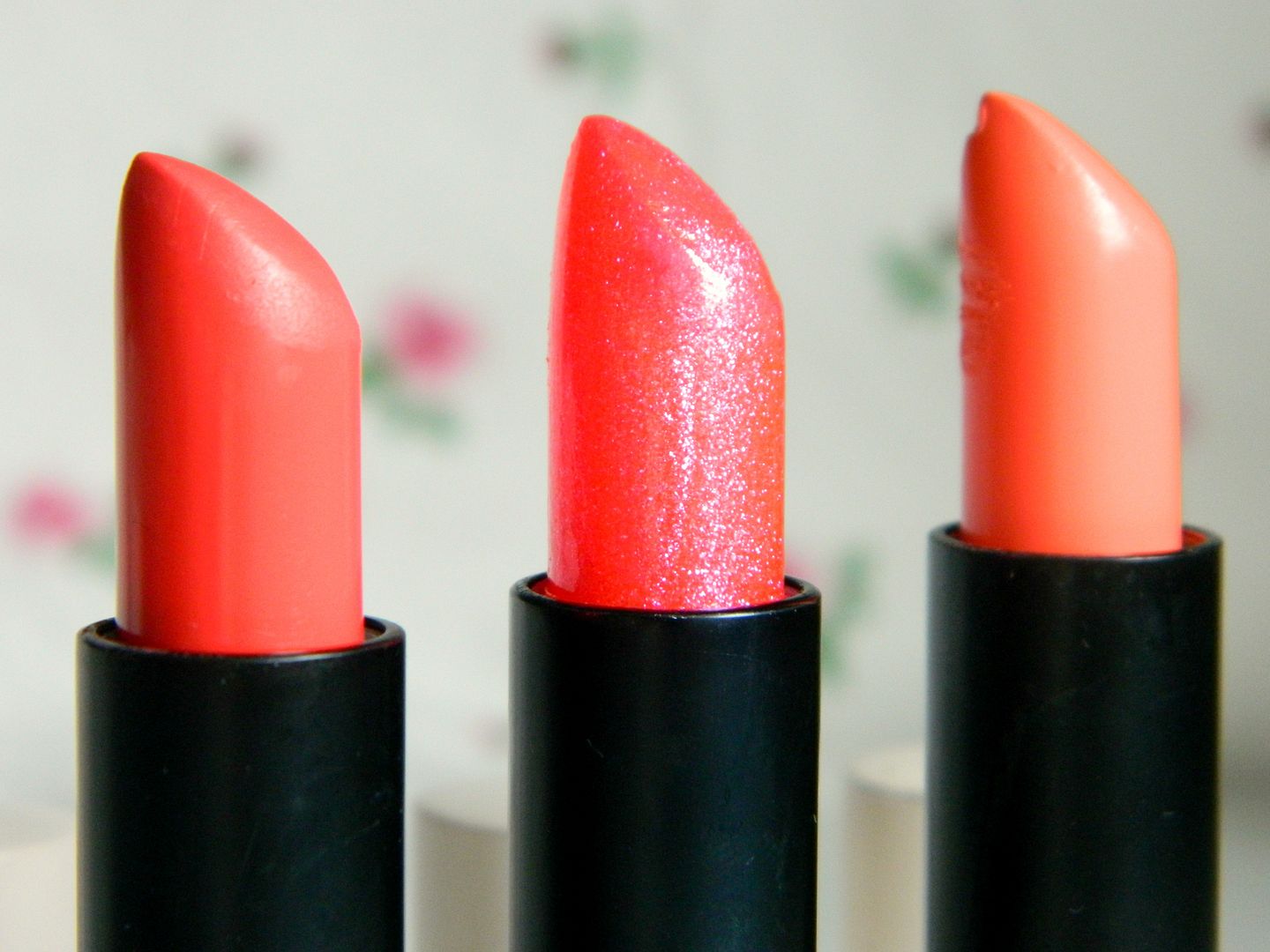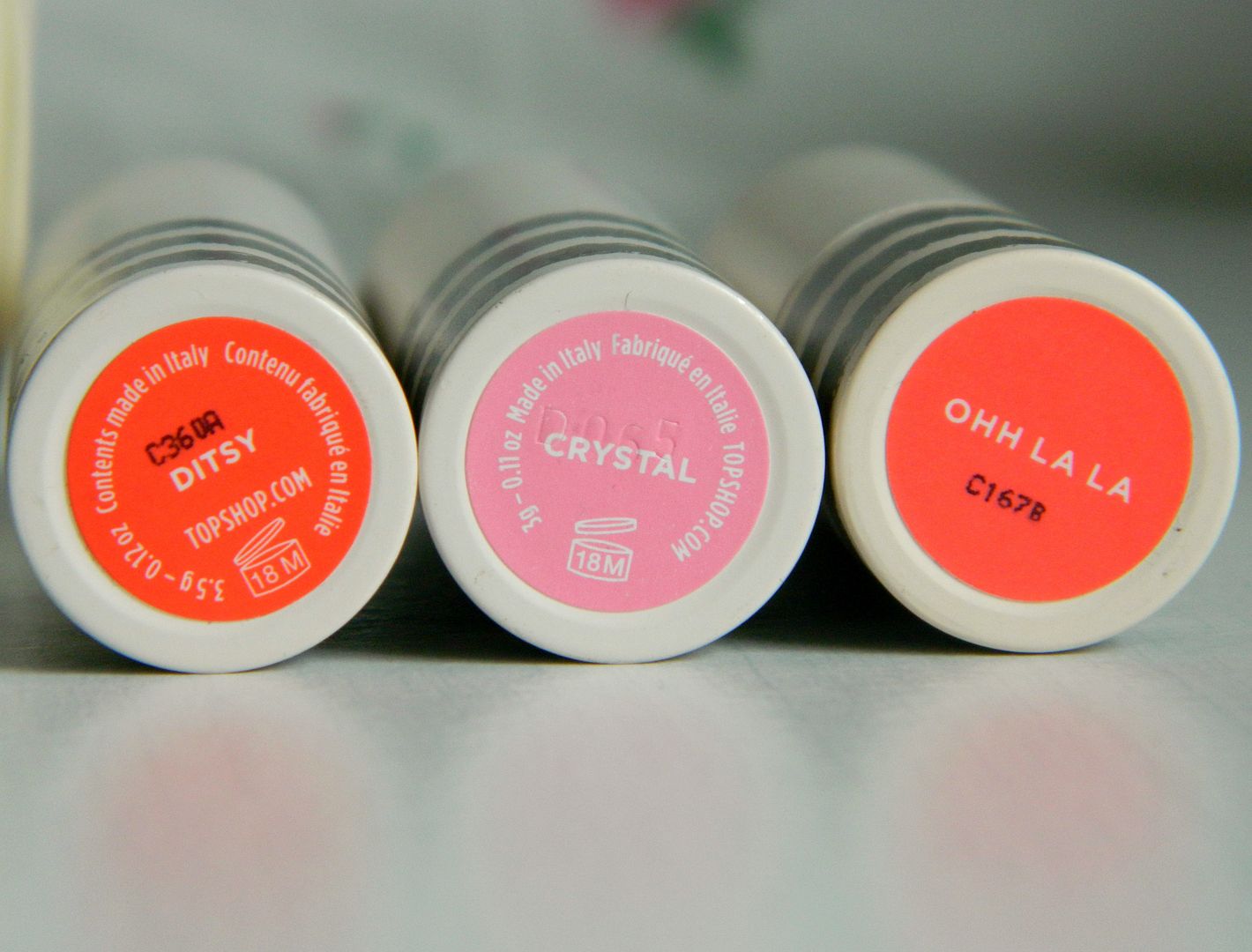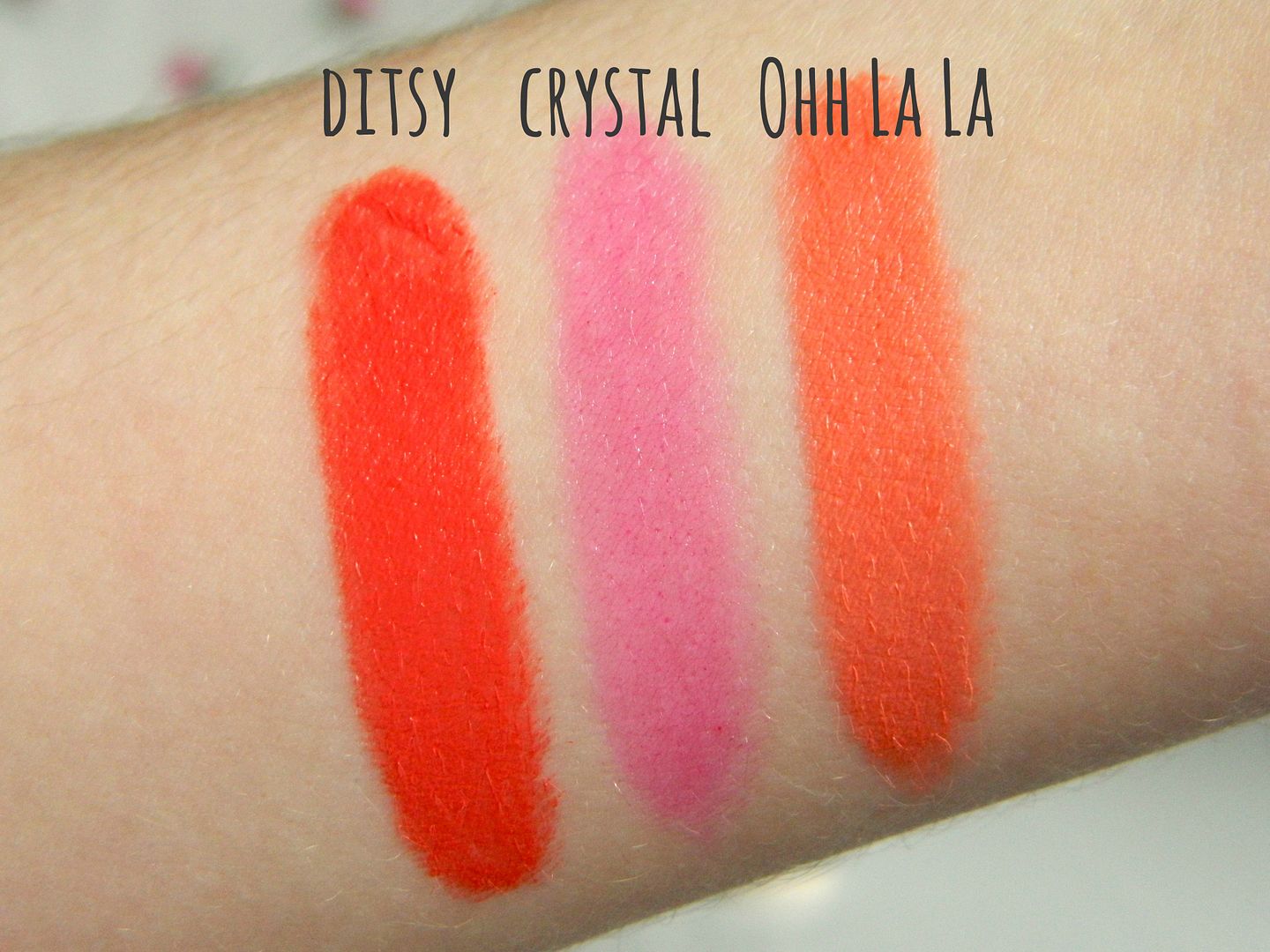 Hello lovelies, I hope you all had a great weekend! Today I thought I would do another Topshop lipstick review. I have already reviewed Infrared and Confession (read the post
HERE
) but I thought I would make another post about the latest additions to my collection! As you may know, I'm a huge fan of Topshop's makeup and I feature their lipsticks quite often on my blog. I'm always looking to expand my collection so if there are any shades you think I should try, please let me know in the comments!
First up is my latest Topshop lipstick called Ditsy which is a hot coral shade that is beautiful for Spring and Summer. I absolutely love wearing corals during the warmer months and this is the perfect colour for me! It has a slight pink undertone to it which makes it very easy to wear, especially if you're wary of brighter orange shades. The formula of this lipstick is amazing as it's creamy and smooth to apply. Plus the pigmentation is also great and it gives you an opaque finish in just a few swipes. I also find this lasts a long time on the lips and only budges when you eat or drink! I haven't seen this shade being talked about much on blogs which is a shame as I think it's my favourite Topshop lipstick shade! Definitely worth trying if you like colours like this.
The next lipstick is actually one of Topshop's lip tints in Crystal. This lipstick reacts to the PH of your lips to create a unique shade of pink that suits your skin tone. To be honest, the reason why I picked up this lipstick was because how beautiful it looks in the tube! It's a slightly transparent pink that has loads of glitter in; it actually looks like one of those pretend lipsticks you'd buy when you were younger! When you apply this lipstick, the colour doesn't show too much straight away as you need to let it develop. Once it's developed you're left with a very pretty pink shade with a fair amount of glitter. The formula of this lipstick isn't as creamy as the standard lipsticks, in fact it's quite hard, yet it is still very easy and smooth to apply. Also the glitter isn't at all rough on the lips and actually feels very soft just like a balm. As Crystal is a lip tint, it does last very well on the lips and will stain them for a few hours, but doesn't dry out your lips throughout the day.
My final Topshop lipstick is Ohh La La which is a coral blush shade. This is probably my least favourite Topshop lipstick however I do still think it's pretty, just quite difficult to wear. As it's quite a light coral shade, it can look a bit odd against my skin tone but I do still wear it, just paired with a lip gloss that adds a bit more colour. I find the formula just as nice as the other Topshop lipsticks however when applied, it can be a bit patchy and uneven. This is why I think it's essential to wear a lip gloss with it to even it back out. Again like Ditsy, this lipstick does last a long time on the lips which is something I love about the Topshop lipsticks! If the shade was a little brighter and was even to apply, this would be a lovely lipstick for this time of year!
So these are the latest Topshop lipsticks I have added to my collection. I think they're all such lovely shades and I already have my eye on picking up some more like
Macaroon
! Like I said, if there are any shades you think I should try, do let me know!
Have you tried Topshop's lipsticks? Which is your favourite shade?
Google Reader is going 1st July, to stay in touch please follow me over on Blog Lovin' (CLICK HERE)