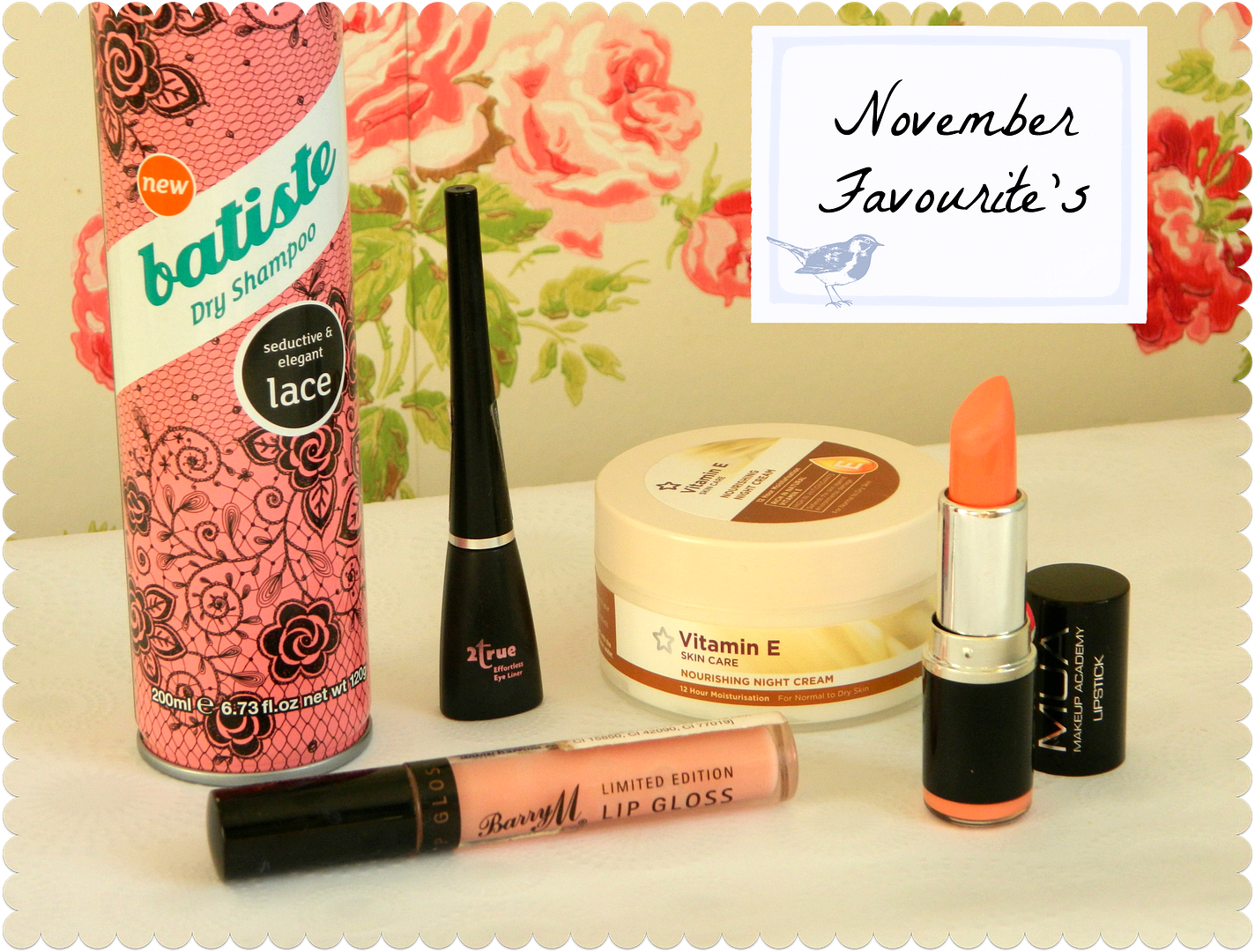 Dodgy winter lighting makes my pictures look so weird!
Today is the 1st of December, which means Christmas is literally days away! I'm so excited! I love spending the day with my family, eating good food and swapping gifts with everyone. But saying that, where has the year gone?! I remember last Christmas as if it was yesterday and can't believe we're going into 2013 in a few weeks.
I have been enjoying a few products this month, so I thought I would share them with you.
♥
Batiste Lace Dry Shampoo
- I picked this up a while ago in a
haul
and said how nice it smelt and that I'd used it a couple times. I use this everyday that i haven't washed my hair and it leaves it smelling fresh, grease free and with lots of volume at the roots. I never used to be a huge fan of Batiste but now I can't get enough!
♥
2True Liquid Eyeliner in 01 Black
- I've been into very clean makeup this month where I do a nude lip and thick eyeliner. This is the best liquid liner I have used and it only costs £1.99 from Superdrug! It's so easy to apply, is very pigmented and stays on my eyes all day. Can't fault this product, I love it!
♥
Superdrug's Vitamin E Skin Care Nourishing Night Cream
- I've never bothered with night creams and usually used my day moisturiser at night. But I saw this in Superdrug for £2.99 and decided to give it a go because I had seen good things about other products in this line. At first when I used it, I thought I'd had an allergic reaction, but I think I narrowed it down to a different cleanser I had used the same day as my skin is perfectly fine now. It's super nourishing and hydrating so you only need a little bit. It's full of vitamins A, B, E, F and H as well as antioxidants which are great for the skin. My skin's been feeling extra soft and hydrated since buying this so would definitely recommend it for people with dry skins!
♥
Makeup Academy Lipstick in Shade 15 Juicy
- This is the lipstick I always use to create a nude lip (I think the lighting was weird when I took the picture, so it isn't as orange in real life). It's an orange toned nude which I think suits me well. I do find this lipstick a little dry, but I always pair it with the Barry M lip gloss in this picture. I'm a huge fan of MUA's lipsticks, and I have a review post about them
HERE
.
♥ Barry M Limited Edition Lip gloss - This lip gloss came free with an Impulse body spray, so doesn't actually have a name. It's a standard nude coloured gloss with no shimmer in, so is perfect for an everyday look. The best thing about this lip gloss is that it smells of caramel! It's amazing! I highly recommend Barry M lip glosses!
What are your November favourite's?