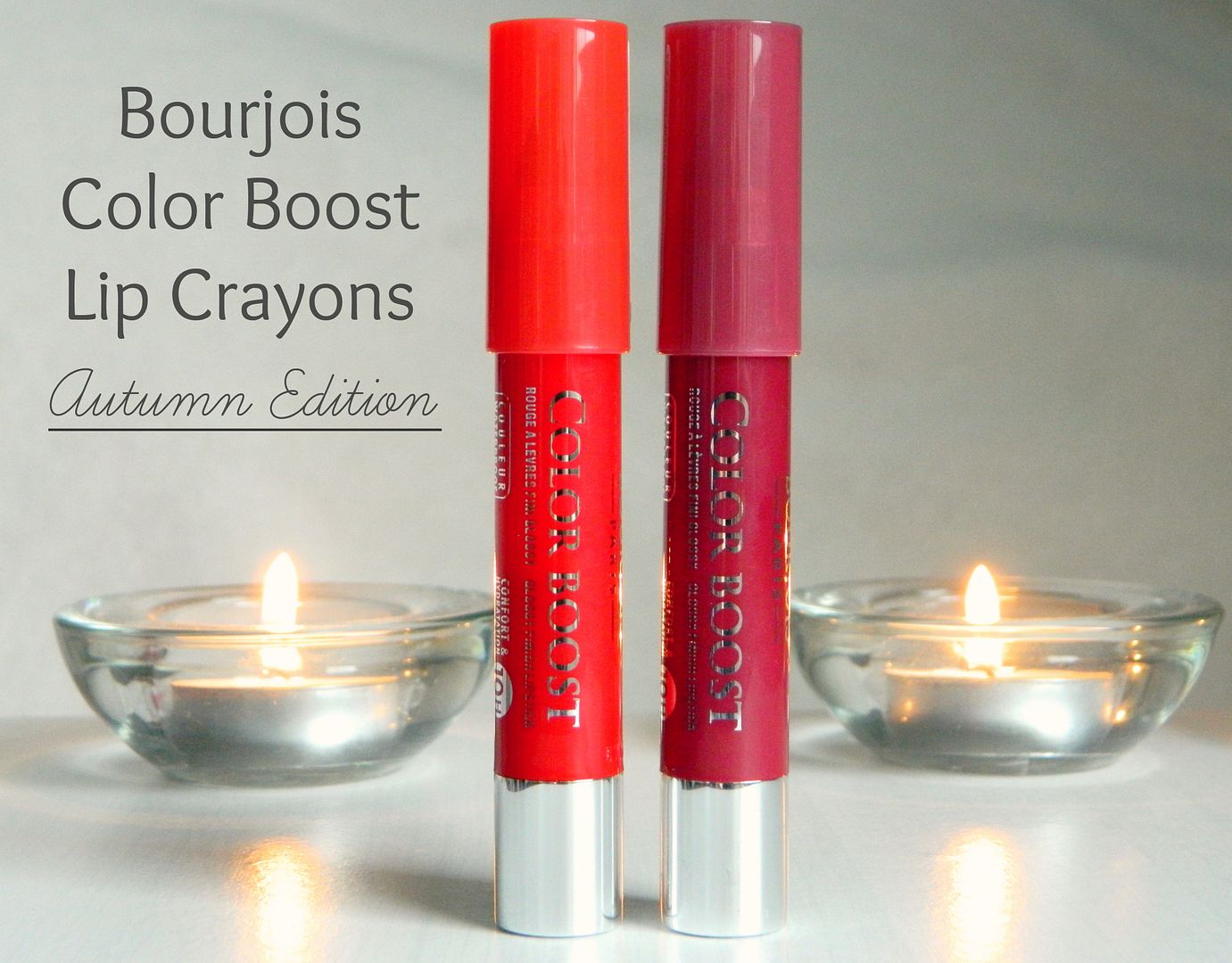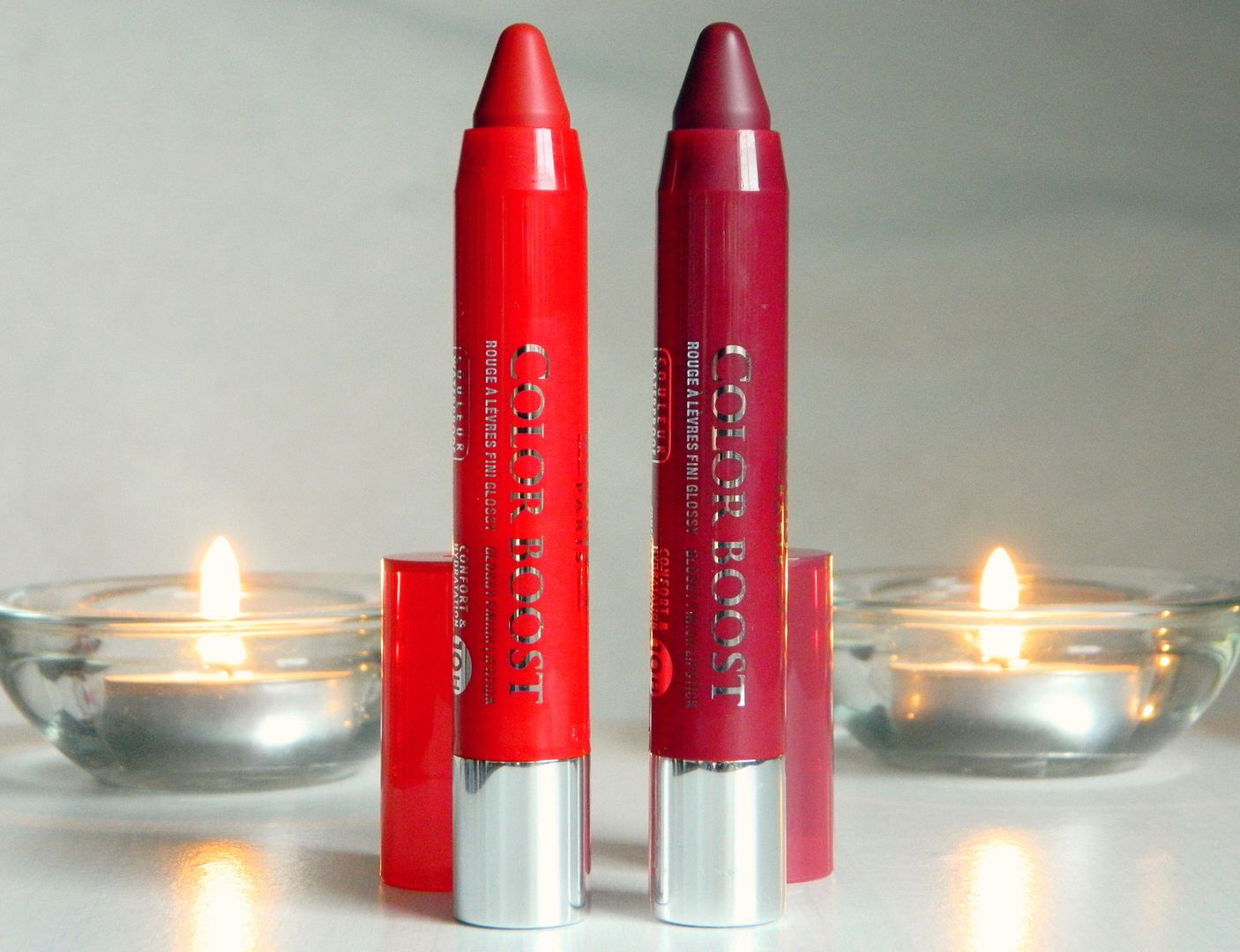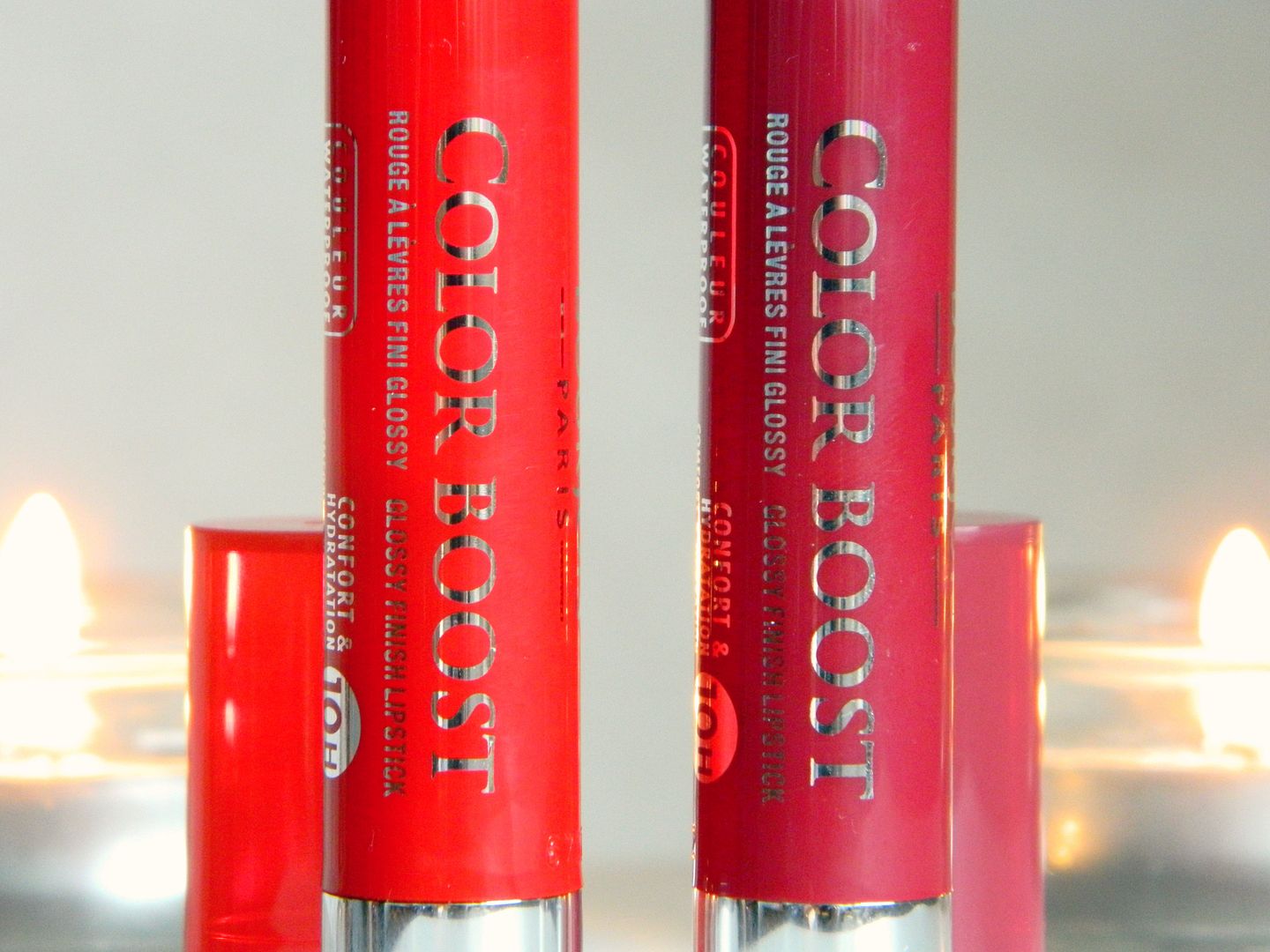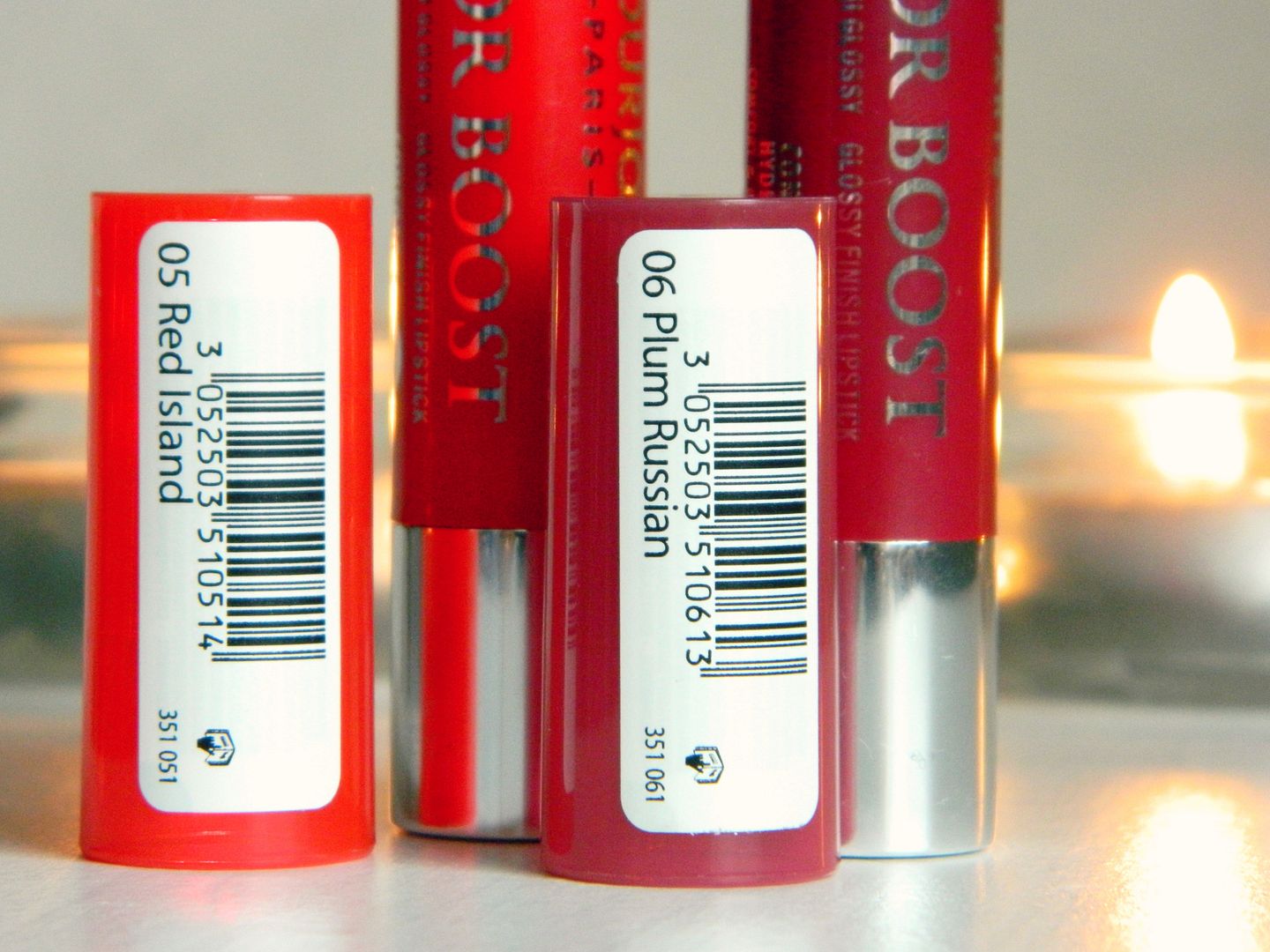 Hello everyone! A few months ago I wrote a review about some of the Color Boost Lip Crayons from Bourjois' original line of lip crayons. They have now brought out 2 new shades for the Autumn and of course I had to pick up both of them! The Bourjois Color Boost Lip Crayons have to be one of my favourite lip products I've tried as their formula is so lovely and I find the shade selection is really good - everything from oranges, pinks and now to berry tones. The 2 new shades that Bourjois has released are perfect for this time of year which is how I knew that I had to have them both in my collection! I will go into some depth about their formula just in case you haven't read my last post (which you can read by
clicking here
).
The 2 new available shades from the Bourjois lip crayon range are: "Red Island" and "Plum Russian".
Red Island
is a gorgeous bright red that I think will be absolutely perfect for Christmas time. If you're one to shy away from wearing bold red shades then this lip crayon should help ease you into wearing them a bit more. As it has a balm finish, the colour isn't as intense as a regular lipstick so you should find it a lot more comfortable to wear!
Plum Russian
is a beautiful deep berry shade that's amazing for both the Autumn and Winter months. I've been wearing Plum Russian both during the day and at night and I have to say it's such a versatile shade to have in your collection. Again as it has that balm like finish, the colour isn't so "in your face" yet is still pigmented and gives your lips a good amount of colour. I think the 2 shades that Bourjois have brought out are really nice and both of which are colours that I like to wear on a regular basis at this time of the year.
As for the formula of the Color Boost Lip Crayons, they're a mixture of a lipstick, gloss and balm. They have a really lovely colour pay off with a glossy and moisturising finish, so these are the perfect lip products to pop in your handbag for touch ups throughout the day! They say that these last for around 10 hours which I wouldn't completely agree with but they do have a really good staying power considering they are just lip crayons. They also have a SPF of 15 which is perfect for protecting your lips from the sun all year round!
Finally the packaging of the lip crayons is really nice. The colour of the tube is the same colour as the actual product so you can always find the shade you're looking for if you're rummaging around in your drawer of lipsticks! They also wind up by twisting the silver part at the bottom of the tube which means you don't have to sharpen them. I also find that the lids are very secure and never come loose when they're in my handbag which is great!
Overall I absolutely love the new Color Boost Lip Crayons and I can't wait to see what shades Bourjois might bring out next season - hopefully some pastels for Spring! I think these are one of the nicest lip crayons on the market and I really don't mind parting with just under £8 per crayon as they really are worth the money. Thank you for reading and don't forget to check out my
last review
of the original shades from Bourjois's lip crayon range if you want to find out more about them shades!
Have you tried the new Bourjois Color Boost Lip Crayon shades?
What are your thoughts on the range?