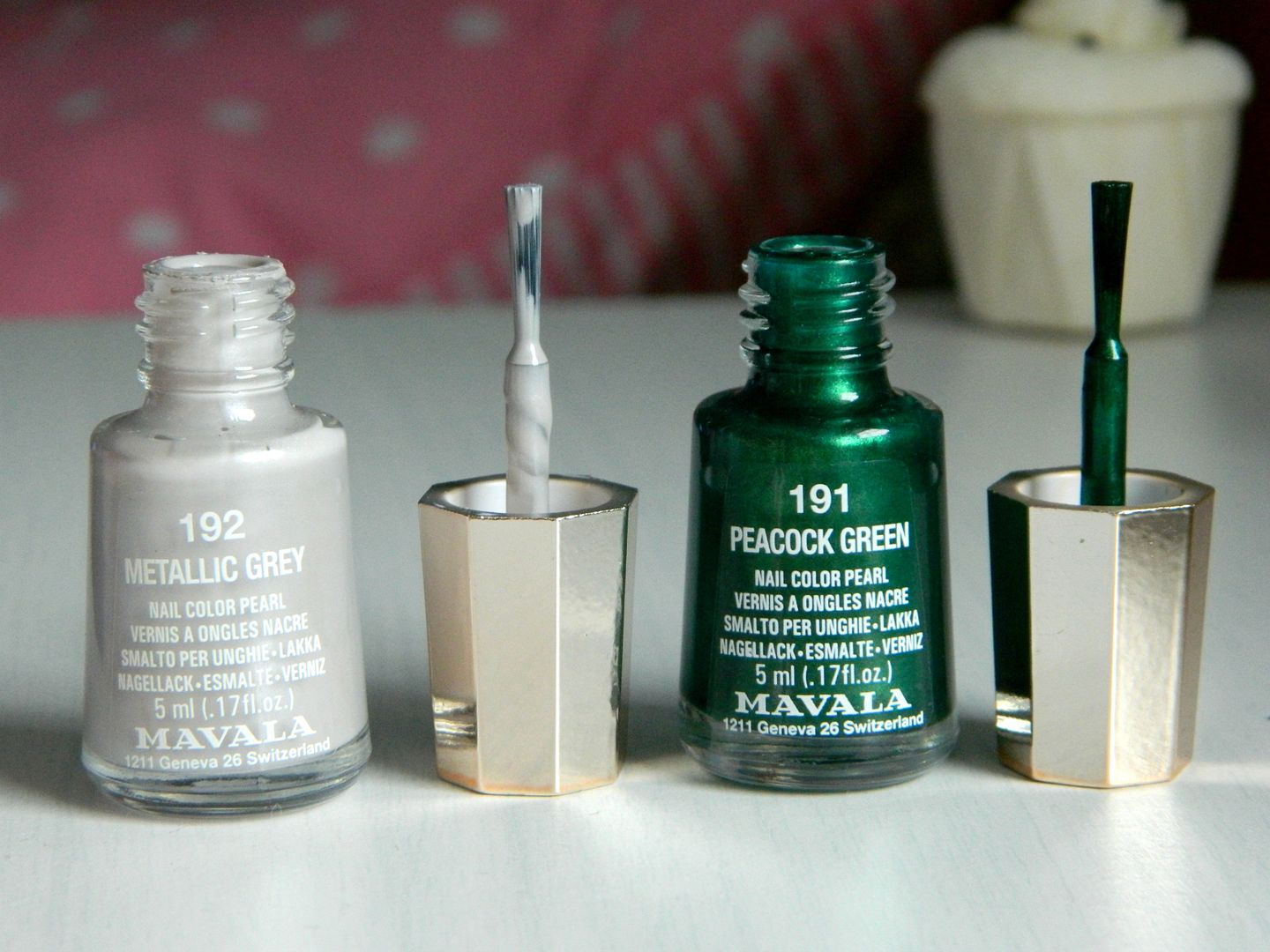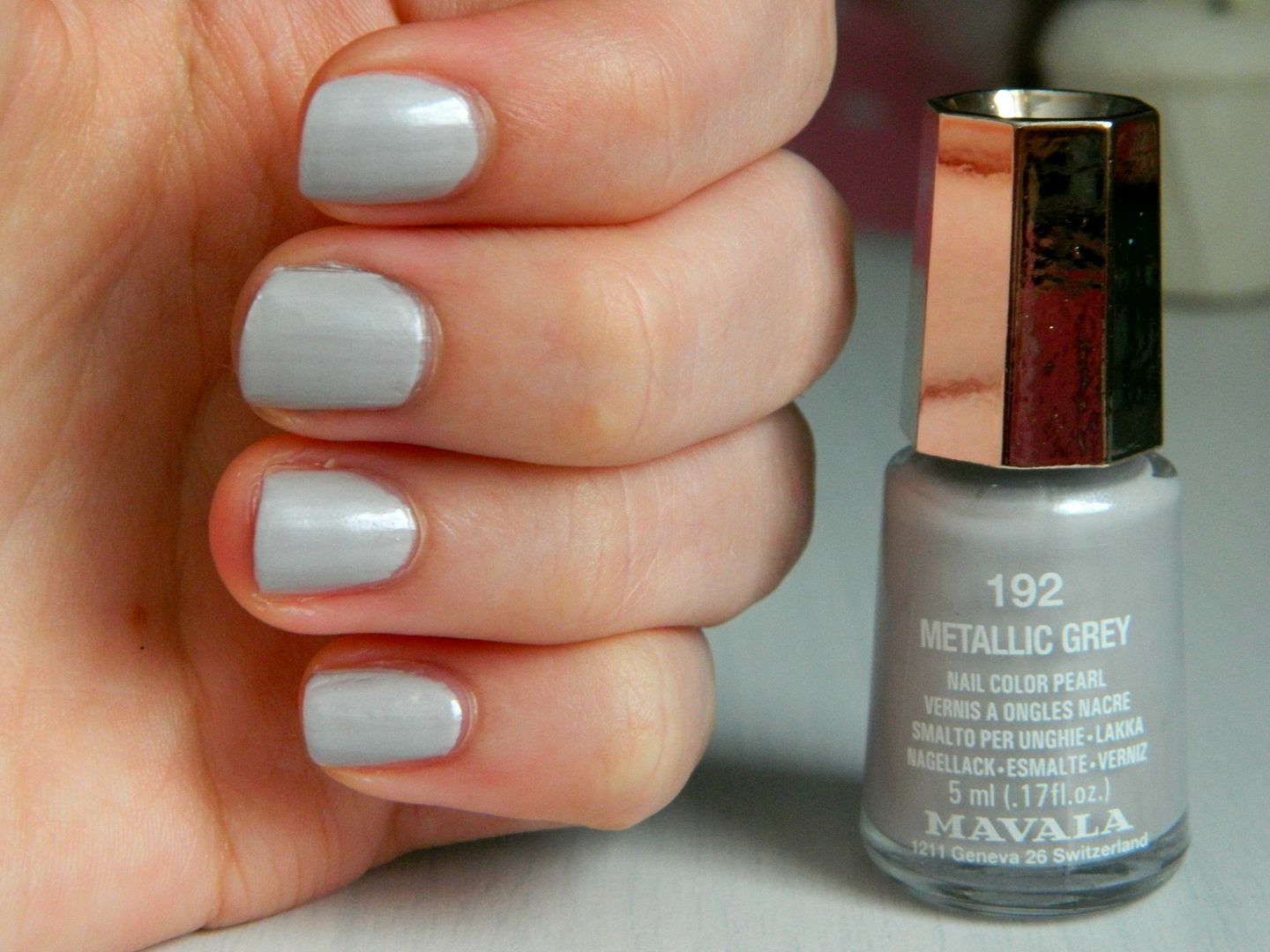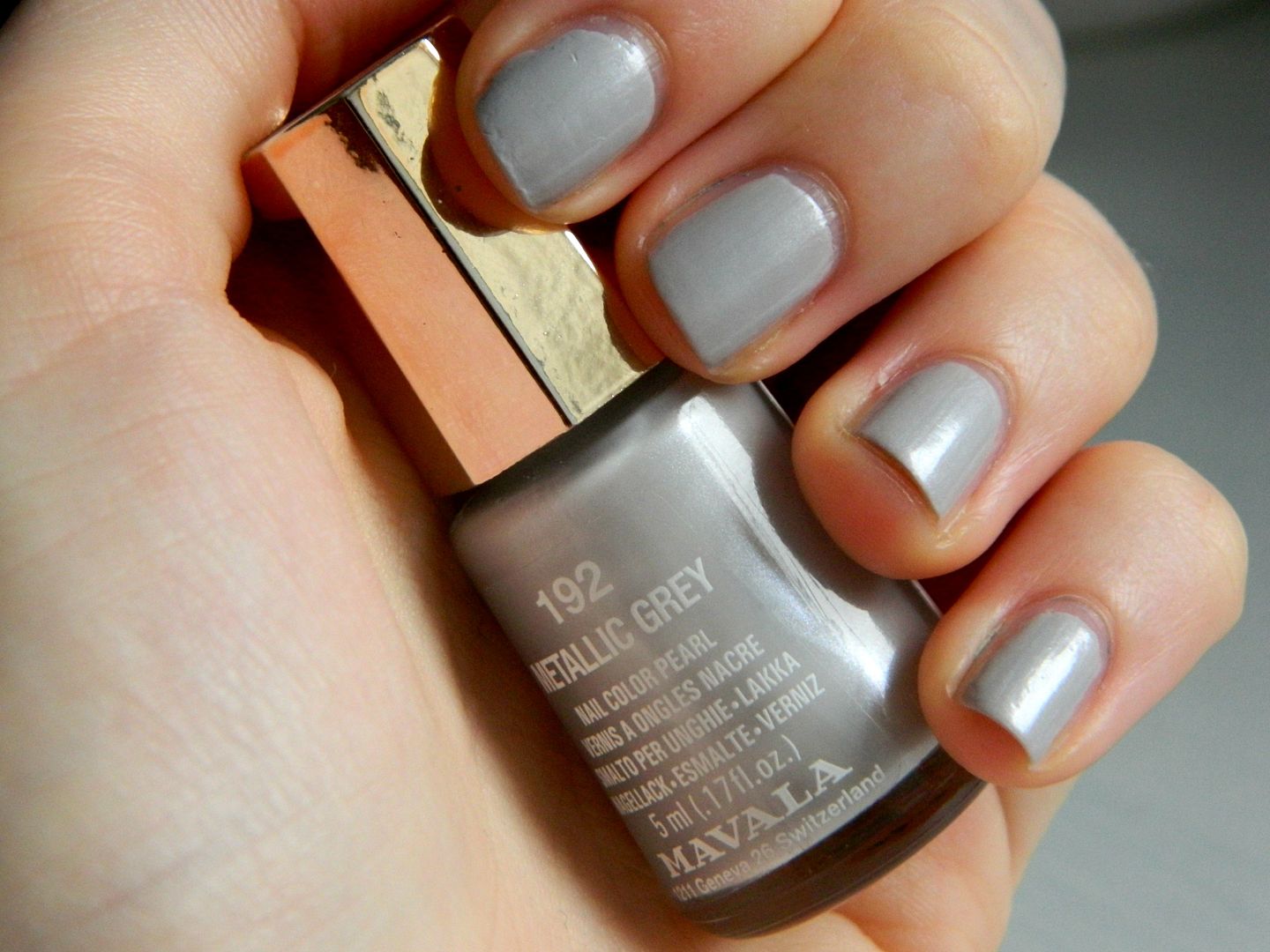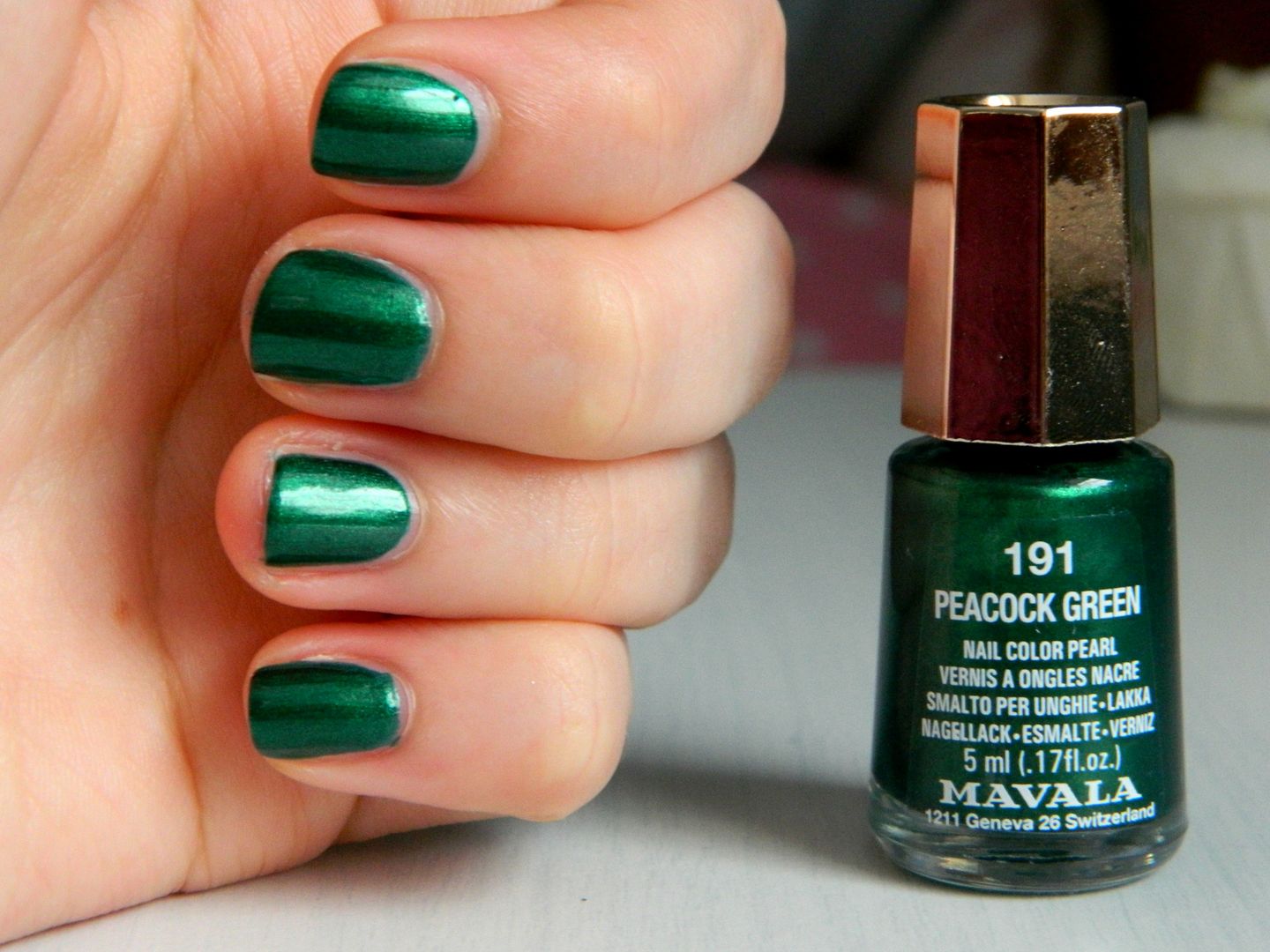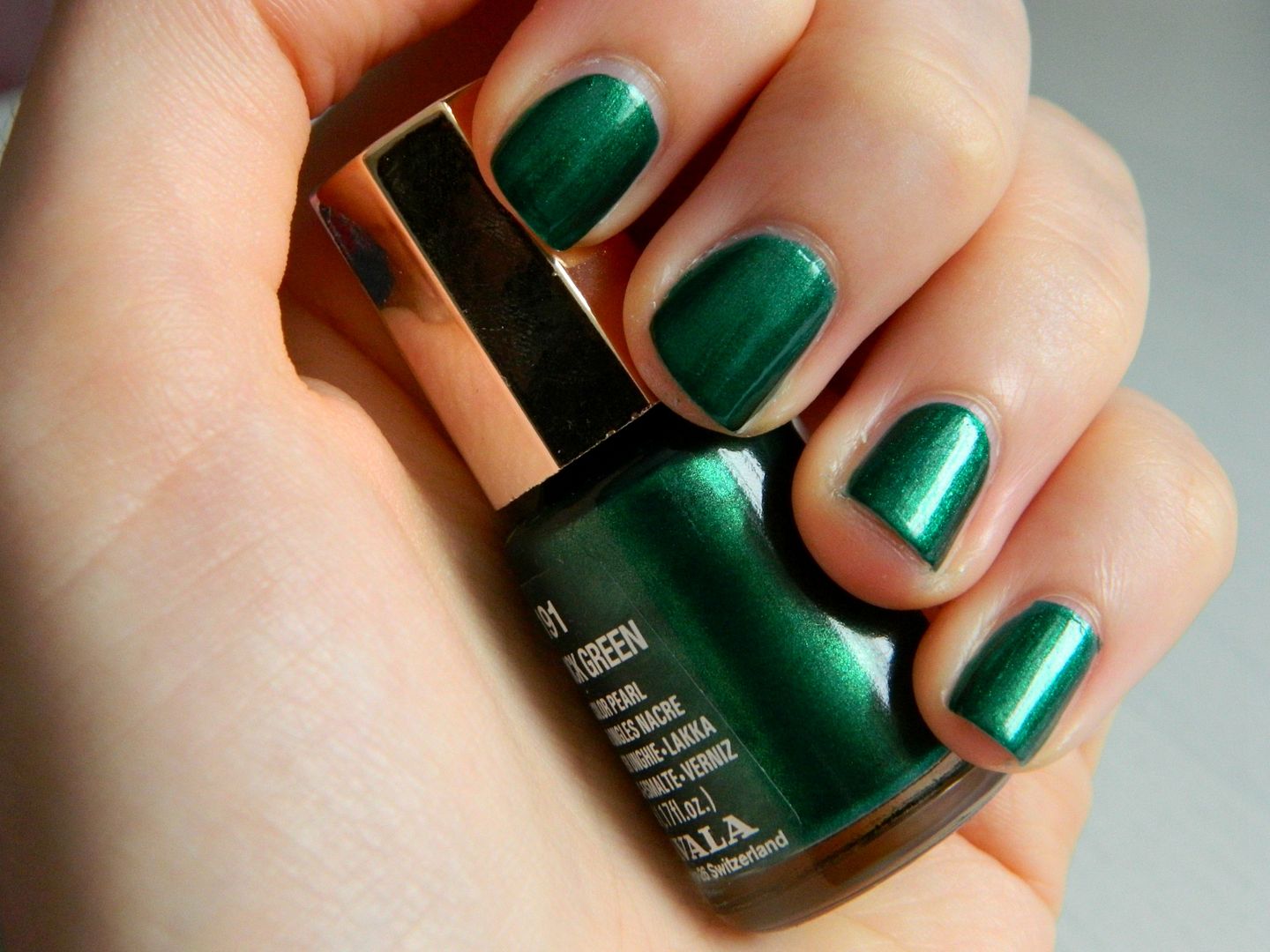 Mavala
Nail Colours
in
Metallic Grey
*
&
Peacock Green
*
£5.55
Mavala
is a Swiss nail polish brand that I had heard of a couple of times, but never got round to buying. Recently I was able to try 2 of the nail polishes from the
Arabesque Collection
, which features 4 metallic shades inspired by the Autumn/ Winter 2013 season. The shades you can collect are: Copper Gold, Shimmer Violet, Peacock Green and Metallic Grey (I have the last two). Metallic shades are also in for Spring 2013, so I was really excited to try these shades out!
Each polish comes in little glass bottles with golden handles that holds 5ml of product. This isn't much compared to other brands, in actual fact it's half the amount to a Barry M Nail Paint. However, I rarely find myself finishing a nail polish so I know this will still last me a long time.
The first shade is
192 Metallic Grey
, which is a light grey/ light lilac with silver iridescent shimmer. You can't really see the shimmer on your nails once it's applied as it's very subtle, but it does look pretty in the bottle. The second shade is
191 Peacock Green
which is a beautiful emerald colour with shimmer. Both of the polishes are very easy and smooth to apply. However I do find them to be a little streaky with just 1 coat, but applying 2 coats makes them look perfect. The brush is quite small and flat which means you can get right to the cuticle without flooding it and making a mess.
The finish of each polish is glossy and shiny so look great without a top coat. The drying time is also quite quick, which I was pleasantly surprised about. Once dry, your nails feel very smooth which was an added bonus!
In terms of how long they last without a top coat, both polishes started to chip after the first day. By the second day, my nails were looking a bit tatty so I think it's essential to wear a top coat with these polishes. I also found that with Peacock Green, one of my nail's polish peeled off quite easily. This could be because I applied it thicker than I did with Metallic Grey, but I did only do 2 coats which is what it needs! However, I don't think this will put me off wearing these polishes again! I really love the colour of Metallic Grey as it gives my nails a simple yet pretty finish. Peacock Green is also a really pretty colour and I love how shiny it is on the nails.
Overall I really like these nail polishes, the formula is nice to work with and the range of colours is great! The next shade I want to try is
Blue Mint
as I think it will be perfect for the Spring time!
Mavala Nail Colours
are available on the
lookfantastic.com
website for £4.30 plus free delivery!
Have you tried Mavala Nail Colours before?