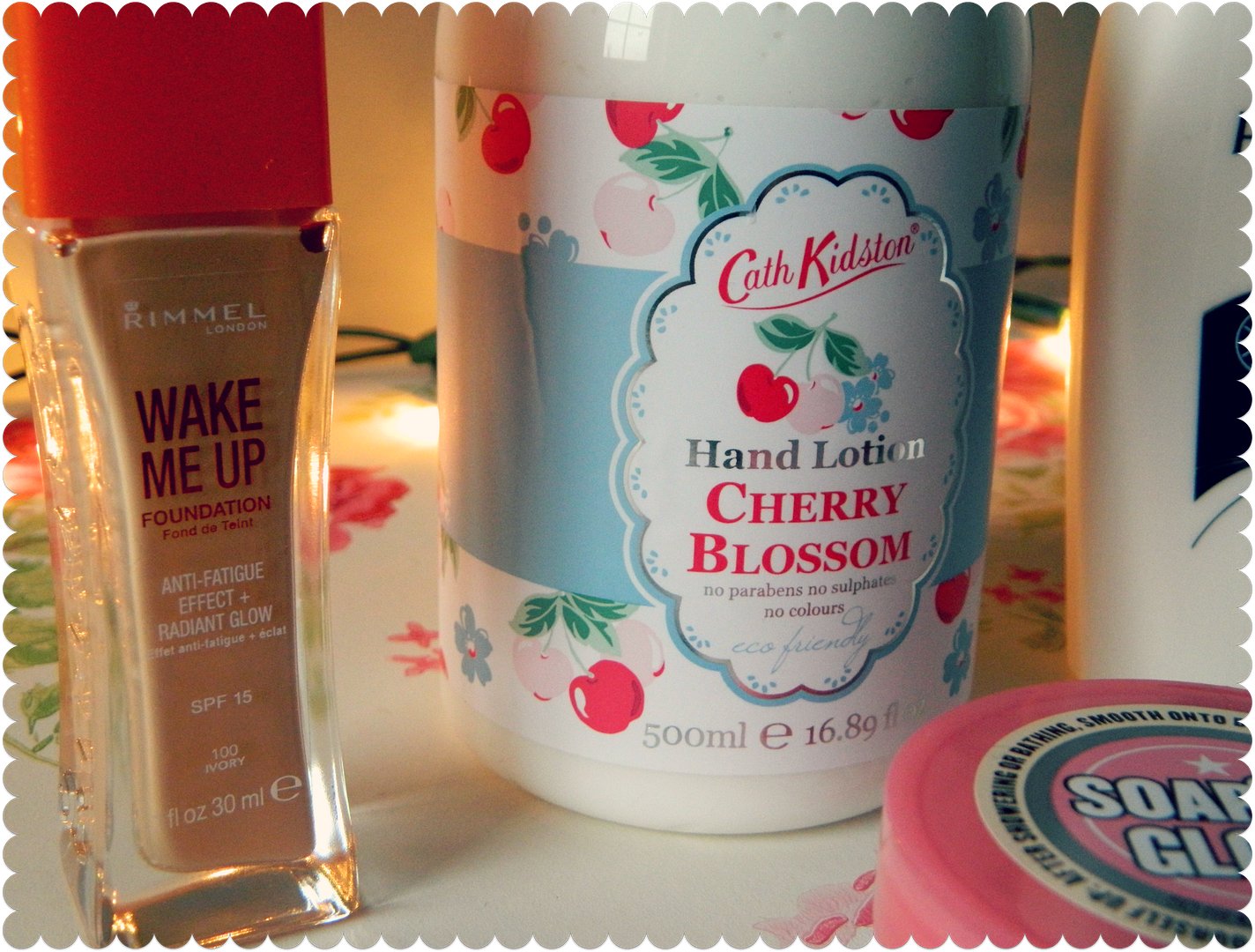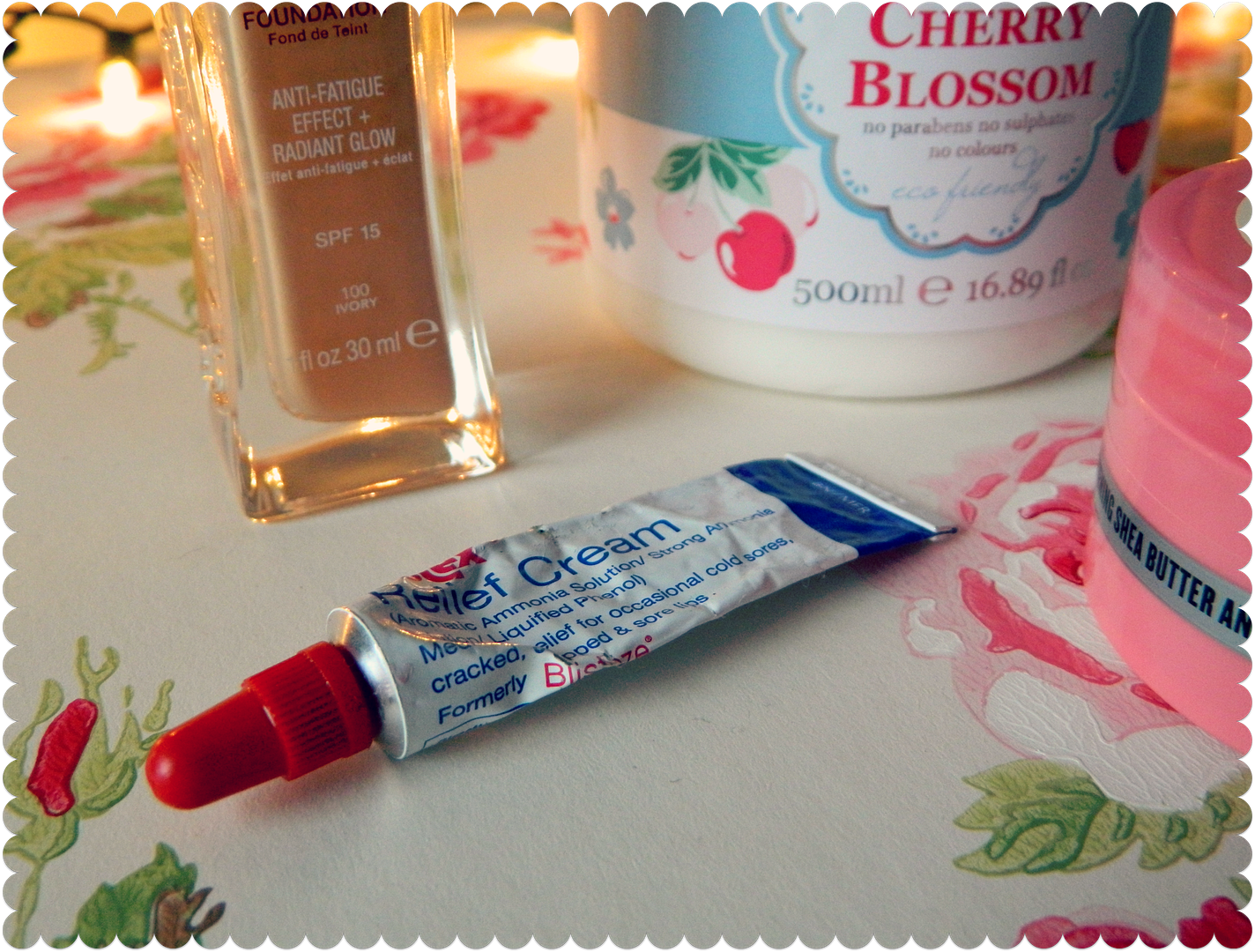 Winter is definitely the time of year when mine and many other people's hair and skin are at their worst. Frosty mornings, cold winds and the lack of sunlight can leave you feeling down but there are a few products I use to battle against all this!
♥ Rimmel Wake Me Up foundation in 100 Ivory - this is a new foundation I picked up recently from Wilkinsons. Lots of the Rimmel makeup was down to under £5 so I thought I would try this out after hearing some great reviews. At this time of year as my skin can start to feel dry and dull, but this foundation has a slight shimmer in to make you look more awak

e

and give a glow to your face. It's brightened up my complexion and makes my skin look a lot better than it really is! It has SPF 15 in too which can protect your skin from the Winter sun rays. It also lasts a really long time, especially if you set it with a pow

der.
♥ Cath Kidston Hand Lotion in Cherry Blossom - I picked this up recently from TK

M

axx for just £4.99 and thought it would be lovely to sit on my chest of drawers as a piece of decor.

I

wasn't expecting this to smell amazing and actually moisturise my hands, but it does! Really well in fact! The consiste

ncy is quite thick, so you only need a little pump. I'm not sure if they have this in a smaller size, but I would love to have one to pop in my bag to use it throughout the day!
♥ Pantene 12 Hour Night Therapy Oil Replacement for Dry/

D

amaged hair - as well as the Winter cold being really damag

ing for my hair,

I recently used the L'Oreal Wild Ombres to Ombre my hair and was quite worried my hair would get damaged from the bleach. I fou

nd

this product in Poundland and thought I would give it a go. This is amazing stuff! I apply it every night before I wash my hair (so about 2/3 times a week) and once I have washed my hair the next morning, it's super smooth! My

ha

ir doesn't go as frizzy after it's dry and is in such good condition

compared to before I was using it. If you see this in your Poundland, definitely pick it up! It's really good and such a bargain!
♥ Blistex Relief Cream - this is my all time favourite lip therapy cream. It has ingredients in that will help cold sores, sore, cracked and chapped lips. I use this when ever my lips feel sore or need some moisture and leaves them in great condition. Definitely worth k

eeping in your makeup bag.
♥ Re-Gen Cream - this is my new skin care favourite! I read a review of this on Zoella's blog ages ago and finally found it in my local Asda. This cream basically has the same ingredients as Bio-Oil, but the great thing is you can use it on your face! It has reduced my pigmentation marks, blemishes and has left my skin feeling really soft and moisturised! I use it twice a day, everyday and noticed the results so quick. I will probably do a full review of this once I've tried it out for longer, but at the moment I l

ov

e it!
What are your Winter beauty essentials?