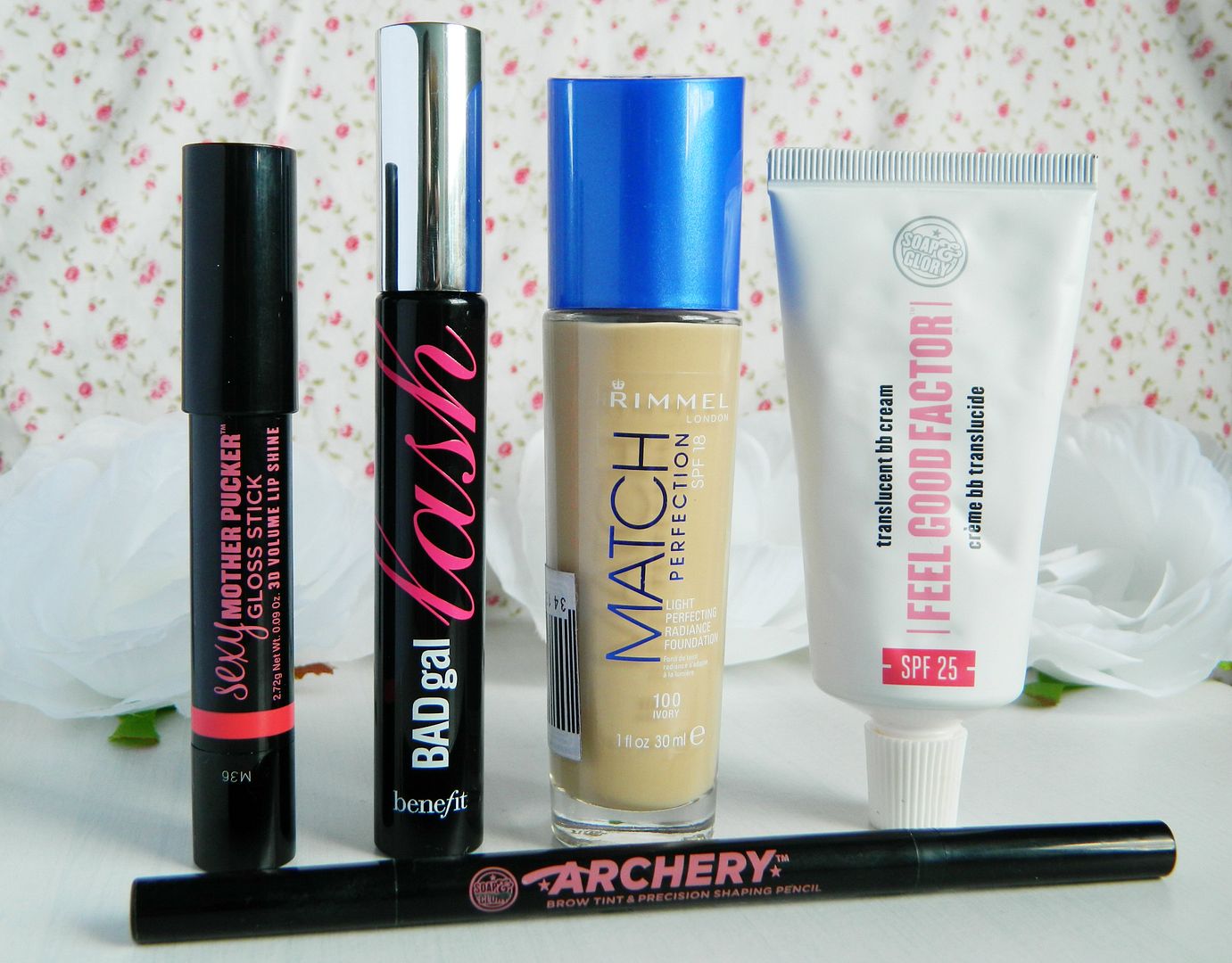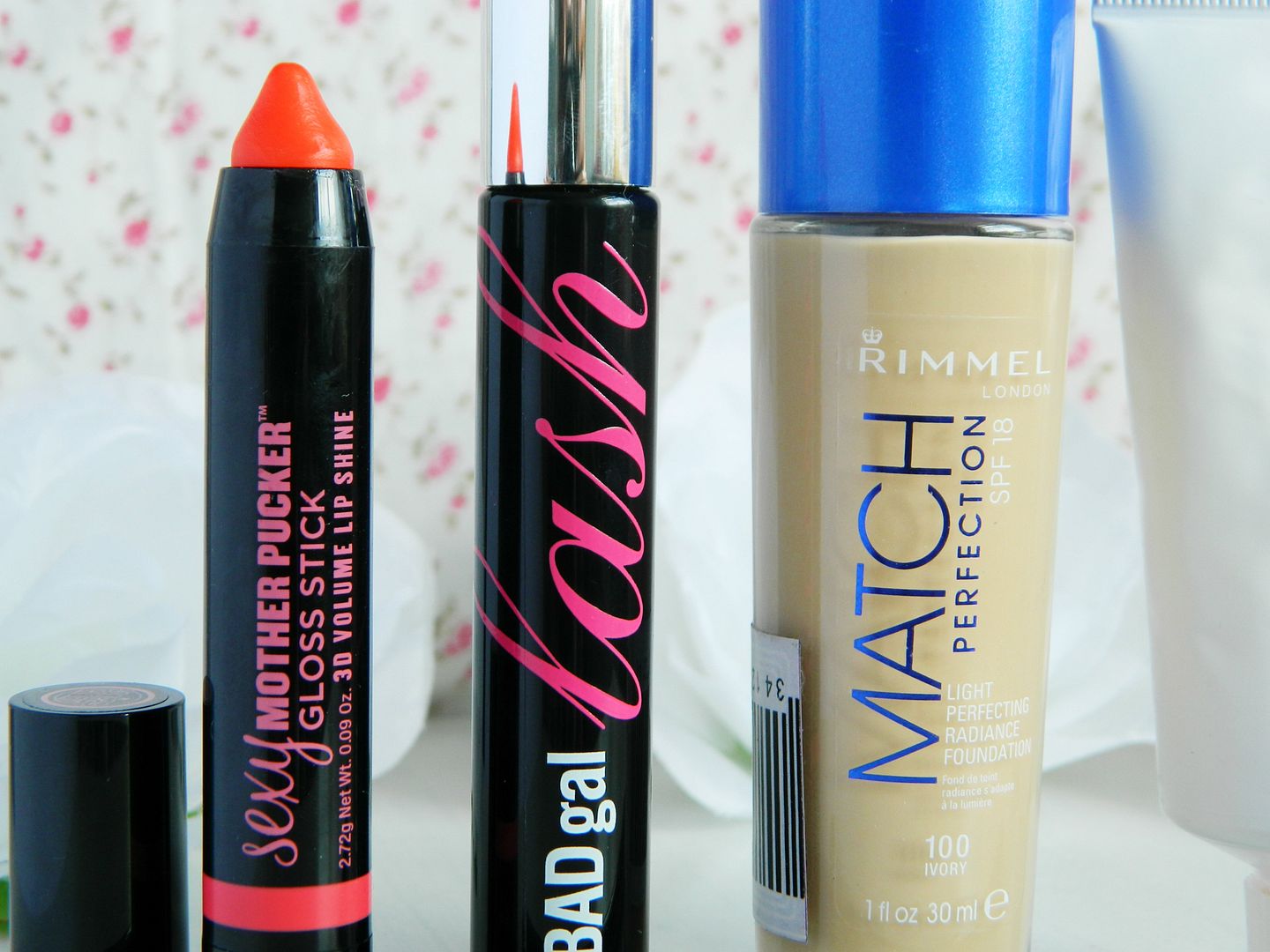 Hello lovelies! Today I thought I would share with you a few of the beauty products that I've been loving over the past month or so. I didn't actually make a February favourite's post purely because there wasn't any new makeup items that I had been really loving. Over the past month I've been able to try some new products and luckily I have been really enjoying some of them! Once again there does seem to be a bit of a Soap & Glory theme going on in this post, I guess I've just become a really big fan of their products!
Soap & Glory Sexy Mother Pucker Gloss Stick in Fuchsia-Ristic | LINK
I featured this gloss stick in the shade Nudist in my
January favourite's
and because I loved it so much, I decided to try out some more shades. The shade that really caught my eye was Fuchsia-Ristic as it looked so bright and fun in the tube! Once applied, it leaves a really pretty wash of pink to the lips that's perfect for both day and night (if you want a more subtle lip colour). I adore the formula of these gloss sticks, they're super moisturising and smell amazing! Definitely a lip product everyone needs in their makeup bag.
Benefit Bag Gal Lash Mascara | LINK
I'm probably a good few years behind on loving this mascara but I received this as a Christmas present and finally started to try it out this month. Recently my Thick & Fast mascara just doesn't seem to work for my lashes, so I decided to give this very similar looking mascara a go! Benefit's Bad Gal Lash is amazing for adding lots of volume and length whilst keeping your lashes looking completely natural and clump free! I know the hype is now behind their They're Real! mascara (which I personally never got along with) but I think the Bag Gal Lash is so much better!
Rimmel Match Perfection Foundation in 100 Ivory | LINK
You may have seen my "
battle of the Rimmel foundations
" post a couple weeks ago and read that I've really been enjoying the Match Perfection foundation! I find this product is great for a light to medium coverage that looks completely natural. During the warmer months I much prefer a lighter base as it still lets your skin breathe in the hot weather! This foundation is also a really good match for my skin tone (hence the name!) and I find that it just makes my skin look so much nicer overall.
Soap & Glory Feel Good Factor Translucent BB Cream* | LINK
I've been using the Feel Good Factor translucent BB cream as a primer for a few weeks now and I've found that my skin feels so much softer and moisturised compared to when I was using the Urban Decay Beauty Balm. I like to apply this right after moisturising in the morning, but you can actually use the Feel Good Factor alone as a your moisturiser as well as being your primer and sun protector - a great multi-purpose product! This will definitely be a staple product in my Summer makeup routine!
Soap & Glory Archery in Brownie Points | LINK
My final favourite from March is yet another Soap & Glory product! The Archery brow tint and pencil is perfect for creating natural and defined looking brows in an instant! The brow tint easily fills in any sparse areas and helps my brows look fuller, whilst the pencil end is great for evening out the tint and defining the brows even more. For £10 this is definitely the most I've spent on a brow product as it's easy to use a simple matte eye shadow instead. But I personally think my brows look so much better than what they used to so this is an amazing product in my books!
I hope that you have enjoyed today's post and that you've discovered some new amazing makeup product to add to your collection! I would love to hear what products you've been loving recently, I'm always up for trying new things!
What products have you been loving this month?