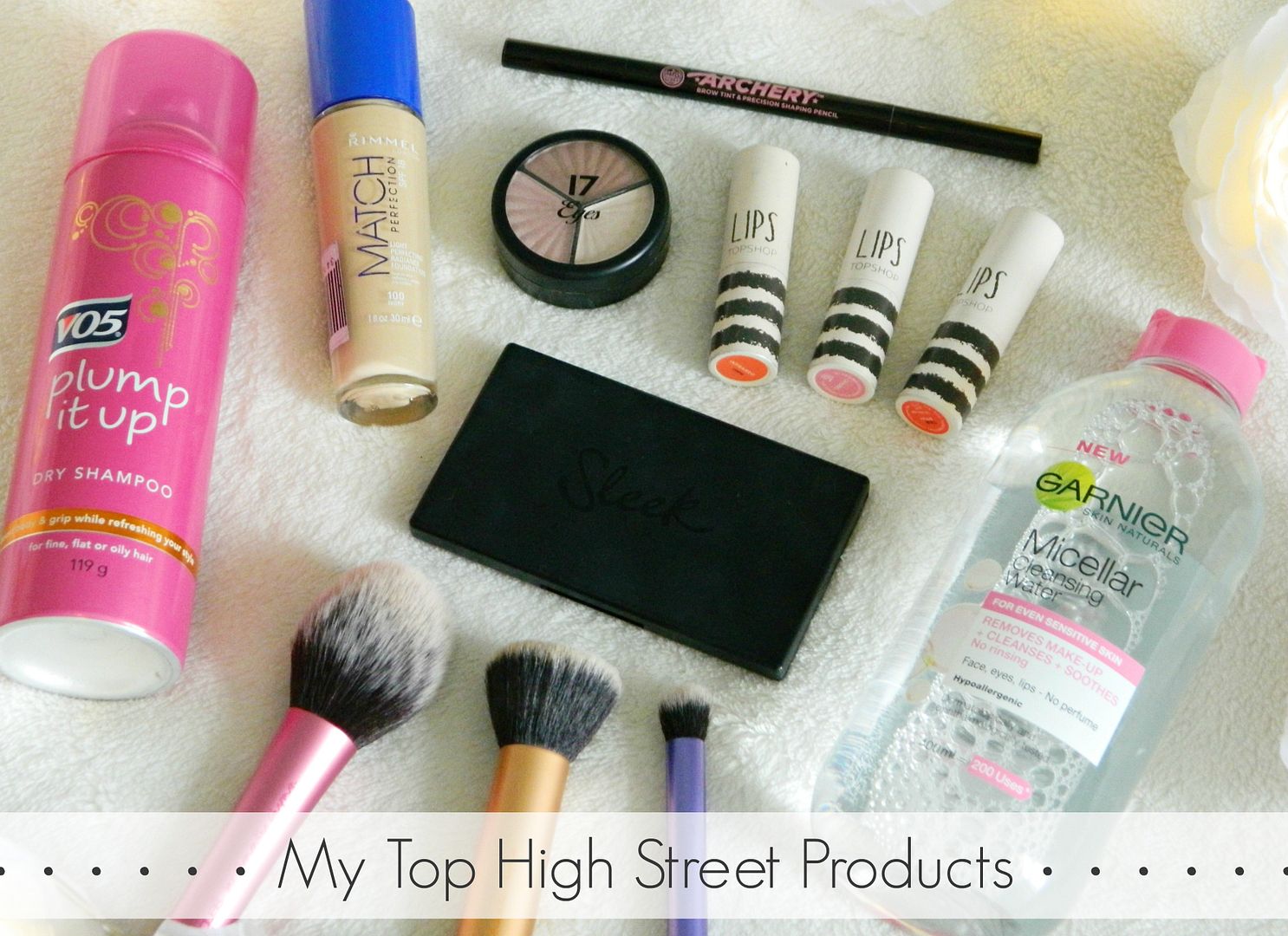 Hello lovelies! Today I thought I would share with you all some high street products that I've been really enjoying recently! I absolutely love using cheaper products from high street brands as I think they can do just a good of a job as the higher end brands. As a student, I don't have the money to buy endless amounts of expensive makeup, so I love finding some gems in my local Boots or Superdrug that I know work really well and that I can keep repurchasing without damaging my bank account! If you would like to see a selection of those gems that I love using on a day to day basis, then do keep on reading!
Sleek Face Form Palette in Light | LINK
I think Sleek is an amazing brand to buy face products from. The pigmentation of their blushers is incredible and is definitely comparable (and even better in some cases!) than ones from high end brands. As I have quite pale skin, I barely have to touch my brush into the pan to pick up plenty of colour for my makeup! The Face For Palette from Sleek is a brilliant all in one contouring kit that comes with a beautiful blush, bronzer and highlighter. This is the kind of product you can throw in your travel bag and know you have everything to create the perfect contoured cheek!
Real Techniques Brushes | LINK
These brushes are loved by nearly every blogger so it's only right that they deserve a place in my top high street products post! These brushes are great quality and apply makeup like a dream; they're pretty much the only brushes I use to do my makeup everyday! My top 3 from my collection are: the buffing brush, blush brush and deluxe crease eye shadow brush; with just these brushes I could easily create a whole makeup look! If you're looking to add some new brushes to your collection, definitely try out Real Techniques. You can even find them in places like TK Maxx and Fragrance Direct now which means you can get them at an even better price!
Rimmel Match Perfection Foundation in 100 Ivory | LINK | Review
I've mentioned this foundation a few times on my blog recently, but I really have fallen in love with it! I've never seen the point to buying really expensive foundations when brands like Rimmel have it covered - pardon the pun! The Match Perfection foundation offers a light/ medium coverage that's buildable and has a beautiful dewy finish that I find perfect for my skin. I use this foundation every time I do my makeup and it works really well for either day or night time looks.
Soap & Glory Archery in Brownie Points | LINK
I absolutely adore this little brow product and I really don't know how I used to fill my brows in before I picked it up! The tinting side to Archery creates such a natural yet highly defined look that can be tailored to anyone's brow needs. The staying power of Archery is also amazing and I never find I have to top my brows up throughout the day! It is a little bit on the pricy side at £10 per pen, but this will definitely be one of those products I'll be forever repurchasing!
Seventeen Eyeshadow Trio in Barely There | LINK | Review
I personally think that Seventeen is one of those brands that's kind of dismissed by a lot of people, yet they do create some wonderful makeup items. The eyeshadow trio in Barely There is one of those products that gives you a complete eye look that takes very little effort at all. If I'm just popping out to the shops and want to go for a minimal makeup look, I always turn to this little trio to create a very subtle eye look. The shadows are very soft and easy to work with plus all 3 of the shades work perfectly together, this makes it perfect for travelling with! This is a great everyday product to keep in your makeup bag.
Topshop Lips Lipsticks | LINK | Review
The Topshop lipsticks have to be one of my favourite lipsticks on the market. They have an amazing formula, a wide selection of shades and aren't very expensive! I've picked out my favourite 3 which are: Crystal, Ditsy and Infrared, all of which are perfect for this time of year. These lipsticks are always my go to shades and I love wearing Ditsy for an evening makeup look. Crystal looks amazing for a wash of pink sparkle during the day and for me, Infrared can work as both a day and evening lip colour!
Garnier Micellar Cleansing Water | LINK
Ever since trying
L'Oreal's micellar water
for the first time, I was hooked. It removes my makeup so well that I could never go back to using face wipes! After recently running out of my L'Oreal cleanser, I decided to try out the Garnier version as it seemed to have the exact same ingredients but comes in a much larger bottle. Where I buy a lot of my skin care products, I can pick both micellar waters for just £2.99 each (usually £4.99 in Boots) so it was sort of a no-brainer to try the Garnier one out! This removes your makeup instantly and works really well as a gentle toner. These cleansers are definitely the way forward for removing your makeup as they're so gentle yet effective keeping your skin clean and toned!
VO5 Plump It Up Dry Shampoo | LINK
When it comes to dry shampoo I always thought there was no better than Batiste, but then I tried this one from VO5. Don't get me wrong, Batiste dry shampoos are amazing and I do still use it from time to time, but I love the results I get from the VO5 Plump It Up Dry Shampoo. As I have quite fine hair that lacks volume at the roots, I always have to use from form of volumising product. Not only does the Plump It Up Dry Shampoo gives my hair some much needed volume, it also leaves it feeling and smelling amazing, plus it leaves literally no white residue behind on my hair! I also love the
texturising spray
from VO5 and these are the 2 main products I use to achieve volume in my hair on a daily basis!
So these are a selection of my favourite products from the high street that I use on a daily basis. I would love to hear what your favourite high street beauty products are as I'm always on the hunt to try out new things!
What are your favourite products from the high street?
Have you tried any of these products that I love?