Hello everyone! I'm Molly and I write my own blog called '
Molly-Louise Beauty
' where I write a mix of beauty, fashion and lifestyle posts and today I am doing a guest post for Amie's blog. I went shopping over the bank holiday weekend and thought I would share with you everything that I got :)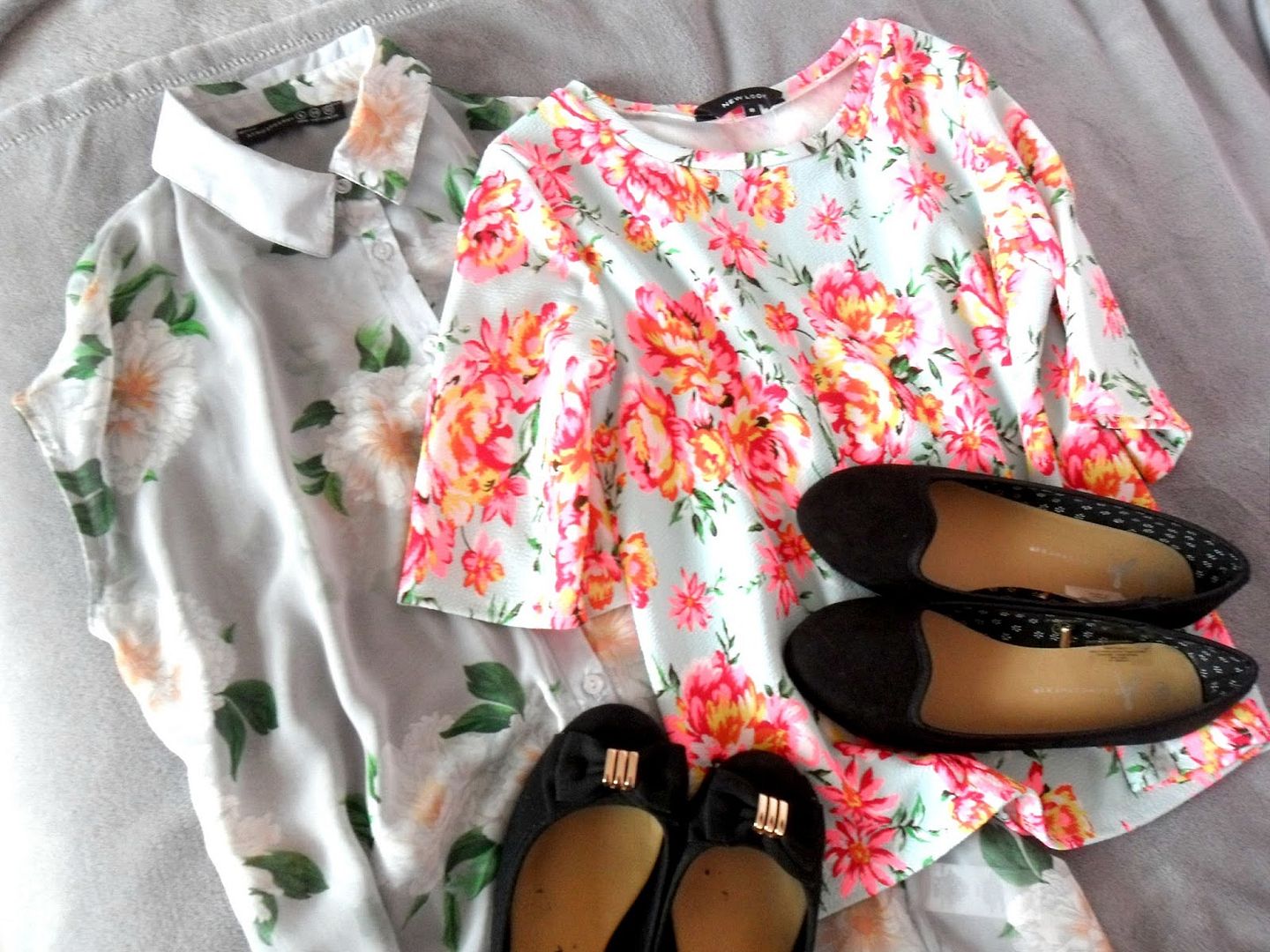 New Look Blue Floral Top £14.99
|
LINK
I have grown out of 90% of the clothes in my wardrobe so have been gradually rebuilding it with new additions over a long period of time and summer clothes was what I needed most. I really wanted a brighter piece of clothing to add to my wardrobe and floral prints seem to be everywhere at the moment! I love this top as it is a more pale blue but has the almost-neon pink and orange flowers. Fits well, perfect for summer and was a bargain! :)
Primark Sheer Grey Floral Blouse £12
Primark Black Slipper Pumps £4
Primark Black Bow Pumps £5
Again, another floral top! This is a grey top with some cream flowers all over and it is quite sheer so you would have to wear a vest top underneath! It has very short sleeves and it is quite long but you could just tuck it into a skirt or some denim shorts and you're good to go! I also got some black pumps for college and work as well as some slightly different ones with a bow and a little bit of gold bar detailing :)

I wanted this necklace for a while and had looked in so many stores and at so many jewellery stands to find it! Luckily I managed to find it in Cambridge and grabbed it while I could :) It is a rose gold chain necklace with some grey fabric entwined into it to add something extra; perfect way to add something to a plain outfit!
Tresemmé Keratin Smooth 7 Day Smooth Shampoo £5.99
Tresemmé Keratin Smooth 7 Day Smooth Conditioner £5.99
Tresemmé Keratin Smooth 7 Day Smooth Heat Activated Treatment £6.99
The idea of these hair products really intrigued me when I found out that they were heat activated and thought I would give them a try as they were on a 3 for 2 offer. You wash your hair with the shampoo and conditioner which are the support to the treatment which you put it your hair while it is still wet after you have brushed it. You then blow dry your hair and then straighten it giving you really soft and straight hair! I am impressed so far but have only used it once :) These will last ages too as you only need to use them every 4th time you wash your hair!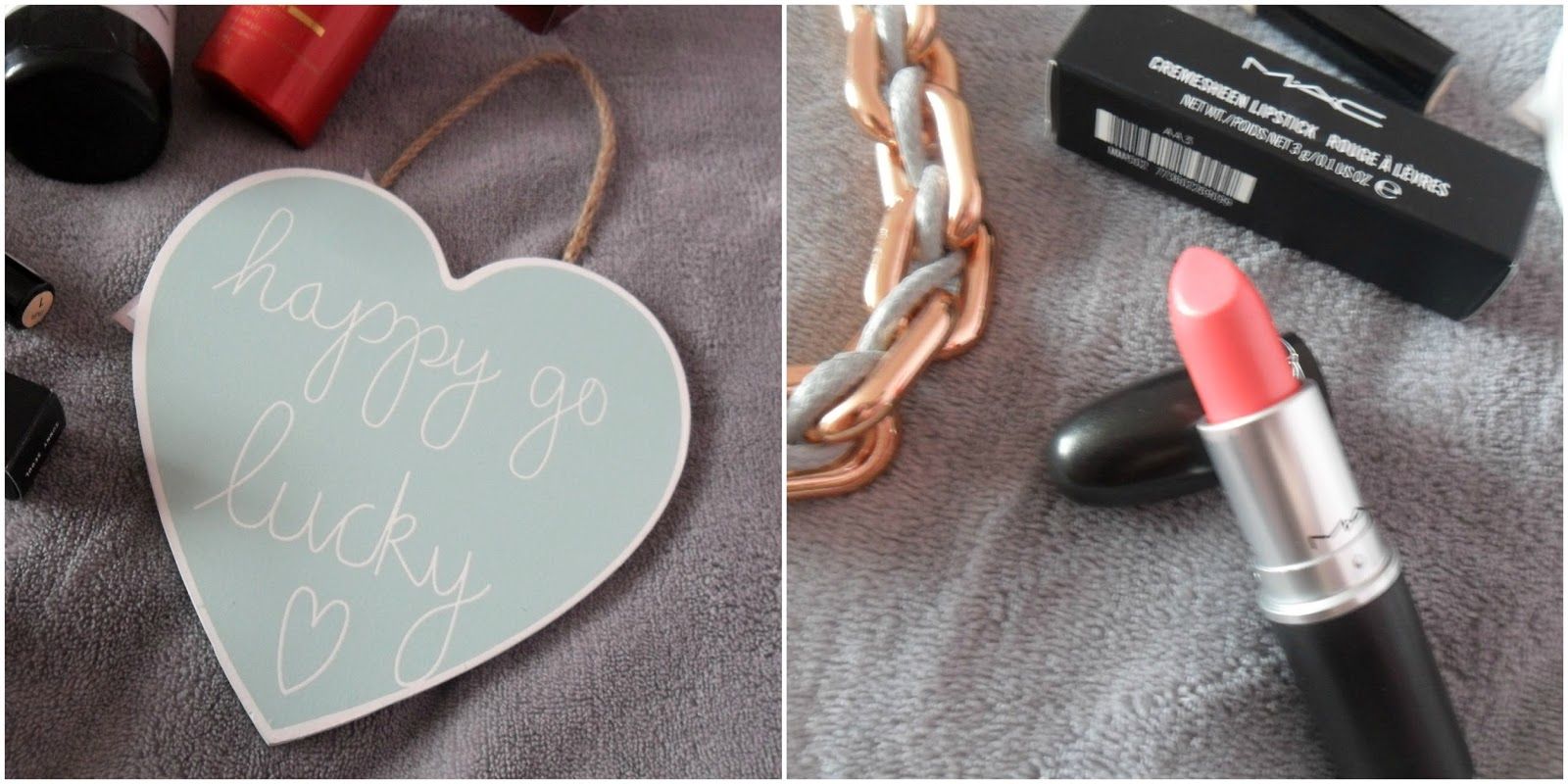 Collection Lasting Perfection Concealer - 1 Fair £4.19
MAC Cremesheen Lipstick - Sunny Seoul £15
Surprisingly I only got two make up items which is unusual for me haha! I got my favourite concealer again as I had searched maybe 6 stores trying to find it because it is so popular! Covers amazing, excellent price and definitely something I will continue to buy :)
I also got my first MAC lipstick and makeup product in general which is in the shade 'Sunny seoul'. This has a cremesheen finish which I quite like as it is really smooth on the lips with excellent pigmentation! Gorgeous pink shade, perfect for this time of year!
Store Twenty One Mint Heart 'Happy Go Lucky' Plaque £1 Was £1.99
Finally, I got this really sweet heart wall plaque for only £1 with the quote 'happy go lucky' and I feel like it was an extra addition for my bedroom whilst gradually doing it up :)
Thank you so much for reading my guest post!
Let me know what you have been buying lately and what you got up to during the bank holiday weekend :)
Twitter | Facebook | Bloglovin' | Pinterest | Tumblr | Instagram