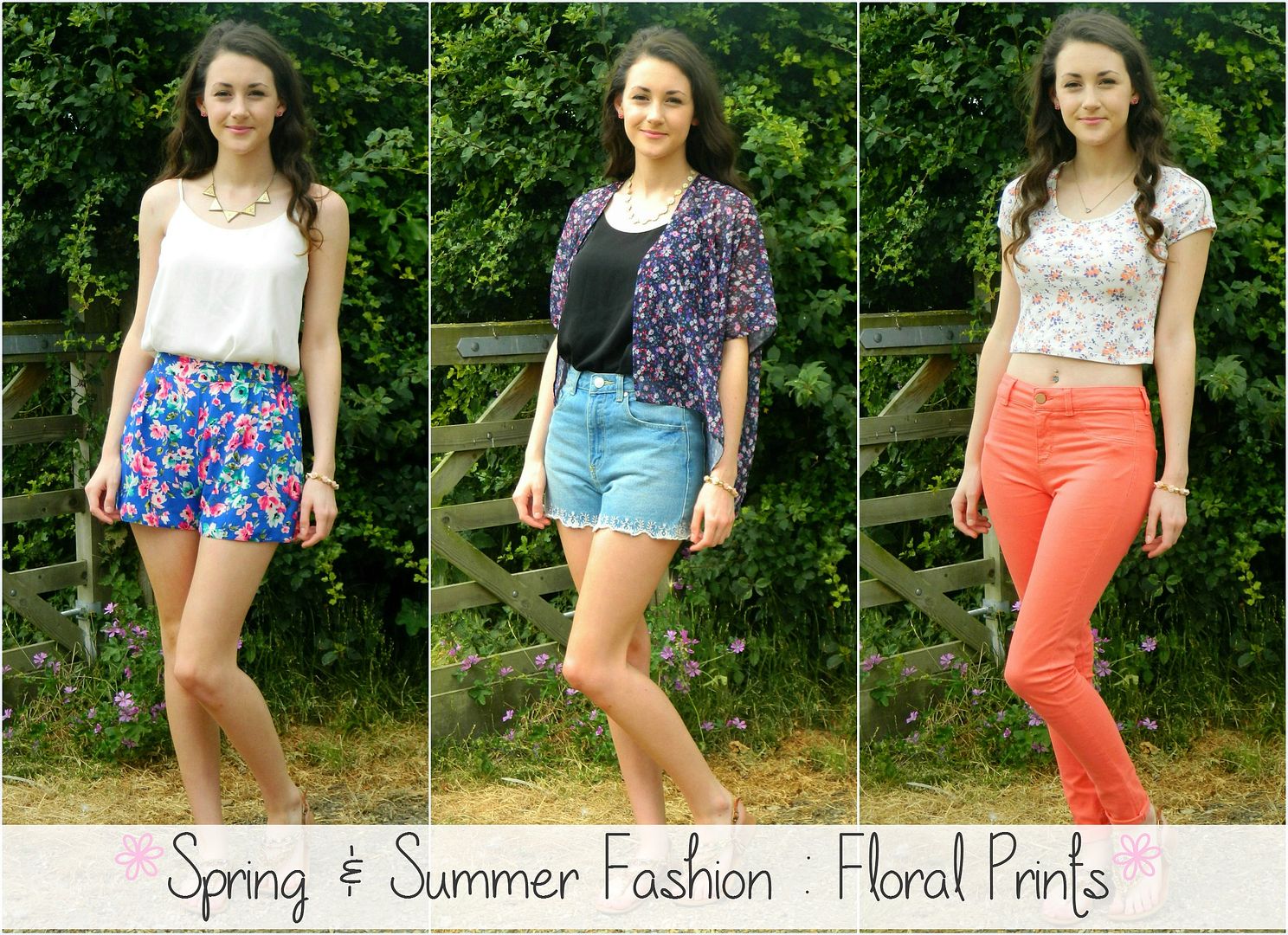 When it comes to the Summer time, floral prints are an absolute staple in my wardrobe. In all honesty I love wearing florals all year long, but there's something about the warmer weather where I like to wear brighter and more colourful flower prints! I thought I would put together a few outfits to show you all some of my favourite floral pieces I have found on the high street recently plus different items you can pair them with.

In each of the outfits I have kept with the same sandals purely because they are my favourite things to wear in the Summer time and they are all that I live in! Of course you can swap them up for flats, flip flops, wedges or even heels, this is just what I would pair these outfits with!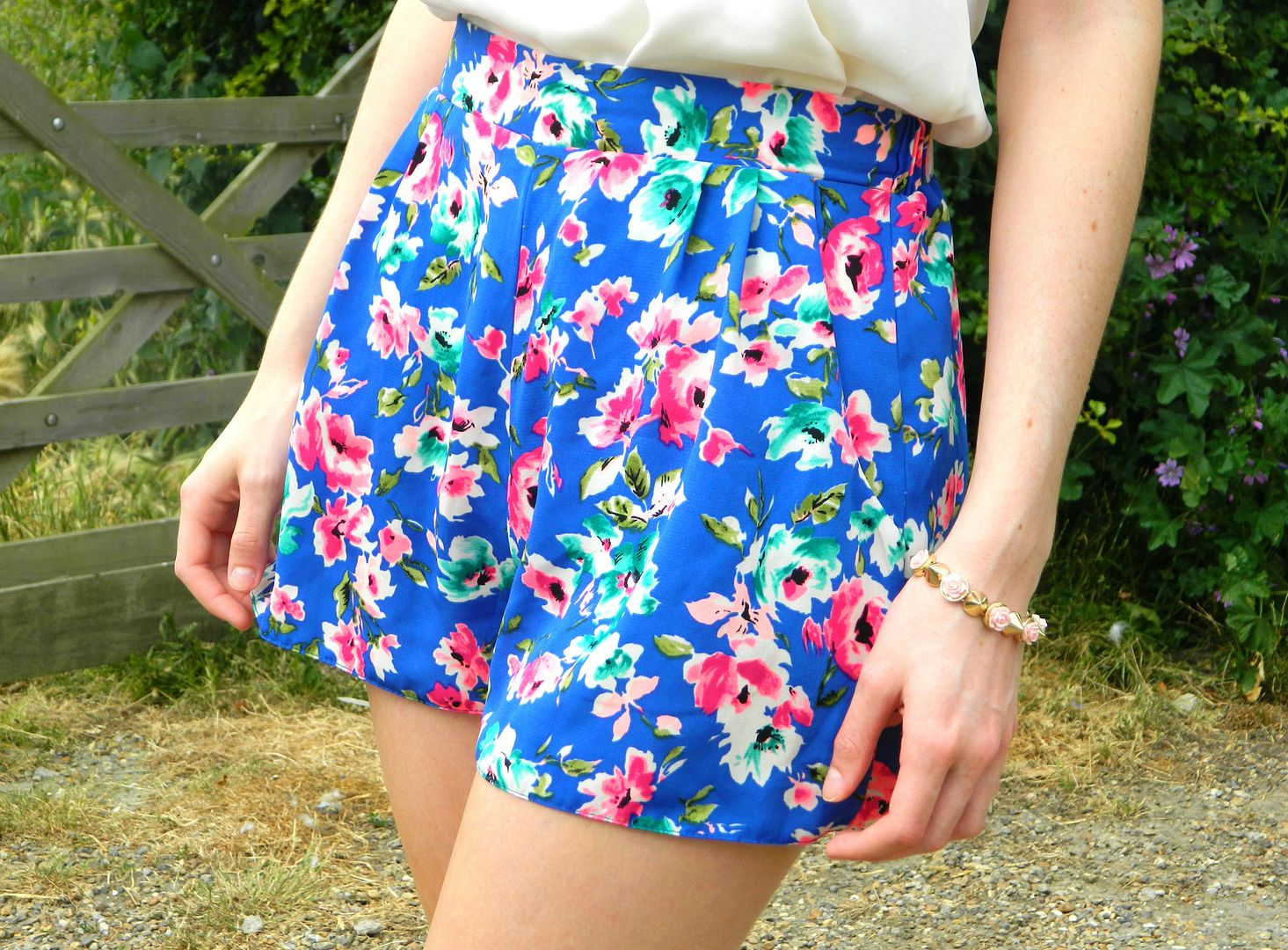 Top -
Oasis
| Shorts -
New Look
| Sandals - New Look | Necklace - Miss Selfridge | Bracelet - Miss Selfridge | Earrings - Miss Selfridge (
similar
)
I spotted these gorgeous bright blue and pink floral shorts a few weeks back in New Look and luckily there was one pair left in my size. I absolutely adore the colours in these shorts and they definitely scream Summer time! As these are quite a bright print, I've paired them with a simple loose fitting cami from Oasis - this way you can easily dress up the outfit with a statement necklace. I also love wearing my denim jacket with this outfit when it gets a bit chillier in the evenings. This definitely dresses down the outfit but I think it makes it cute for evening BBQs or parties. I think this is a great outfit for the day when worn with sandals or flats, but it can also be worn with killer wedges to make a night time outfit!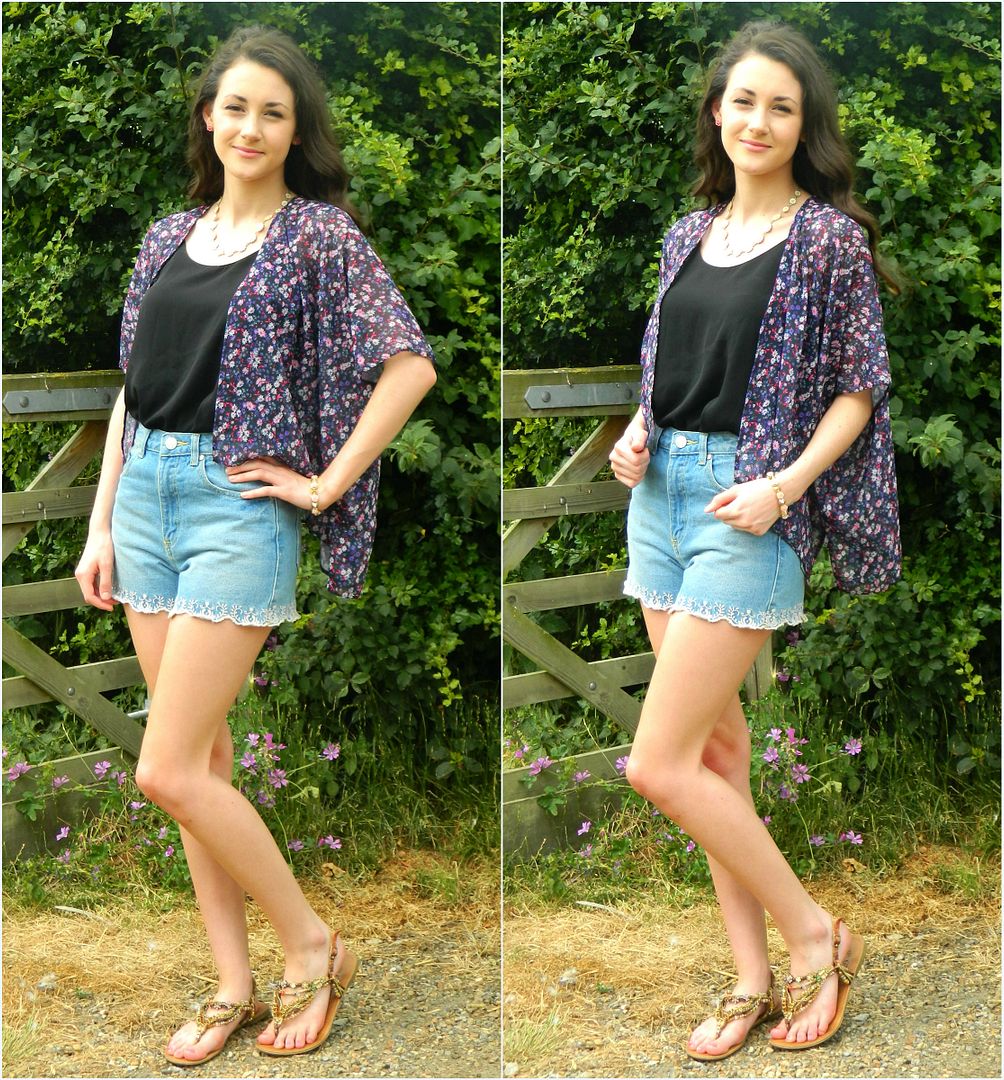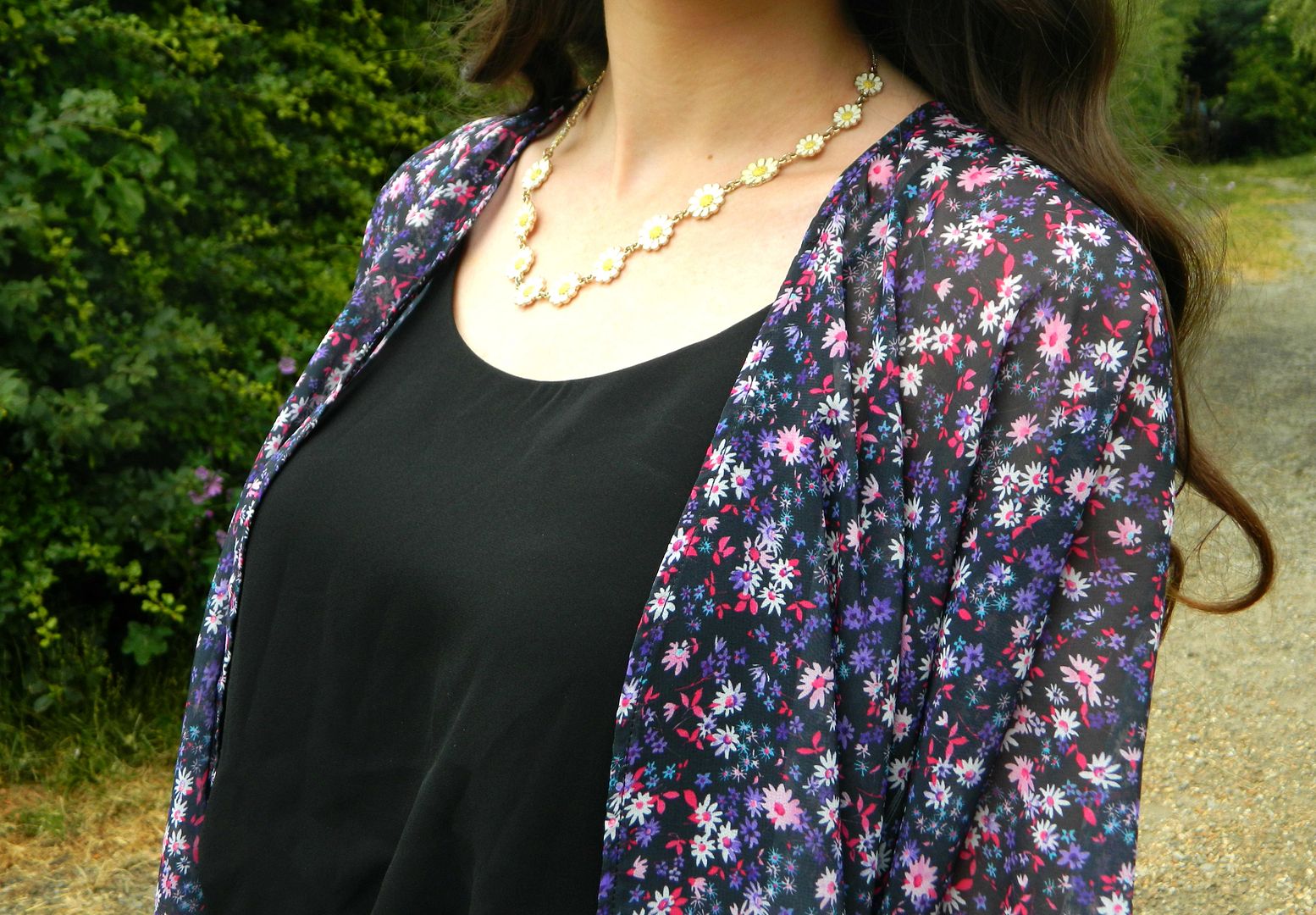 After weeks of hunting for a simple yet affordable kimono for my holiday, I came across this really cute one in the teen's section of New Look! At only £12.99 is was pretty much half the price of the ones sold in the women's section plus as it had such a sweet print, I couldn't pass it up. Floral kimonos are great for adding pattern and texture to a really simple outfit or can be thrown over a bikini when you're relaxing by the pool. As the background colour of this kimono was black, I decided it would look best over a simple black cami which I tucked into my Miss Selfridge denim shorts. I love that these shorts have a really pretty trim and a slightly scalloped edge as it adds that extra bit of detail to the outfit!

To add a bit more floral-ness to the outfit, I paired it with one of my current favourite necklaces which is a daisy chain choker. This necklace can be pretty much worn with anything and I really love how well it goes with this outfit!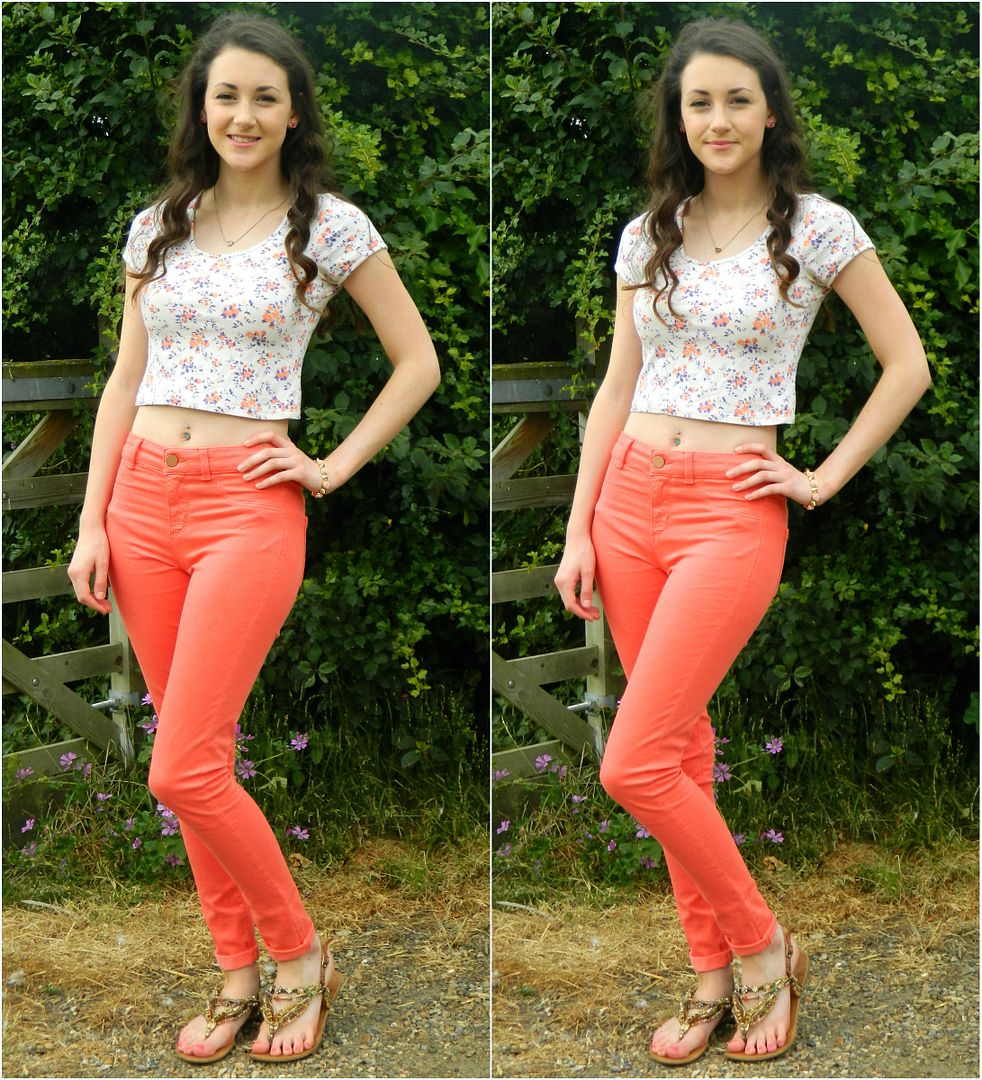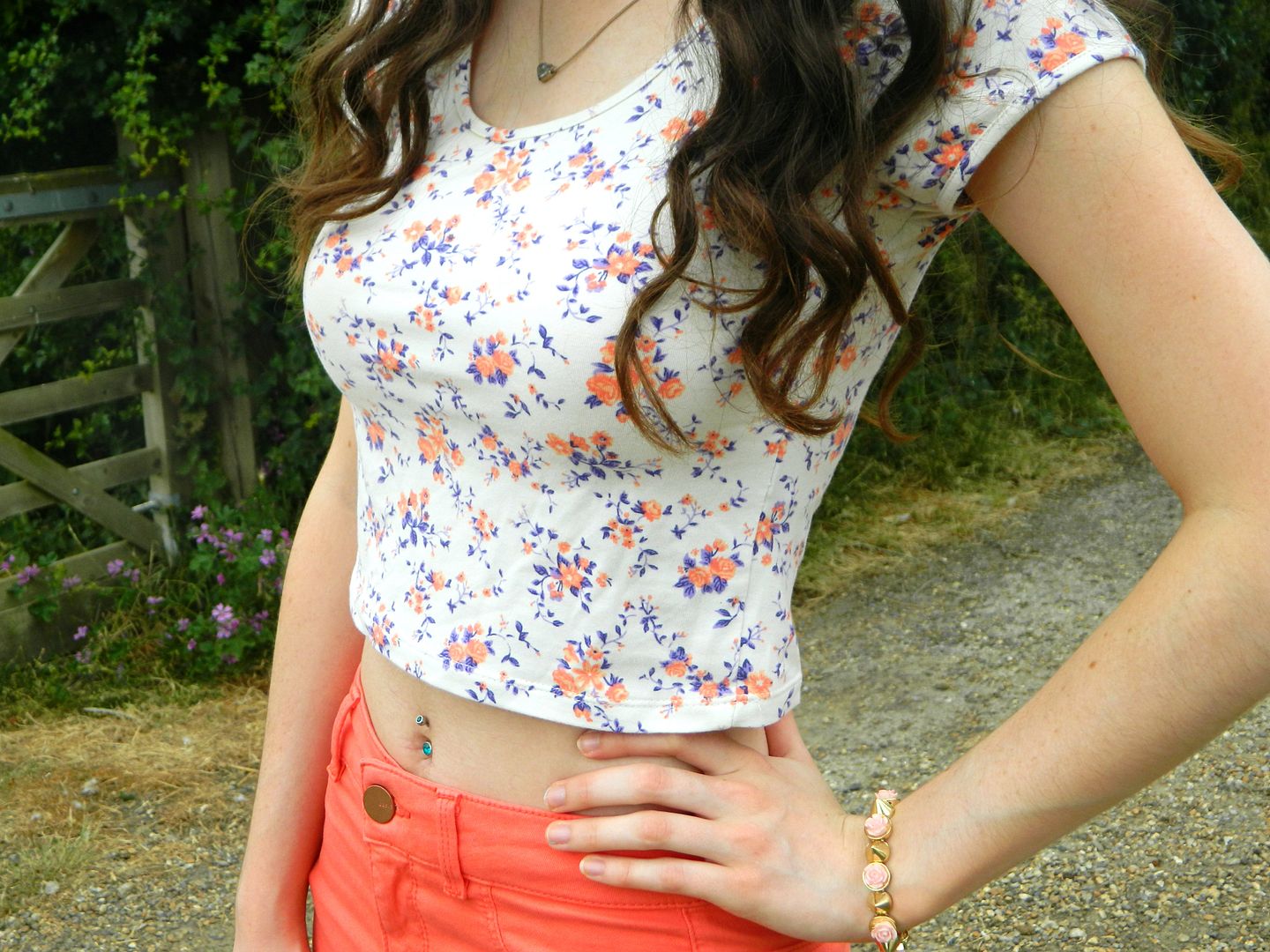 Top -
Forever 21
| Jeans -
Oasis
| Sandals - New Look | Necklace - Dorothy Perkins (
similar
) | Bracelet - Miss Selfridge |
Earrings - Miss Selfridge (
similar
)
A couple years ago I would be absolutely terrified to wear an outfit like this; crop tops and bright coloured jeans were a no go for me! But over the past few months I've become a lot more confident in the clothes I wear and become comfortable with wearing brighter pieces - especially for the Summer! As soon as I spotted this crop top in Forever 21 I knew I had to have it and at just £6.50 you can't really go wrong! I knew instantly that these jeans would go perfectly with this top as they pick out the coral flowers in the print. If you are worried about showing off your belly, then this top goes really well with high waisted shorts (I also wear this top with the denim shorts in the photos above), jeans or skirts. I can't wait to go back to Forever 21 and pick up some more of these tops in different prints, I think they're so pretty for the Summer!


Thank you for reading today's fashion post, I really hope you enjoyed it! I want to keep the content on my blog quite varied so if you enjoy my fashion posts and would like to see me show other fashion trends with high street pieces then do let me know in the comments below!
What are your thoughts on the outfits I have put together?
What fashion trends have you been following this Summer?