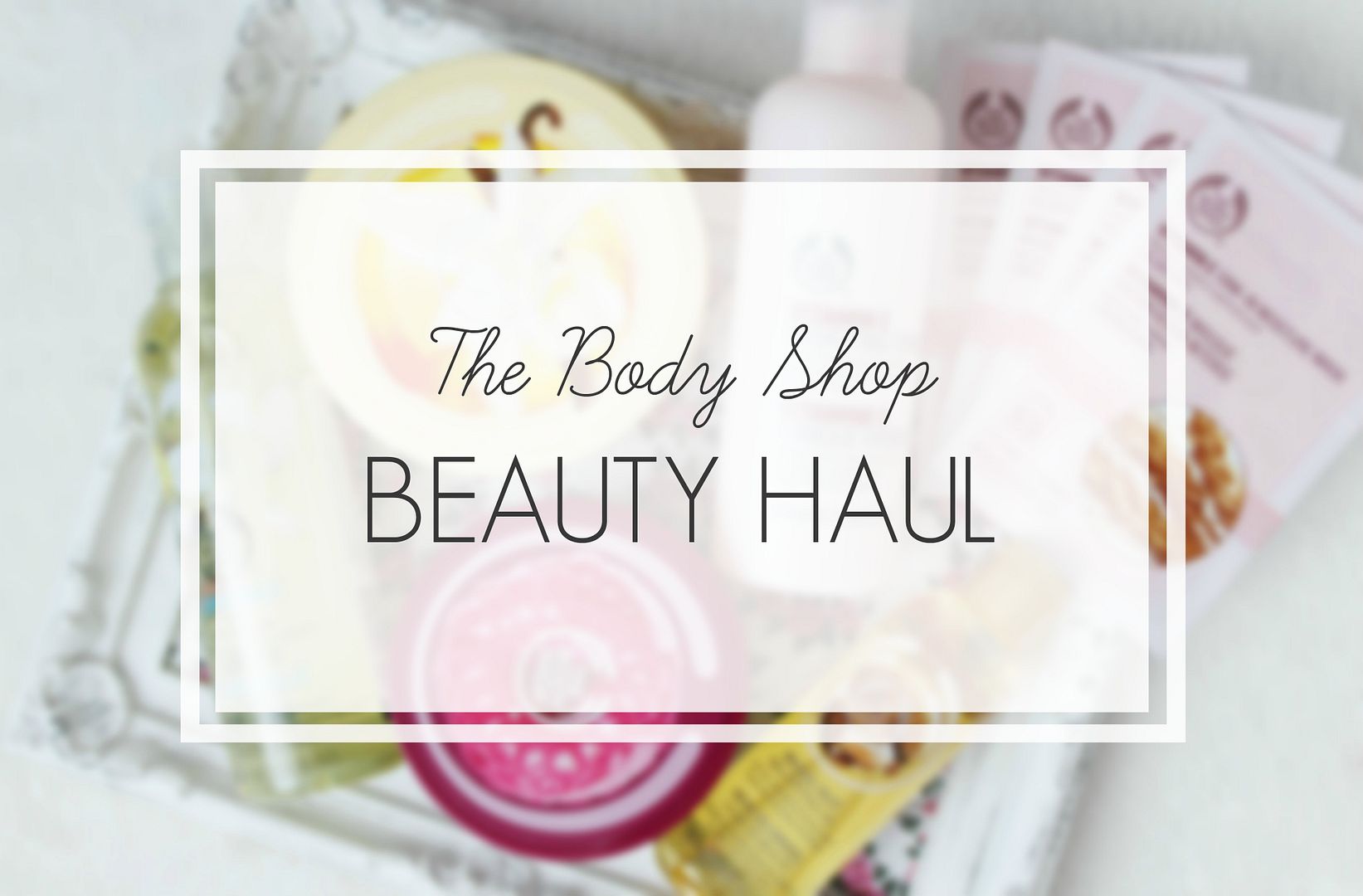 The other day I placed a fairly large order on
The Body Shop website
and I thought I would show you what products I picked up! At the time they were holding a 50% off sale and I also had a 40% off code, so let's just say I felt like a kid in a sweet shop! I've managed to pick up some products I've wanted to try for quite a while plus there's a couple of impulse buys which I think have turned out to be some great finds!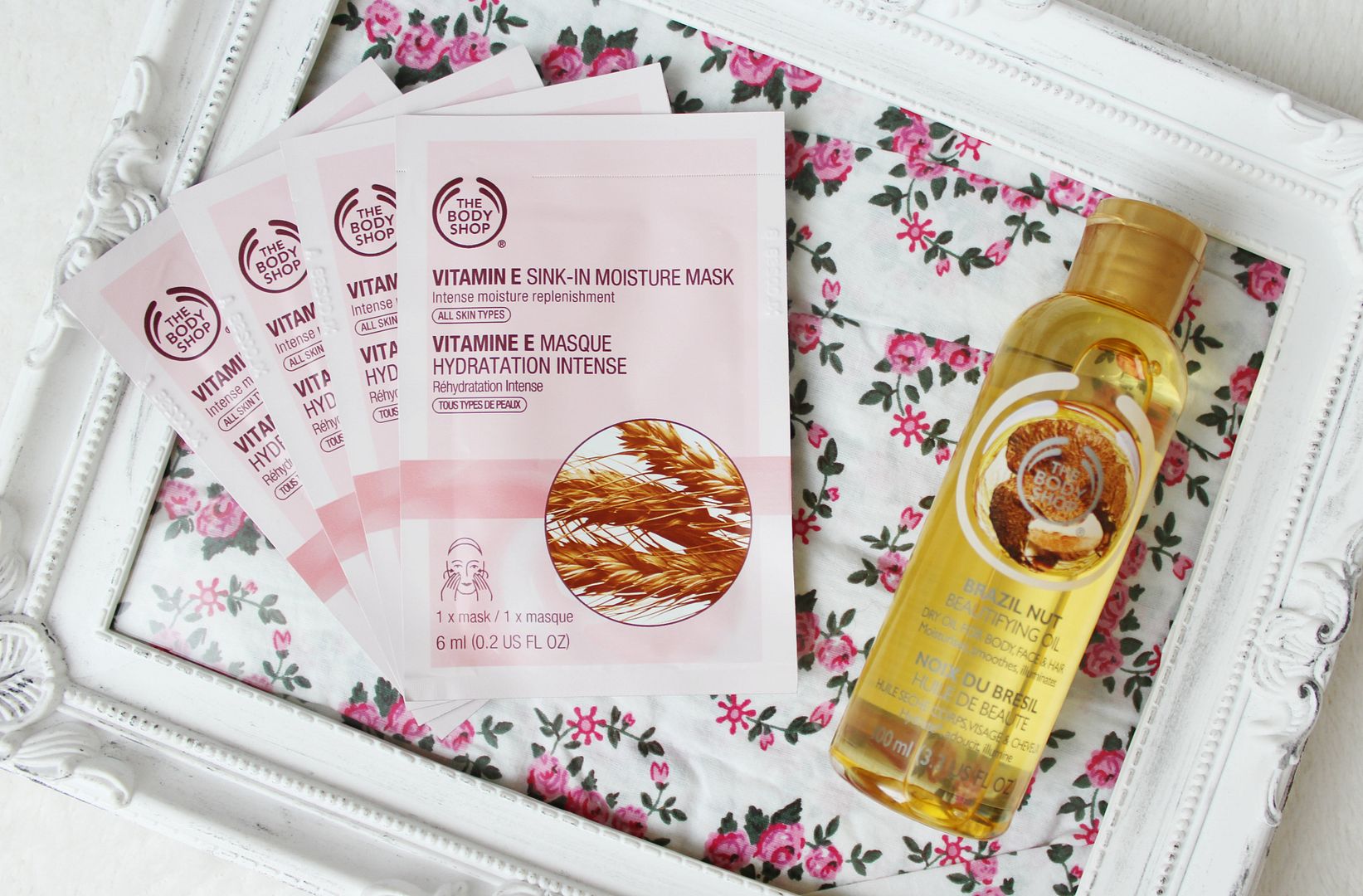 Vitamin E Sink-In Moisture Mask
After falling in love with my Vitamin E night oil from Body Shop, I thought I would finally try out some more products from the line. This skin care line is targeted at all skin types and is particularly great for sensitive skin which is why I love this range. The first things I popped into my basket were a few of these Vitamin E moisture masks as they sounded really nourishing and lovely for my skin. These worked out after all the discounts at 60p each which I thought was great, especially if they work really well!
Brazil Nut Beautifying Oil
In the Summer time I really get into applying body lotions and butters, but I've never actually tried a body oil. Out of all the scents they had on offer I decided Brazil Nut would be the nicest. It also contains almond oil which is known for it's super hydrating qualities. What's great about these oils is that they can be used on your hair, face and body so have tonnes of uses! The oil is really lightweight so I'm sure it will be lovely for an over night nourishing facial treatment or to help smooth down any fly-away hairs during the day.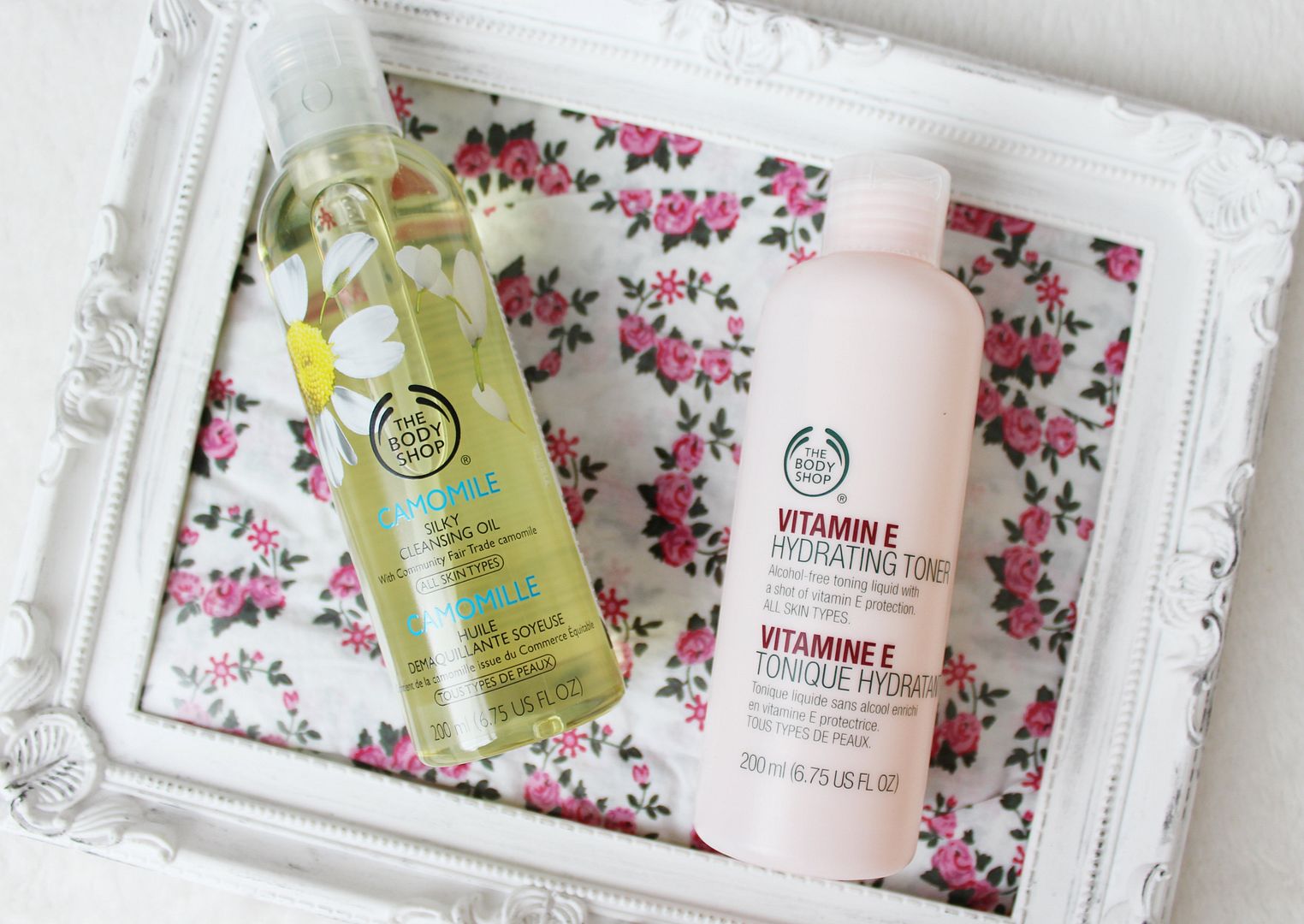 Camomile Silky Cleansing Oil | LINK
I've read quite a lot of good reviews about this cleansing oil and I thought it was worth trying whilst I had my discount code. What I love about oil cleansers is that they instantly dissolve any traces of makeup and are super gentle on the skin. As this cleansing oil contains camomile, it's perfect for sensitive and dry skins and will keep your skin feeling soft and supple. I used this last night to remove my makeup and it's really quick and simple to do - definitely a new favourite for my skin care routine!
Vitamin E Hydrating Toner | LINK
I ran out of my facial toner ages ago and never bothered to pick a new one up as my skin seemed to be fine without one. But as we go into the warmer months, it's always nice to have something like this in your skin care routine to help freshen up your face. Again this is from the Vitamin E line so is really gentle on the skin whilst helping remove any last traces of makeup and impurities. I've used this a couple times and I do find it lovely on the skin. I will probably do some in depth reviews on these 2 products in a couple months and let you know how I get on with them!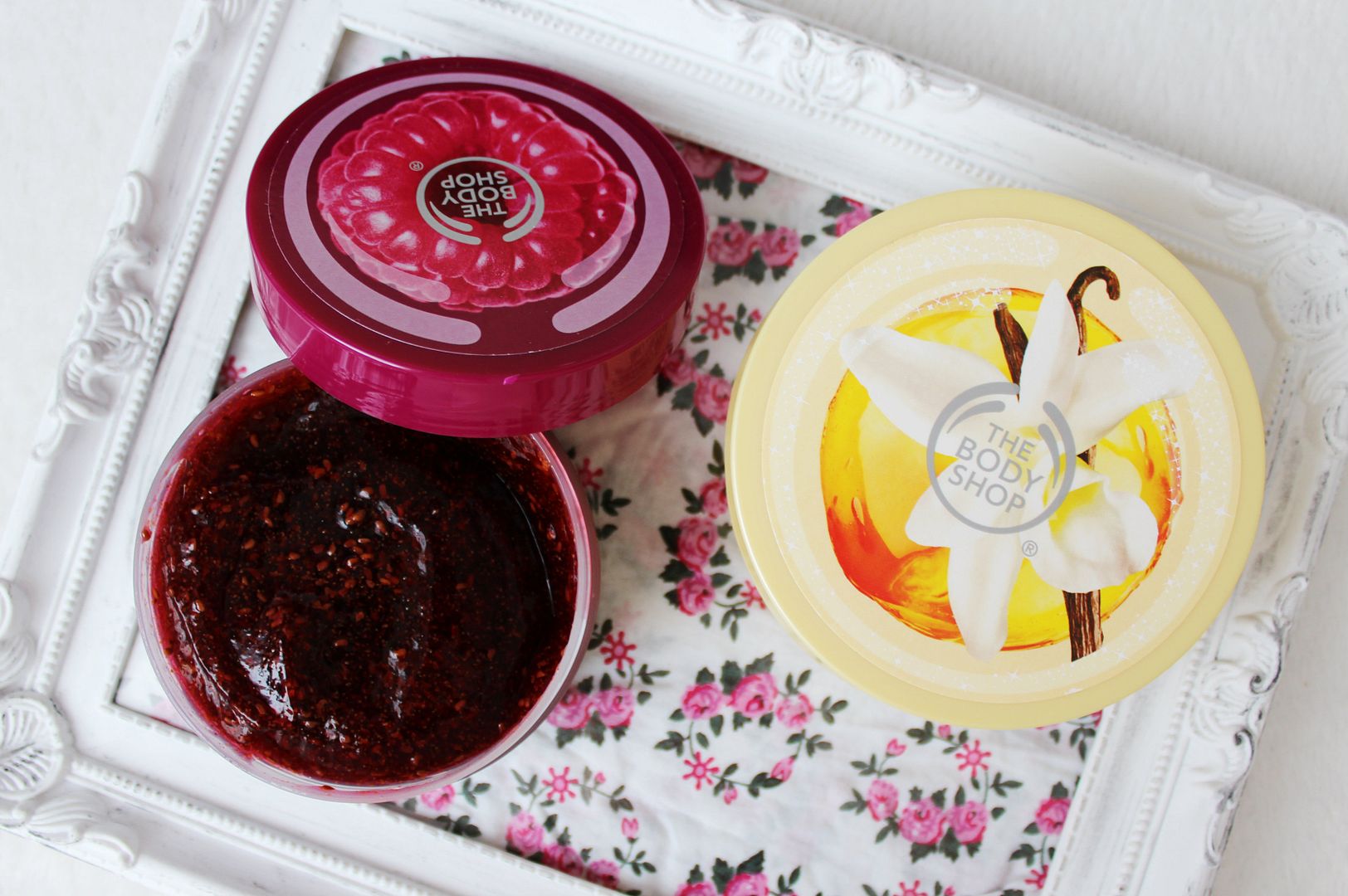 Early-Harvest Raspberry Body Scrub
I honestly can't get over how amazing this body scrub looks and smells - it's gorgeous! It contains really raspberry extracts and seeds which makes it fairly gentle on the skin. I love how it looks just like raspberry jam and smells good enough to eat (however it clearly says on the tub not to!) This will be a lovely body scrub to use in the Summer as the fruity scent will be really refreshing and revitalising in the shower!
Vanilla Brulee Body Butter
My final products in my Body Shop haul was actually the main reason why I even placed an order on the website! My boyfriend gave me a mini version of the Vanilla body butter at Christmas time and since then I've had it on my to-buy list as it smells absolutely amazing! Luckily it went into the sale and with the added 40% off it made this huge tub of body butter just under £4 - bargain! I love how quickly these body butters sink into your skin and leave it feeling soft and smelling lovely. I find these scent also lasts such a long time, so I'd definitely recommend you trying out their body butters!
So this is everything I picked up from The Body Shop recently and I'm so excited to start trying out all of these products. I believe all together these products came to £24 which I think is great considering a couple of these were full price and I've been able to try so many products that have been on my wish list for quite some time! I hope you enjoyed today's post and I'll speak to you again soon!
Have you bought anything from The Body Shop recently?
What's your favourite product from The Body Shop?