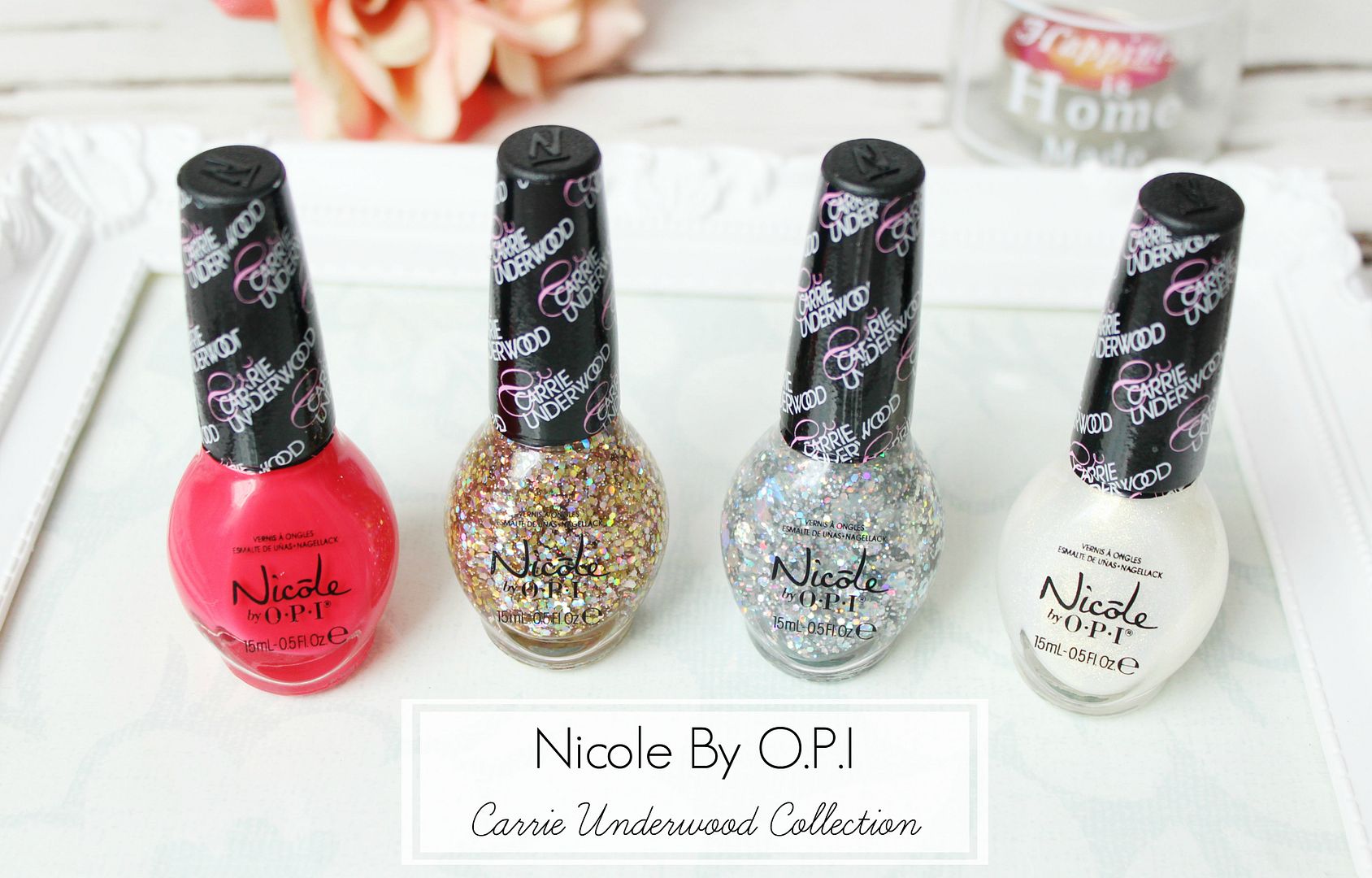 Nicole By O.P.I Carrie Underwood Collection* | LINK | £2.99 each
Hello everyone! Long time no speak - super sorry about not blogging in a few weeks! I thought I would return to the blogging scene with some gorgeous nail polishes that I've been trying out recently. I was contacted by an online store called
Xtras
that sells a range of beauty products at discounted prices and asked whether I'd like to try some of the Nicole by OPI polishes from the Carrie Underwood range. This is by no means a new release from OPI, but it's also a collection I hadn't heard much about so I was super excited to try a few polishes from it!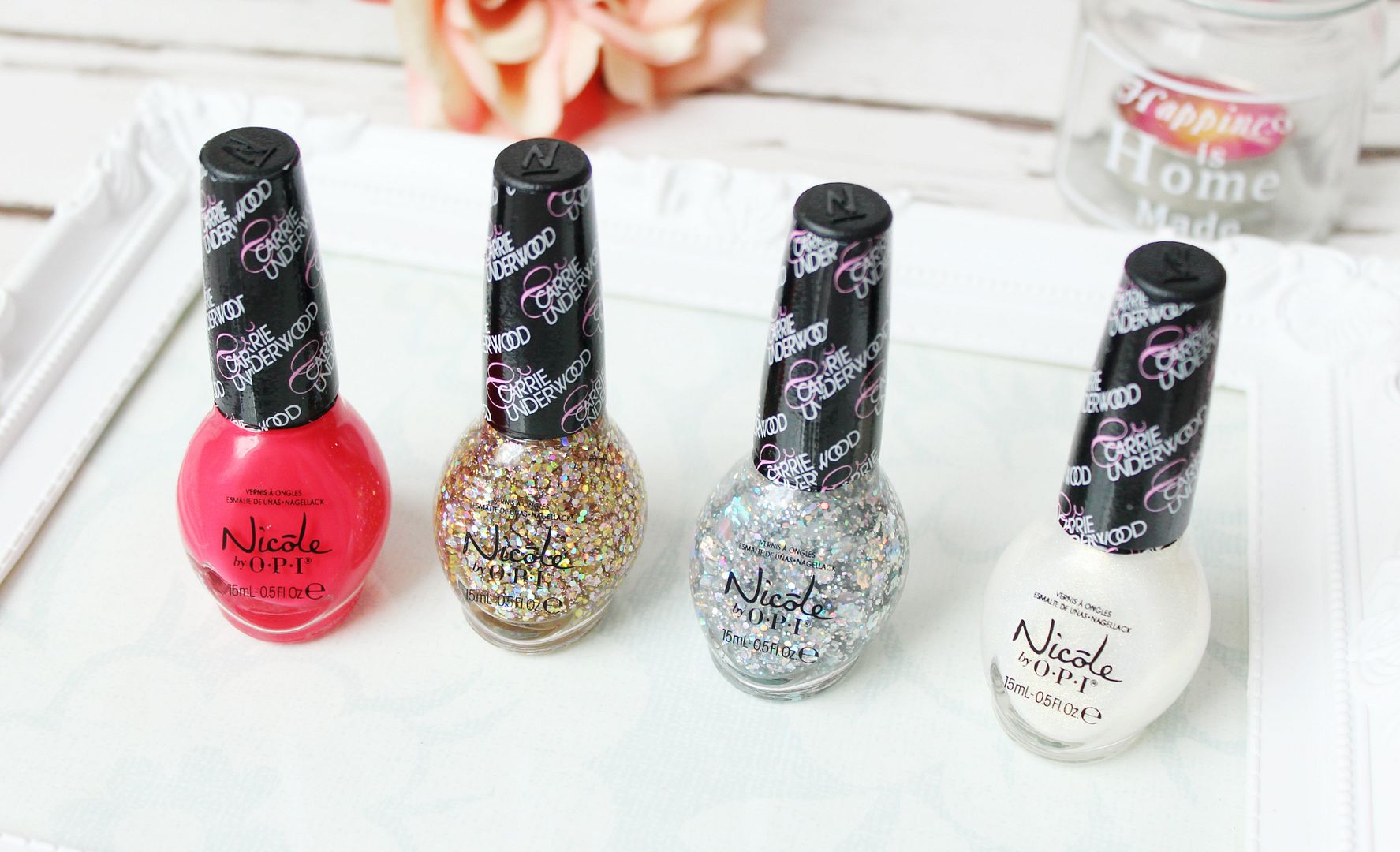 L|R - Some Hearts, Lips Are Dripping Honey, Party Bus & Sing You Like A Bee


Out of the collection I was able to try 4 gorgeous shades that are perfect for this time of year. Some Hearts is a beautiful bright pink/ coral. Lips Are Dripping Honey is a chunky gold glitter top coat that I've found looks amazing applied over Some Hearts! Party Bus is a silver glitter top coat that also has little flower shaped pieces in that add a cute girly touch to your polish. Finally I also received Sing You Like A Bee which is a white dense glitter polish that has a slight golden tint to it.
I've found that the quality of these nail polishes is really amazing and they are just as good as other OPI polishes I've tried, despite the much cheaper price! Some Hearts gives a beautiful creamy and opaque finish in just one coat which I was pleasantly surprised with. I also found that this shade applied evenly and streak free which is great for when you're painting your nails in a rush! With Sing Like A Bee, you can wear this on its own but I would say it needs a good 2 or 3 coats to ensure an opaque and even finish. I wasn't as keen on this polish as the other 3, I think it was the golden tint that I wasn't sure on. I think this polish would be much more suited for the Christmas time when you want more of a sparkly effect!
As for the 2 top coats I think they are both a great way to introduce an added bit of glam to your manicure! Like I've mentioned Lips Are Dripping Honey looks amazing over Some Hearts (photographed below) and is easily built up in around 2 coats. As for party Bus, as it has the flower details in you need to be a bit more precise with application to create the same effect on each nail. To use this top coat I think it works best using a thin orange wood stick so you can stick each flower to your nails. This does take a little longer but the result is super pretty!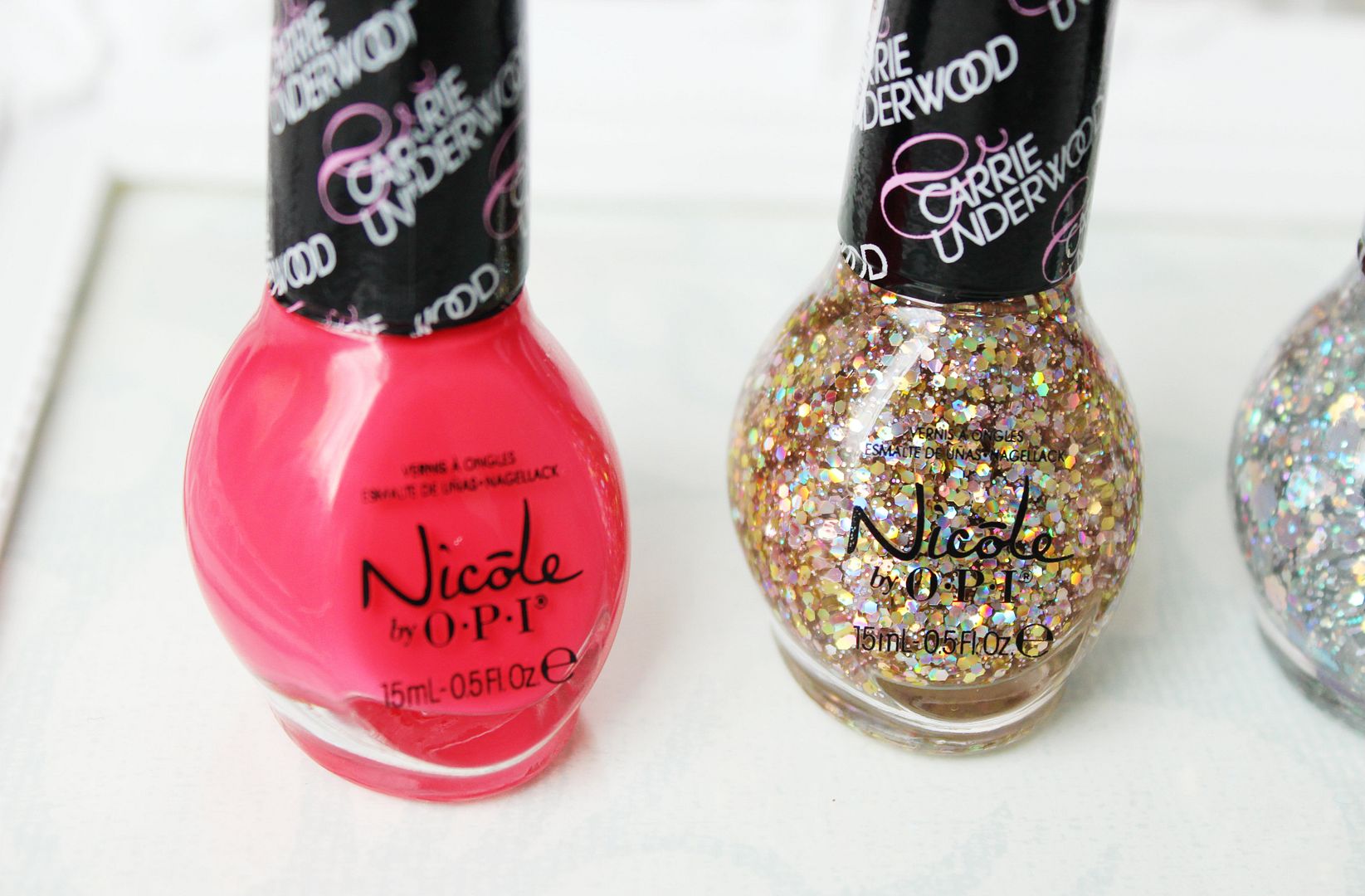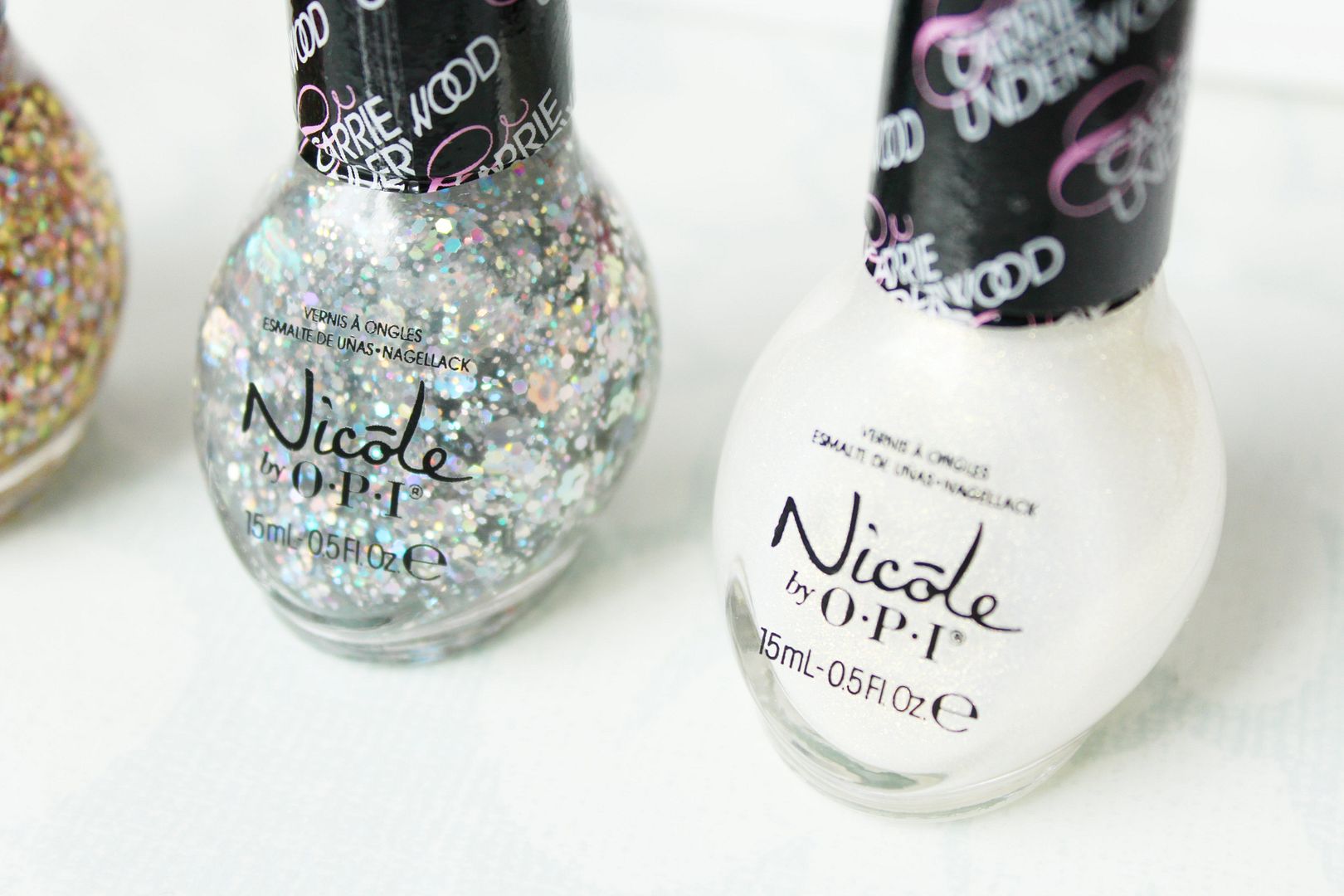 The main thing about these nail polishes that impressed me was their staying power! Obviously glitter polishes are known for their resistance, but the 3 I've tried from this range lasted really well for up to a week! This makes them amazing value for money as you know your manicure will last a long time. For Some Hearts again I was impressed that it lasted for 5 to 7 days with minimal chipping. I do a lot of tapping on screens at work so I do find that the tops of my nails wear quicker than the rest, but this polish still stayed strong and barely looked chipped after a week!
After trying the Nicole by OPI line and seeing how well they've lasted on my nails I'm definitely tempted to try out some more shades - they are some of the nicest quality polishes I've tried from the high street! As well as being long lasting, these polishes do also apply really well and with their tapered brushes you can achieve a beautiful even finish.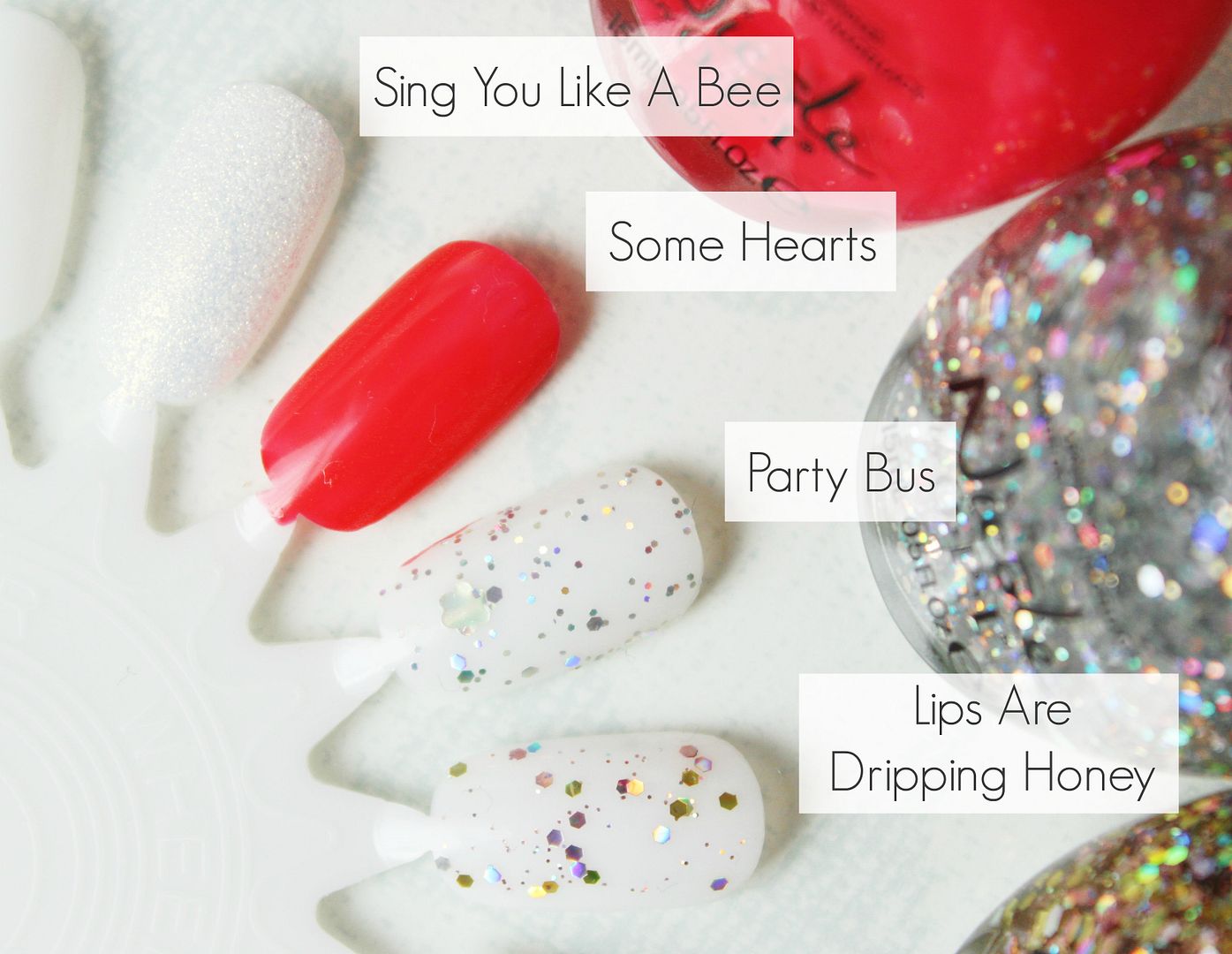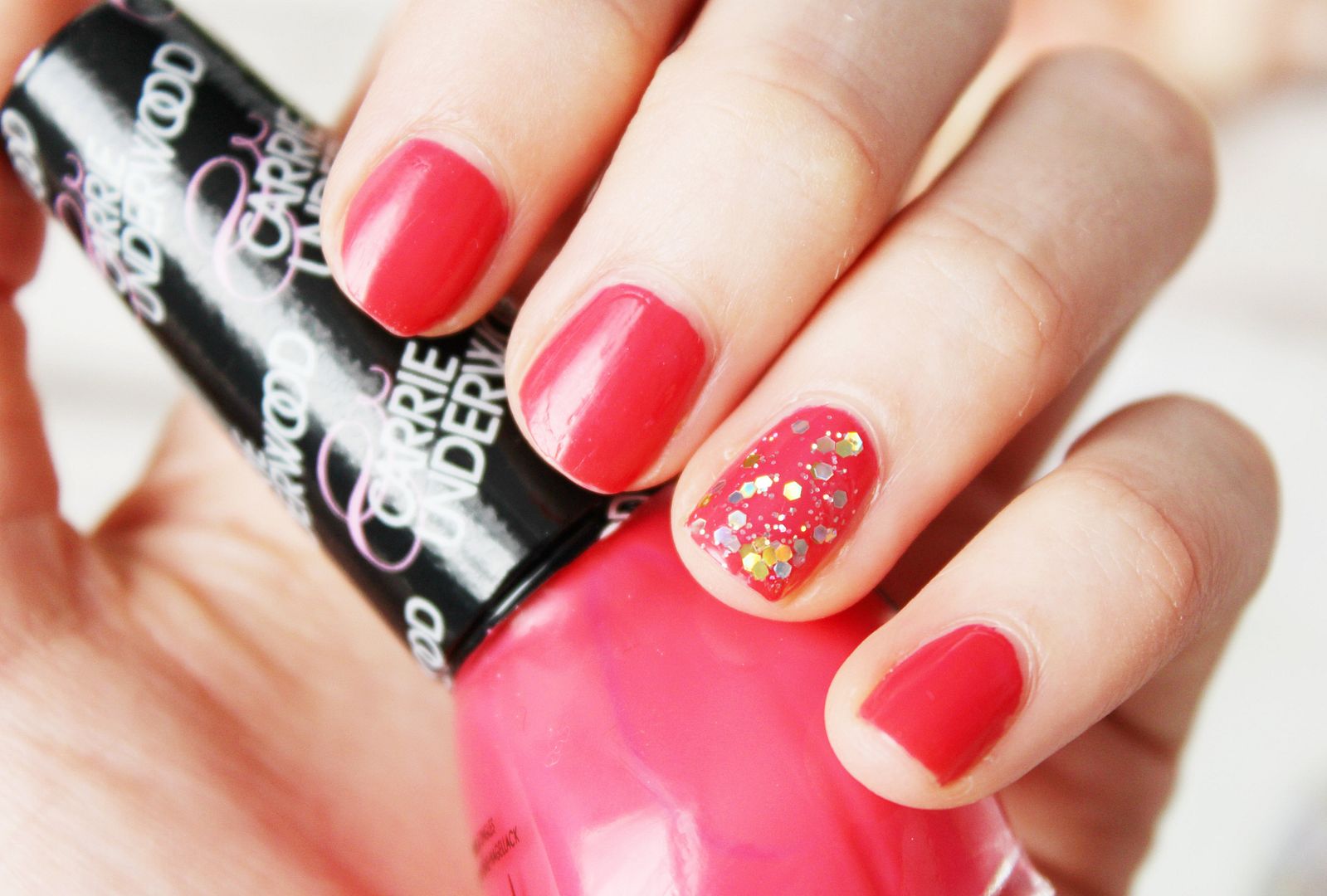 I've definitely been really impressed with these lovely shades from the Carrie Underwood collection and I'm looking forward to trying some more polishes from the Nicole by OPI line! I would definitely recommend trying out some of the shades and for just £2.99 on the Xtras website, it's a bargain not to miss out on! Let me know if you've tried any of these polishes before and whether you have any shade recommendations!