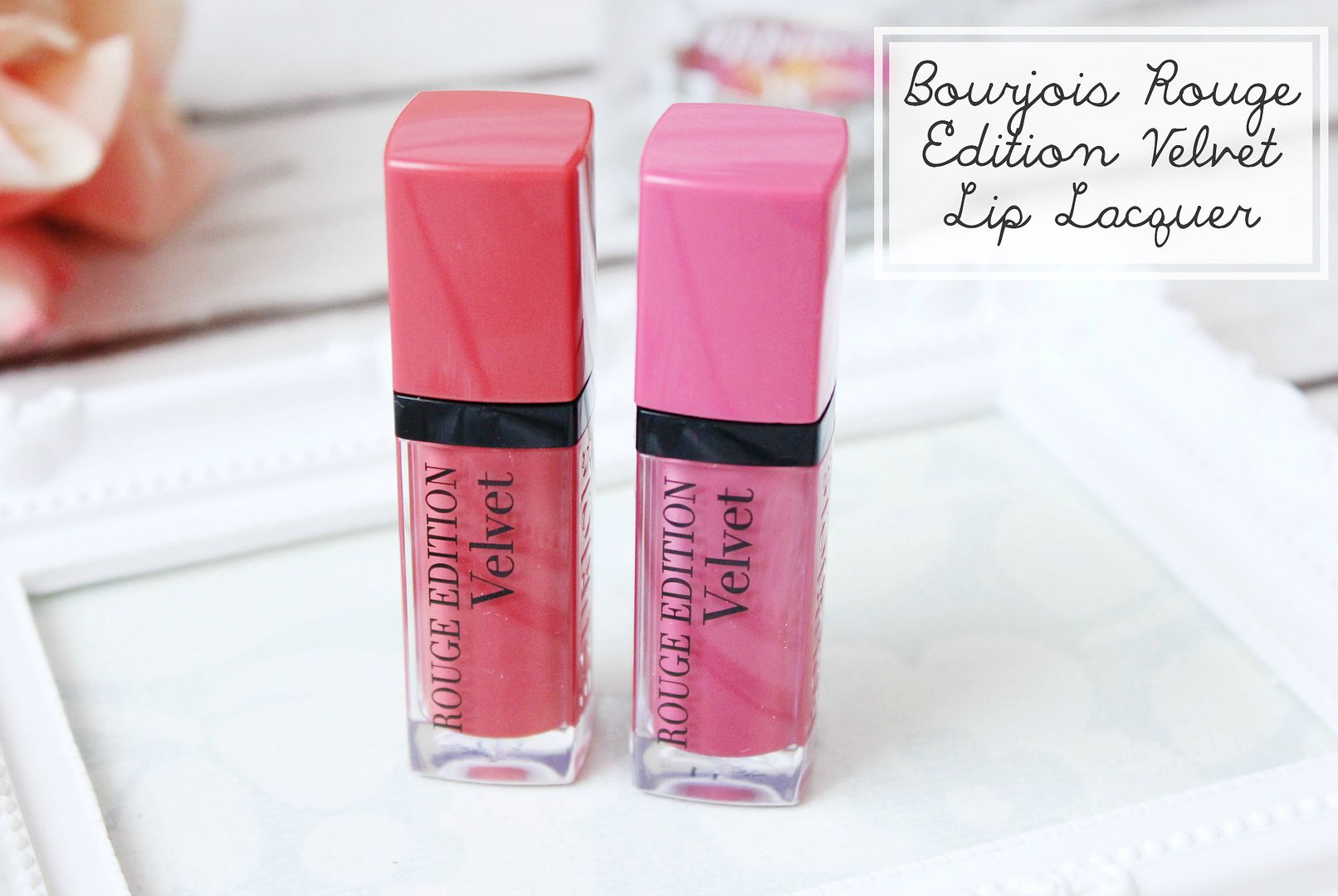 Bourjois Rouge Edition Velvet Lip Lacquer | £8.99 each | LINK
You may have seen in my
latest makeup haul
that I picked up some new Bourjois lip products and over the past few weeks I've been trying them all out! I picked up a couple of the Rouge Edition Velvet Lip Lacquers as I thought they looked like the perfect lip product for Spring to create a bright and bold lip! Bourjois have recently released an Aqua range to these lacquers which give more of a glossy shine than these velvet finish ones, however I much preferred the colour range and pigmentation of the velvet ones, so that's why I picked them up!
Lip lacquers are an amazing cross between lipsticks and lip glosses and typically have super impressive staying power! I love trying different lacquers from different brands as there's so many formulas and shades available on the high street - Soap & Glory being another favourite of mine! Keep reading if you want to find out how I got on with these Bourjois editions!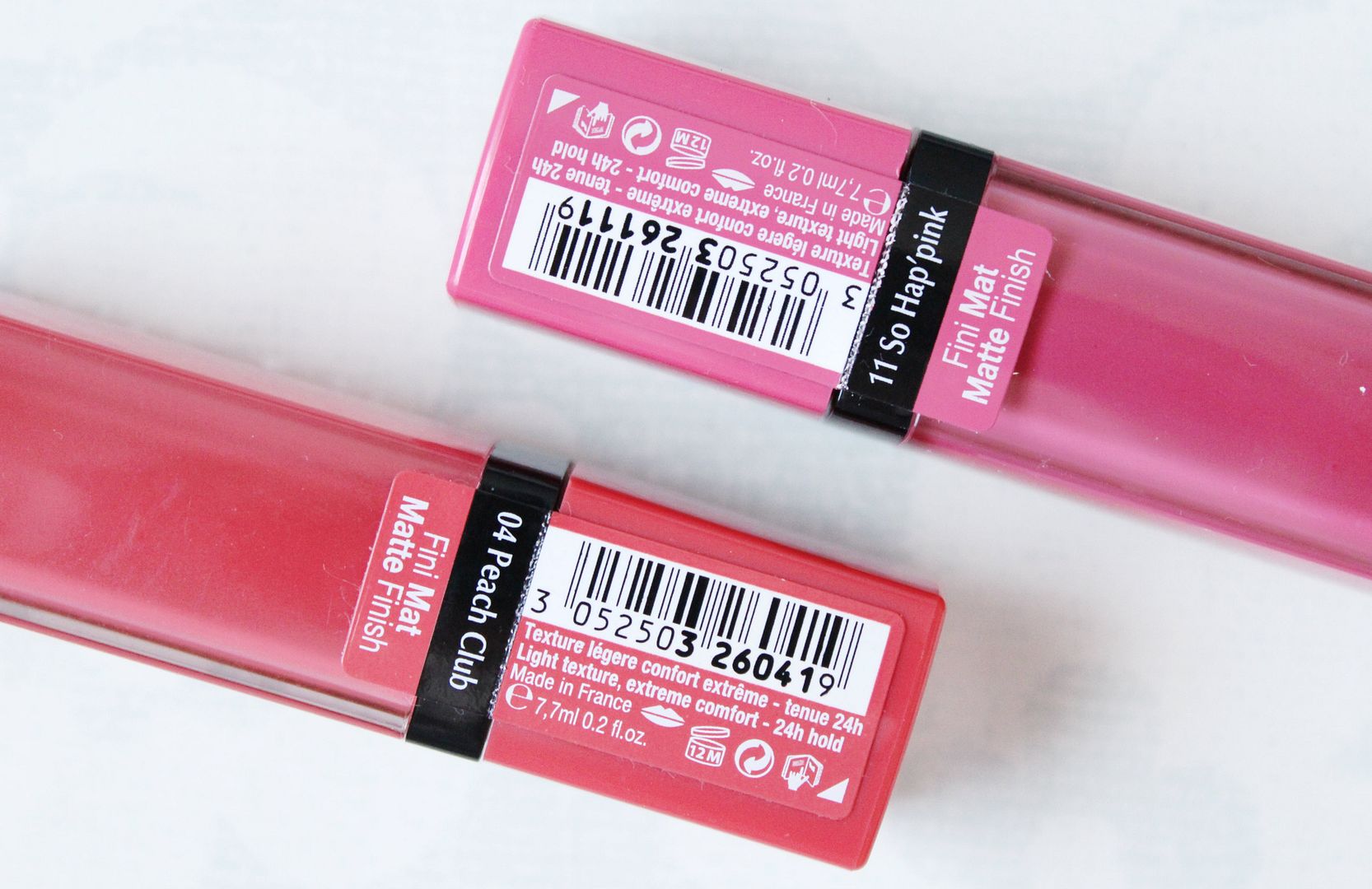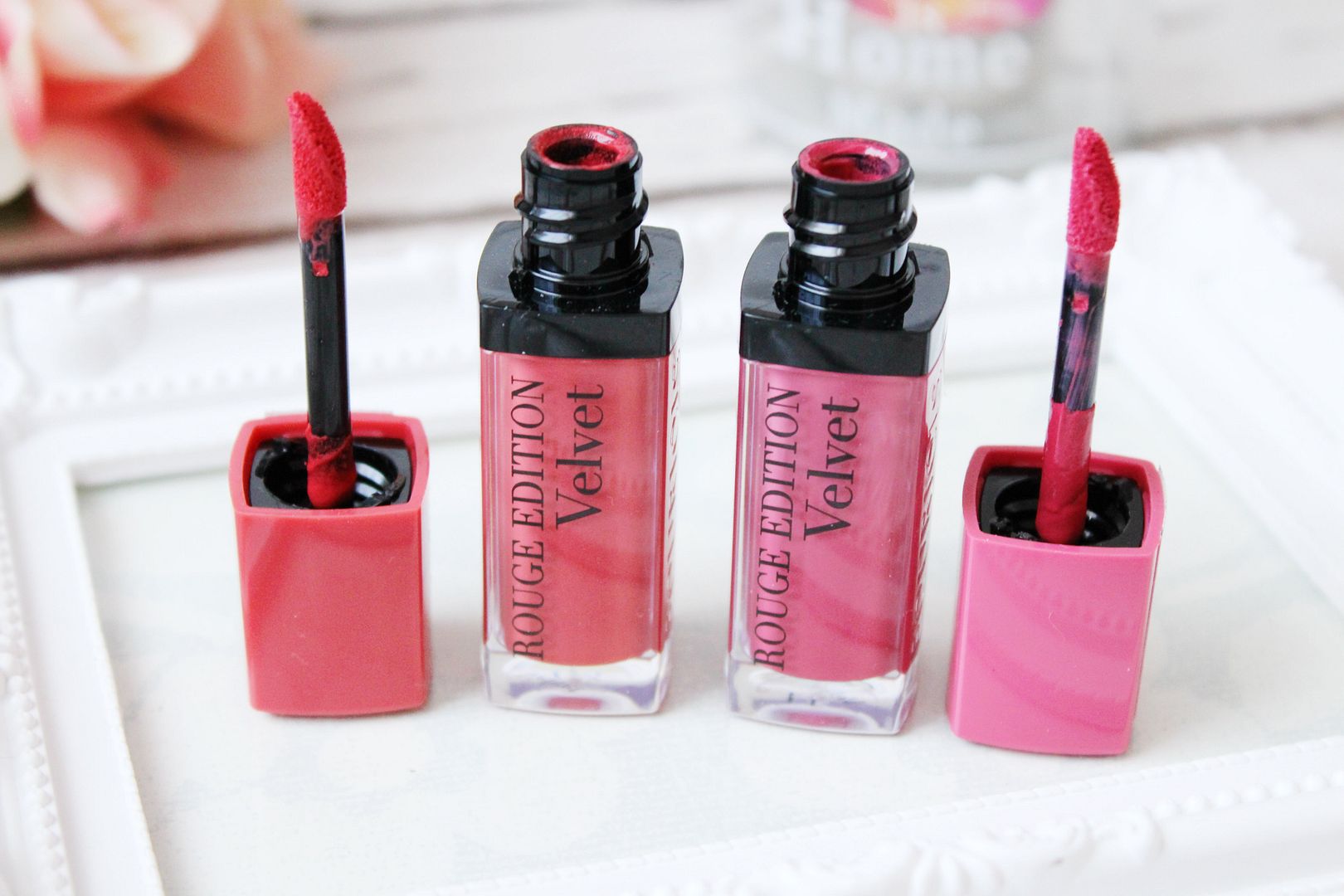 The 2 shades that I have are So Hap'pink which is a gorgeous bright yet dusky pink that is really flattering on the lips. It offers that bright, bold colour yet the dusky element takes that edge off of the colour making it so much easier to wear! The other shade is Peach Club which is a lovely bright coral/ peach that is totally my sort of shade for the Spring time! This shade definitely looks much more intense on the lips compared to So Hap'pink and even though it's called "Peach" I would say it sways more to the orange/ coral side.
These lip lacquers come in cute little lip gloss tubes and come with a doe-foot applicator. I find these sorts of applicators the best as they're easy to use and can reach all those small areas like the Cupid's bow and the inner corners of the lips creating a flawless finish!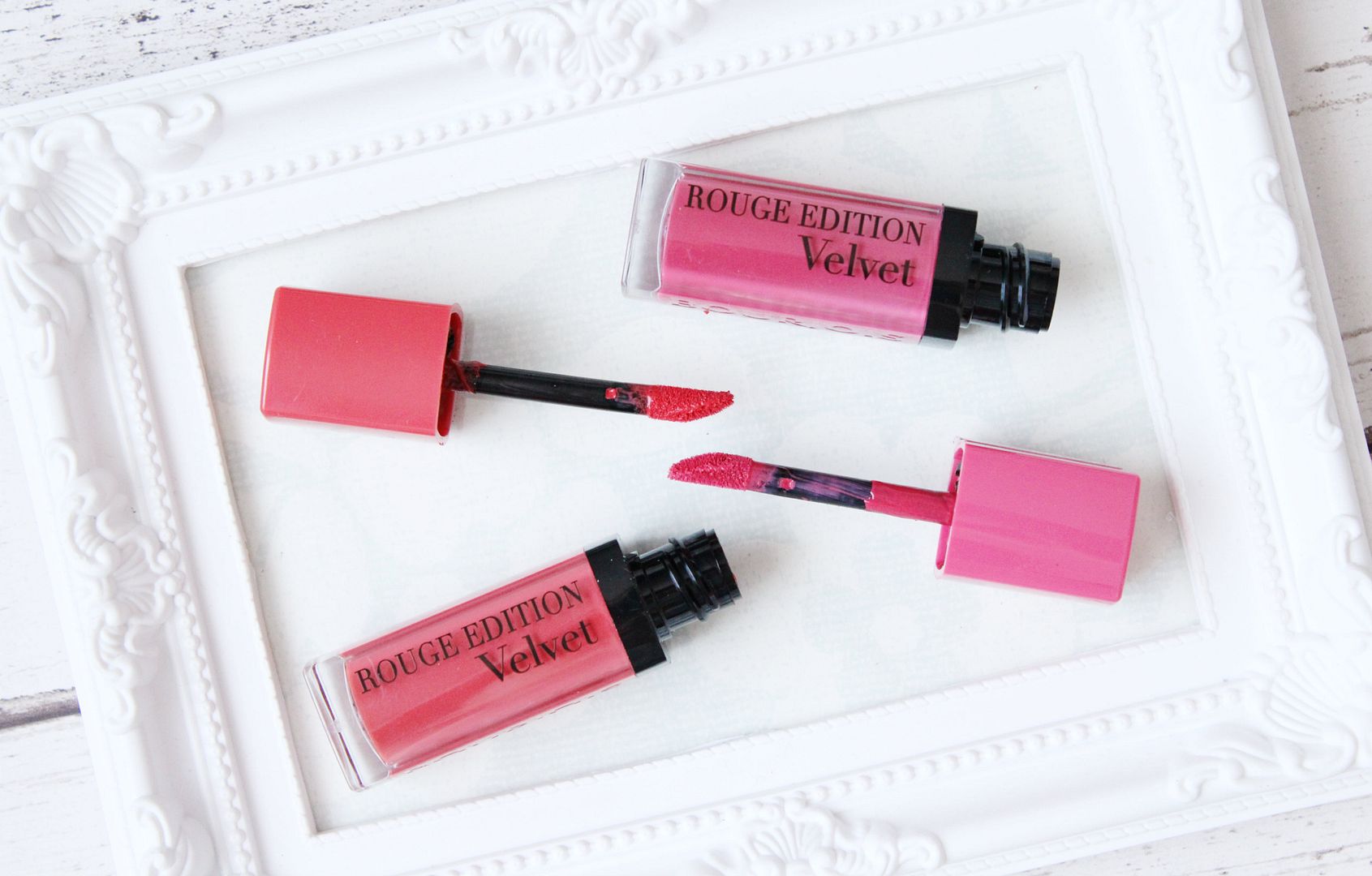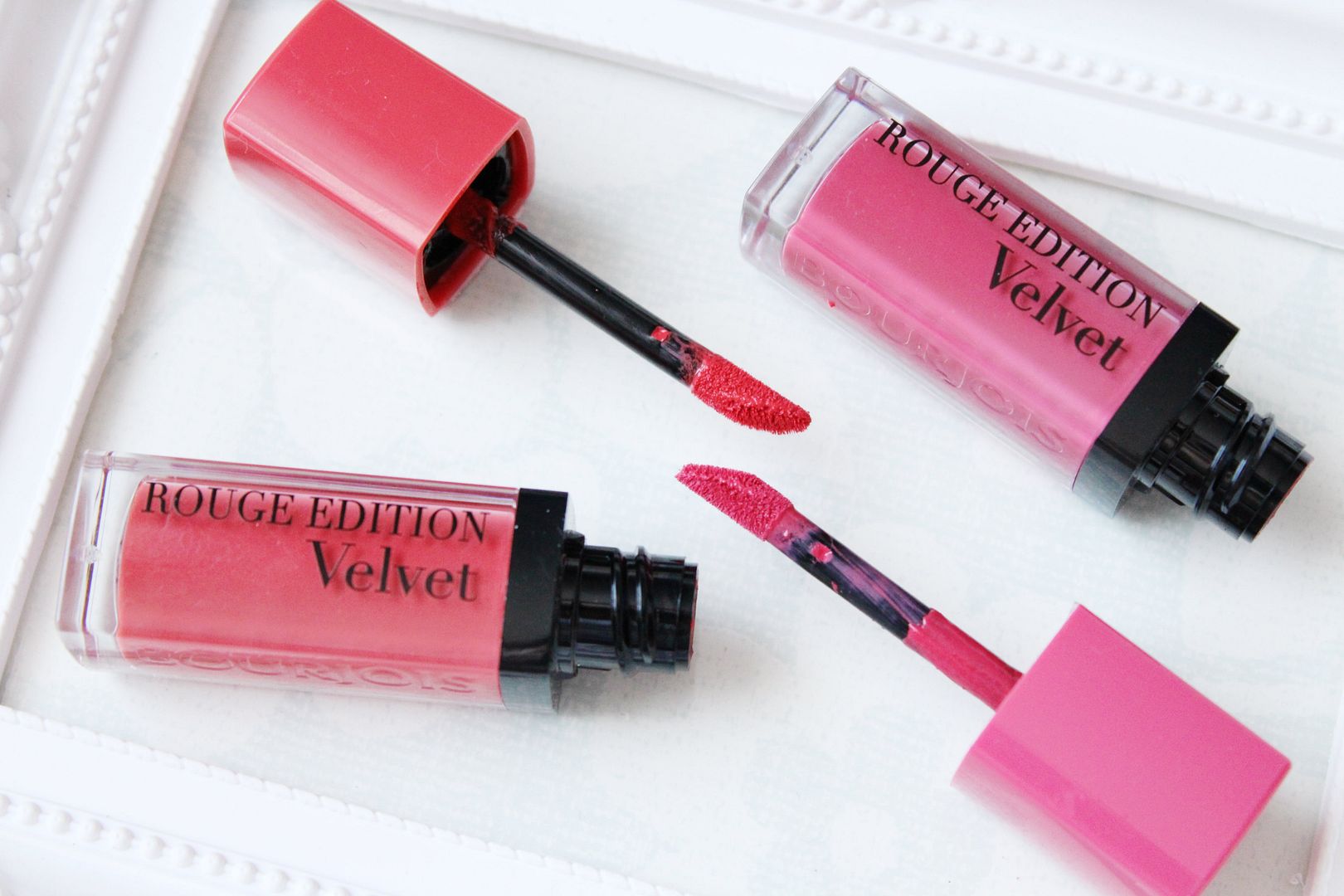 The colour pay off of the Rouge Edition Velvet Lip Lacquers is absolutely amazing and I've been so impressed about how intense and bold they look on the lips. If you're not as confident to wear these lacquers so boldly, you can also apply a small amount to your lips with your finger as this gives a softer stain like finish that can be built up to your desired look.
Like many lip lacquers I've tried, these give your lips that semi-matte/ velvet finish which I do really like. Sometimes I don't want a glossy lip, so these little lacquers are perfect for when I want more of a matte finish! Despite the fact that they are matte, I don't find these to be uncomfortable on the lips and to be honest, I sometimes forget I'm even wearing them! The only problem with them being matte is that you need to make sure you apply a lip balm before applying them and just to keep an eye on your lips throughout the day as the matte finish can look slightly drying after a couple hours. But this is easily fixed but applying a little bit of balm over the top - I find the Body Shop Born Lippy's in Strawberry or Raspberry are really good layered over the top as they help add an extra pop of colour and shine!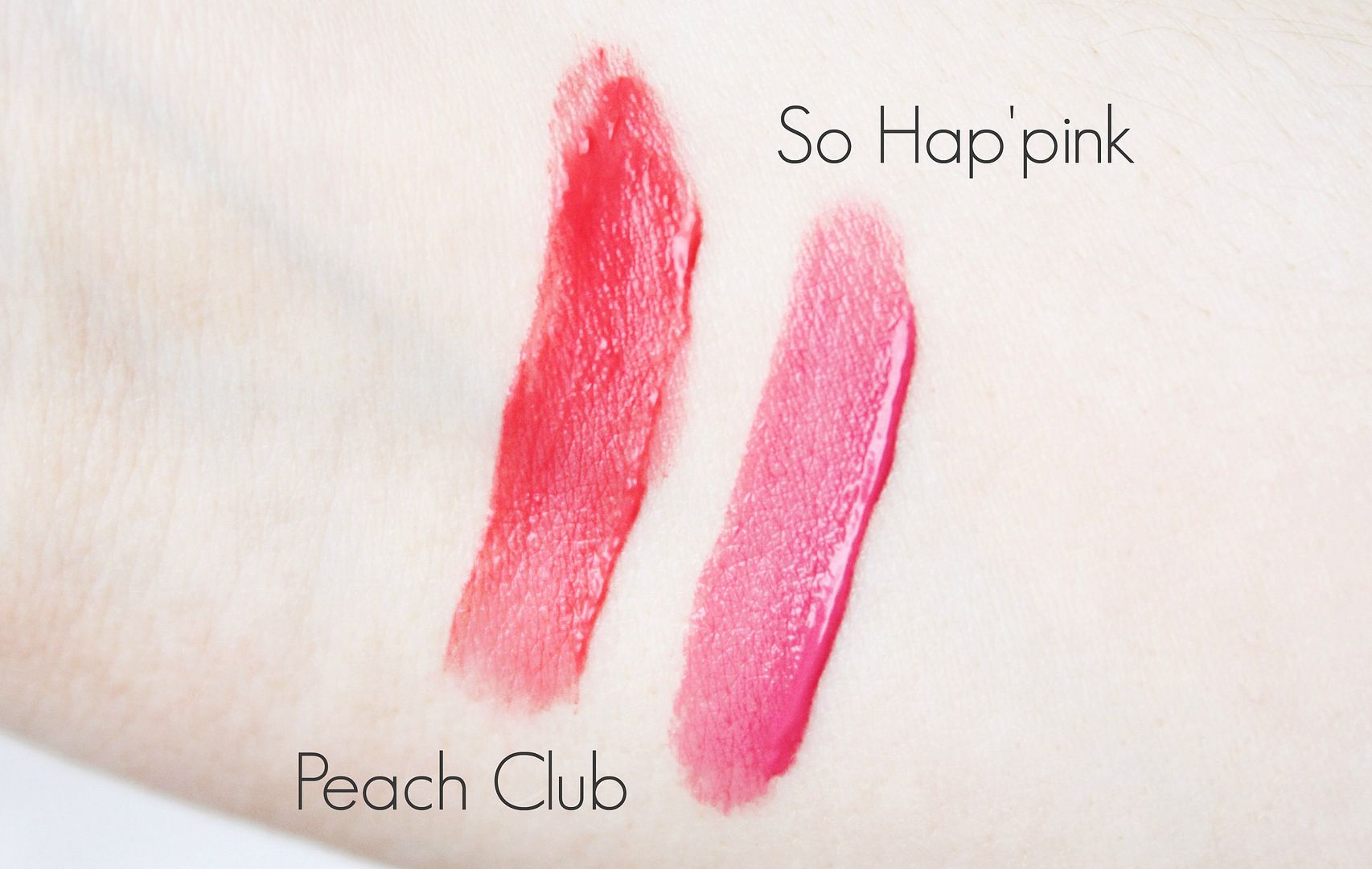 These lacquers honestly have some amazing staying power and will last me pretty much all day - even after eating or drinking! I've found that these will start to fade after 4-6 hours, but the colour doesn't go patchy and has more of an even wear compared to some lip products I've tried! If you want a lip product that you don't have to worry about touching up all the time then these lip lacquers will be perfect for you!
I've really been enjoying these Bourjois lip lacquers and I'm definitely thinking about trying some more shades! I might have to go back to Boots and test out the Aqua lip lacquers again and see if there's any shades from that collection I need to try. Let me know if you have any shade recommendations in the comments below!
Have you tried the Bourjois Rouge Edition Velvet Lip Lacquers?