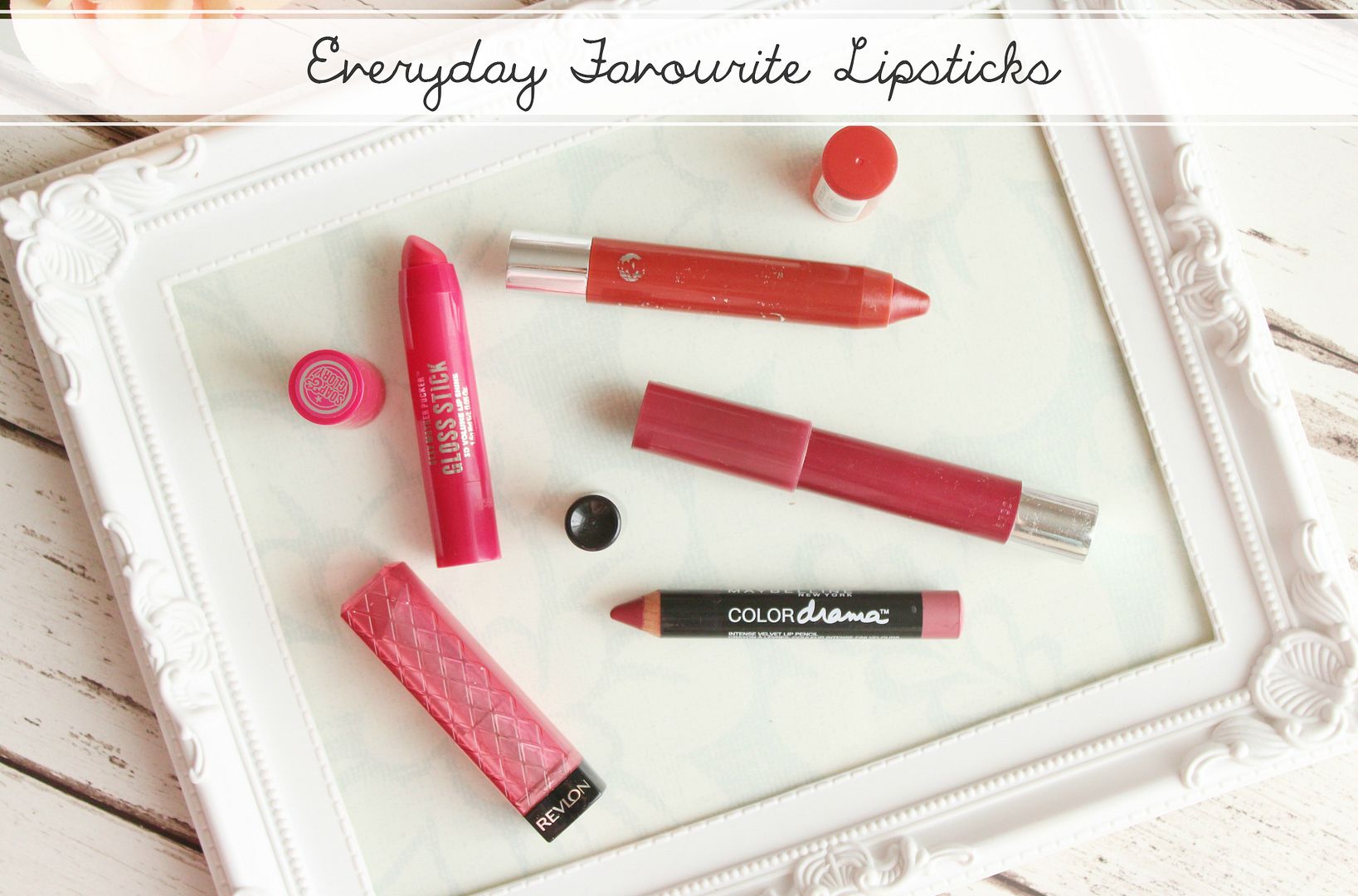 We're currently in a very awkward stage of the year where the weather is pretty much every season in just one day. In the mornings it seems like an obvious choice that a jumper is the best way to go, but by mid-afternoon you're highly regretting that choice and envy anyone you see wearing a Summer dress! I find this also seems to go with makeup as during the Winter months I love rocking a bold vampy lip but because we haven't quite reached that chilly stage just yet, I feel a bit OTT wearing one everyday. This has lead to me hunting through my lipstick collection for some perfect "in-between season" lipsticks that give me that lovely Autumnal colour yet still have a slight Summery edge to them!
I've picked out 5 of my most used lipsticks that I've been reaching for recently. I've noticed I tend to stick to a more glossy finish as there's only 1 matte lipstick in my selection. However this definitely changes when we're fully into the Winter months, so I'll probably do a favourite matte lipsticks post soon!
This is such an oldie but definitely one of my favourite ranges of lip products. The Revlon Lip Butters are super smooth and nourishing plus give you a lovely hint of colour. I've been reaching for the shade Berry Smoothie a lot recently as it gives a slight berry colour to my lips. As it's not an intense colour, it still gives that Autumnal berry shade but as it's more of a tint and has a glossy finish, it still looks really pretty on sunny days!
Soap & Glory Gloss Stick in Pink Punch | LINK
From an old product to a new one, these little Gloss Sticks by Soap & Glory are some of my newest additions to my makeup collection. Out of the 3 I have Pink Punch is the shade I've been reaching for the most as it's the most pigmented out of the selection I own. Even though this is quite a bright pink shade and would look amazing during the Summer, I still think it's easy to pull off at this time of the year. Again these have an amazing smooth formula and their compact size makes them perfect to throw in your handbag!
Bourjois Lip Crayon in Sweet Macchiato | LINK
I pretty much own nearly every shade of the Bourjois Lip Crayons so it was kind of hard not to include a couple of them! The first shade I've been using a lot is Sweet Macchiato which is a brown toned red/ nude which is super easy to wear everyday. Obviously brown toned nudes have been really in this year and this is a really easy way to pull off the trend with minimal effort.
The other shade that's a firm favourite for me is Plum Russian. This is more of a vampy plum shade that's lovely for both day and night as it's easy to build up the colour. Even though it's quite a dark shade, the glossiness of the lip crayons make this a great transitional colour to wear at this time of the year. With their amazing hydrating formula and even SPF, these are a great lip product to have all year round!
My final lipstick in this post is probably the most "Autumny" shade out of the bunch! Keep It Classy from Maybelline's Color Drama Lipstick range is a gorgeous deep toned berry shade that has a matte finish. This little pencil form lipstick offers a tonne of colour, pigmentation and staying power and is definitely a range of lipsticks that I'd highly recommend! I will probably keep using this well into the Winter time, but even now I think this is a lovely shade to wear if you do feel like wearing a darker Autumn shade!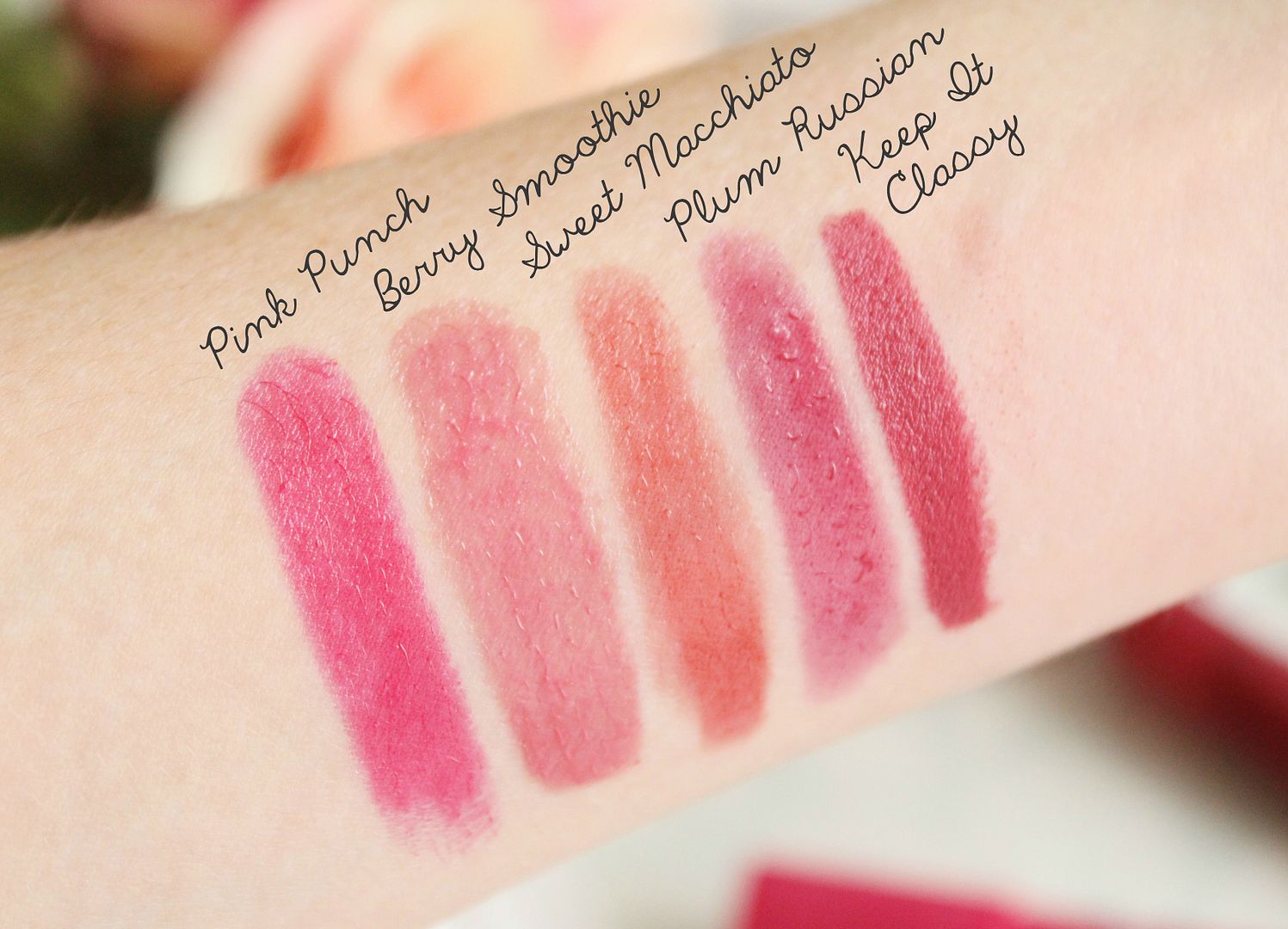 So these are a few of the lipsticks that I keep reaching for during this transitional time into Autumn. I would love to hear what lipsticks you have been wearing recently and whether you've tried any of these products before!
What are your current favourite lipsticks?