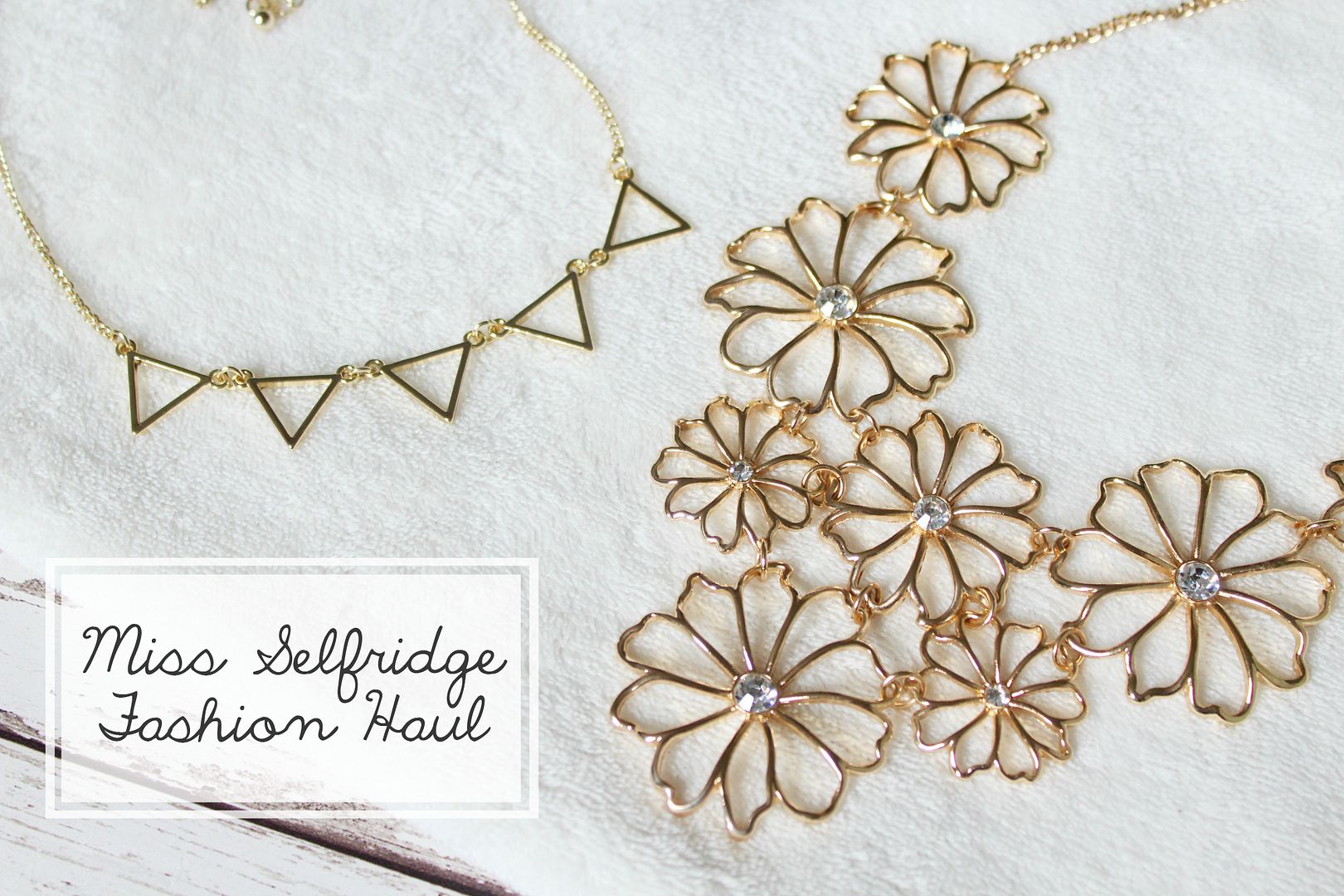 Hello everyone! Right now as I'm typing the weather outside is super gloomy and rainy, so I thought it would be a perfect excuse to snuggle up on the sofa and write a little blog post! I've recently placed a few orders with
Miss Selfridge
so I thought I would put together a small fashion haul for you all. Miss Selfridge is definitely one of my favourite clothes shops on the high street as I always find their clothes fit really well and are great value for money. Obviously it's a bit more pricey than your Primark or New Look but they always have discount codes and offers floating around which do help out!
I like to buy my fashion staples from Miss Selfridge, things that will last me a long time and that I know I'll get tonnes of wear out of. So this haul does contain a few Autumn fashion basics that will definitely last me right through Autumn and Winter!
Gold Triangle Necklace | £4.00 | LINK
Starting with jewellery I've recently picked up some gorgeous pieces from Miss Selfridge's new (ish) cheaper range. These pieces come on brown cardboard packaging and are so lovely, plus they're much cheaper than their normal Diva range - win win! The first piece I picked up was this dainty little gold triangle necklace that I thought would look amazing when you want to wear something more discreet. My favourite way to wear this is with a shirt and jumper and wearing it just under the collar. It looks really pretty and for £4 it was definitely well worth picking up!
Gold Flower Cutout Collar | £8.00 | LINK
The other necklace I picked up is more of a statement necklace and I literally couldn't leave it behind! This beautiful daisy necklace is really simple yet would easily dress up a simple outfit. I love pairing this with plain jumpers and dresses to give them an instant glam look! Again I couldn't get over the price of just £8 - these are prices I'd happily pay in the sale! Definitely can't wait to pick up some more pieces from this range.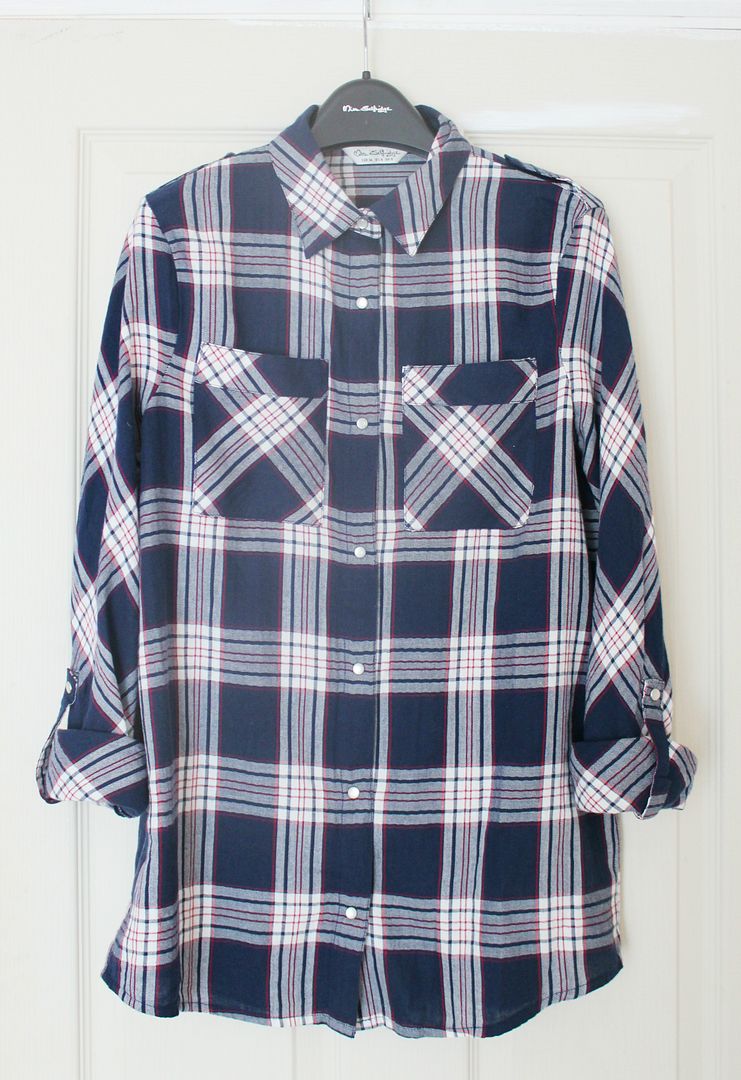 Blue Checked Shirt | £30.00 | LINK
Checked shirts are everywhere at the moment and I decided to pick up this lovely blue, white and red patterned one with pearl poppers. I'm not a huge fan of the red checked shirts as they feel very "lumber jack" looking to me haha! So I've been on the hunt for a nice blue coloured one and was very happy to stumble across this one. I think these look so cute worn undone with a simple plain top on underneath paired with jeans and boots - the perfect Autumn outfit! The material is really lovely plus I find it fits really well both worn undone and buttoned up.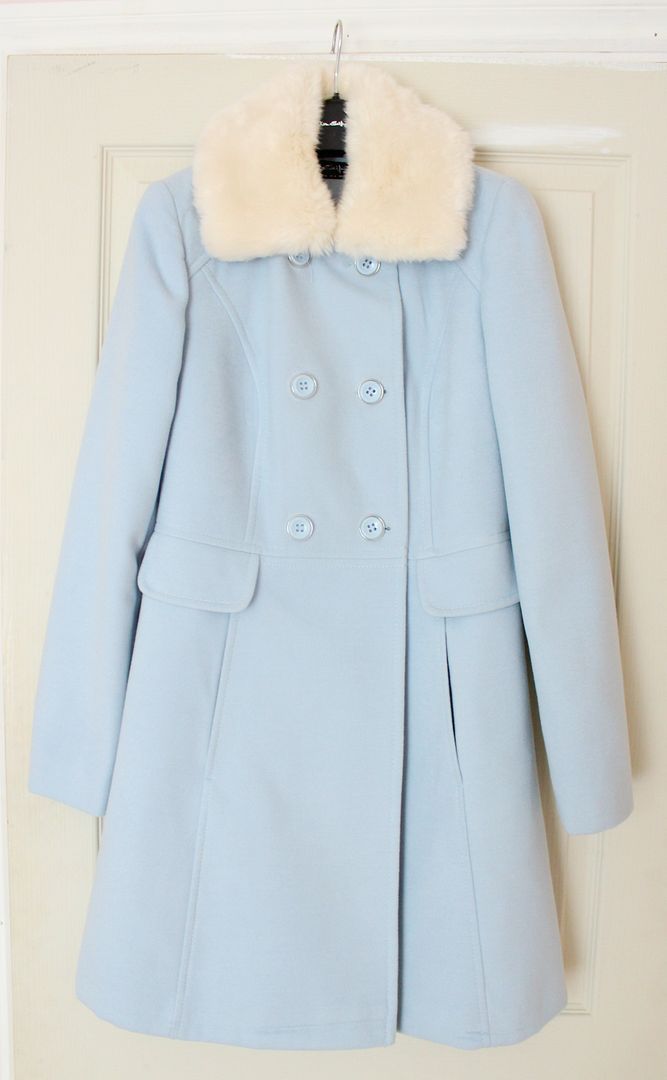 Pale Blue Faux Fur Collar Button Coat | £69.00 | LINK
I remember seeing these coats last year and thought they were so cute and classy! During the Autumn/ Winter I always tend to stick with my parkas but when it comes to going to a nice event or out for a meal, I always feel a bit frumpy wearing one! So when an email came through saying these coats were half price I thought I would snap one up straight away! I think this coat will be perfect for going out as it's definitely quite dressy and not something I would wear on a day to day basis. The fur around the collar is so soft and the baby blue colour is really pretty and will help make this a coat that's perfect right through to Spring! These coats do seem to come up a bit big but as I'll be living in jumpers and wearing lots of layers in the cold months, it's probably for the best so that it actually fits!
Black Sleeveless Duster Jacket | £28.00 | LINK
The final piece in my haul is this simple black sleeveless duster jacket that's great for layering up over t-shirts. I'm a bit late to this whole duster jacket business but I always found that ones I tried on came up super long and made my legs look really stumpy! This duster jacket however is a really flattering length plus is made from a thicker material so will (sort of) help keep you warm during the Autumn. I think these paired with long sleeve tops looks really nice and with a statement necklace they're great day to night outfits!
So that's everything I've picked up from Miss Selfridge over the past few weeks! I absolutely love everything I've bought and can't wait to start wearing it all over Autumn and Winter!
Thanks for reading!
What is your favourite fashion store to shop at?