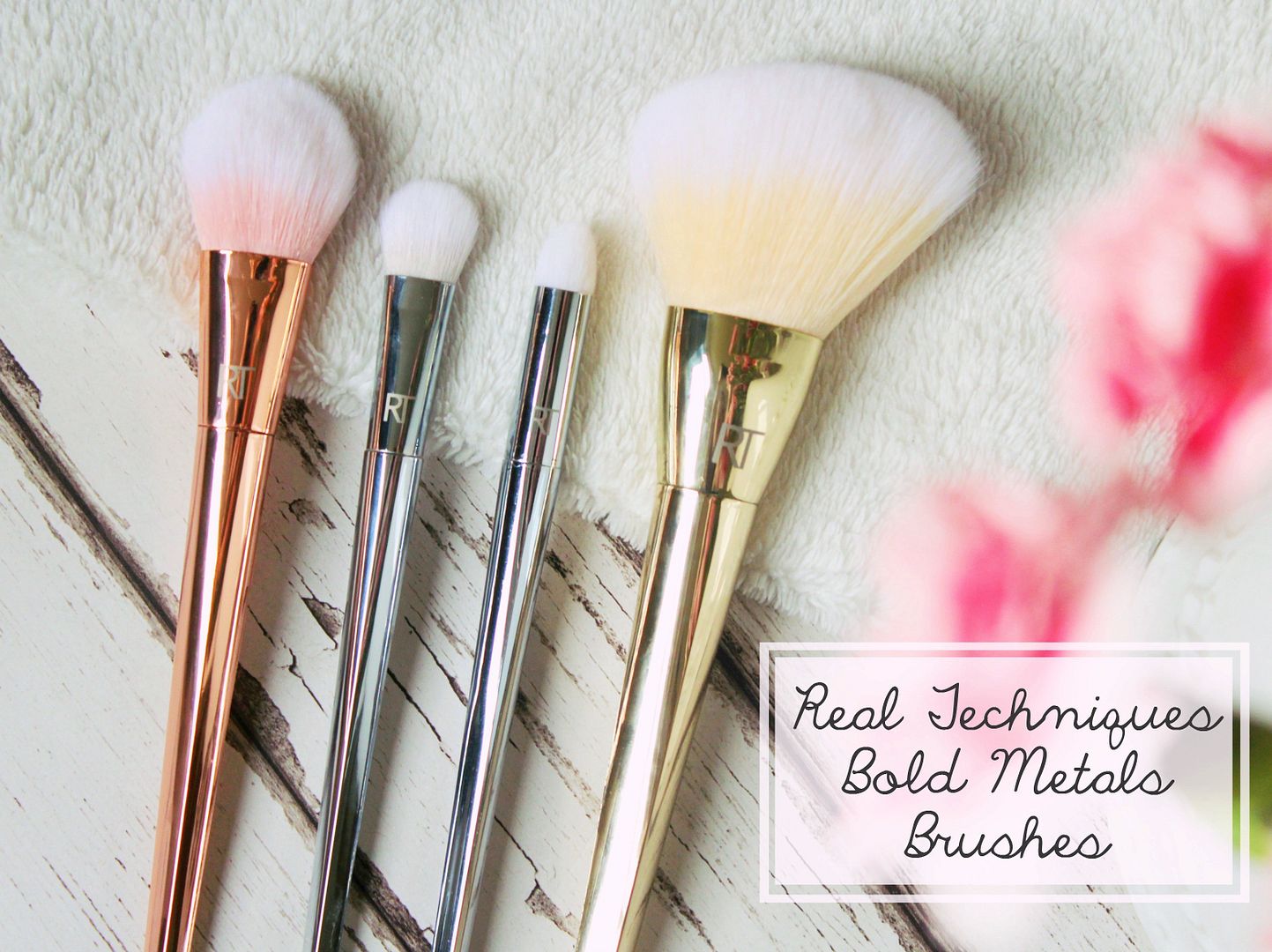 If you have been reading my blog for a while now then I'm sure you're aware that I'm a massive fan of
Real Techniques brushes
! Pretty much every brush I own is Real Techniques and over the years I have
created quite a collection
! I just love how affordable they are and for the price you pay, you get such amazing quality brushes that last you a long time.
A while back Real Techniques launched a new collection of brushes called the
Bold Metals
which included a variety of face and eye brushes with gorgeous metallic handles. Of course, these took the blogger world by storm and everyone wanted to get their hands on these beauties! However, as they came at a much higher price tag (some of which being double the price to the normal range) I did have to restrain myself from purchasing them all.
I was lucky enough to be sent a brush from Real Techniques back when they first came out and since trying the Pointed Crease brush I really wanted to pick up some more! You may have seen in
a recent haul
that I did finally cave and pick up one of the Bold Metals sets from
Look Fantastic
, so I thought I would share with you my thoughts on the brushes that I do own from this amazing collection!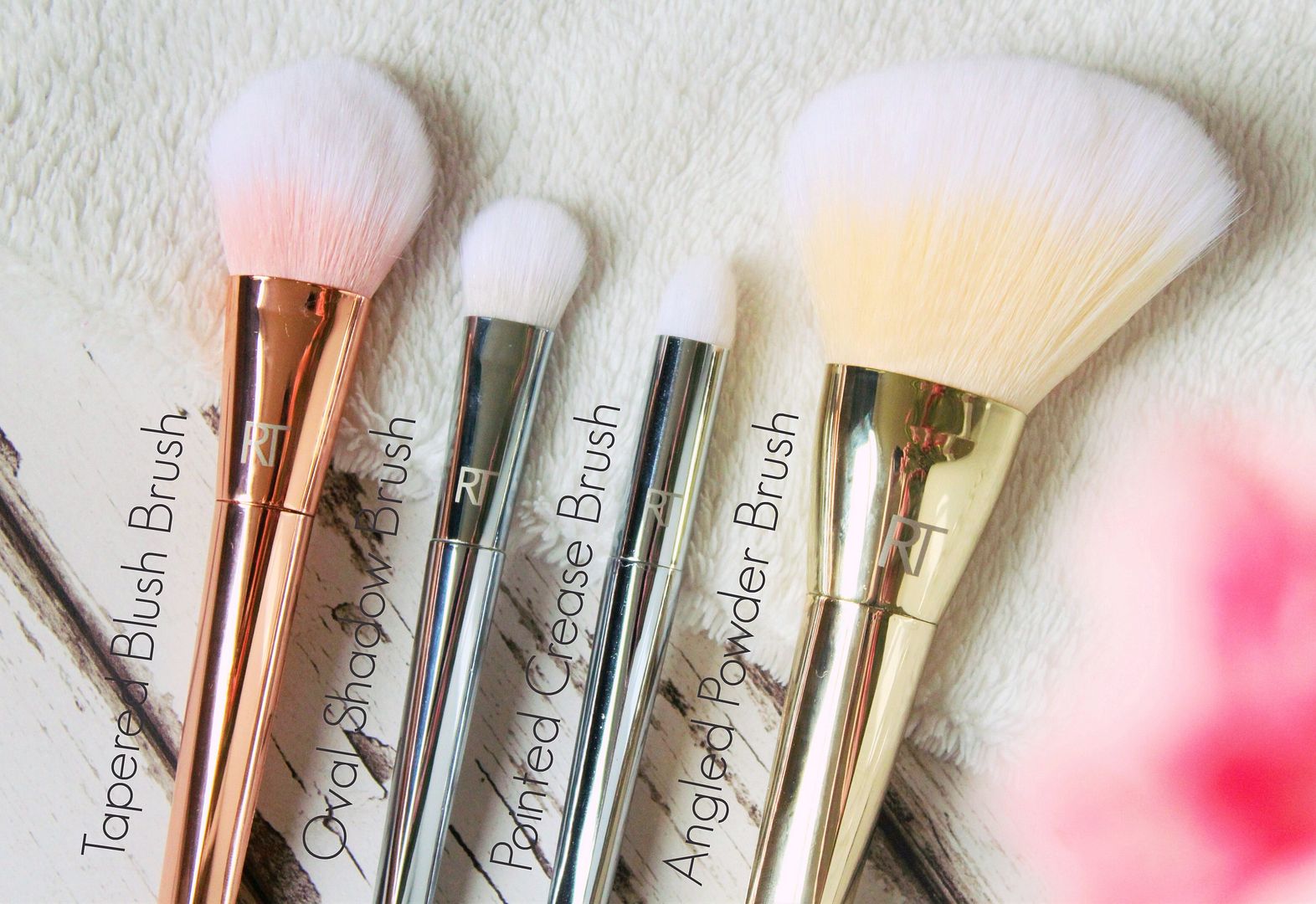 All of the Bold Metals brushes are super soft and have long, pointed handles which really add to the "bold" look of these brushes. As the handles are a metal finish, I do find that they can easily get grubby looking with makeup and finger prints, but of course that's nothing a makeup wipe can't fix! I really like the fact they've colour coordinated the brushes too; the rose gold ones are for blush/ contour, silver for eyes and gold for base products. These brushes also wash really well (I just use
Johnson's Baby Shampoo
) and maintain their shape and softness once dried.
Tapered Blush Brush 300 | £24.00 |

LINK
Starting with the prettiest brush of the bunch - who can't love a bit of rose gold?! Their blusher brush from this line is very different to the one from their normal collection. It's much smaller, dense and is tapered to provide a more accurate and sculpted finish. I find this brush pick up a lot more product as well which is great as you can get a better colour pay off with less amount of product! I also think this brush would be great for bronzer and contouring due to it's defined shape.
Oval Shadow Brush 200 | £15.00 |

LINK
The first out of my 2 eye shadow brushes from this collection is this big fluffy oval shaped brush. This is perfect for applying base eye shadows and buffing them out as it's large, soft and fluffy! I've really enjoyed using this brush since I bought it and have been using it every time I apply my eye shadow. It doesn't pack on as much colour as a flat shader brush would, but for simple everyday looks this is a winner with me!
Pointed Crease Brush 201* | £12.00 | LINK
This was the first brush from the collection I tried around a year ago and as you can see it's kept its pointed shape really well. I love using this brush to apply my crease colour for my eye shadow, so this brush works hand in hand with the Oval Shadow Brush to create a lovely eye look. This is a super dense brush so helps apply lots of shadow but as it's also soft, it does help blend it out slightly. This is also a nice brush to apply shadow under the eye as the tip is small and tapered.
Angled Powder Bush 103 | Exclusive to Spring Collection Set |

LINK
The final brush in my Bold Metals collection is exclusive to the
Spring Collection set
, however there is a very similar brush called the
Arched Powder Brush
which I'm sure would be almost identical minus the shape. This brush is designed to apply loose powders flawlessly to the skin. Unfortunately I'm not 100% keen on this brush for applying my powder and find my
Body Shop Face & Body
one much better! I'm planning on using this for bronzer in the Summer as the angled shape should apply this beautifully to my cheeks.
So they're my thoughts on the beautiful Bold Metals collection by Real techniques. If you want to read more on their brushes I have reviews of: the
Eye Brush Starter Set
, the
Travel Essentials Set
and my
Real Techniques Brush Collection
which includes the
Core Collection Set
!
Have you tried any of the Real Techniques Bold Metals brushes?
What are your favourite makeup brushes?