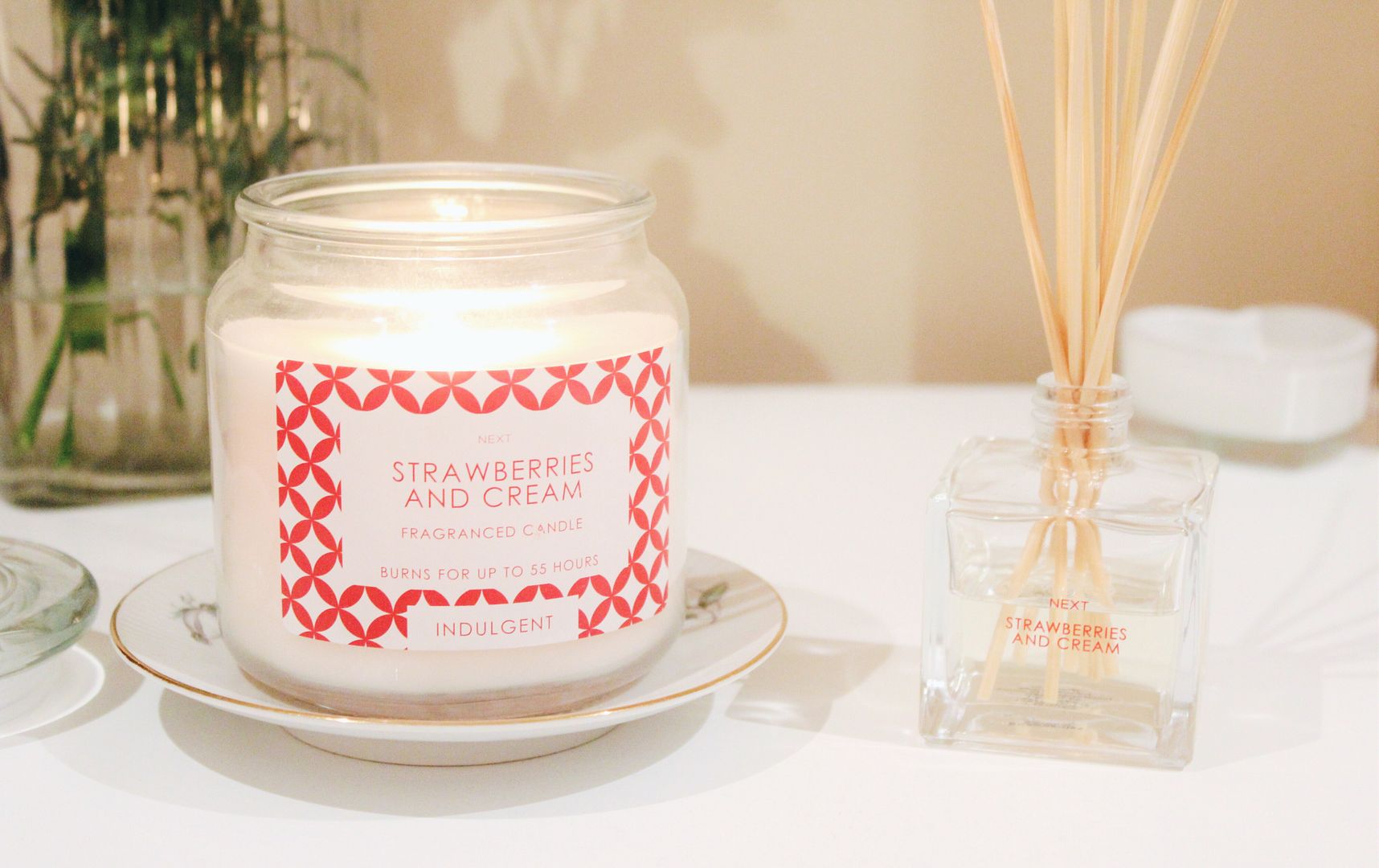 Next Strawberries & Cream Candle | £5.00
Next Strawberries & Cream

Reed Diffuser | £6.00 |

LINK
Hello lovelies! I hope you've all had a lovely week and are enjoying that Friday feeling - I know I am! I thought I would do a short post today about a couple of new products I've been using this Spring to fragrance my bedroom. I'm a massive fan of sweet scents so whilst I was on a recent trip to
Next
I came across their room fragrance range and was instantly drawn to the strawberries and cream line.
I've never tried Next candles or reed diffusers before so I wasn't too sure what to expect, but oh my gosh, this scent is beautiful! Usually strawberry candles can be quite artificial smelling but this one is really lovely. You can definitely smell the sweetness of the strawberries but the creaminess also comes through which is what I really like about this scent. The reed defuser is obviously much stronger smelling than the candle but I find it fills the room up with the perfect amount of fragrance.
So far the reed diffuser has lasted just over a month and is now on its last legs so I will be needing to repurchase this again quite soon as I absolutely love it. I also feel like it's quite good value for money and may even pick up the larger size next time! As for the candle, I was slightly disappointed with this. The scent itself is lovely, however I've found mine hasn't burnt down evenly and there is now quite a large hole around the wick - annoying! I'm not sure if this is a fault with mine or just a design flaw but I don't think I'll be picking up another candle from them! The scent from the candle is also quite subtle, not as strong as a Yankee Candle, but enough to give a light fragrance to the room. I do still light the candle from time to time to give my room a boost of that lovely scent, but I think from now on I'll be sticking with the reed diffuser!
I hope you all have a lovely weekend and I will speak to you again next Tuesday!
What are your favourite candle/ reed diffuser scents to use this time of year?
What is your favourite room fragrance brand?