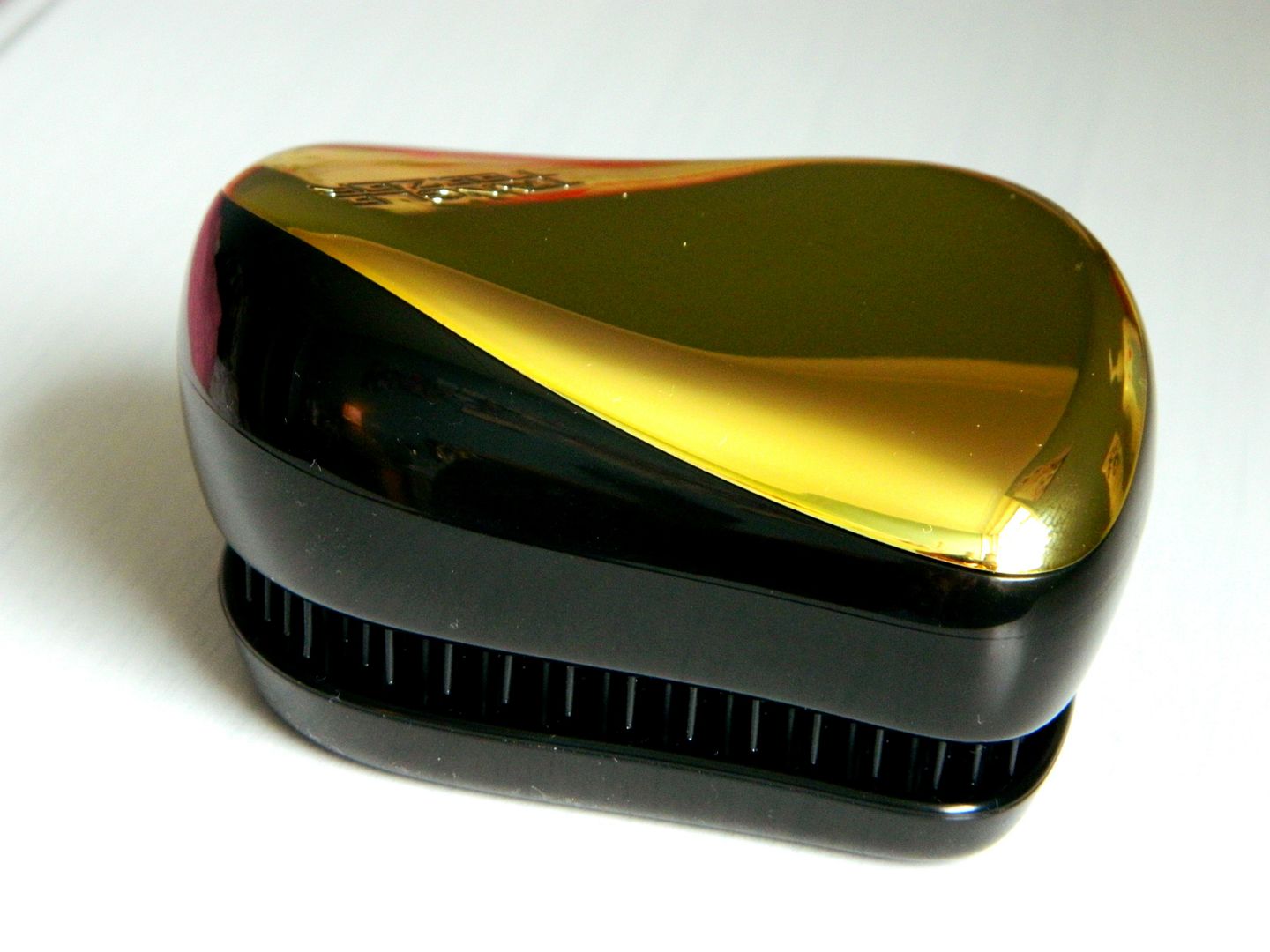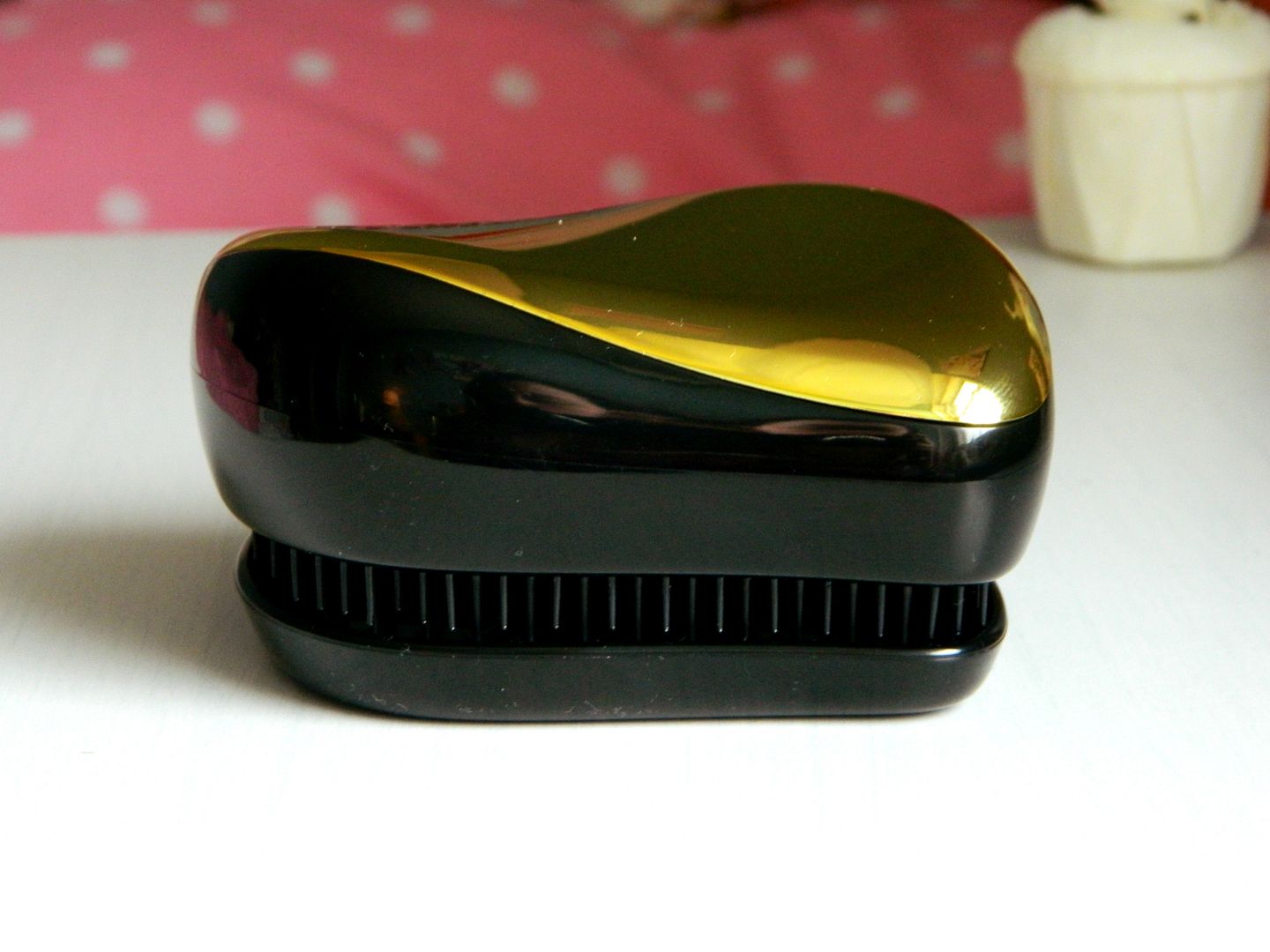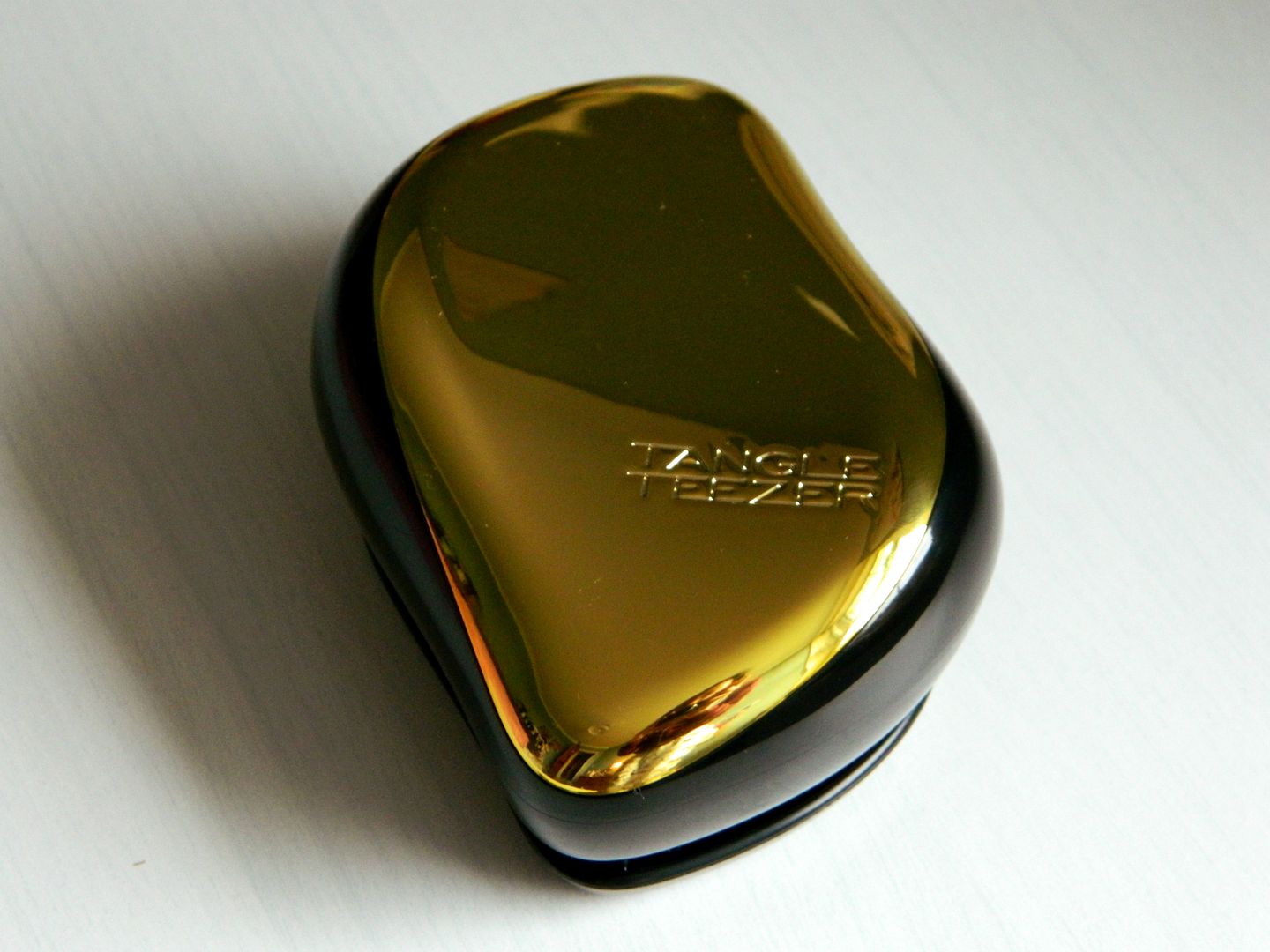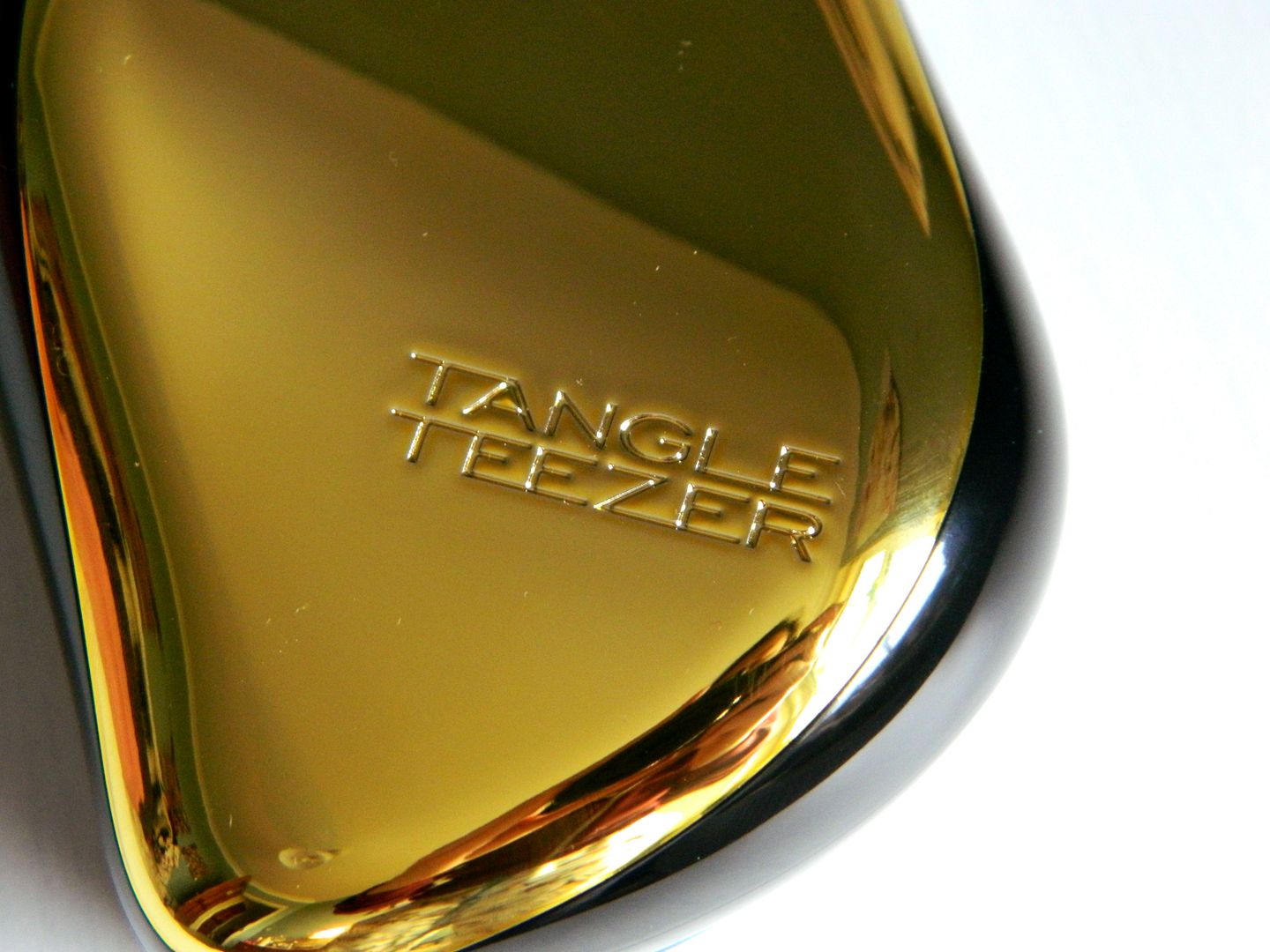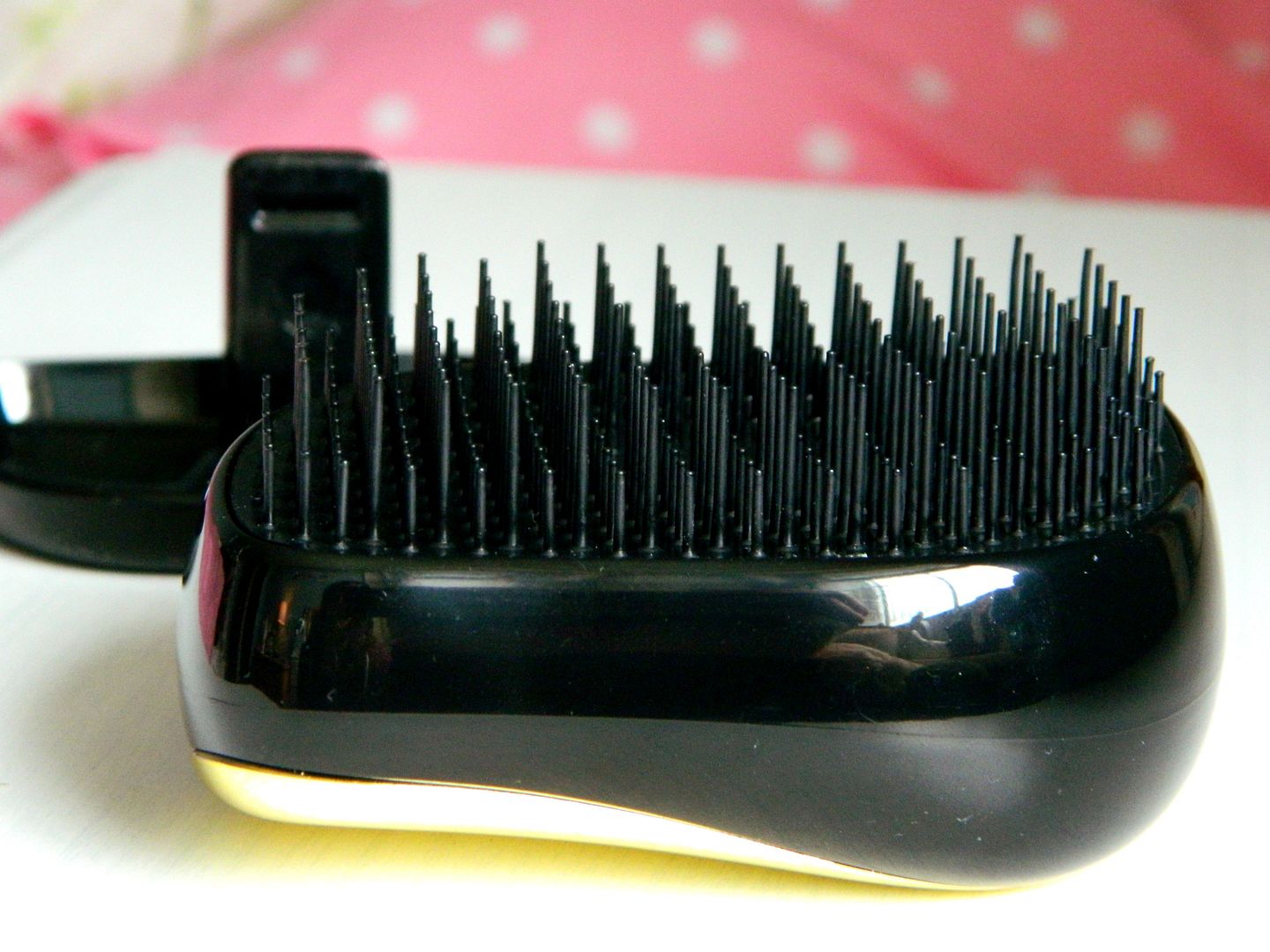 Tangle Teezers
have been on the blogging scene for quite a while now, having huge hype that this is the new way forward for taming tangled hair. Since ombreing my hair, I've noticed my hair knots and tangles constantly and I've had my eye on trying this product to see if it can deal with my problem hair!
I have the Golden Goddess Tangle Teezer which is black and gold, making it very stylish and good looking. As the brush shape is curvy, it's very easy to hold and sits perfectly in my hand as I brush through my hair. This Tangle Teezer also comes with a "click-on, click-off" cover to protect the teeth from dust and fluff so it's ready to use every time. This means the Tangle Teezer is perfect to pop in your hand bag, gym bag or suit case as it's ideal for using on the go.
The special thing about these hand sized hair brushes are the innovative teeth that makes brushing through knots and tangles effortless. This also means it minimises hair breakage and pulling as the teeth can easily glide through the hair leaving you with smooth, tangle free hair. Before I tried the Tangle Teezer, I was using a wide-tooth comb to brush my hair instead of a normal hair brush as I've heard these are better to use. However, the comb constantly tugged at my hair and got stuck on any knots meaning it was breaking and pulling at my hair, basically ruining it! I was so surprised at how easily the Tangle Teezer ran through my hair and was quite annoyed I had put up with my comb drama for about 2 years! After using this for 2 weeks, I've noticed my hair doesn't break or fall out as much as it used to. For me, this is great as my hair is already very thin and I don't need it any thinner!
The Tangle Teezer is great to use on dry and wet hair. I use my Tangle Teezer before I wash my hair and if I'm planning to straighten my hair properly. I always find it leaves my hair smooth, soft and tangle free. I absolutely love it! I still use my wide-tooth comb in the shower whilst I wash my hair as I find it doesn't pull so much when it's wet. After I've washed my hair I don't brush it and leave it to dry naturally.
Overall, the Tangle Teezer is an amazing product and well worth trying out for yourself! My hair is definitely thanking me for swapping to this and is in much better condition now it's not being pulled around as much!
Have you tried the Tangle Teezer?