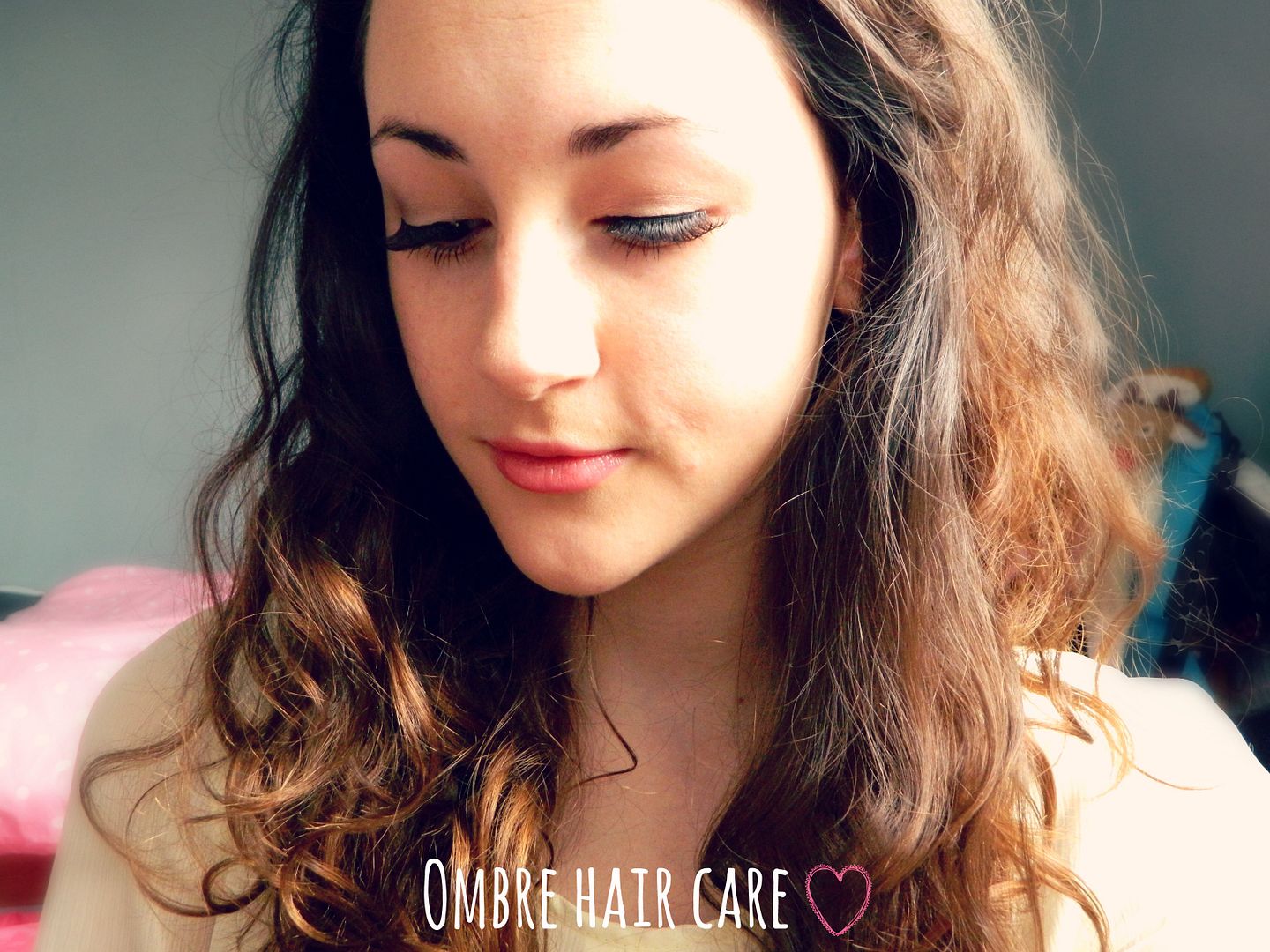 Today, I wanted to share with you the products I use on a regular basis to maintain and look after my hair. Just so you know, my hair is fine, curly and ombre, so I use products that keep it healthy and defined. It's also prone to going frizzy and messy so I also use products that keep it sleek and soft. In this post I'm not going into massive amounts of detail on each product, so if you would like to see
something
reviewed, just let me know!
Shampoo & Conditioner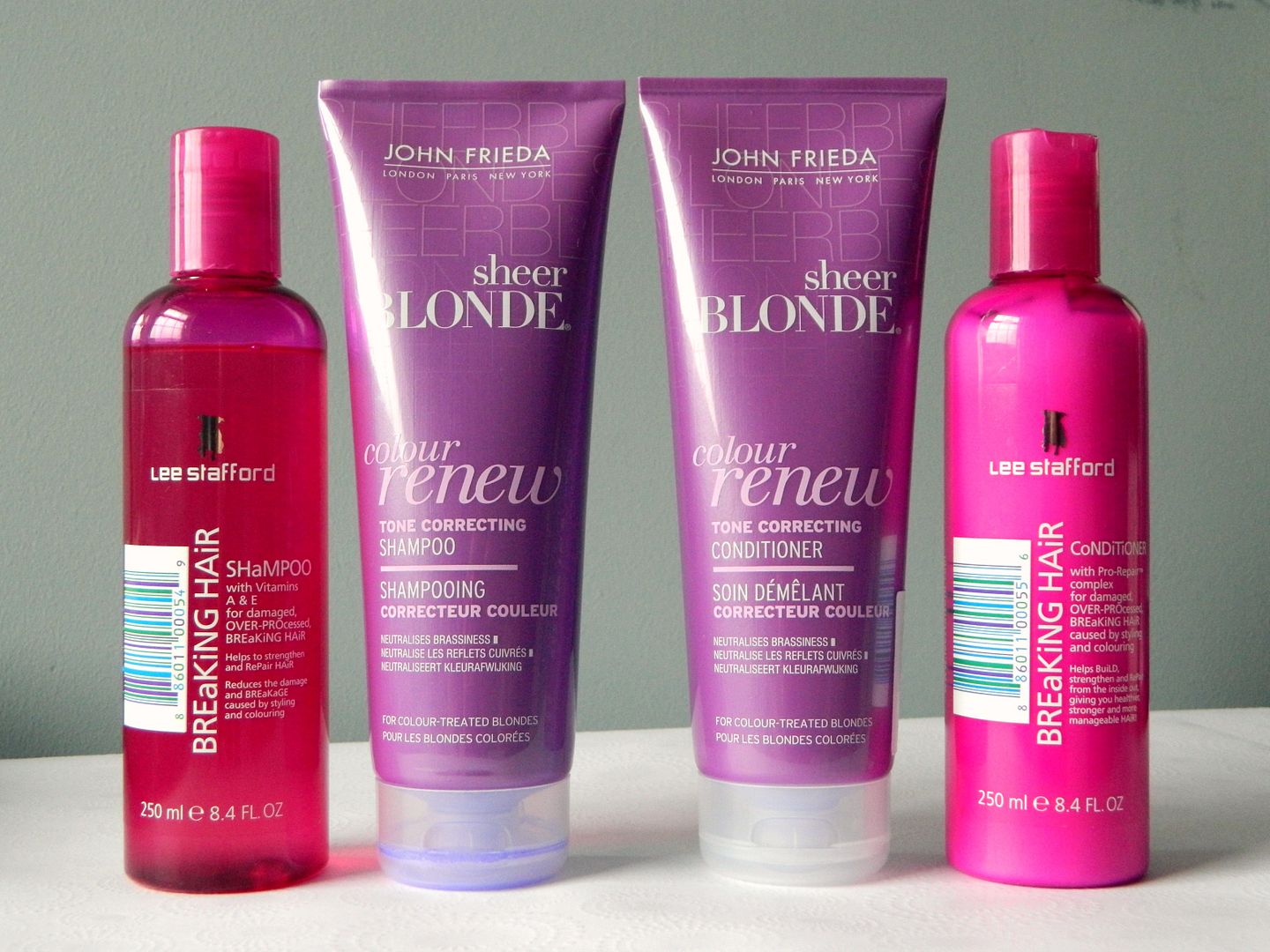 These are the products I wash my hair with the most often. On average I wash my hair about 3 times a week, and out of that, I use this shampoo and conditioner on 2 of those occasions. This shampoo and conditioner are designed for damaged, over processed and coloured hair. As my hair is ombre and prone to breaking from all that bleach, these products are perfect for keeping my hair feeling soft and staying strong. They also smell amazing which is always a winner with me!
What a mouthful! On the third time of washing my hair, these are the products I use. These are designed to neutralise any brassy tones and brighten blonde hair by using them 3 times a week. As my hair is only ombre and not bright blonde, I find it best just to use this once a week to keep my hair bright and from turning ginger. These products really do work and whenever I use them, I get compliments about how bright my ombre is and whether I've bleached it again! Nope, I just used these little beauties. The smell is nice, with a slight hint of lavender, however my hair doesn't feel soft after using them and I have to rely on a leave in conditioner/ hair oils after.
Treatments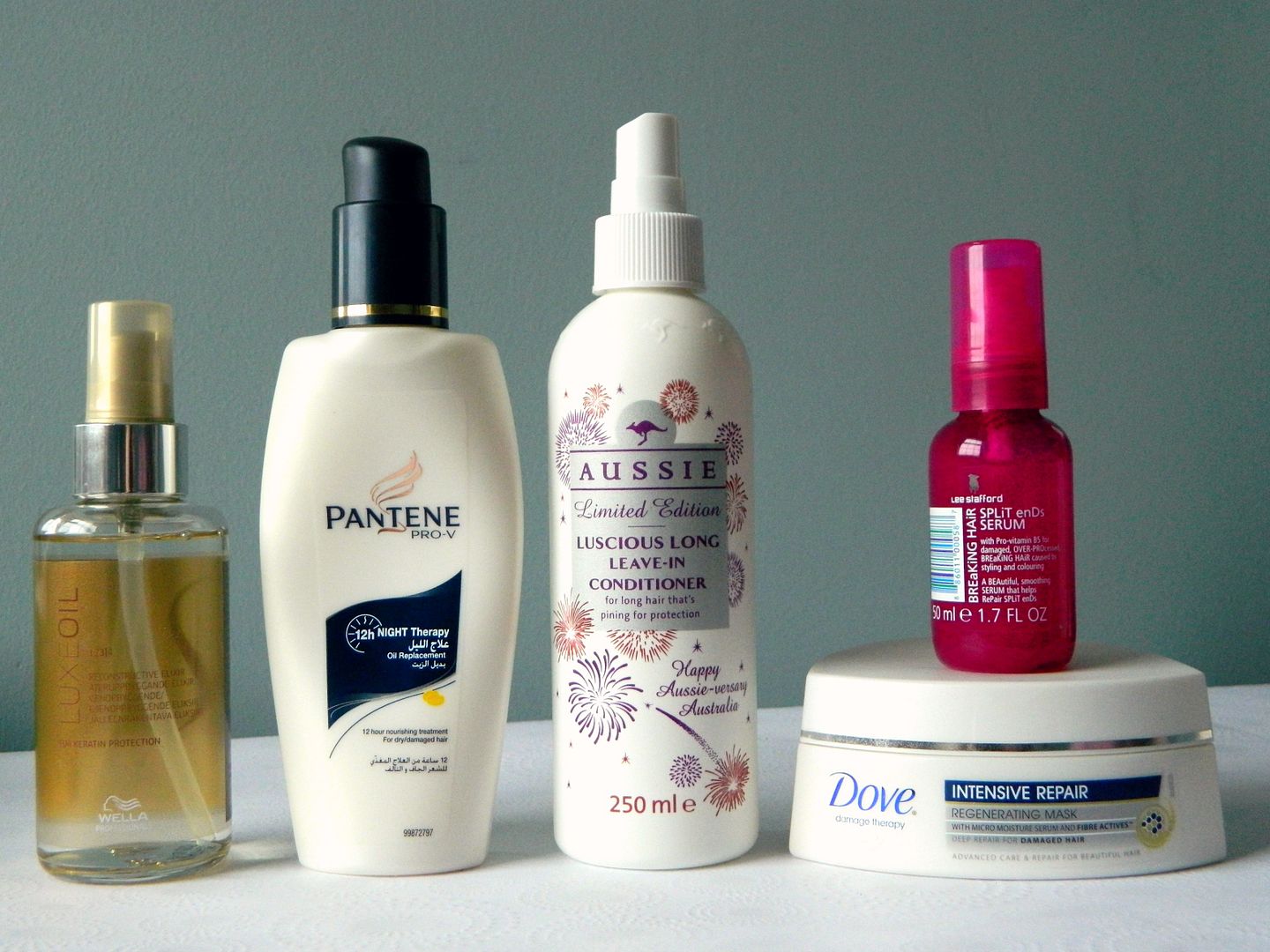 This is one of the newest editions to my hair care system and to be honest, I don't know how I lived without it! This hair oil contains Argan, Jojoba and Almond oil
s
to nourish, define and make your hair super smooth! I use a tiny bit of this on the mid-lengths to the ends of dry hair to make it feel amazingly soft. It also smells of dolly mixture/ perfume, which is gorgeous!
Pantene Pro-V 12 Hour Night

T

herapy Oil Replacement
I picked this up from Poundland a while ago and is one of my best beauty bargains! I use this on the night before I wash my hair, so whilst I sleep, my hair can be replenished with oils to make it soft and smooth in the morning. I then wash it out but my hair remains really soft! I keep this on the mid-lengths of my hair and focus on the ends as that is where my hair is the most damaged. Definitely recommend you picking this up if you see it!
Aussie Limited Edition Luscious Long Leave-In Conditioner
Aussie is one of my favourite hair care brands, their products leave my hair soft and smelling amazing, which is what this conditioner does! I use this after my John Frieda shampoo and conditioner to make my hair soft again. I spray about 8 pumps over the lengths and ends of my hair and leave it to dry naturally. It contains Eucalyptus and Avacado oil to pamper and nourish your hair. Lovely!
Lee Stafford Breaking Hair Split End Serum
LINK
I use this after washing my hair with the Lee Stafford shampoo and conditioner to treat my hair even more. I place a pump of this into the palm of my hand, rub my hands together and run it through the ends of my hair. I've been using this for a month now and my split ends have definitely improved!
Dove Damage Therapy Intensive Repair Regenerating Mask
Whenever my hair is feeling really dry and damaged, this is where this product kicks in! About once a week I will apply this mask all over my hair, tie it in a turby-towel and leave it for about 4 hours. After I rinse it out, my hair is feeling soft and repaired. This is also great as an intensive conditioner in the shower if you leave it on for about 3 minutes!
Styling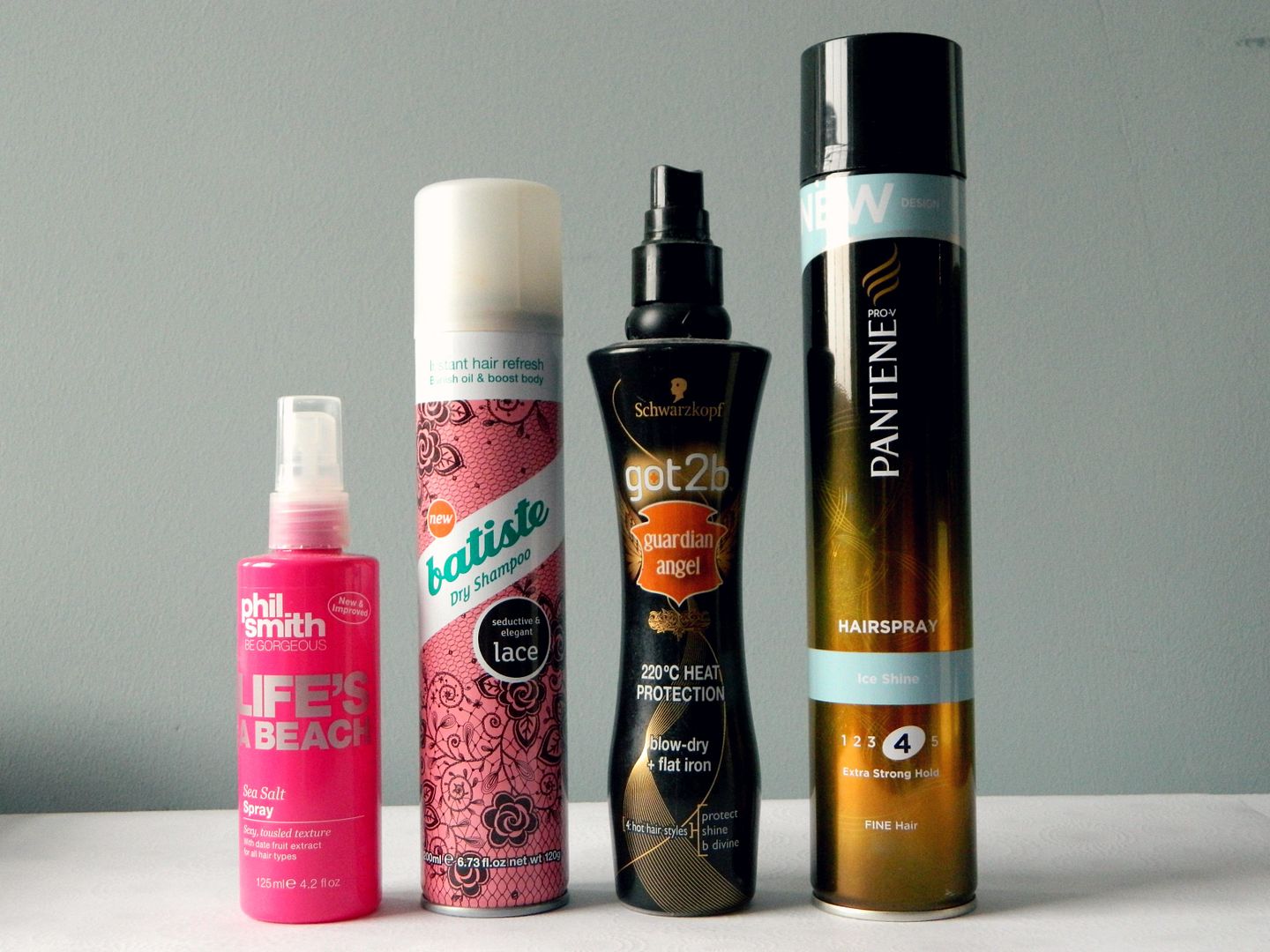 Phil Smith Life's A Beach Sea Salt Spray
Whenever I want natural looking waves, this is the product I go to. When my hair's still wet, I'll brush it so it's straighter, they spray my hair with this sea salt spray. Then I scrunch my hair a bit and leave it to dry naturally. This does leave my hair looking nice, but it can be a little drying.
Batiste Dry Shampoo in Lace
LINK
This is my favourite dry shampoo I've tried! It smells amazing, gets rid of any grease/ excess oil and gives my hair loads of volume! I'm sure everyone knows about Batiste, but if you haven't tried this scent, I totally recommend it!
Schwarzkopf Got2b Guardian Ange
l
Whenever I blow dry, straighten or curl my hair this is the heat protect

ant I use.
To be honest, I rarely use heat on my hair as it's already quite damaged, but if I'm late and need to dry my hair quickly, this protects my hair and leave it smelling nice.
Pantene Pro-V Ice Shine Hair Spray

LINK
This is one of the best hair sprays I've used. It has a really strong hold, yet can be easily brushed out afterwards. It also leaves your hair shiny and in place all day. I mainly use this to get volume at the roots without back combing by lifting the hair and spraying at the root.
Brushes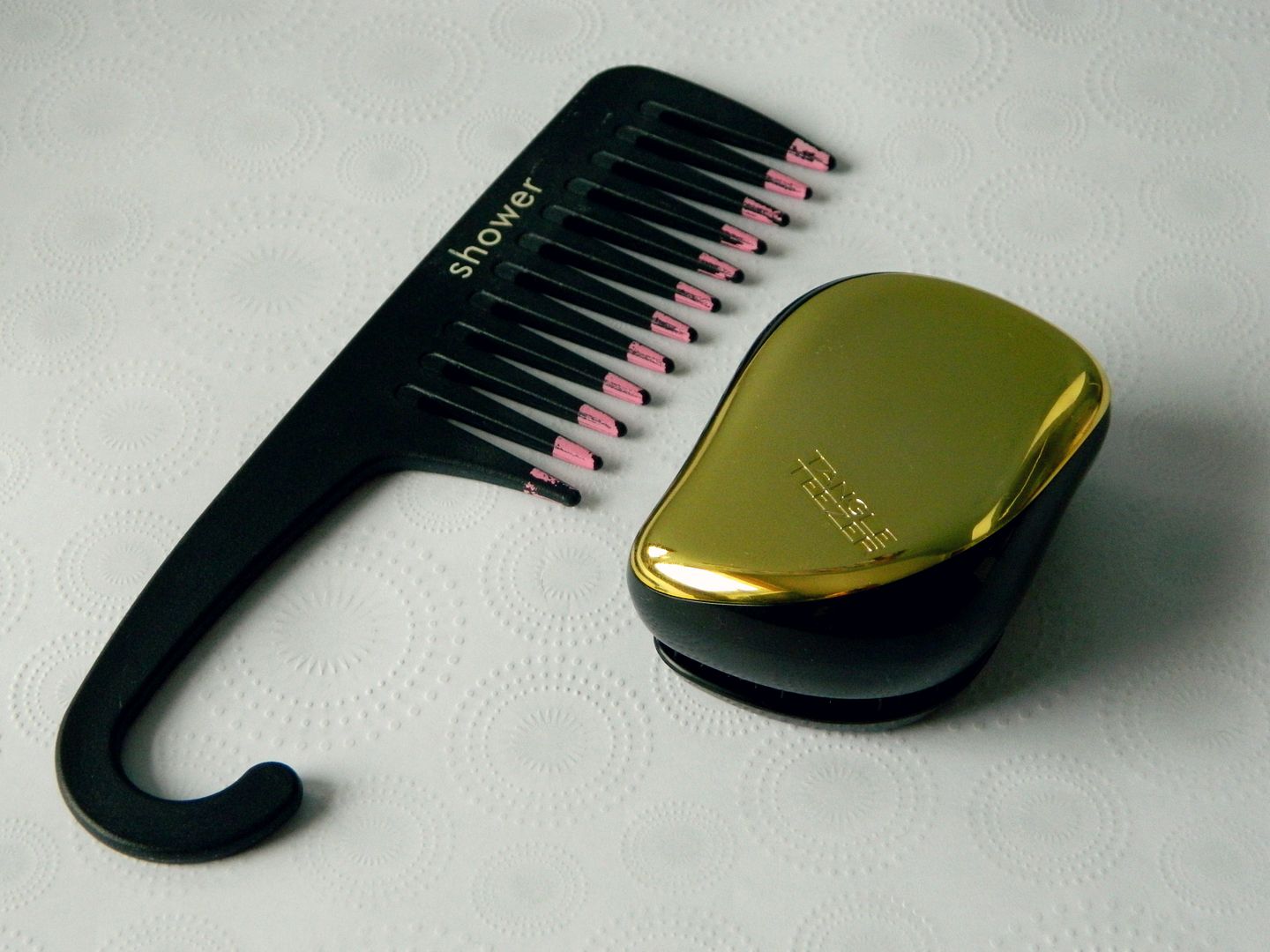 This is just a cheap comb from Wilkinsons which was no more than £1. I use this in the shower when I'm washing my hair to get rid of any tangles and knots. My hair is always noticeably softer and tangle free after using a comb whilst washing my hair, so I definitely recommend you trying it if you don't already!
And finally, my everyday hair brush. I use a Tangle Teezer as I find they don't break or pull at my hair when brushing. This is really important for my as my hair is thin and damaged, so I do not want to add to that by using a normal hair brush. The Tangle Teezer easily glides through my hair and leaves it soft. If I straighten my hair properly as well, this is what I use to brush it whilst straightening!
And that's it! What a long post haha! I hope this helped if you are looking for some products to add or change in your hair care system. Remember, if there's any products you'd like reviewed, then just leave me a comment!
What's your hair care essential?