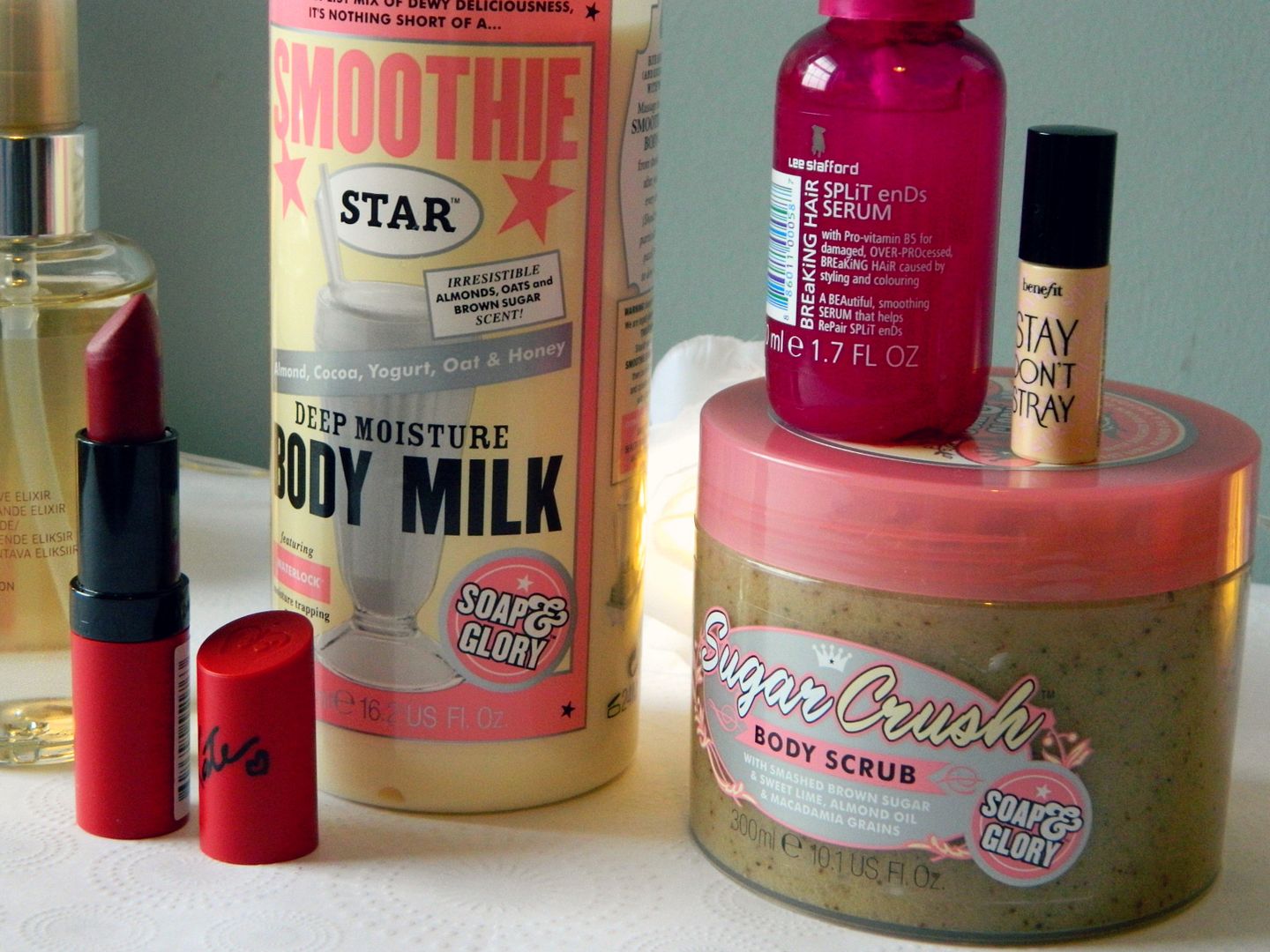 I just wanted to say thank you for all the support and lovely feedback on my last post (read it
HERE
)! I'm so glad lots of you agreed and found the post really helpful. Thank you for all the comments and tweets that were sent to me; especially the ones where you told me your personal experiences related to the issue. It goes to show that comments about weight really can affect people. I read every single one and was actually surprised at some of them where they had come across really insensitive people making comments about their weight! This is why this whole issue upsets me a lot, people just don't think before they speak! So I just want to thank every one who read that post and I hope it made you think about the subject! Anyway, on with my January favourite's..
Welcome to the first favourites post of 2013!
After Christmas, I've had so many lovely products to try out, it was actually quite hard cutting it down to just 6 'absolute favourites'. As you can see, one of my last month's favourites has sneaked its way into this post too, but I also have 5 new products to share with you!
♥
Wella SP Luxe Oil*

LINK
You may have seen this in my
Ombre Hair Care Routine
a couple posts back and how much I loved it! I had to feature it in this month's favourites. This is a luxurious hair oil that contains Argan, Jojoba and Almond oils to make you hair super soft and nourished. I have definitely noticed my hair is so much nicer and sleeker since using this. It also smells amazing, basically the perfect hair oil! I will have a full review of this product up on my blog soon, so keep and eye out!
♥
Rimmel Lasting Finish By Kate in 107

LINK
This lipstick has had a lot of blogging and YouTube hype recently, so I'm sure you're all aware of this beautiful, deep red lip colour.
This is the perfect Winter shade and I've been absolutely loving wearing this on nights out and even during the day! It applies smoothly and evenly and looks perfect on its own. It's the kind of lipstick that lifts a neutral makeup look into something so pretty.
♥
Soap & Glory Smoothie Star Body Milk

LINK
This is the product that has made a reappearance in my favourites. I have used this every single day throughout January and I still can't get enough! The smell of this body lotion is amazing, like cake, and lingers on your skin for hours. It also sinks in really quick and leaves you feeling super soft.
I LOVE this product!
♥
Lee Stafford Breaking Hair Split Ends Serum

LINK
This is another product that was featured in my
hair care routine post
and I must say, I've really been enjoying using it!
My split ends have noticeably improved and it leaves the ends of my hair feeling in much better condition. I'm so glad I've tried this brand and can't wait to pick up the Hair Growth Treatment mask, I've heard amazing things about it!
♥
Benefit Stay Don't Stray Eye Primer

LINK
For Christmas I got a little sample of this eye primer. I've used it everyday since then and it's still going strong! It evens out the skin under and round my eyes as well as keeping my eye makeup on all day. I probably won't buy it in the full size, but I am enjoying this whilst I have it!
♥
Soap & Glory Sugar Crush Body Scrub

LINK
Again, another product that has had a lot of raving reviews recently and, I for one, agree with every single one of them! The smell of this body scrub is so lovely, with scents of lime and sugar it's such a sweet and girly scent. It has grains of brown sugar and macadamia which gently exfoliate your skin and leave you feeling incredibly soft. I've used this product about twice a week in the shower for a month and I still have loads left!
What are your January favourite's?