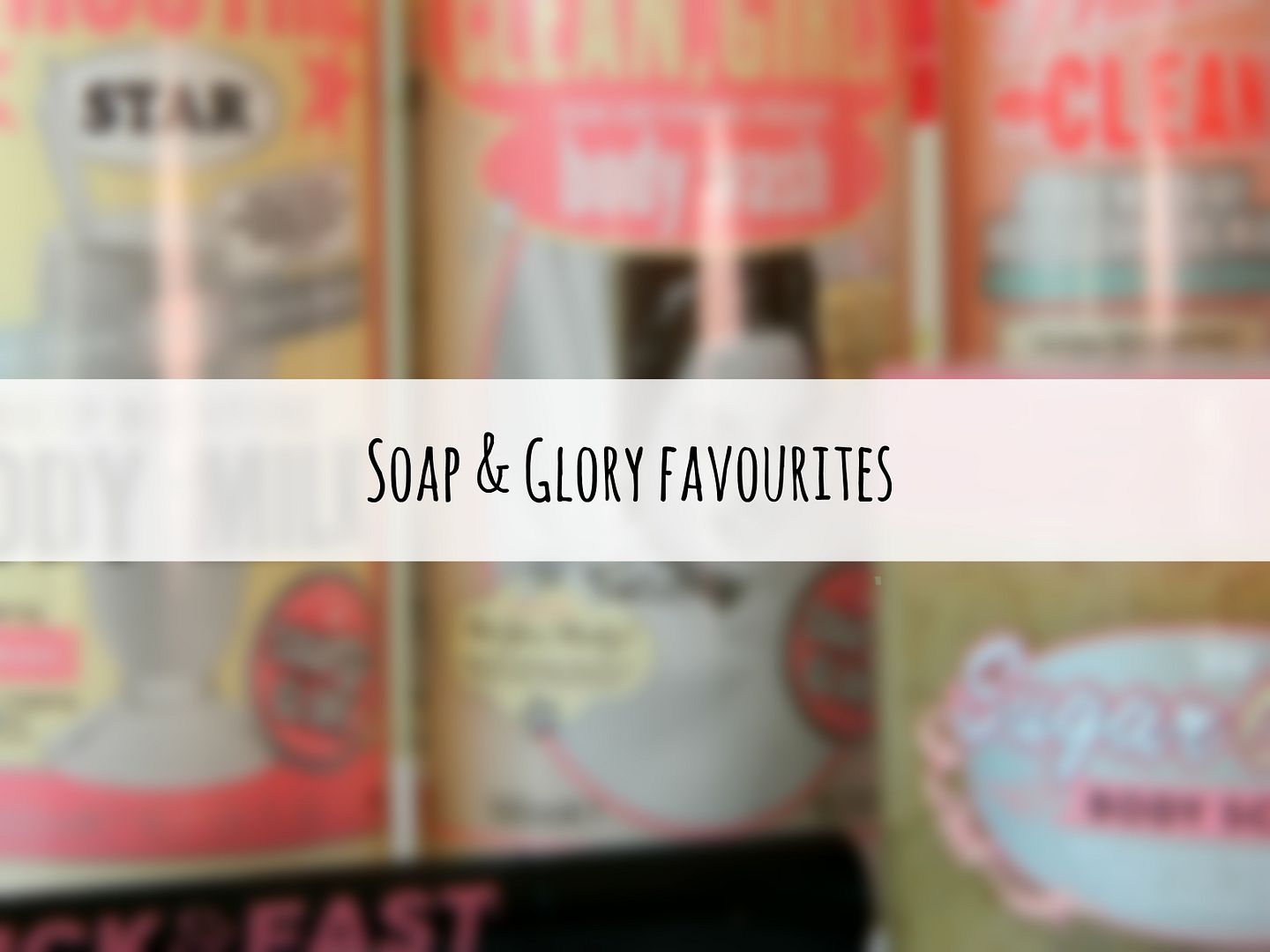 For ages, I lusted after trying the ever-so-famous
Soap & Glory
products, but only got round to trying a couple of them. For Christmas last year, I received the Soap & Glory "Best Of All" set which contained 9 full sized products ranging from makeup to body washes, I was so excited to try everything out! Ever since then, I've found myself reaching for some of the products more than others, ones I would declare my absolute favourites to use! So this post is to show what these products are and why I'm loving them so much!
♥ Smoothie Star Deep Moisture Body Milk £10 LINK
This will probably come as no surprise if you read my blog! This body lotion has made it into 2 of my monthly favourites posts, which goes to show how much I love it! The main thing I love about this product is the smell, it's absolutely gorgeous! It has ingredients such as: almond, cocoa, yogurt, oats and honey, which together make a sweet (almost like cake) sort of smell. The scent also lingers on your skin for a good amount of time. As it's a body milk, this lotion sinks into your skin really fast and leaves you feeling super soft (and smelling amazing!). I use this daily after my shower or bath and I seriously look forward to using it! Never thought I could love a body product this much!
♥ Clean, Girls Skin Softening Body Wash £6.

0

0

LINK
Now, I know that most people will prefer the Clean On Me body wash, but I think the scent of this one is much nicer! It has notes of: blackcurrant, magnolia, vanilla fruit and orchid extracts which makes this body wash smell lovely! I also find this lathers up really nicely with 2 pumps and actually leaves my skin feeling clean and soft (hence the name!). I love how the body products have pumps as well as I usually find myself going through body washes like there's no tomorrow, so this way it's more economical.
♥ Peaches & Clean Deep Cleansing Milk £
7.00
LINK
Even though I really like this face cleanser, this isn't my everyday one.
I still use my
Pink Grapefruit cream cleanser by Neutrogena
as I find it more gentle on my sensitive skin. If I'm having a bad skin day or feel like my skin needs a deeper cleanse, this is when I will reach for the Peaches & Clean cleanser! With 1 pump this cleanser gets rid of any makeup and feels like it's deep cleansing my skin. It leaves my skin soft and reduces the appearance of my blemishes. The one thing I wasn't sure whether I would like is the smell as it smells of peach schnapps and I didn't want that scent on my face! Luckily, the scent doesn't linger so that is why I really enjoy using this cleanser.
♥ Thick & Fast Super Volume Mascara in Super Jet Black £10

LINK
This was the first ever product I used by Soap & Glory after receiving one for free in Elle magazine about 2 years ago! Ever since then, this is my go-to mascara. I love how it makes my lashes thicker and longer as well as really black. The brush is also really big which I prefer in mascaras as I find they give the lashes the most volume! If you want to read more about this product, I have a review post you can read
HERE
.
♥ Sugar Crush Body Scrub £
8.00
LINK
I think this is my most favourite product from Soap & Glory I have ever used (so far). This is a body scrub with brown sugar and macadamia grains that will gently exfoliate away any dead skin leaving you with amazingly soft skin. It also has sweet lime, which adds to the amazing smell of this product, and almond oil, which also leaves your skin feeling soft. I love the scent of this product so much that if I see the pot on my dresser, I will instantly want to smell it! I really want to try the body wash version of this, but I have so many at the moment, I'm going to wait until I need one! If you need a recommendation of what Soap & Glory product you need to try next, this is what I will suggest to you. It's seriously amazing stuff!
And that is my Soap & Glory favourites! I think Soap & Glory is an amazing brand and even though the price tag is a little higher than your usual body care line, I think the amazing quality definitely justifies it! The packaging alone is so pretty and makes me want to display everything in my bathroom! I hoped you liked this post and helped you pick out what product you want to try next.
What is your favourite Soap & Glory product?

Twitter | Instagram | Facebook | Blog Lovin' | YouTube