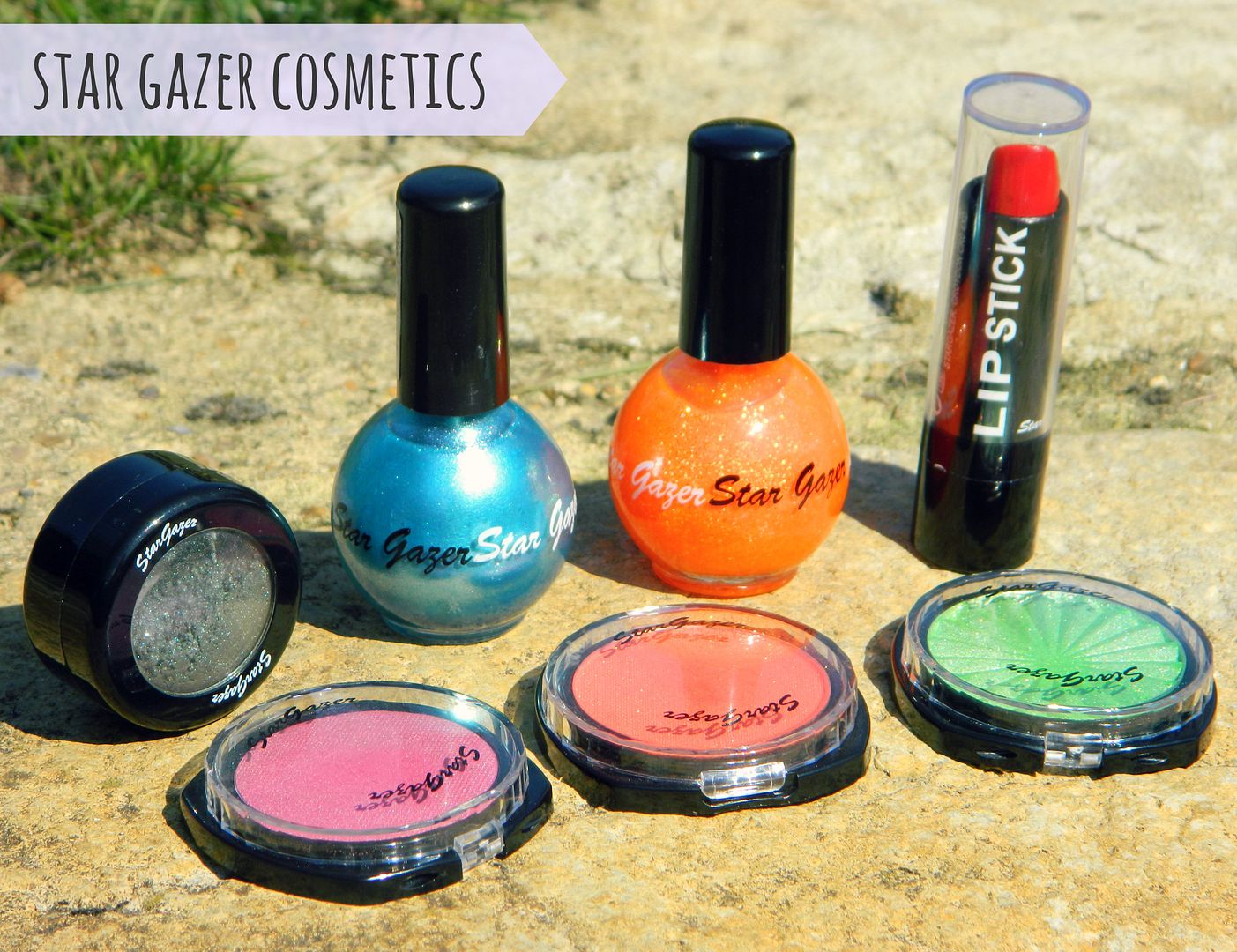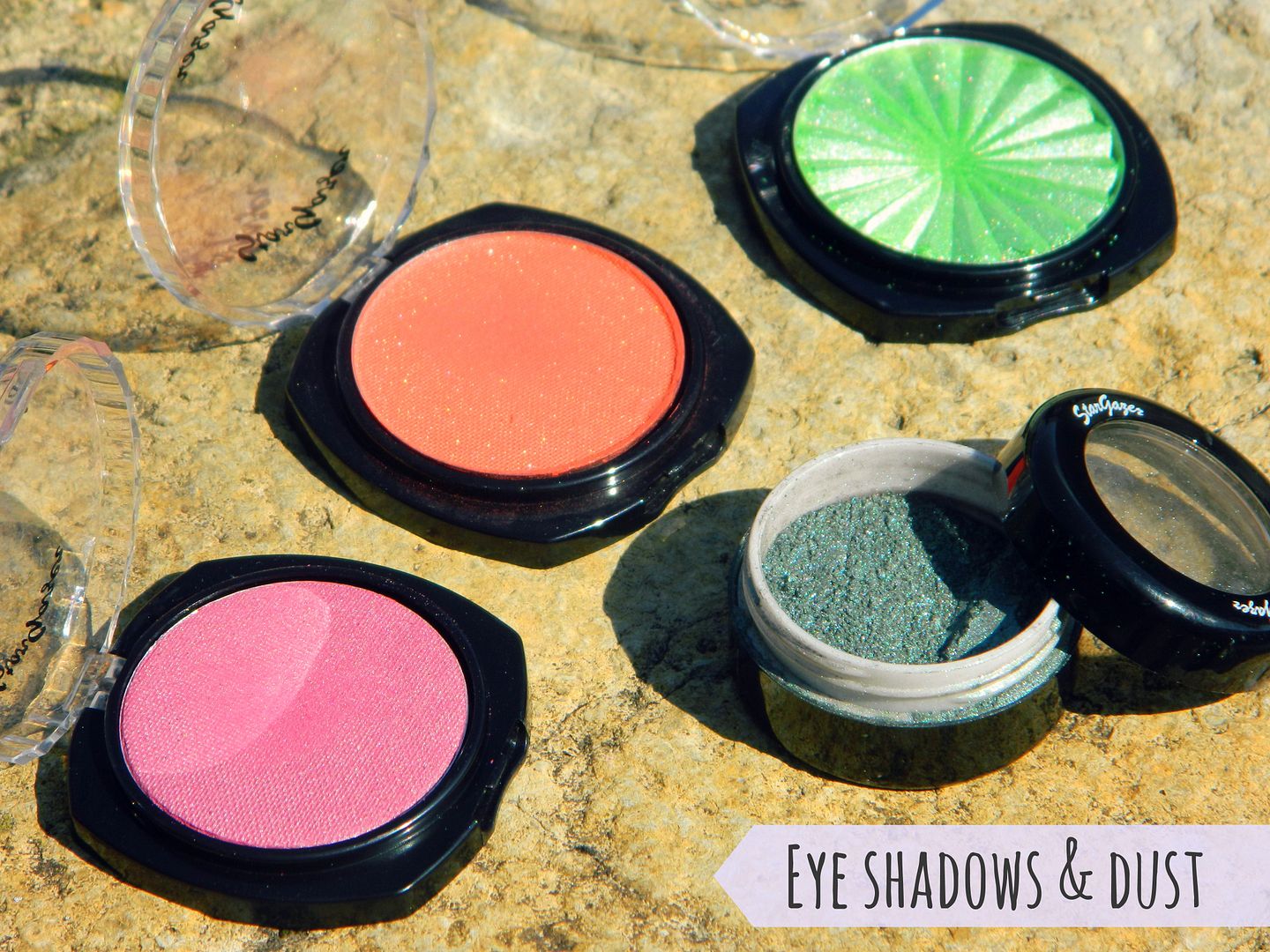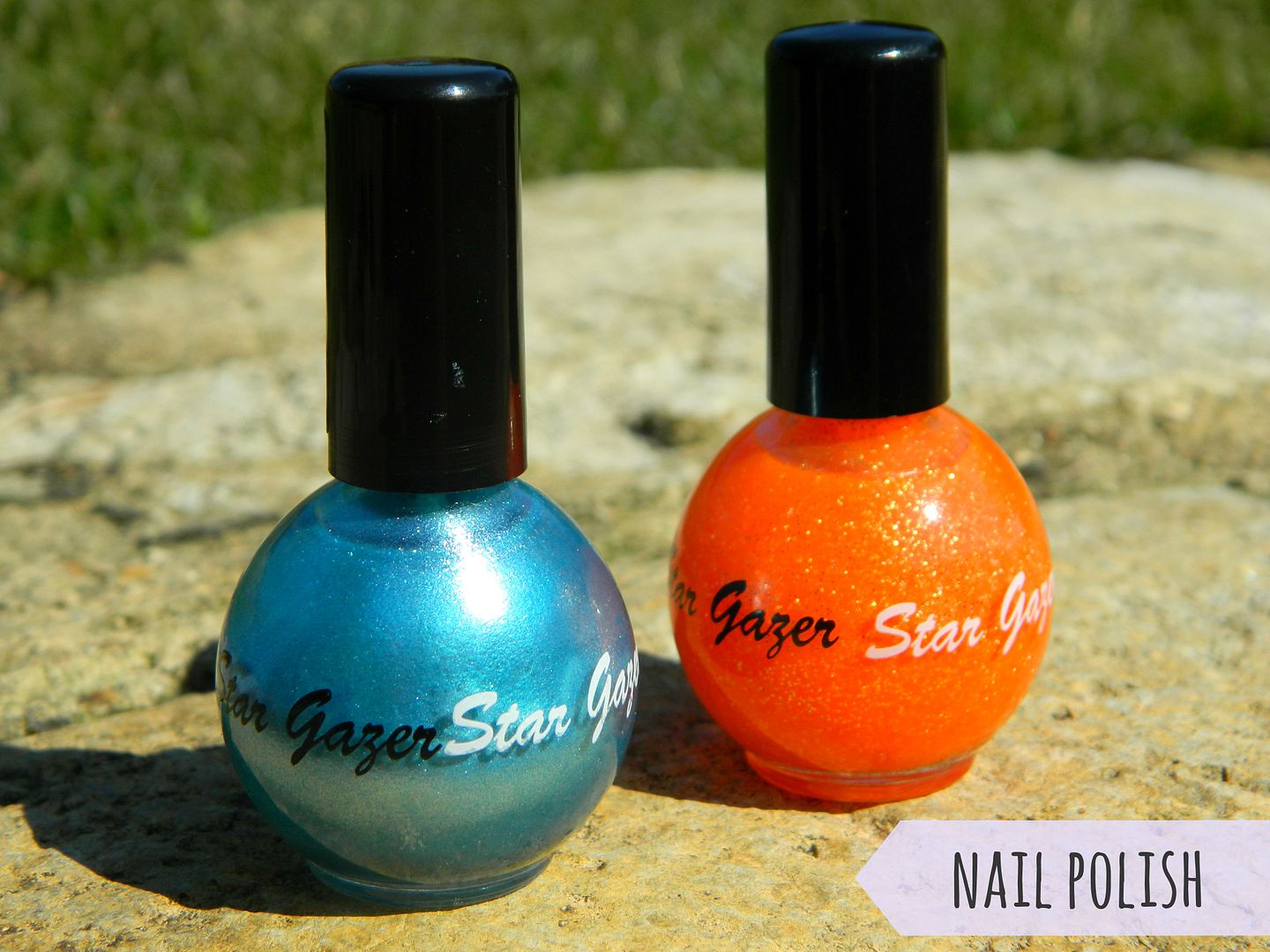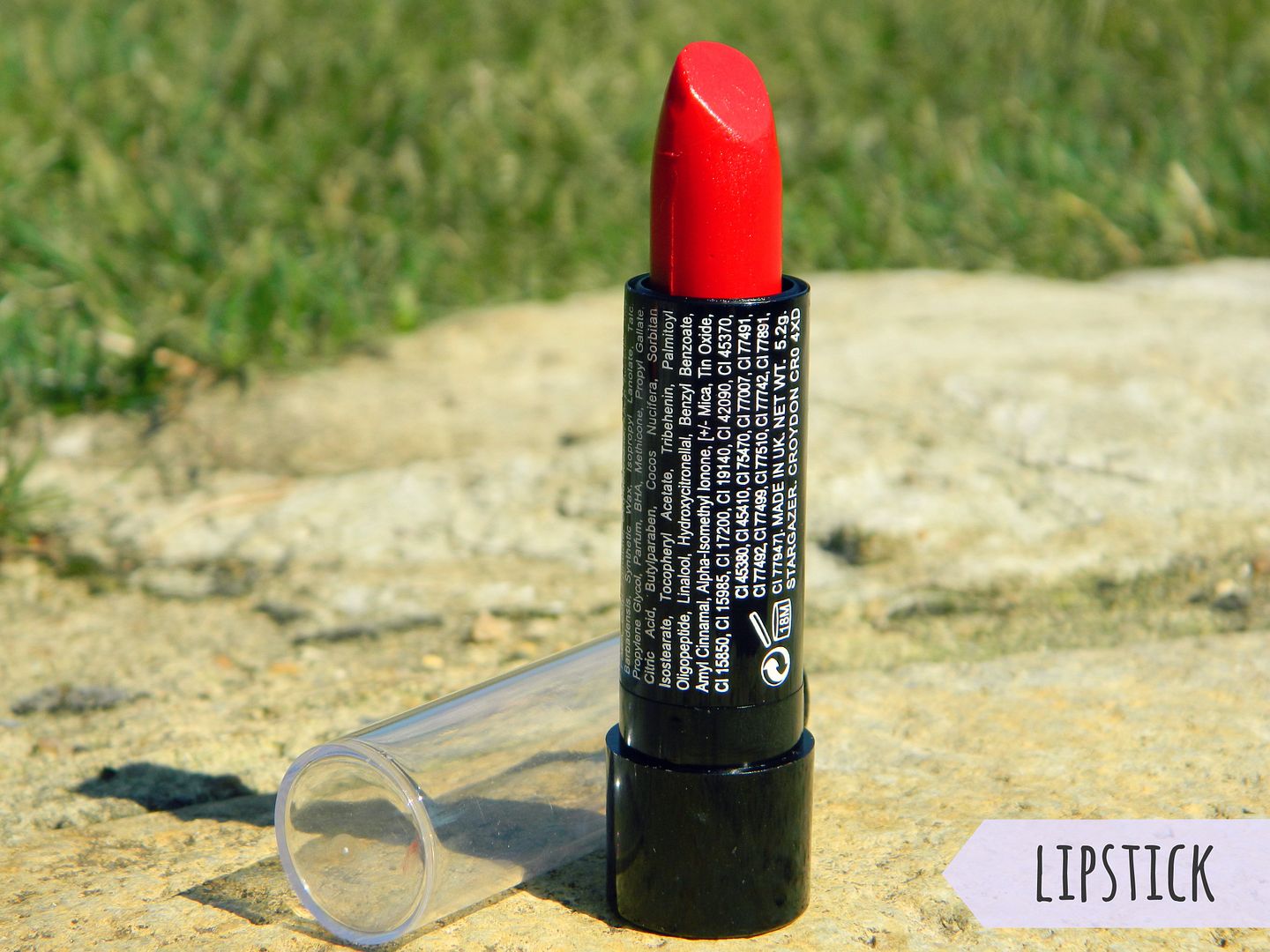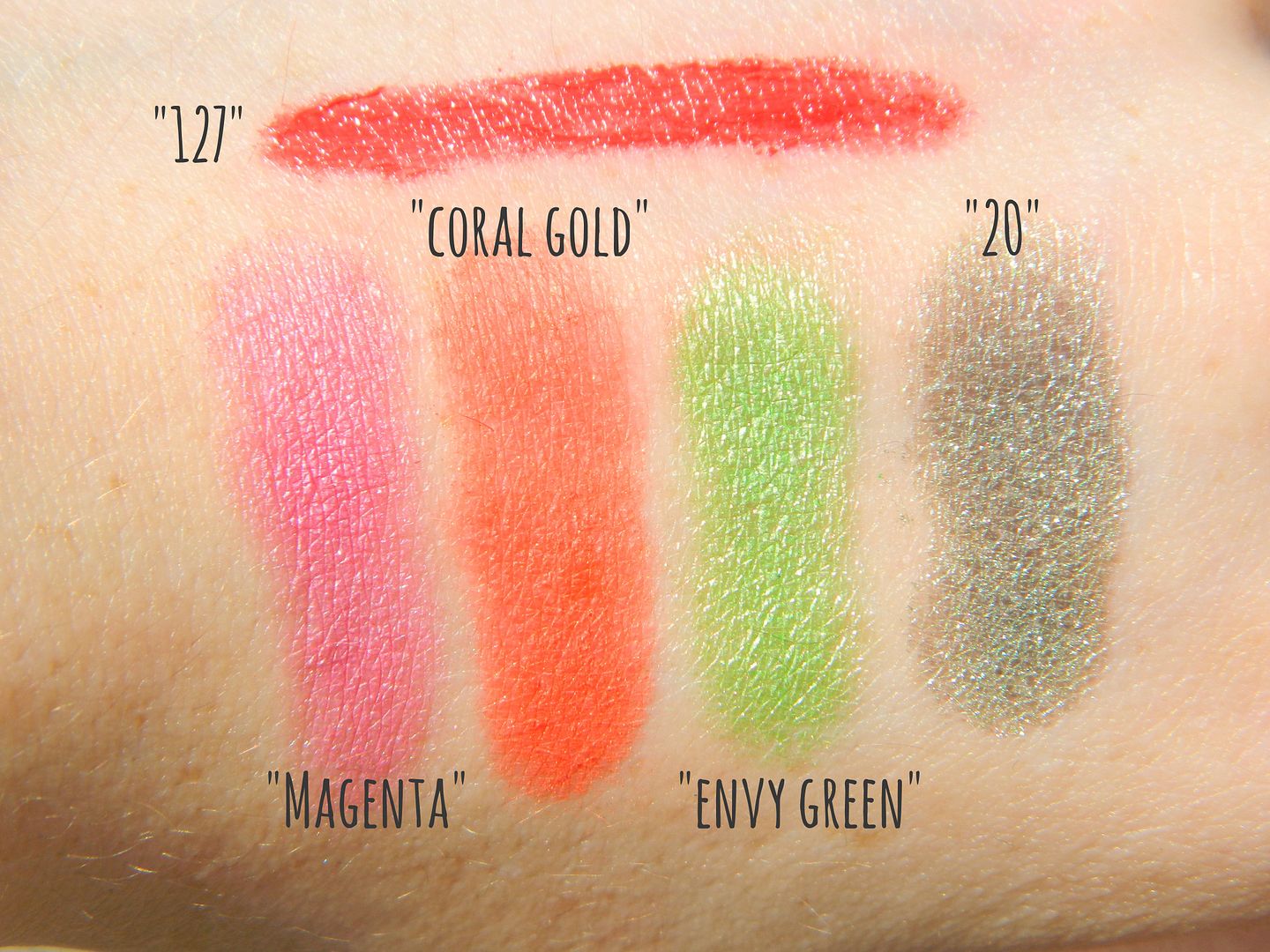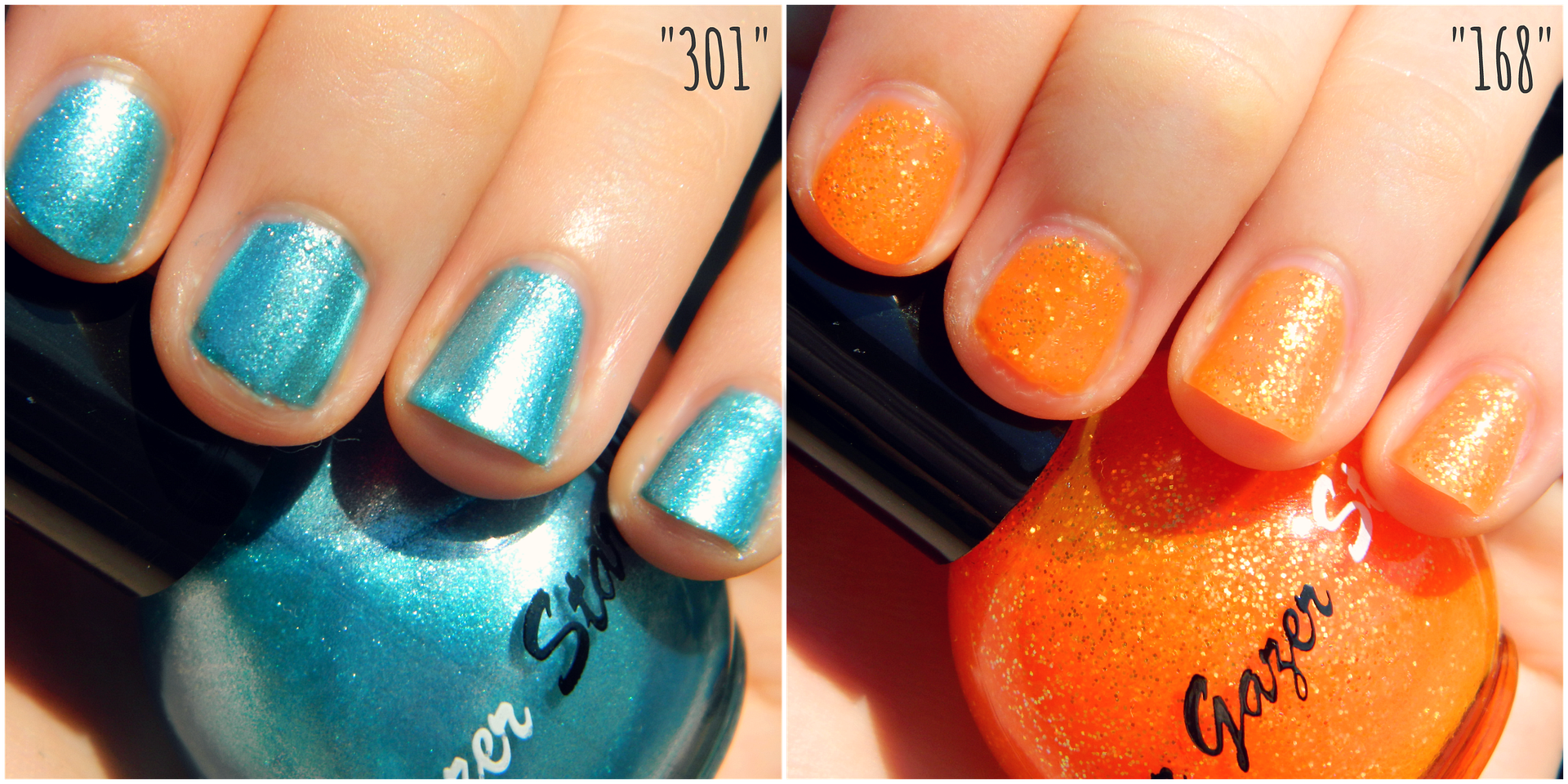 Hello everyone! As the weather has been so lovely recently I thought it would be nice to take a few blog photos in the garden, so I hope you like the change of background! Today I'm going to be reviewing a selection of makeup products from the brand Star Gazer. When I was younger I actually used to use some of their products as they were a cheap and cheerful makeup line that offered a wide selection of cosmetics. I was a big fan of their eye shadows (I remember being in love with a neon pink eye shadow called Pink Flamingo) so I wanted to see how I felt about their products now I'm a bit older! If you read my blog you'll know that I usually tend to stick to my trusty neutral shades. So I wanted to try some bright yet still wearable colours and see whether I could come out of my natural eye shadow bubble.
Star Gazer Eye Shadows & Eye Dust | £3.00 - £4.00 each | LINK
Star Gazer offers a range of different formula eye shadows which come in a huge selection of bright and natural colours. They are affordable and I think these eye shadows would be perfect if you wanted to expand your eye shadow collection or if you're just getting into wearing makeup.
The first eye shadow I tried was
Magenta
which is a pink/ purple shade and is a
velvet eye shadow
formula so the finish has a slight sheen. It's not a very soft eye shadow but does have a nice colour pay off and lasts very well on the lid. Unfortunately due to my skin having quite a pink undertone, I don't think this colour suits me very well. Pink shades are meant to be perfect for blue eyes so I may pop this in my college makeup kit!
Next up I tried
Coral Gold
eye shadow
which is a very pretty coral shade with some golden shimmer. This has a much softer formula compared to Magenta and again has a lovely colour pay off and lasts well on the eyes. Orange shades are meant to compliment brown coloured eyes very well and I find that it's a great colour to blend out in the crease when paired with a more neutral shade. It adds a nice pop of colour to the eyes which is perfect for the summer time!
The final pressed shadow I tried was a
pearl eye shadow
in
Envy Green
which is a green shade with lots of shimmer. This shadow has the nicest formula out of the 3 pressed shadows as it's soft, smooth and very pigmented. This is the shade I've worn the least however I would more than happily buy another one of these shadows in a more wearable shade!
The last eye shadow I was able to try was an
eye dust
in the shade
20
which is a deep mossy green shade with some shimmer. I really like the formula of this eye dust and I think this will be a great crease shadow for the Autumn/ Winter time! It is pigmented, smooth to apply and wears nicely on the eyes however there is quite a bit of fall out as it is a loose shadow, so take care when applying it!
Star Gazer Lipstick in 127 | £3.50 | LINK
The Star Gazer lipstick range is amazing! There are so many shades to choose from, such as reds and pinks to bold blues. My main problem with their lipsticks is that the packaging is very cheap and feels like it would break easily. I know £3.50 is cheap for a lipstick, but I do think that the tube and lid could be a lot stronger.
I chose the shade
127
which is a bright red and to be honest, is a shade of lipstick that I don't really have in my collection! The lipstick has a very soft and moisturising formula and I find it applies really well. I love how this lipstick looks on my lips but I do find it transfers easily, especially when eating or drinking. This would be a nice lipstick if you were just getting into makeup but I personally wouldn't buy another one!
Star Gazer Nail Polish | £2.50 each | LINK
The two final products I tried from Star Gazer were nail polishes. Again, the colour and effect range that Star Gazer sells is really good - there's literally every colour you can think of! I really like how the bottles look and the brushes are quite thin and very easily to use.
The first polish I tried was
301
which is a very pretty shimmery blue that reminds me of the ocean when on the nails. The formula of this polish is quite thin but it only takes around 2 to 3 coats of polish to make it opaque. I really like this nail polish and surprisingly I don't have this sort of shade in my collection! I would recommend this shade as it's very pretty and looks great on the nails!
The final nail polish I tried was
168
which is an orange/ gold shimmer top coat. It has a very thin orange base colour so takes around 3 to 4 coats if you just want to wear this polish alone. I personally think it looks great over the top of an orange or coral nail polish to add some extra shimmer to the nails. I found that the formula of this polish was quite gloopy which was a shame as I think it would be a perfect orange shimmer polish if it was thinner. Both of these nail polishes lasted well on my nails without a top coat and as they both contain shimmer, they were a bit of a pain to remove!
Overall I think Star Gazer is a nice makeup brand but I think it is more targeted to people just starting out with makeup. As it's so cheap, it's easy to play around with colours and build up a good collection. I'm personally not in love with this brand, purely because I'm used to wearing better quality makeup, but I do think other people will enjoy it! Sorry that this post was so long, but I hope that you found it useful!
What are your thoughts on Star Gazer's products?