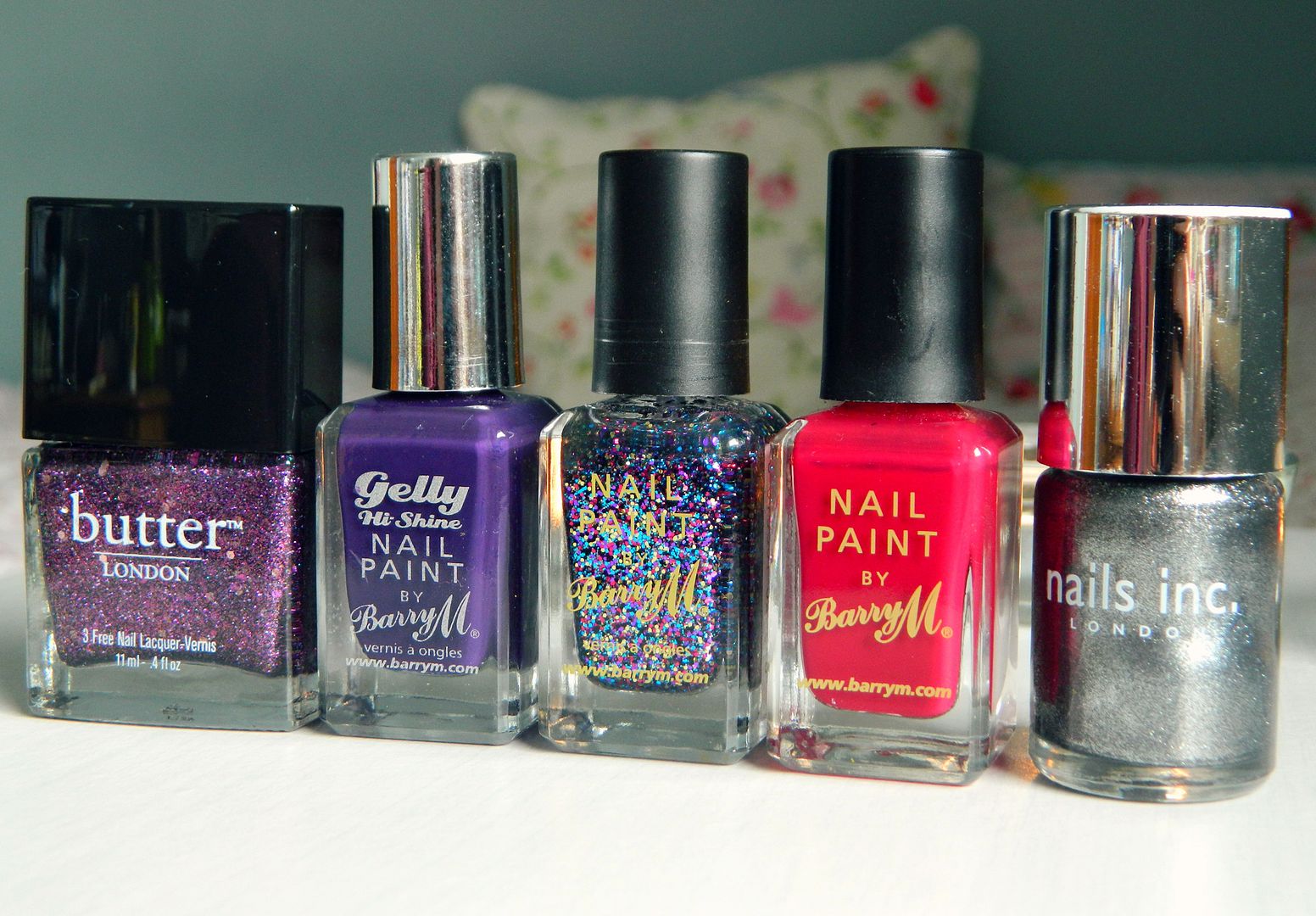 Each polish after 1 coat
Hello lovelies! I cannot believe how quick Summer has gone (in fact, 2013 is going way too fast!) and that I'm now thinking of Autumn and Winter kind of posts. If you read my blog, you may remember that I did a
Spring and Summer nail polish
post where I talked about my top 5 polishes of those seasons. I thought it would be good to keep these kinds of posts going and chat to you all about what nail polishes I'm going to be loving for the cooler months! I had a good rummage through my box of polishes and found a few that I'm really excited to start wearing again this Autumn/ Winter. I probably could have included another 5 berry shades and another 10 glitter polishes, but I narrowed it down to my top 5!
Butter London Nail Lacquer in "Shambolic"
I found this nail polish on sale last year and I instantly fell in love with it. It's a gorgeous deep golden purple glitter polish that works really well over other purple toned polishes. It has different sized bits of glitter in and can be built up to an opaque finish in a couple of coats. This is the type of polish I like to wear on my ring finger nails as an accent polish, but it can easily be worn on all the nails for a glitzy look!
I love deep, rich shades for the Autumn time and I think Barry M's Plum is going to be my go to purple shade this year! The thick and creamy consistency of this polish means it looks great in just 1 coat plus with the glossy finish, there's no need for a top coat. I think this will be a great partner for Butter London's Shambolic.
Barry M Nail Paint in "Amethyst Glitter" | LINK
This polish is probably one of my all time favourites as it contains a range of gorgeously coloured glitters! Everything from pink to navy to gold, it's a glitter top coat that can work with a range of coloured nail polishes. Glitter polishes in the Autumn/ Winter time are a staple for me, especially around Christmas time! I think this polish will look it's best with a deep, navy shade.
Barry M Nail Paint in "Raspberry" | LINK
Yet another Barry M nail polish. I just think their colour and glitter ranges are amazing for this time of year and I'm really looking forward to their new collections for Autumn! Barry M's Raspberry is quite a popular nail polish, especially for the Autumn time as it's a gorgeous berry toned raspberry polish that looks stunning on the nails. I've been really looking forward to using this polish again and I've definitely missed using it through the Summer!
Nails Inc Nail Lacquer in "Chelsea Manor Street"* | Review
My final top nail polish for Autumn/ Winter is probably my favourite out of the bunch - Nails Inc's Chelsea Manor Street. Metallics are a really popular shade for this time of year and I think the gunmetal colour of this polish is gorgeous! Also, it has tiny specks of glitter in which makes this polish look amazing on the nails. It has a creamy and opaque formula and is one of my favourite nail polishes to use.
So these are my top 5 nail polishes for the Autumn/ Winter time! I really can't wait to start painting my nails with all different deep toned and glitter polishes, it makes a good change from wearing bright colours all the time. I hope you enjoyed this post and I would love to hear what your favourite polishes are for the Autumn/ Winter time!
What is your favourite nail polish for Autumn and Winter?
What do you think of my top 5 polishes?