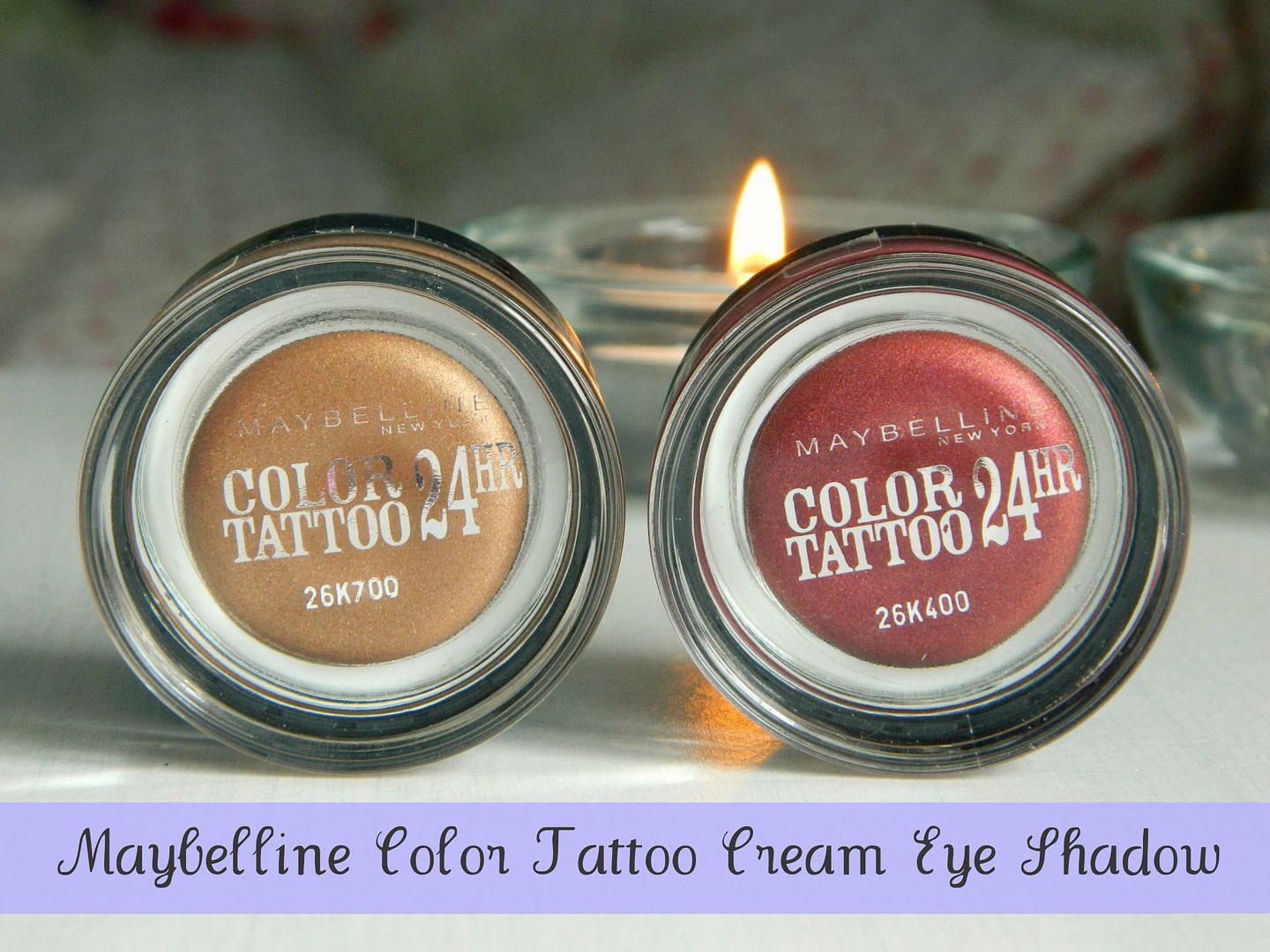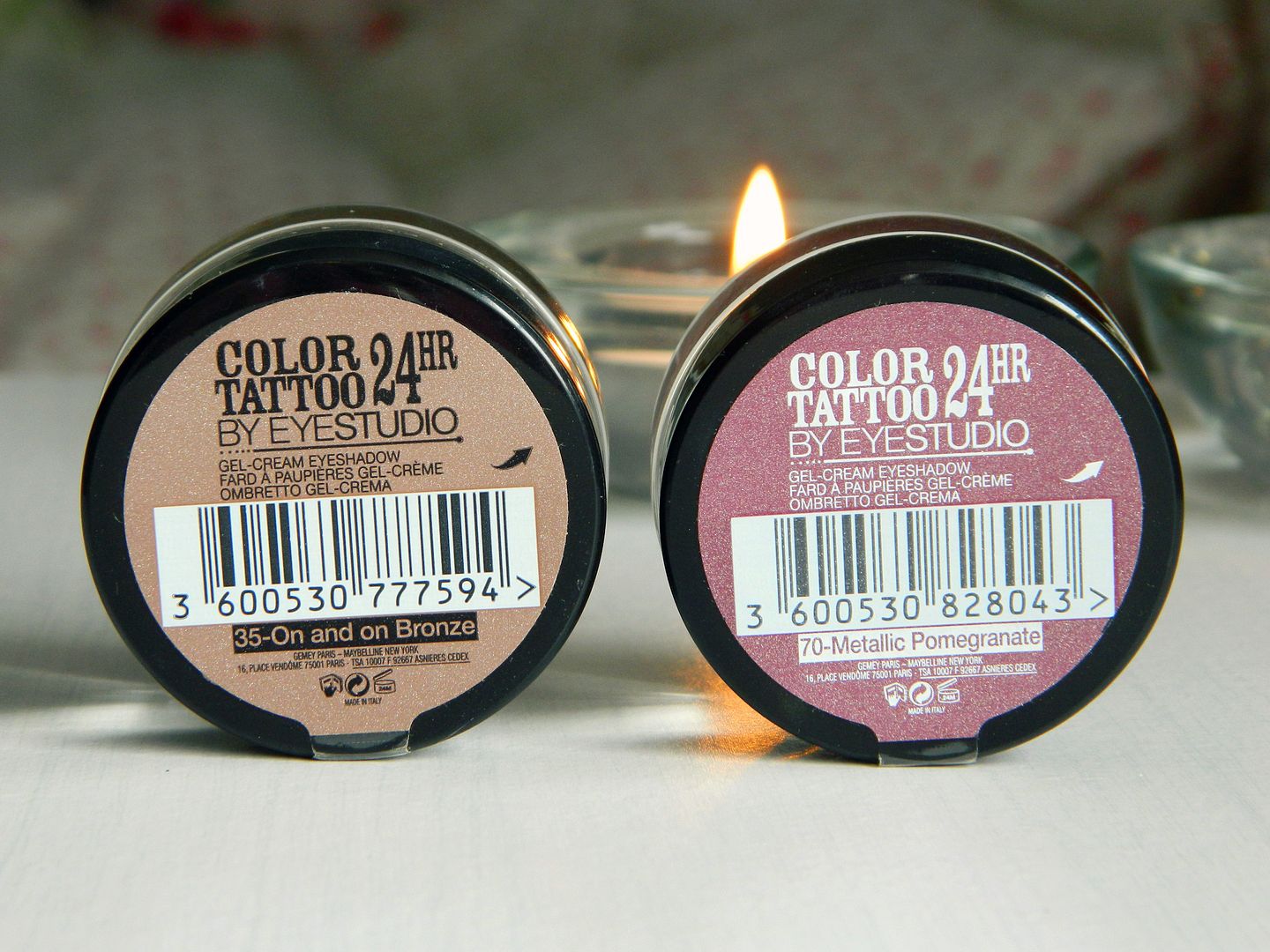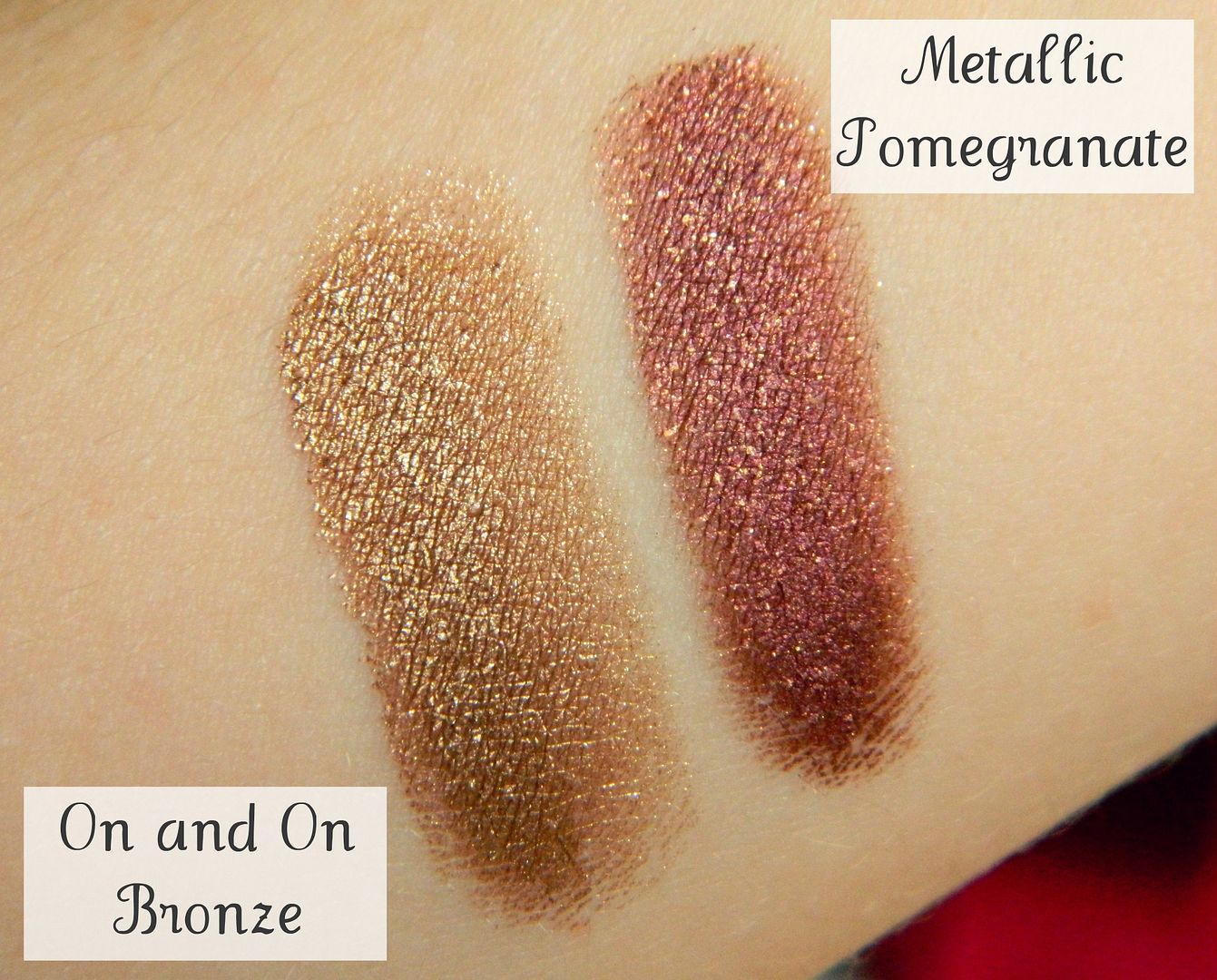 Maybelline Color Tattoo 24Hr Cream Eye Shadow
| £4.99 each
Hello everyone! So today I'm going to be reviewing yet another product from Maybelline, but this time it's one of which I'm completely obsessed with! These are the infamous Maybelline Color Tattoos and the shades that I have are: "On and on Bronze" and "Metallic Pomegranate". I've been using these cream eye shadows pretty much every single time I've done my makeup over the past few weeks and I have to say, I'm addicted!
If you want to know the ins and outs of why I love these little beauties, then do keep on reading.
So like I said, the two shades that I own are "On and On Bronze" and "Metallic Pomegranate". On and On Bronze is a gorgeous bronze shade with a golden shimmer running through it. This is the shade I use the most as it's a perfect everyday eye shadow that can work with a whole range of other colours. Metallic Pomegranate is a deep bronze toned berry shade which also has golden shimmer in it. This shade is absolutely perfect for this time of year and to me, it looks like Christmas in a pot! I like to use this shade more for night time looks or if I want a darker eye look. Each of these shades are so versatile as they can either be worn as eye shadow bases, as a lid colour or just on their own for a quick and easy eye look!
As you can see from the swatches in the photo above, their pigmentation is amazing and well worth the £4.99 price tag! These cream eye shadows apply beautifully to the eye lid, are smooth, soft and so easy to work with as you can simply use your finger to blend them out. They also have amazing staying power and I completely agree that they are 24 hour wear. They also make any other shadows you put over the top stay put all day, so if you don't use a primer, they're the perfect product to use as an eye shadow base.
The packaging of these little pots is really nice and I love that they made them in glass so they have a good amount of weight to them. This makes them look and feel like a high end product and I've heard they're very similar to the MAC paint pots. They have a simple black screw on lid that's very secure and will help stop them from drying out quickly.
So overall, as you may have already guessed, I'm completely in love with the Maybelline Color Tattoos! I think the two shades that I have are so easy to work with and compliment my eyes and skin tone really well. These are a definite staple in my makeup bag!
What are your thoughts on the Maybelline Color Tattoos?
What other shades would you recommend me to try out?