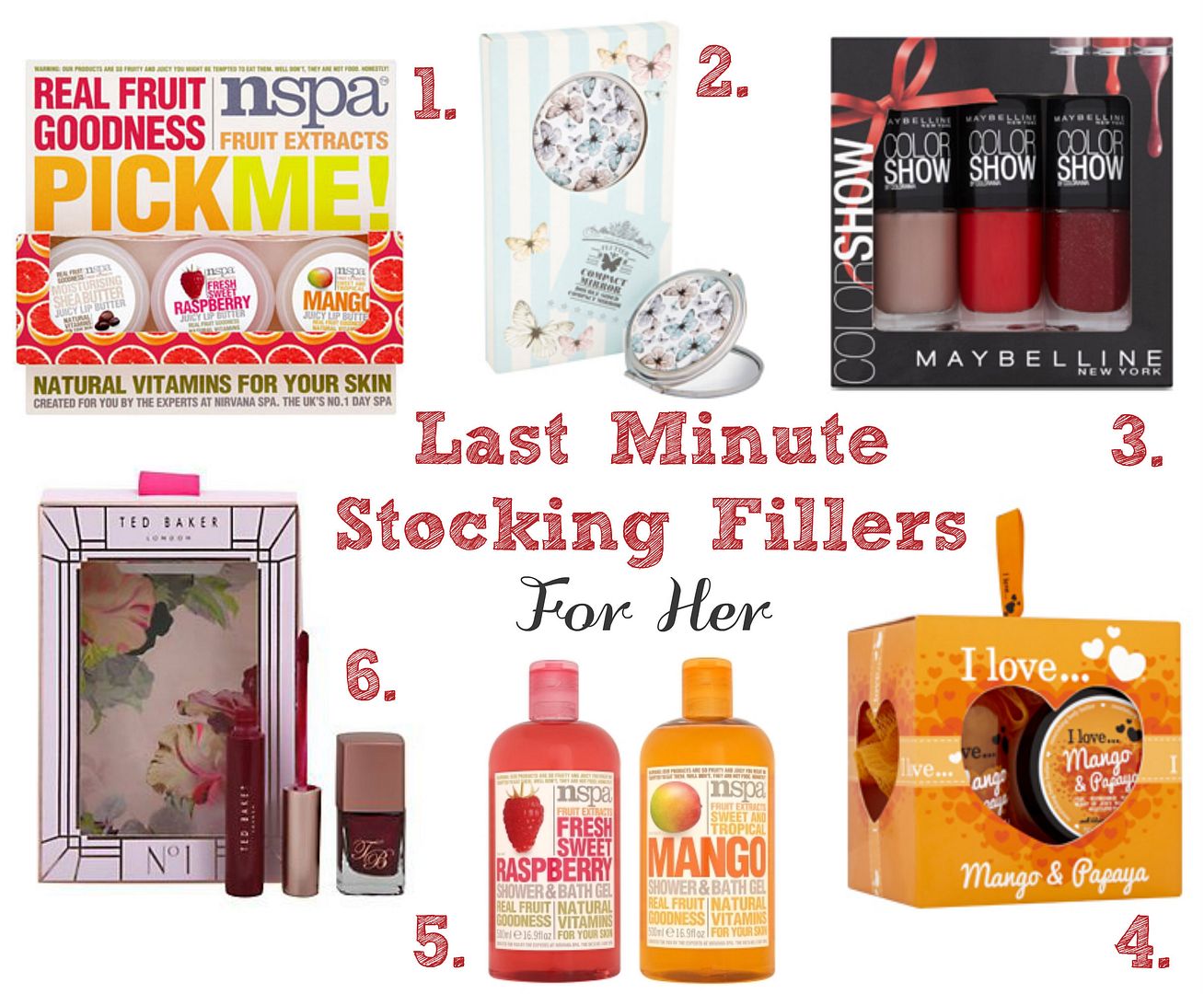 Hello lovelies, I hope you're all doing well. I can't believe that Christmas is only a matter of days away, I seriously cannot wait! Now that there's only a few days left before Christmas, I thought I would put together a last minute stocking filler gift guide that features some of my top picks of smaller presents from the high street. I think posts like this are great for when you're looking for a small and inexpensive present when you've realised you still need to pick up a couple more things for someone! I also tried to do a guy's version of this, but seriously, boys are so hard to buy for and I had such a tough time finding gifts for under £10 that I actually liked - so I've kept this gift guide to girls only. But of course, the bath products in my list could also work for guys too! So enough rambling about boys being difficult and let's get into the post..
1. NSpa Fruit Extract Lip Butters | £4.00 | LINK
Who doesn't like a good lip balm? I've seen this NSpa lip butter set crop up a few times in the blogosphere and I personally thought it was such a cute and very inexpensive gift! For £4 you receive 3 (however the
Asda
stock photo showed 4.. strange?) little lip butters in different flavours: shea butter, raspberry and mango - all 3 of which I would happily use! Any kind of lip balms are a perfect stocking filler at this time of the year as many of us will be suffering with chapped and dry lips, so I think this is a great little product. Plus if you have 3 friends you need to buy for, you could always split this set up and give each of them one lip butter plus another gift - thrifty huh?!
2. Flutters Butterfly Compact Mirror | £3.00 | LINK
This little compact mirror is just too pretty not to feature in this post! Every girl needs a compact in their handbag or makeup bag and I think the blue and lilac butterfly design of this one is so sweet. Little makeup tools like mirrors, brushes and eye lash curlers for example are always a great gift at Christmas time, especially for someone who is obsessed with beauty products. For £3 you are getting a sturdy double sided mirror that any girl would love, plus many gifts in Superdrug are 3 for 2 so there's even more money to be saved!
3. Maybelline Colour Show Nail Polish Trio Kit | £7.99 | LINK
I wanted to include some form of nail polish set in this post and luckily I stumbled across this really lovely Maybelline set on the Superdrug website. In this set you get a trio of Christmassy shades that would be perfect for the festive season: a nude, a bold red and a sparkly red. I haven't tried any of these Maybelline nail polishes before but I have asked for a few for Christmas so I personally would love to receive this as a gift in my stocking, so I'm sure many girls would do too! Again like the lip butters, you could also split them up and give each of the shades to different friends. Each of these polishes on their own cost £2.99 so you are saving about £1 when you buy this cute little set!
4. I Love Mango & Papaya Mini Box Of Love | £3.50 | LINK
Now when I first saw this little gift box set it really reminded me of the sets you can get in the Body Shop for £6 - so this one is nearly half the price! I absolutely love mango scents so I think this would be a great little stocking stuffer for anyone who has an addiction to buying and trying bath products (I can definitely hold my hand up there!). In this set you get a little bubble bath/ shower gel, a body butter and a mini body puff. This is such great value for money and I love the way it's packaged with the ribbon loop on top, just like a Christmas tree decoration!
5. NSpa Fruit Extract Shower & Bath Gels | £3.00 each | LINK
Again, more bath products (I did say I have an addiction haha!) but I think NSpa is such a lovely yet inexpensive brand. I've had their shower/ bath gels on my "to try" list for quite some time so I thought they would be a great little idea to add into this gift guide. They have some amazing scents to choose from and my particular favourites are: mango, grapefruit and raspberry - I always give them a sniff when I'm in my local Asda! Plus NSpa shower gels are usually on offer for 2 for £4 which is amazing considering a huge 500ml bottle is £3 anyway! Of course you don't have to buy NSpa shower gels, Soap & Glory also sell some amazing ones for around £6.50 and are usually found in a 3 for 2 deal.
6. Ted Baker Lovely Lindy Hop Nail Varnish & Lip Gloss Set | £8.00 | LINK
My final product in this gift guide is a little makeup set from Ted Baker. I absolutely loved the colour of the nail polish and lip gloss in this set, it's so festive looking and I do love a good deep red shade at this time of the year! The Ted Baker sets from Boots are always packaged so beautifully as well so I think these would make perfect little gifts to pop into someone's stocking. Again you don't have to go with Ted Baker, you could always pick up a selection of makeup from Boots or Superdrug and pop it into a pretty gift bag with some tissue paper and create your own personalised set!
So these are a few products that I think would be perfect as stocking fillers for any girl that you know. I've tried to keep them pretty cheap so that they can be perfect if you need to buy presents for lots of girl friends! I hope you liked this post, I'm not sure if I'll be able to blog before Christmas but I will try really hard to make one before then. Thank you for reading!
What's at the top of your Christmas wish list this year?