Hello everyone, I hope you're all having a lovely start to your week! I would first like to apologise for being so inconsistent with my blogging recently. As I near the end of college, I've been really busy and slightly stressed with the amount of work I need to get through! This has meant that on my days off I'd much rather relax and have some "me time" so blogging has taken a back seat for a while. As a firm believer of "quality over quantity", I would much rather publish one post every few weeks that I'm happy with rather than lots of lower quality posts just for the sake of it! I'm sure than once I've finished my college course I will be able to create lots more of these higher quality blog posts and in no time I'll be back into the swing of things again - watch this space!
For today's post I really wanted to share this gorgeous new lip product that has been recently added to my collection. As a huge lover of
Soap & Glory's
makeup products, I was super excited to try out their Sexy Mother Pucker Lip Lacquer in Riot, a beautiful pillar box red. I don't own very many lip lacquers (I tend to sway towards the good old lipstick) so I was very keen to see how this product worked for me.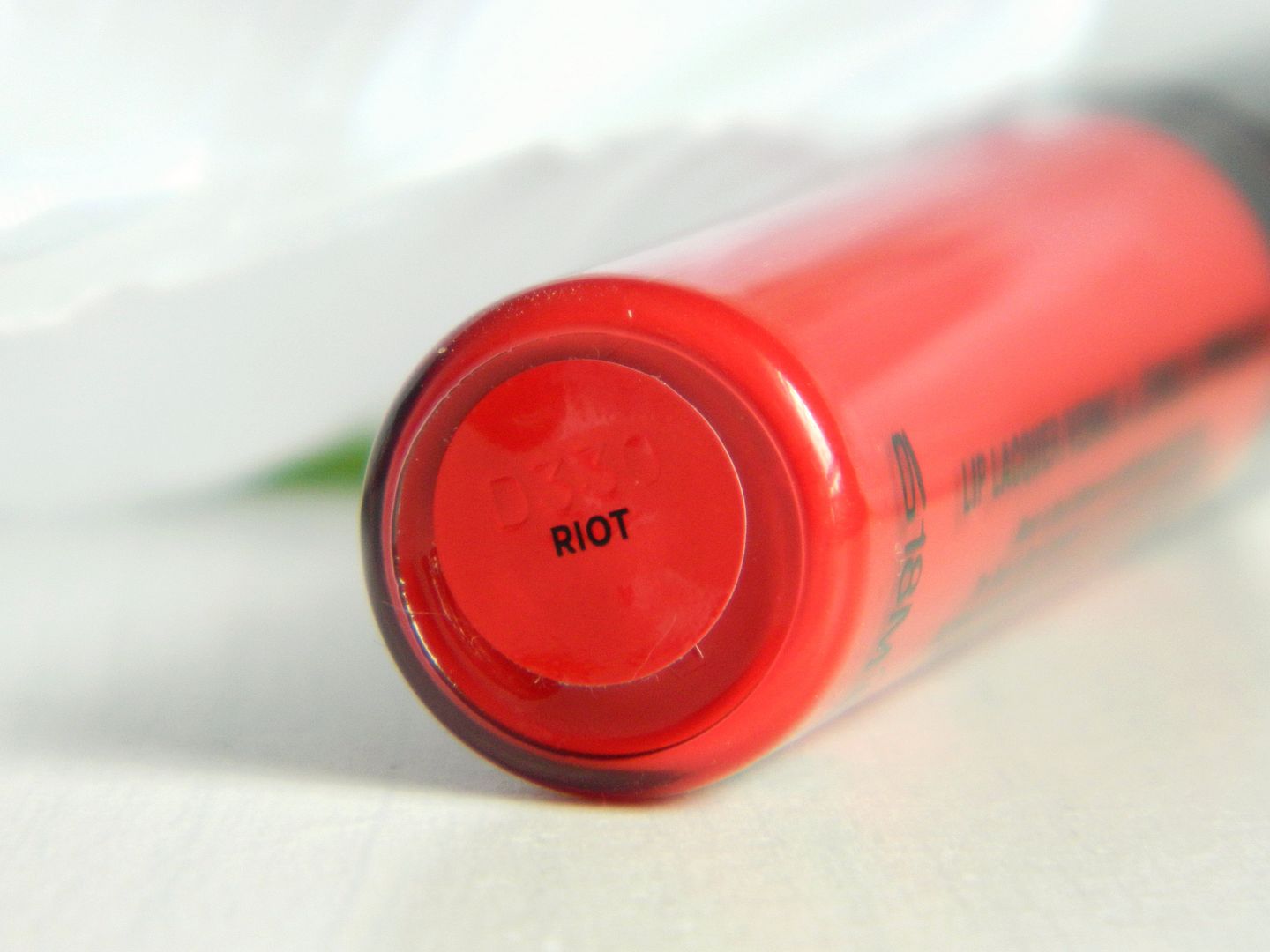 As I said, the shade I received from the lovely girls at Soap & Glory was Riot which is a true rich glossy red. I absolutely love red shades as I find they compliment my fair skin and dark hair very well. These lip lacquers come in a simple lip gloss like tube which makes them very small and compact to pop into your makeup bag. What's special about these lip lacquers is the application wand that has a wide sponge tip which allows for you to apply lots of product in one go. As the applicator is also quite thin and flexible, it allows you to get into the corners of your lips very easily which makes the whole application process super quick and simple!
The formula of the Sexy Mother Pucker Lip Lacquers is definitely very different to your everyday lip gloss. It's much thicker and packs on a tonne of colour in one sweep! At first I found that the Sexy Mother Pucker Lip Lacquer was quite stringy when you pulled the applicator out of the tube and this worried me that it would be far too thick to sit comfortably on my lips. However, as you only need a tiny amount of this product to create a fully opaque lip (you literally need to wipe all of the excess product off the applicator), the stringy-ness disappeared and I was left with a smooth product to apply to my lips. Once on, this lip lacquer didn't dry out my lips at all and this is probably due to its ultra-moisturising properties!
As you can see from the swatches, the Sexy Mother Pucker Lip Lacquers offer a super glossy opaque finish, almost as if you were wearing a lipstick and gloss combo! This lip lacquer feels really comfortable on my lips and keeps them feeling hydrated the whole time that it on them. I find that Riot will last on my lips for around 4 to 6 hours before it starts to fade, so the wear time is really good! Also, I find that these lip lacquers have a very subtle yet pleasant smell which is completely unnoticeable once on the lips. I love how this shade looks on me and I think it's the perfect colour to wear on a glamorous night out with the girls! I would definitely try and pick up a more nude shade so that I can start to wear these lacquers on a more day-to-day basis.
Overall I think the Soap & Glory Sexy Mother Pucker Lip Shine Lacquers are a great makeup item to have in your collection. I haven't tried many lip lacquers but I'm seriously impressed with the quality of these ones! I will definitely be picking up some more shades to add to my collection, Watchamacoral sounds like a colour that would be perfect for the summer time!
Have you tried Soap & Glory's Lip Lacquers?
What's your favourite brand of lip lacquers?