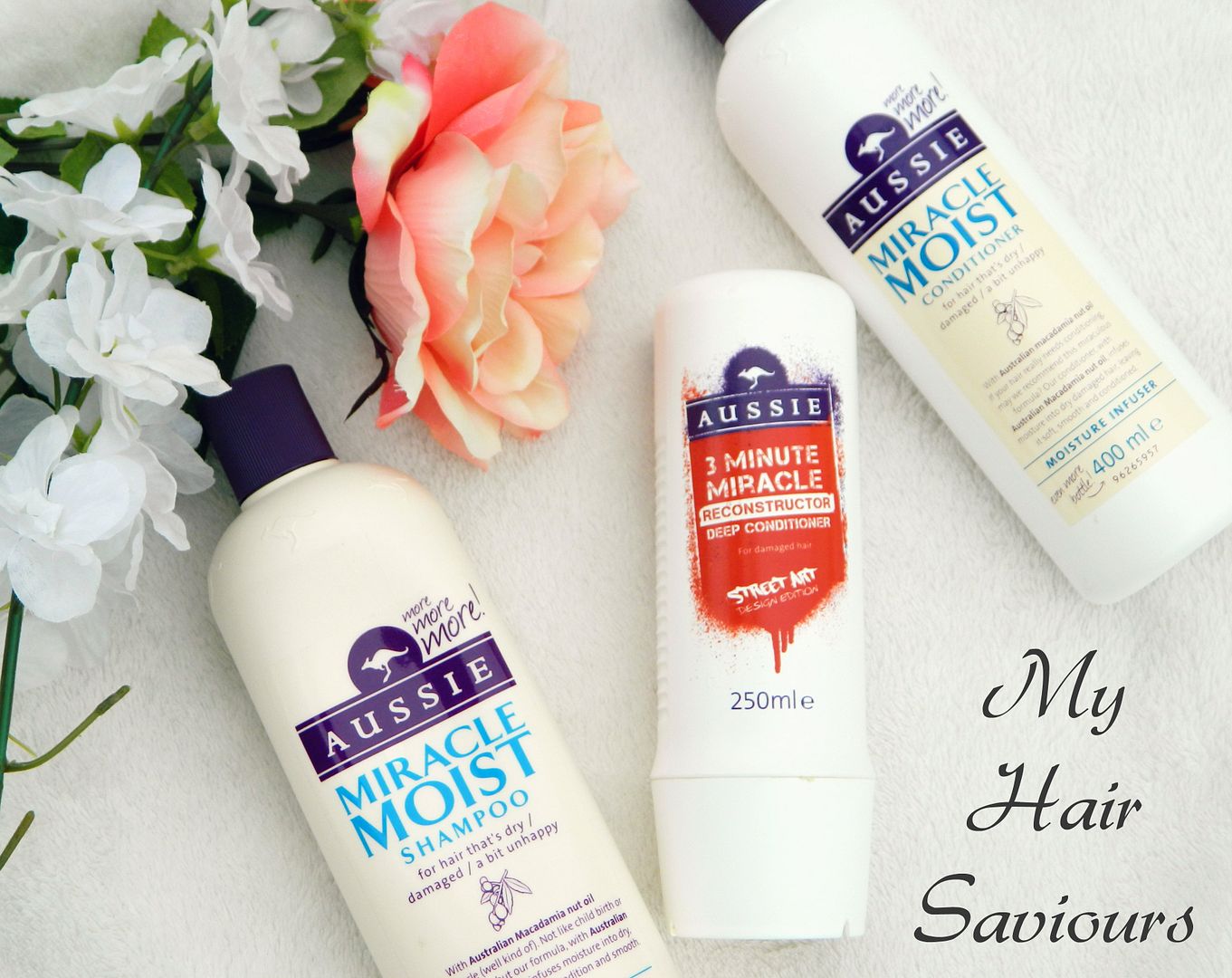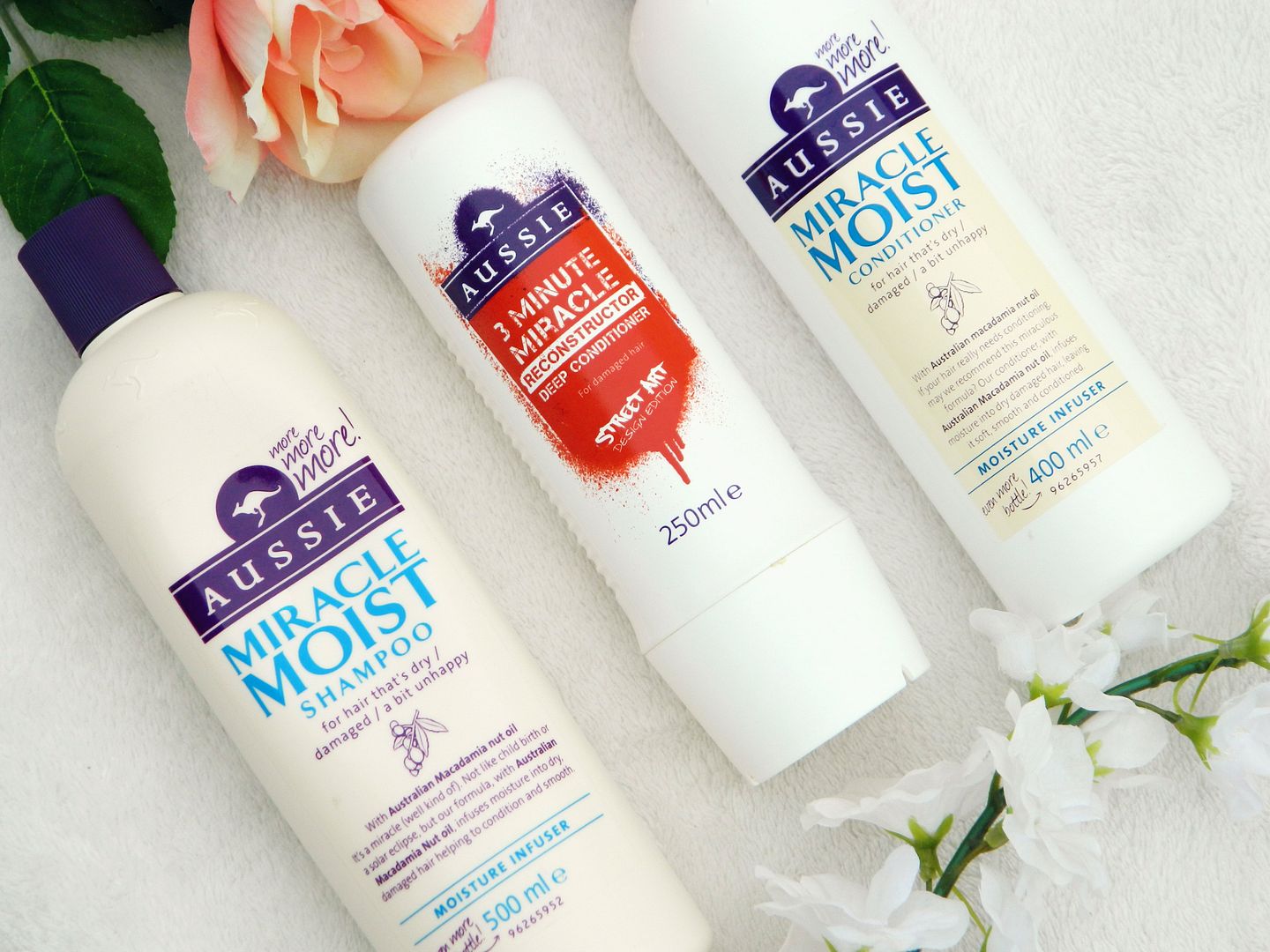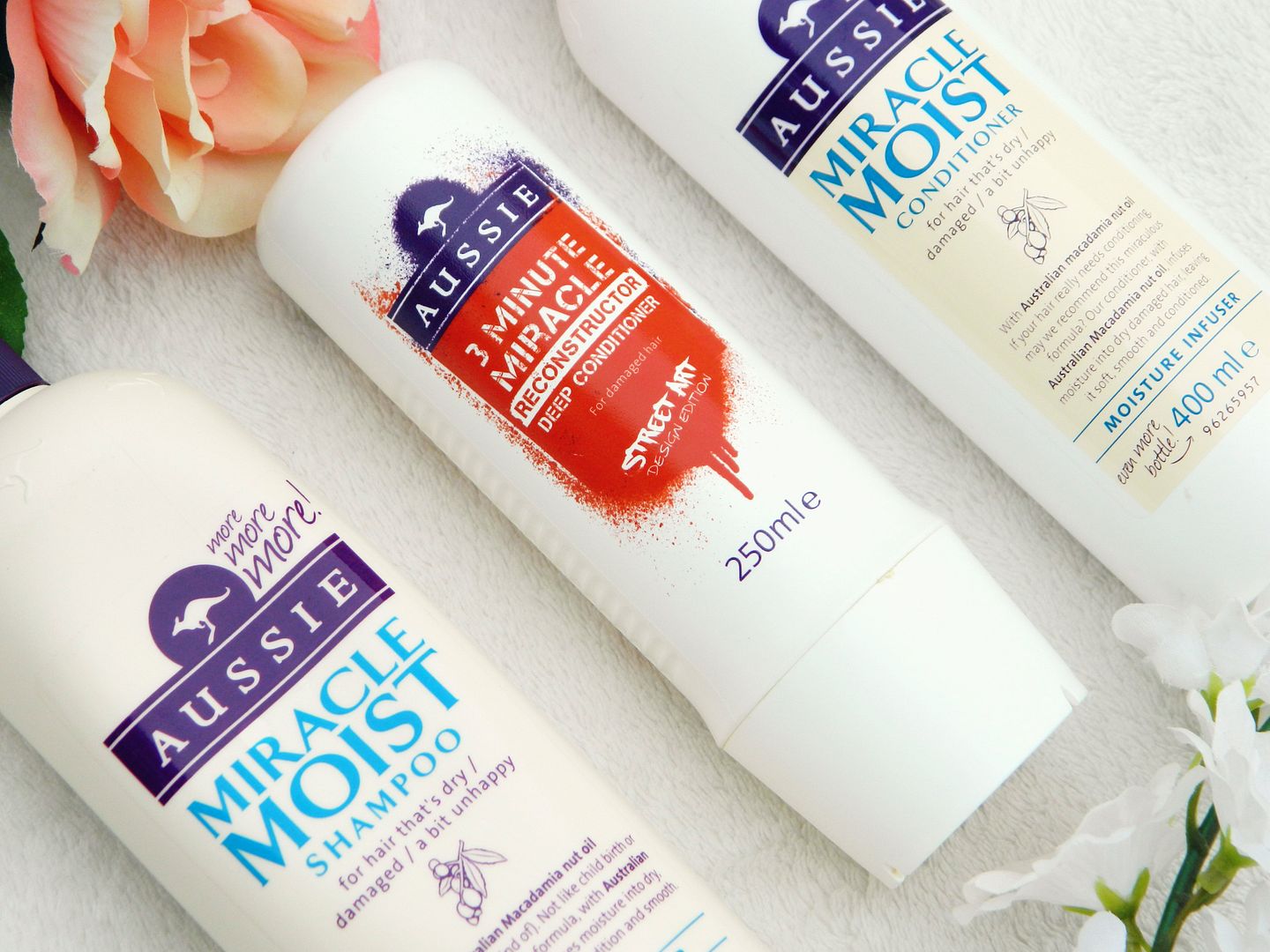 I love the summer time, it's filled with fun memories with friends, trips to the beach, holidays and just generally having lots of fun! But along side this, warmer weather also means humidity and for people like me with fine, curly hair this just equals massive problems! After trialing so many shampoos and conditioners, nothing could seem to tame my unruly locks and keep fly-aways at bay. After reading some reviews online, I decided that it was worth a shot to try out some products from the much loved brand Aussie. These are by no means new additions to their line but I just wanted to find a hair care system that would pack a tonne of moisture back into my hair! I opted to try out their
Miracle Moist Shampoo
and
Conditioner
plus, for an added boost of hydration, their
3 Minute Miracle Reconstructor Deep Conditioner
.
The
Miracle Moist
Shampoo and Conditioner both contain macadamia nut oil which is a well known ingredient that packs lots of moisture back into dry and damaged hair. For me this helps to smooth down my frizzy hair and make my curls a lot more defined than normal. I've also noticed that my hair is a lot shinier after using the Miracle Moist products which makes my hair look so much healthier than it used to! As well as leaving my hair looking and feeling great, Aussie shampoos and conditioners also leave your hair smelling gorgeous and with the Miracle Moist line that's no exception! I find that these two products leave my hair smelling fresh and really clean and I love that the scent is still noticeable once my hair is dry. I absolutely love using these 2 products and I think that they would suit anyone with dry or damaged hair as they're so nourishing and moisturising!
As I really want to smooth my hair down and make it as sleek as possible, I also use a small amount of the 3 Minute Miracle Reconstructor Deep Conditioner over the top of the Miracle Moist Conditioner. This deep conditioner is infused with Australian mint balm which helps smooth down rough cuticles (this is what would cause your frizzy, dry hair) and repair split ends. As I use heat on my hair quite a lot, this deep conditioner is a welcomed treat on my hair as it leaves it feeling so soft and nourished! I also love the sweet fresh scent of the mint balm of this conditioner and it ties in well with the smell of the Miracle Moist products! After leaving this deep conditioner on my hair for 1 to 2 minutes, my hair always feel absolutely amazing and as if it's been brought back to life! If you're looking for a deep conditioner/ mask to add to your hair care routine, I highly recommend you trying out this one!
After using these Aussie products for a good 2 months now, I can definitely notice that my hair is so much healthier and feels like it's in a much better condition. These 3 little wonders will be a staple in my summer time hair care routine as they've finally resolved my annoying hair problems. Thank you Aussie!
What are your hair care saviours?
Have you tried anything from Aussie before?