For me, no outfit is complete without a little spritz of my favourite perfume just before heading out the door. It helps complete my look and I could go far enough to say I feel slightly naked without wearing any! Over the years I have grown a small collection of perfumes and body mists that I like to use on a daily basis. I'm someone who like both a sweet girly fragrance for daytime wear and a more sophisticated, deeper scent for the evenings.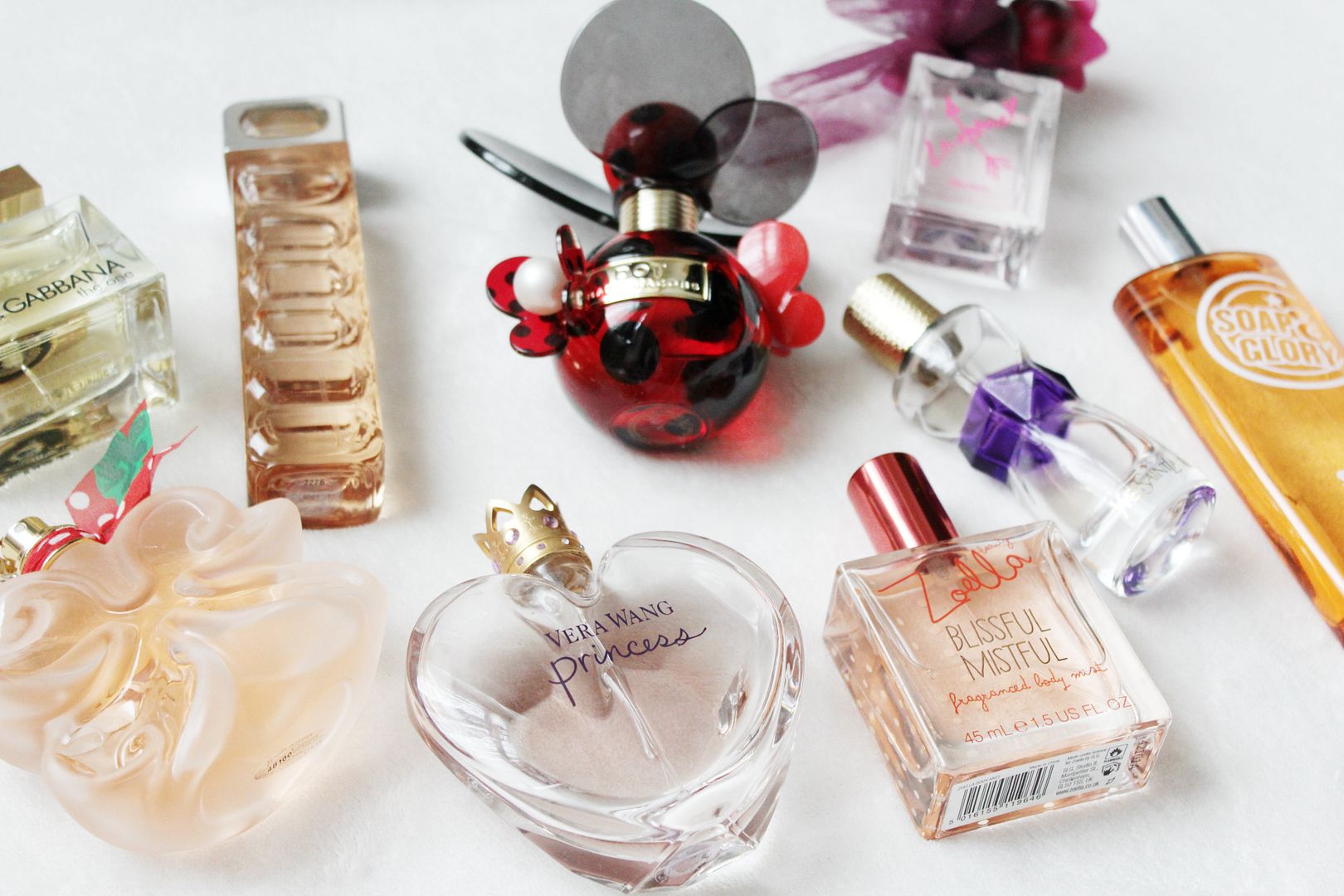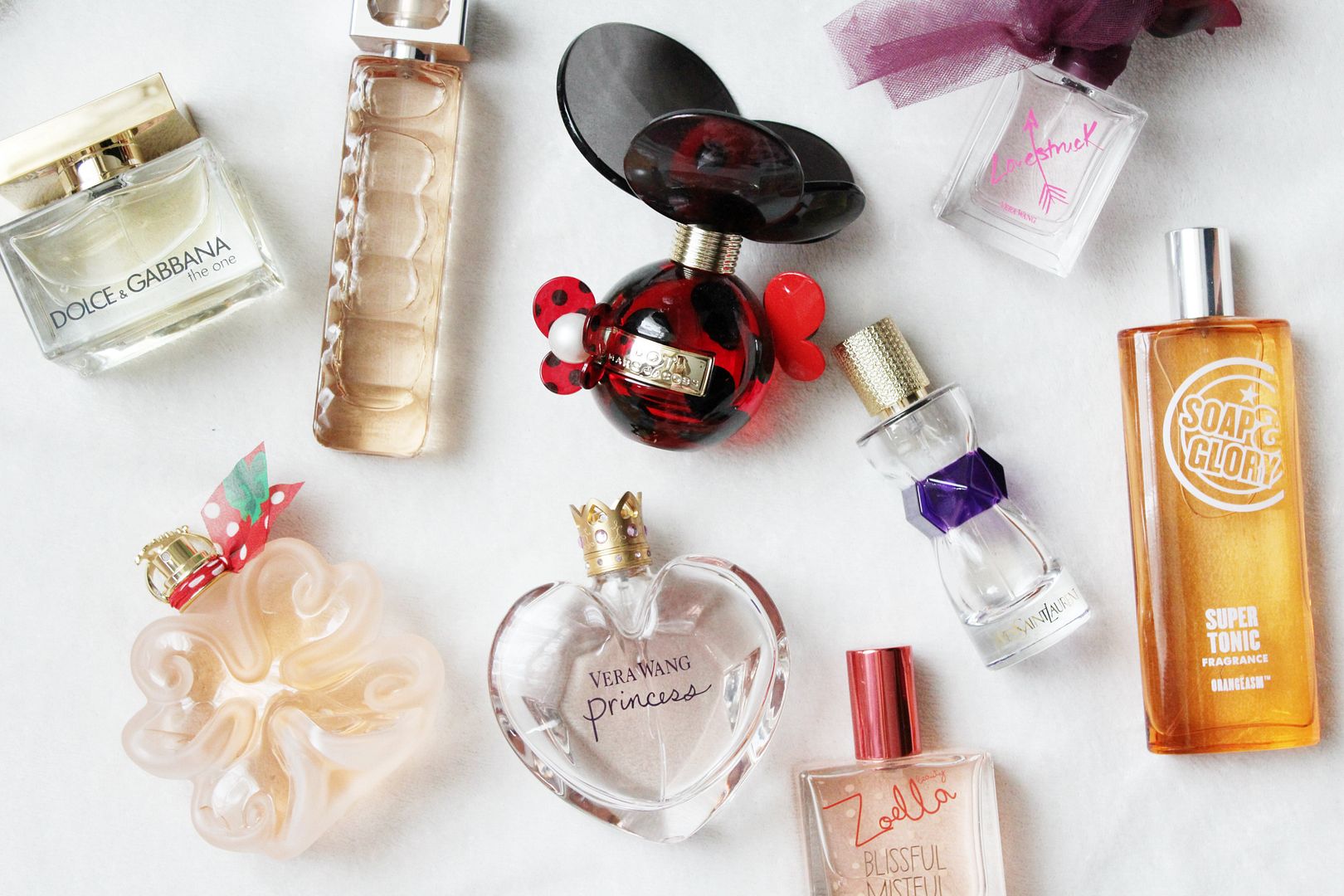 This is what I would class as my everyday perfume as it has that perfect mixture of a sweet fruity scent with deeper tones of vanilla and ambery-musk that I really like. It has an amazing wear time as well and I always get compliments on my perfume whenever I wear it! I got through my 30ml bottle pretty quickly and I'm now on to a bigger 50ml bottle, so this perfume is a definite winner in my books.
This perfume reminds me of the first time I went to France with my boyfriend just over 5 years ago. I had popped into Sephora to buy any eyeshadow (my first ever high end purchase!) and received a little sample of this perfume. I loved it so much and luckily found it in my local Asda for around £10 which was an amazing bargain! I really love the bold spiciness to this scent plus the bottle is absolutely stunning when sitting on my dressing table! I think it's always important to have a special perfume like this that brings back good memories from the past.
I feel like this is a really popular perfume amongst us ladies as nearly everyone I know owns a bottle of Boss Orange! This is a scent that my boyfriend picked out for me and he buys it for me every year. I find it's a perfect Spring time scent as it contains notes of sweet apple and has that lovely warmth to it that I like in perfumes.
This is another one of my staple everyday perfumes that I absolutely adore! I remember finding this on Fragrance Direct and was able to get the 100ml bottle plus a roller ball version for around £40. It's lasted me absolutely ages but I am probably due to buy a new bottle very soon. I love the light fruity and floral scent that makes it a perfect everyday scent.
Marc Jacobs has some of the nicest perfumes out there, mainly due to the overly cute bottles! Dot is a young playful scent with floral and vanilla notes making this an amazing Spring/ Summer perfume. This is definitely a day time scent as it's light and fresh and will be one I'll be reaching for more in the warmer months.
I've very nearly come to the end of this beloved perfume - literally just a few sprays left! YSL's Manifesto has beautiful woody and vanilla notes making this a perfect evening scent as it's very sophisticated. I also love the oriental tone to this perfume and if it was cheaper, I would keep on repurchasing it time and time again. For now I'm going to keep it for special occasions and save up to buy a new bottle soon!
The last perfume in my collection is another one from Vera Wang called Lovestruck. As I loved my Princess so much, I thought I would give this a try when I found it in the sales. I'm not as keen on this scent and is probably the one I reach for the least. Despite having the typical floral and fruity scents I like, I think the musk element kind of brings it down for me and I find it doesn't sit that well on my skin. Such a shame as the bottle is so pretty!
I think every blogger and their dog owns the lovely Zoella's body mist - it's always good to support the fellow blogging community! Obviously body mists don't last as long as perfumes, so I prefer to use these during the summer or to take them on holiday to throw in my beach bag. As it's such a fresh fruity scent, this will be great to start wearing in the spring.
My final perfume in my collection is another body mist from Soap & Glory and is in the Orangeasm scent. This body mist is a fresh fruity scent with orange and lemon extracts. The wear time isn't very impressive and unfortunately isn't a scent that I seem to get along with - it seems a bit clinical smelling, if that makes sense! I'm sure some people will really get along with this scent, but personally it's just not for me.

So this is my current perfume and body mist collection! I think it's great to have a few perfumes on the go because it's nice to swap things up a bit, especially for different occasions and seasons. Let me know your thoughts on my collections and whether you tried any of the perfumes that I own!
What is your all time favourite perfume?
Leave your recommendations in the comments below!