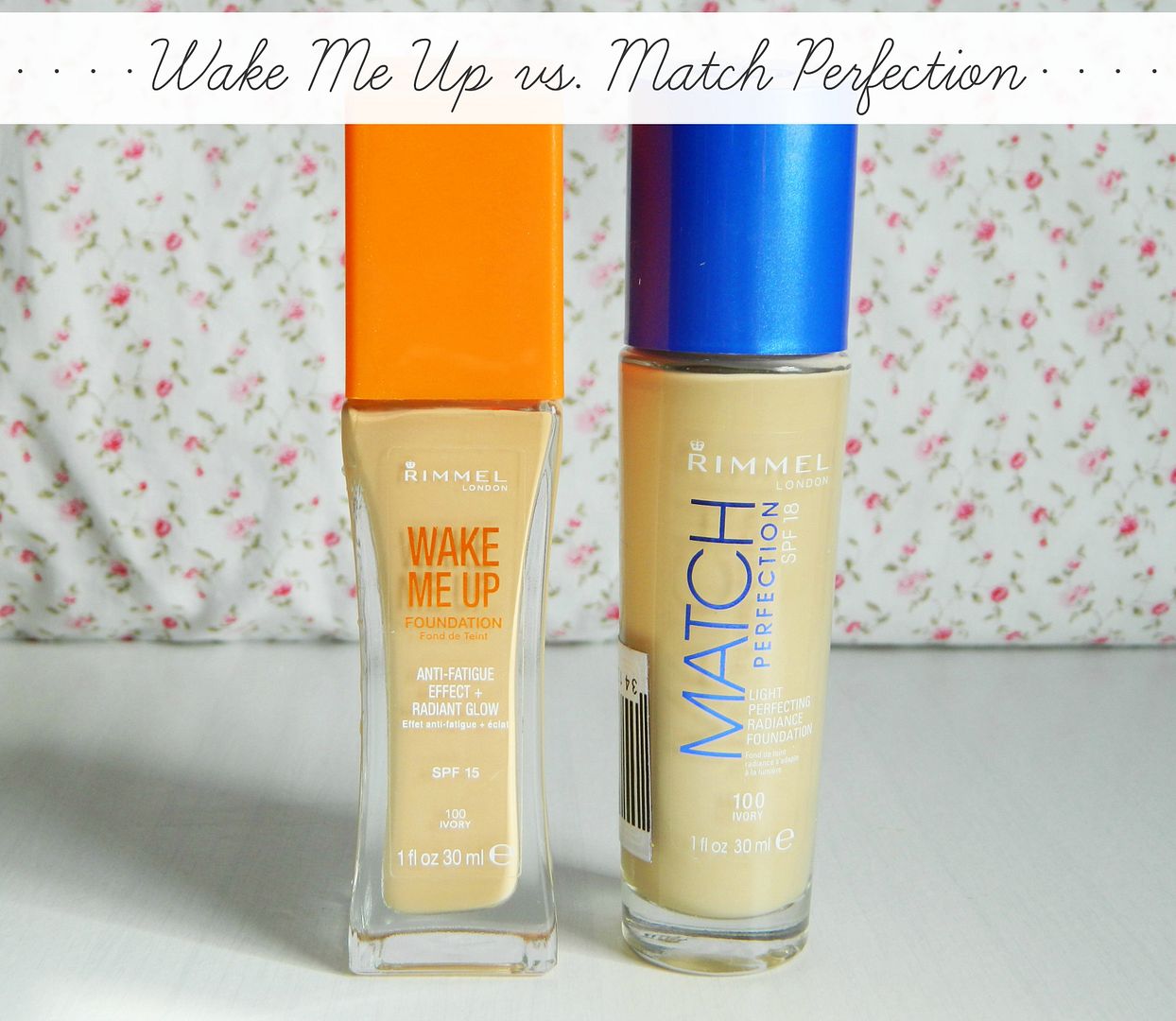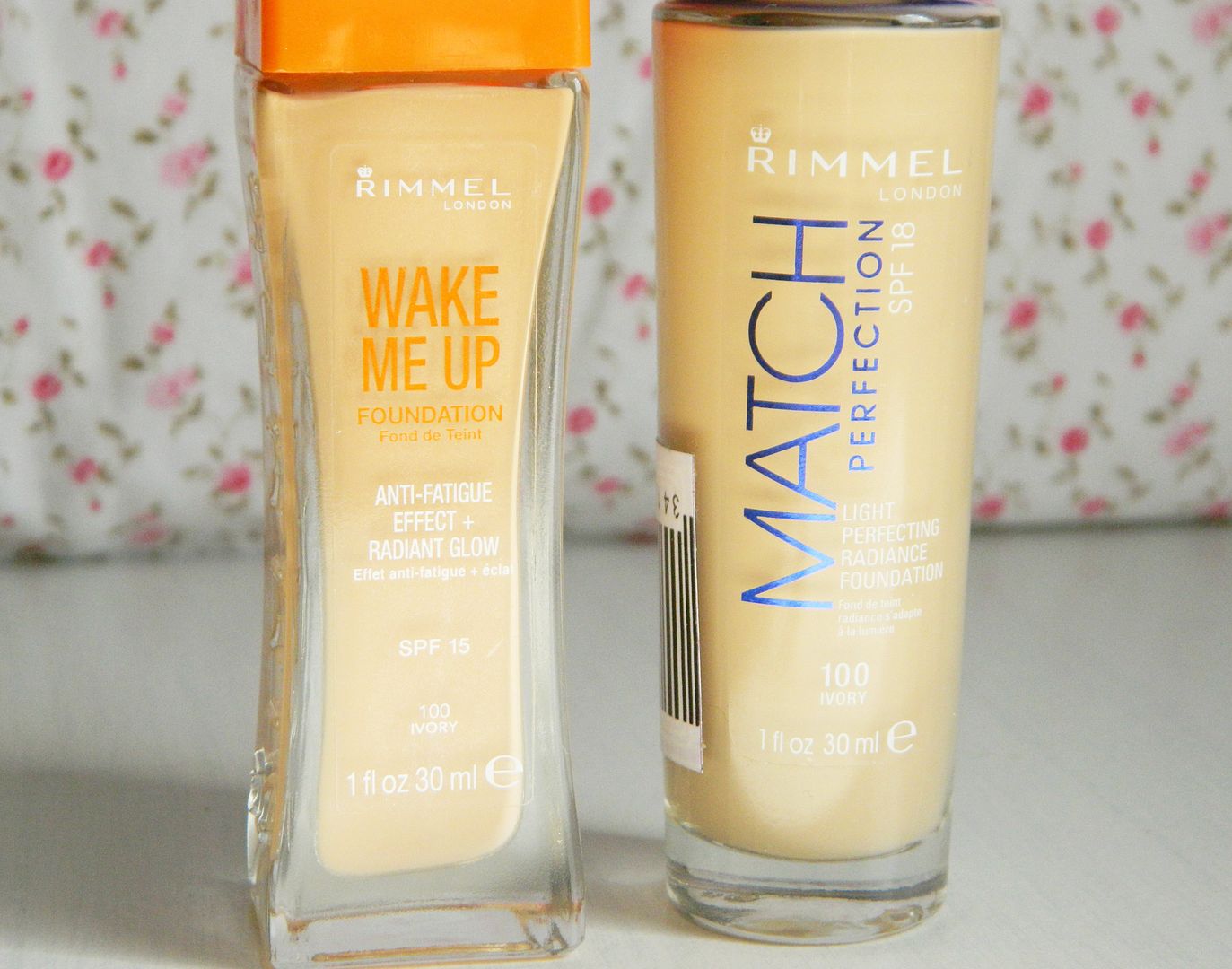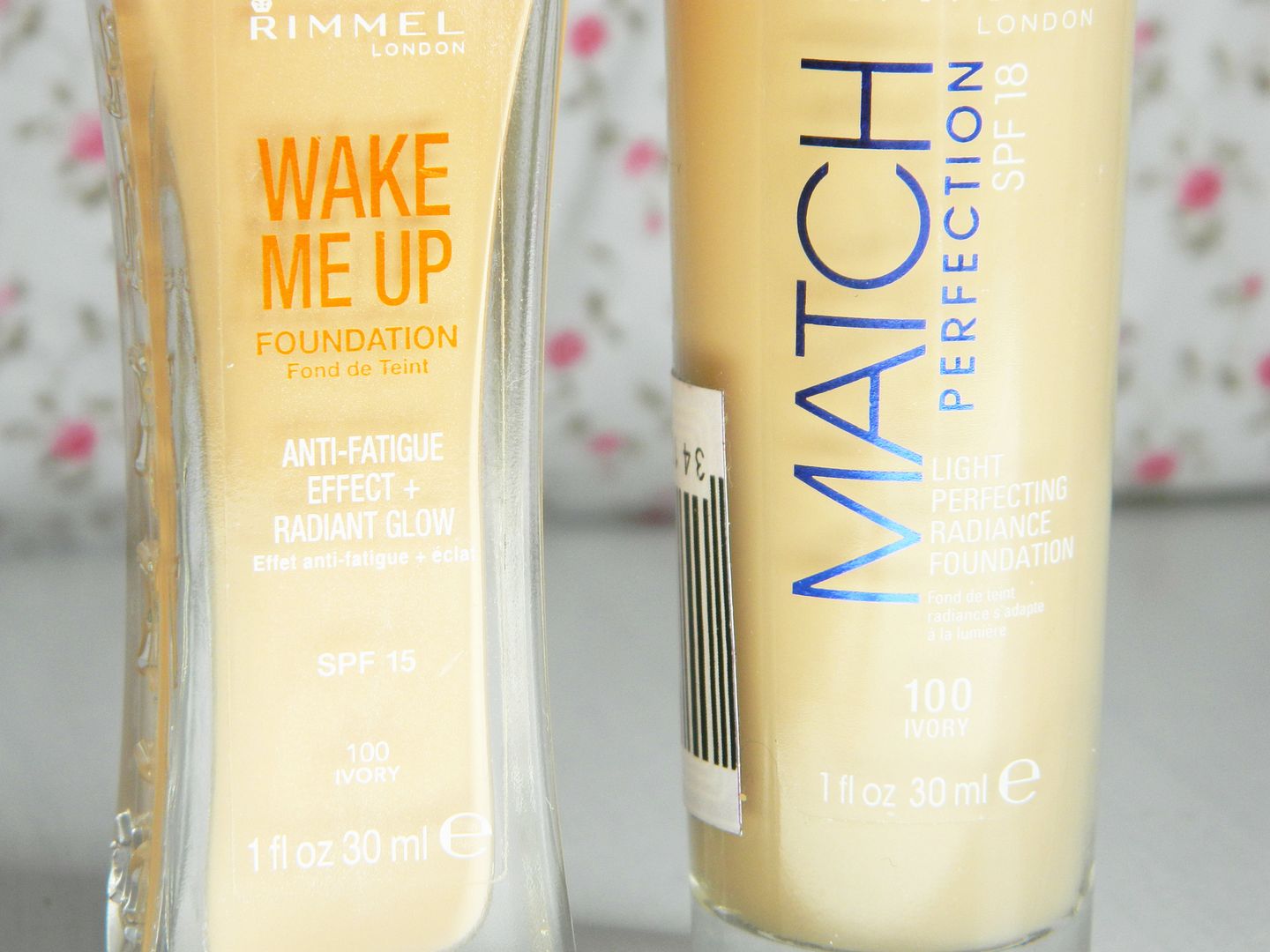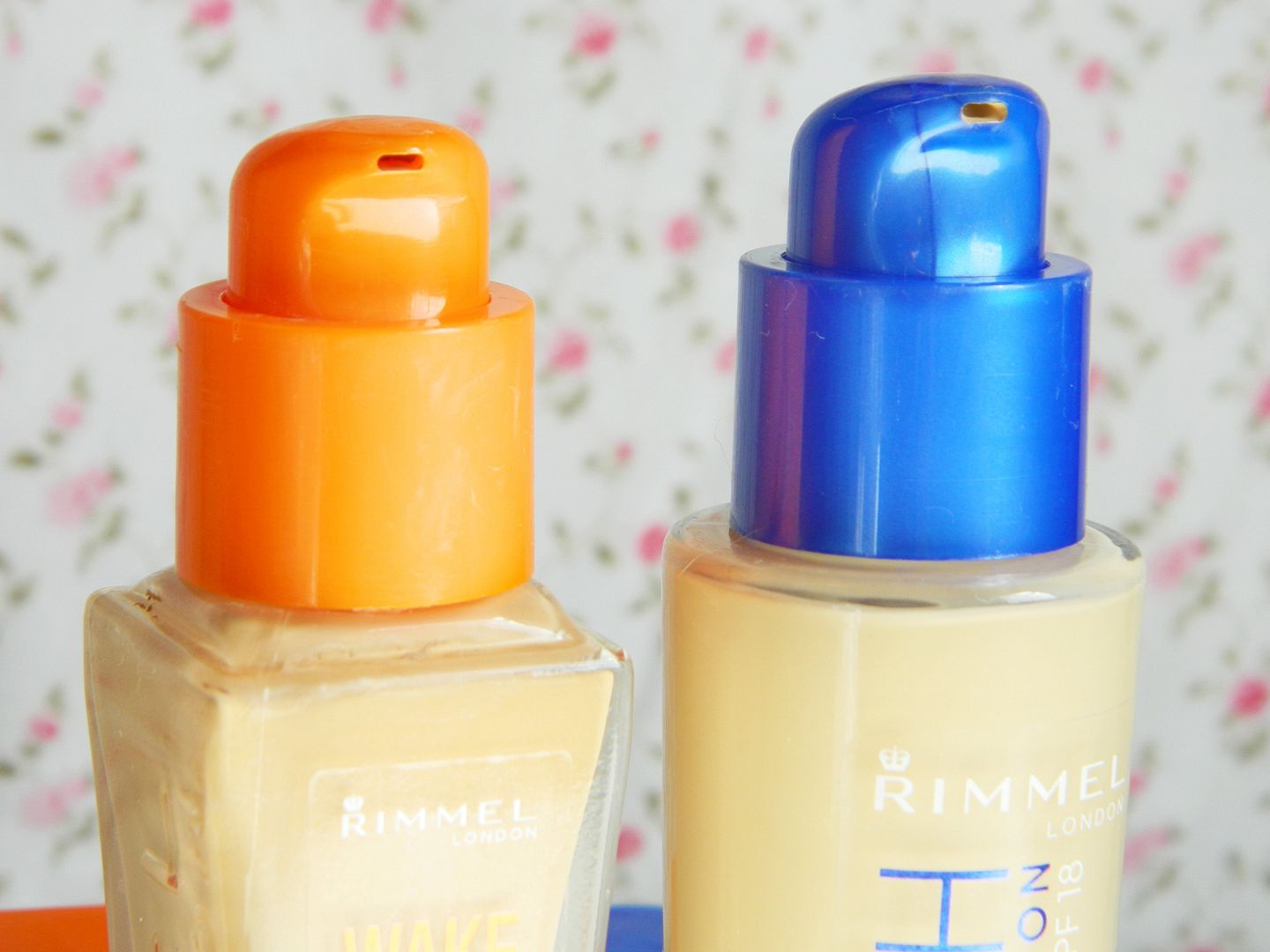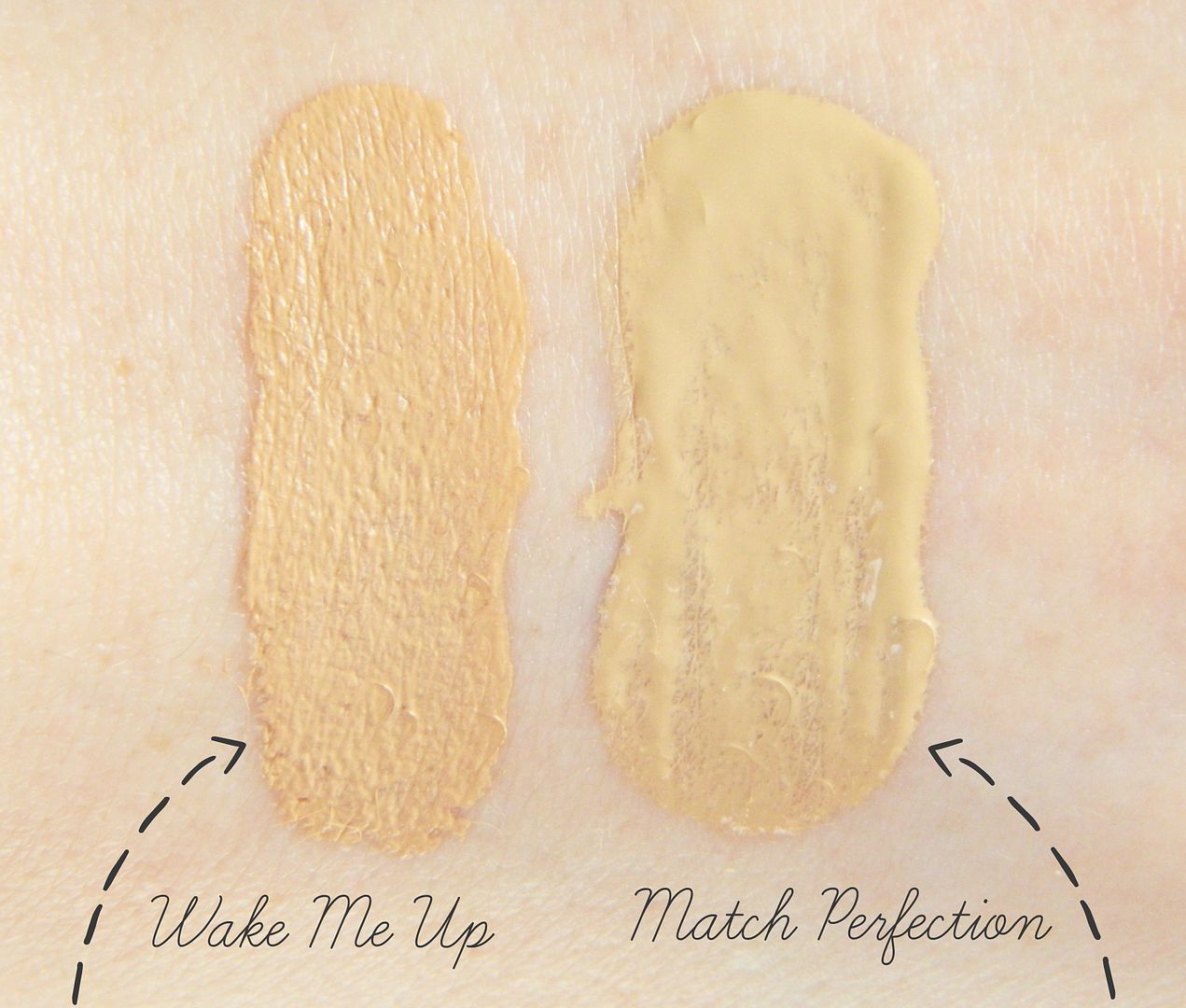 Hello everyone! Today I thought I would make a post comparing two foundations that are very popular amongst many bloggers. Rimmel are well known for bringing out some amazing makeup products and their foundations are no exception. The Wake Me Up and Match Perfection foundations seem to be a hit with many bloggers so of course I have to jump on the band-waggon and try them both out! The first one I tried was the Wake Me Up foundation and that has been a staple in my makeup routine for around 2 years now. I recently picked up the Match Perfection to see how it compared to it's sister foundation and after a few weeks of testing, I'm ready to give my views on both!
Similarities of both Wake Me Up & Match Perfection
Both of these foundations are in the shade 100 Ivory which I believe are the lightest shades available. They both contain 30ml of product so, in terms of value for money, the Match Perfection works out much cheaper! They also come in glass bottles with a pump dispenser which makes them really easy to use and feel a lot more expensive then they are. As for coverage, both Wake Me Up and Match Perfection offer a light to medium coverage that is easily buildable. I wouldn't recommend these foundations if you were looking for a full coverage foundation as these are designed to look light and natural on the skin. Finally both of these foundations contain SPF (15 for Wake Me Up and 18 for Match Perfection) which means they're perfect for protecting your skin from UV rays all year round!
Rimmel Wake Me Up Foundation | £8.99 | LINK
Starting with the foundation I've been using the longest, Wake Me Up is designed to literally wake up your skin by giving it an anti-fatigue effect. It contains lots of little shimmers in which give your skin a healthy looking glow and a dewy complexion. Sometimes I find that if I apply too much of this foundation, it can leave a sheen on my skin which isn't too flattering. It can be mattified slightly by applying face powder but for people with oily skins, this foundation could well be your worst nightmare purely because of how dewy the finish is. But if you're like me and you have relatively dry skin, this helps add that healthy, dewy look back into the dull looking skin we have!
I find that the colour range of the Wake Me Up foundation is quite dark and as you can see from the swatch, when it's applied directly on to the skin it can look a little orange. However once it's blended out, I find this gives my skin a much needed hint of colour (something that I lack as a pale skinned girl) without looking orange. In the Summer this hint of colour looks great as my skin a slightly more tanned, but in the Winter when I'm a bit paler it can look ever so slightly miss-matched!
In terms of the Wake Me Up's formula, I find this has a slightly thick formula yet it blends out beautifully into the skin with my Real Techniques Buffing brush. It lasts all day on the skin with a primer underneath and I rarely have to touch it back up throughout the day (only if it's a very warm Summer's day!). The Wake Me Up foundation also has a very fresh smell to it which I really like but if you're not a fan of fragranced face products, you might not be so keen!
Rimmel Match Perfection Foundation | £6.99 | LINK
The Match Perfection foundation is a new edition to my makeup collection, but still one I've been enjoying using! This foundation is designed to blend into your skin seamlessly to give you a naturally flawless look. There is no shimmer what so ever in this foundation, yet it still gives you that subtle dewy finish that I really love! As this dewiness is easily covered up with powder (much easier than the Wake Me Up) I think that people with slightly oily or combination skin will be able to use this if they want to achieve a natural look.
The colour range of the Match Perfection foundations is a bit better than Wake Me Up's line. This version of 100 Ivory is a lot lighter than the Wake Me Up's version, so this is perfect for girls who are very pale and need a cheap yet effective foundation. I find that this foundation shade blends into my natural skin colour perfectly and I can keep on building up the coverage without it going orange or cakey looking. For me this makes it a perfect every day foundation that you can apply with little effort and just walk out the door!
You can see from the swatch that the Match Perfection foundation is a lot thinner than the Wake Me Up. It's probably one of the runniest foundations I've tried yet I don't have any problem with applying and blending it into my skin (again, with the Real Techniques Buffing brush). This foundation does last most of the day but I do find that because it's much thinner, I do need a little touch up towards the end of the day. This isn't something that bothers me, but I know that some people like their makeup to stay put all day! Again, Match Perfection has the same fresh scent as Wake Me Up, but I personally don't find it as strong.
Overall, right now I think I'm swaying more towards the Match Perfection foundation. After using Wake Me Up for a couple of years I like having something different to work with. I still think Wake Me Up is an amazing foundation and I'm sure I'll start using it again in the warmer months. If you're trying to decide which of these two to buy, I really hope that my opinions have helped!
Have you tried either Wake Me Up or Match Perfection foundation?
Which one do you prefer?