Collection Illuminating Touch Foundation | £5.99 | LINK
Hello everyone! I just want to say sorry for not blogging for a couple of weeks, I've been super busy and haven't had a chance to sit down and type! However I did finally get my brand new laptop at the weekend - yay! Which finally means I can easily blog and edit photos whenever I please rather than waiting hours for my laptop to start up and getting my photo editor to finally start working (honestly it was the bane of my life!).
I thought I would share my thoughts on a new foundation that I have been trying out for the past couple weeks. Collection is a brand that I find has some real beauty gems - the obvious one being their
Lasting Perfection Concealer
. On a recent shopping trip I spotted the new
Illuminating Touch Foundation
for just a mere £3.99 and thought I would give it a try. I have quite dry skin so I'm always on the hunt to find cheap products that can give me that healthy dewy glow back to my skin.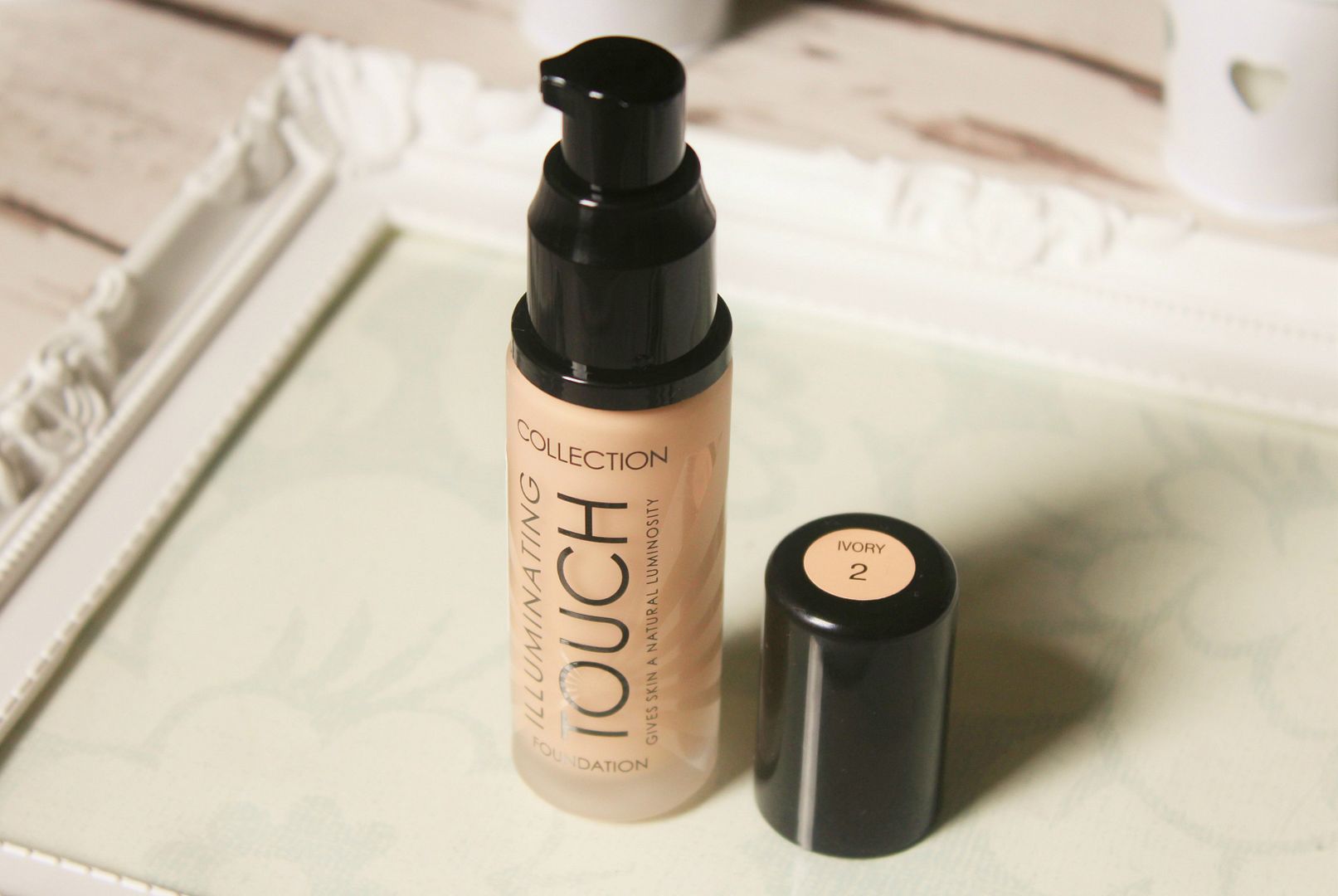 The first thing that struck my about this foundation was the really lovely packaging. The Collection Illuminating Touch Foundation comes in a sleek mattified glass bottle which you wouldn't really expect for a foundation that you paid just under £4 for! I also love the fact that is has a good sturdy pump that feels really good quality - plus pumps are great for making sure you don't use too much product in one go.
The shade that I picked up was
Ivory 2
which is the second lightest shade in the range. I'll be honest and say the colour selection wasn't that great from the shop that I bought mine from as Ivory 2 seemed to be the lightest shade they offered. As I do have quite pale skin I was sceptical as to whether this shade would match me well, but I'm glad to say it does and that I think the lightest shade would be far too light for me! This is great that there is a very light shade (
Porcelain
) available as I am aware that many fair skinned girls find it hard to match a foundation to their skin colour.
The product itself is much thicker than I thought it would be. If you have tried
Rimmel's Match Perfection Foundation
then that's the sort of consistency that I thought that it would be like. Despite being a thicker formula the foundation is still very light on the skin yet offers a nice light to medium coverage that is definitely build-able. I like my foundations to look like "my skin but better" rather than super heavy and thick and I find that this one does offer that lovely natural look that I love!
The staying power of this foundation is quite good but towards the end of the day I can definitely see that I need a bit of a touch up as it can start to wear off. I would say this is more of a day time foundation as the coverage is quite light and it does give you that lovely dewy finish. I have been very impressed with how well this foundation lasts, considering it's currently on offer for just £3.99 it's very good value for money!
So far I've been really enjoying using this foundation and will definitely continue using it. I'm not sure whether I would repurchase this again (maybe if I found it on another offer) as I do enjoy using my Rimmel foundations more, but it was nice to swap things up and try something new. If you are on the hunt for a nice everyday foundation then definitely give this try whist it's on offer!
Have you tried the new Collection Illuminating Touch Foundation?
What's your favourite foundation?