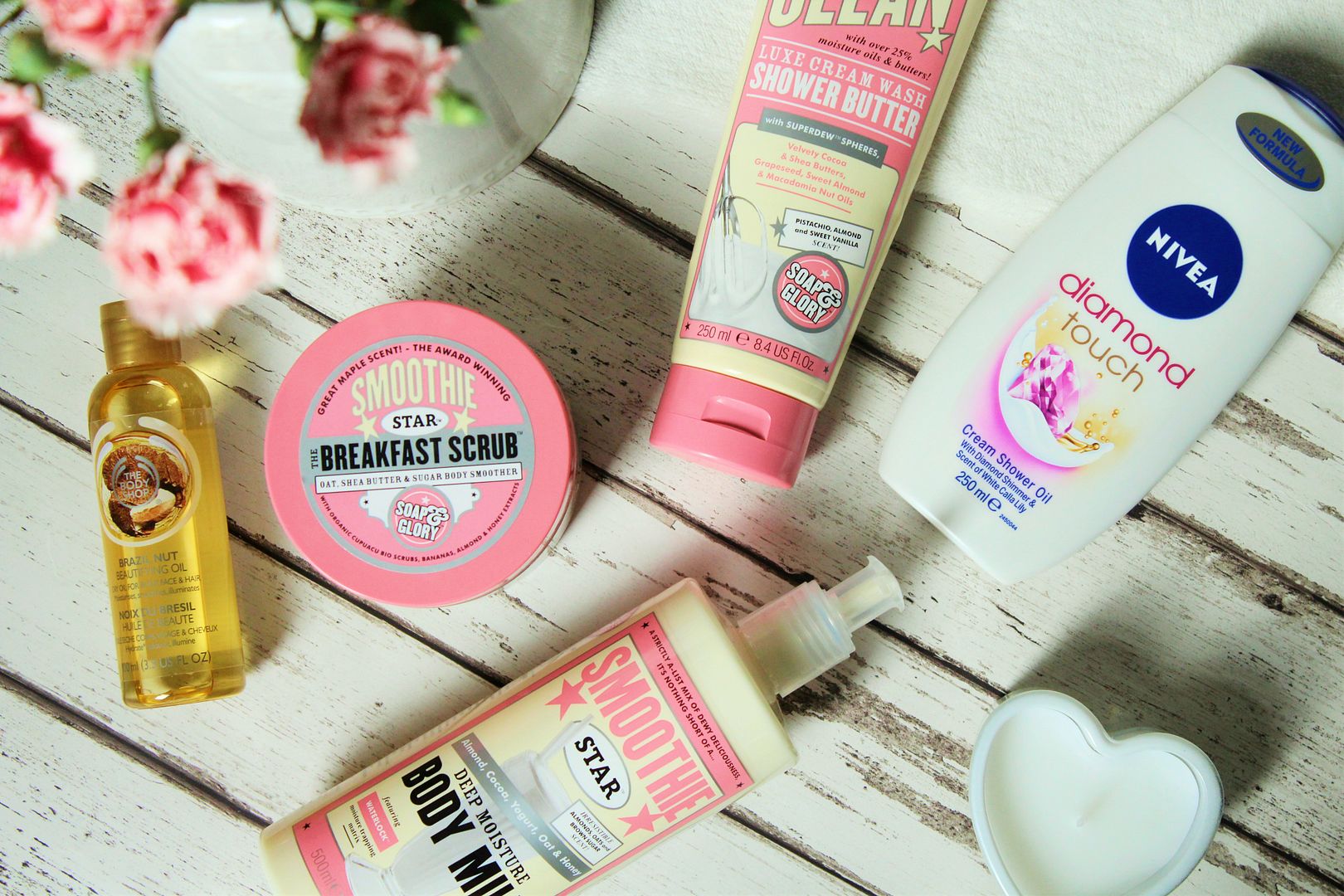 I don't know about you, but once Summer starts rolling round I always seem to take much better care of my skin and try to stick to some kind of body care routine. I'm very good at keeping up my skin care routine all year long, but for my actual body I kind of neglect using products on an everyday basis during the colder months. It's most likely because during the Winter it's so easy to cover up with jumpers and thick tights that really, it doesn't overly matter if you do forget to slap on a bit of body butter in the morning!
But now that it's starting to get slightly warmer, I think it's always good to put together a simple yet effective body care routine just to get you back into the swing of things and prepare yourself (and the world) for starting to show a bit more skin! The main areas I like to focus on are my arms and legs as I love wearing little cami tops and skirts when it's warm, so these are the selection of products I've been using recently to start preparing my skin for the Summer!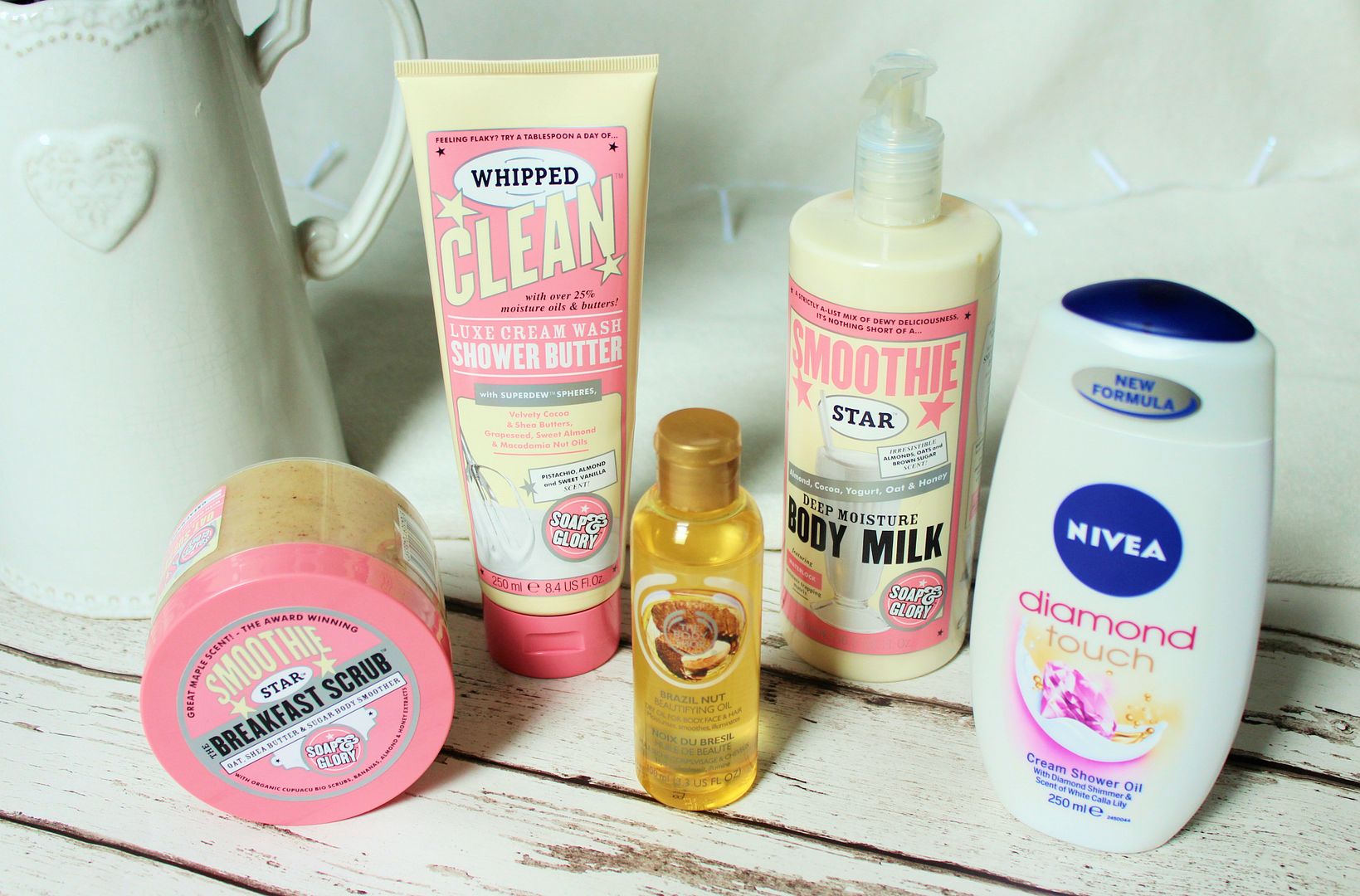 My body care routine starts whilst I'm in the shower and one of the first products I will use is an exfoliator. The one I've been loving recently is the
Soap & Glory Smoothie Star Breakfast Scrub (£8.00

LINK

)
. This stuff smells incredible, if you love sweet, rich scents then this will be right up your street! This sugar scrub helps buff away dry skin and with the added shea butter leaves your skin feeling lovely and soft, plus smelling amazing. I will use this around twice a week as it's a fairly rough body scrub, definitely not something you'll want to use everyday!
Next, if I'm shaving my legs, I will reach for my
Soap & Glory Whipped Clean Shower Butter (£7.00 LINK

)
which is a body wash and in-shower body butter in one. I don't really use this as a body wash but as a replacement for shaving gel as it lathers up really well and leaves my skin feeling super smooth! If you also don't have much time in the mornings, this would be amazing to apply at the end of your shower to leave your skin feeling soft all over. Again, like all Soap & Glory bath products, it has a beautifully rich scent that smells good enough to eat!
My final in-shower step is to use a skin softening body wash. I've been using the Nivea Diamond Touch Cream Shower Oil (£1.99

LINK

) everyday for the past few months and have been really loving it! It has a beautiful, creamy floral scent that really lingers on the skin long after a shower. It also lathers up into lots of luxurious little bubbles that leave my skin feeling soft and clean.
Once out of the shower I immediately apply some form of body lotion/ oil. My absolute favourite body product to use during the Summer is The Body Shop Brazil Nut Beautifying Oil (£10.00

LINK

). This dry oil sinks into the skin really quickly and leaves no oily residue behind, meaning you can get dressed straight away! I also love the super sweet scent of this product as it instantly reminds me of being on holiday last year! This is also a great product to use if you have just shaved your legs as it doesn't irritate the skin like a normal fragranced body lotion would.
If I'm after something a bit thicker that will really help hydrate my skin then I will reach for my Soap & Glory Smoothie Star Body Milk (£10.00

LINK

). This is a great product to use if you have used both the scrub and body wash in the shower as it really helps ties all those amazing sweet scents together. As this is much thicker than my oil I will use this around 2/3 times a week to help moisturise my skin and leave it feeling amazingly soft.
So this is my super simple guide to getting Summer ready skin! With just 5 products all from the high street this little routine is affordable, easy to use and works really well. I know we're still a few weeks off from actually being able to bare a bit more skin, but it's always good to prepare so that when it is finally warm enough you can go bare-legged without having to worry!
What products do you use to get your skin Summer ready?