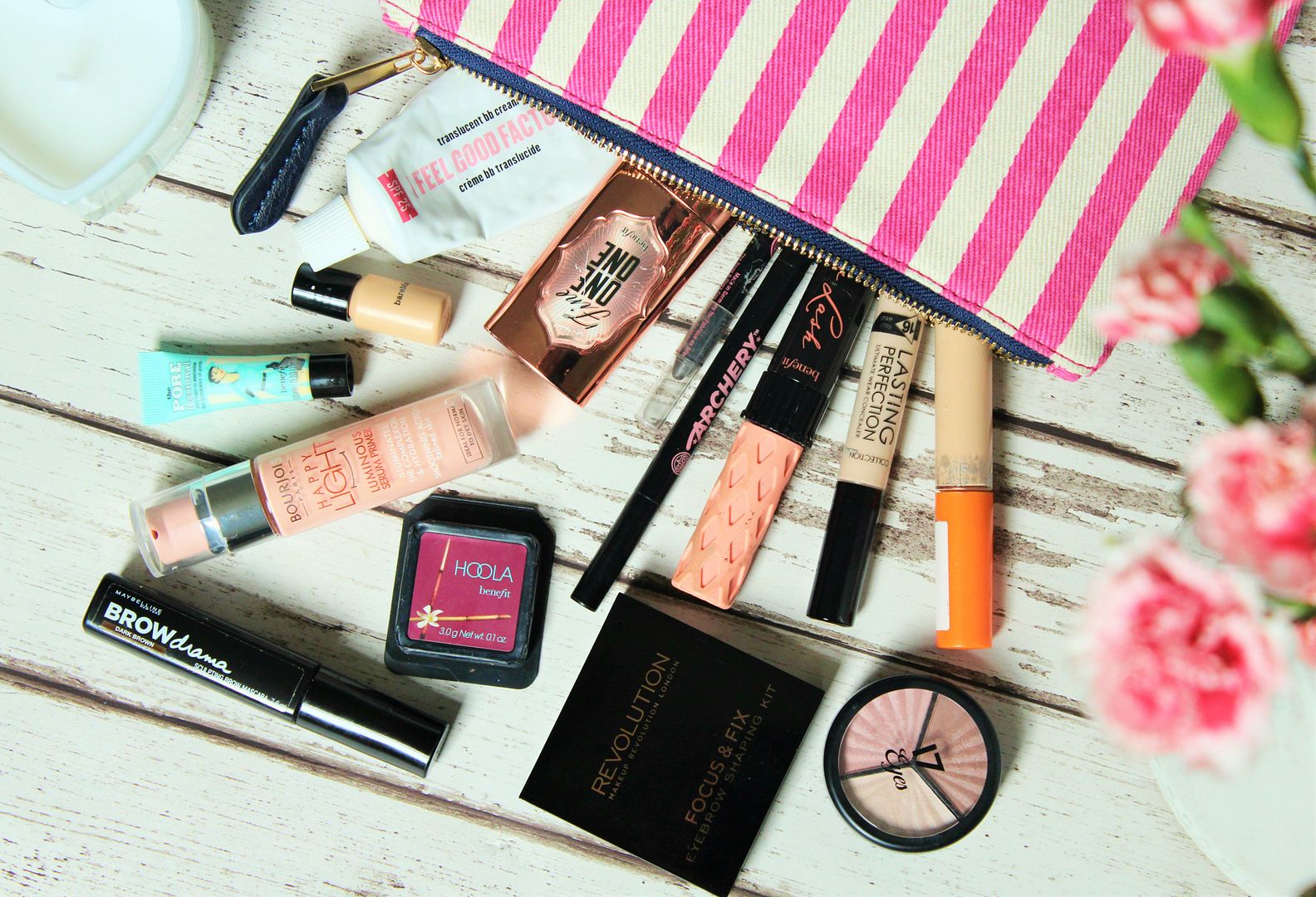 Even though I like swapping up my makeup on a regular basis, I'll be honest and say that on a day to day basis I do tend to stick to the same products. Over the past couple weeks I've been keeping all my everyday makeup products in a small makeup bag on my dressing table purely so it's easier to get ready in the mornings and I know everything's in one place. In this time I've been using my favourite products plus a few new products that I have been testing out, so I thought I would show you all what makeup I've been wearing recently.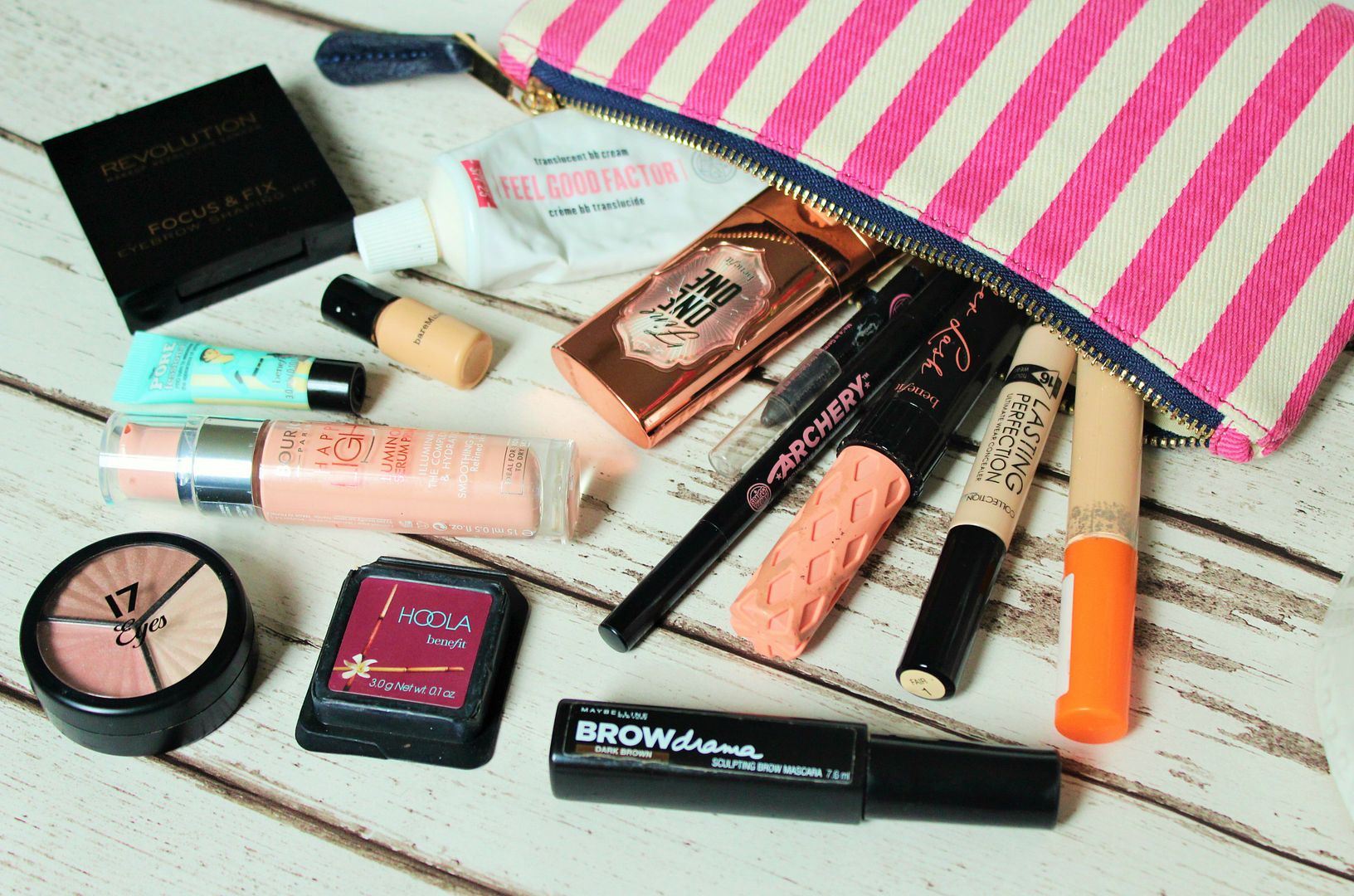 Soap & Glory Feel Good Factor Translucent BB Cream
Review
Bourjois Happy Light Luminous Serum Primer
Benefit Porefessional
Bareminerals Bare Skin Foundation (sample size)
Collection Lasting Perfection Concealer
Review
Rimmel Wake Me Up Concealer
Benefit Fine One One
Review
Benefit Hoola Bronzer (deluxe sample size)
Makeup Revolution Focus & Fix Eyebrow Shaping Kit
Review
Soap & Glory Archery
Maybelline Brow Drama
Soap & Glory Smolder Khol Eyeliner
Seventeen Eye Shadow Trio in Barely There
Benefit Roller Lash Mascara
Review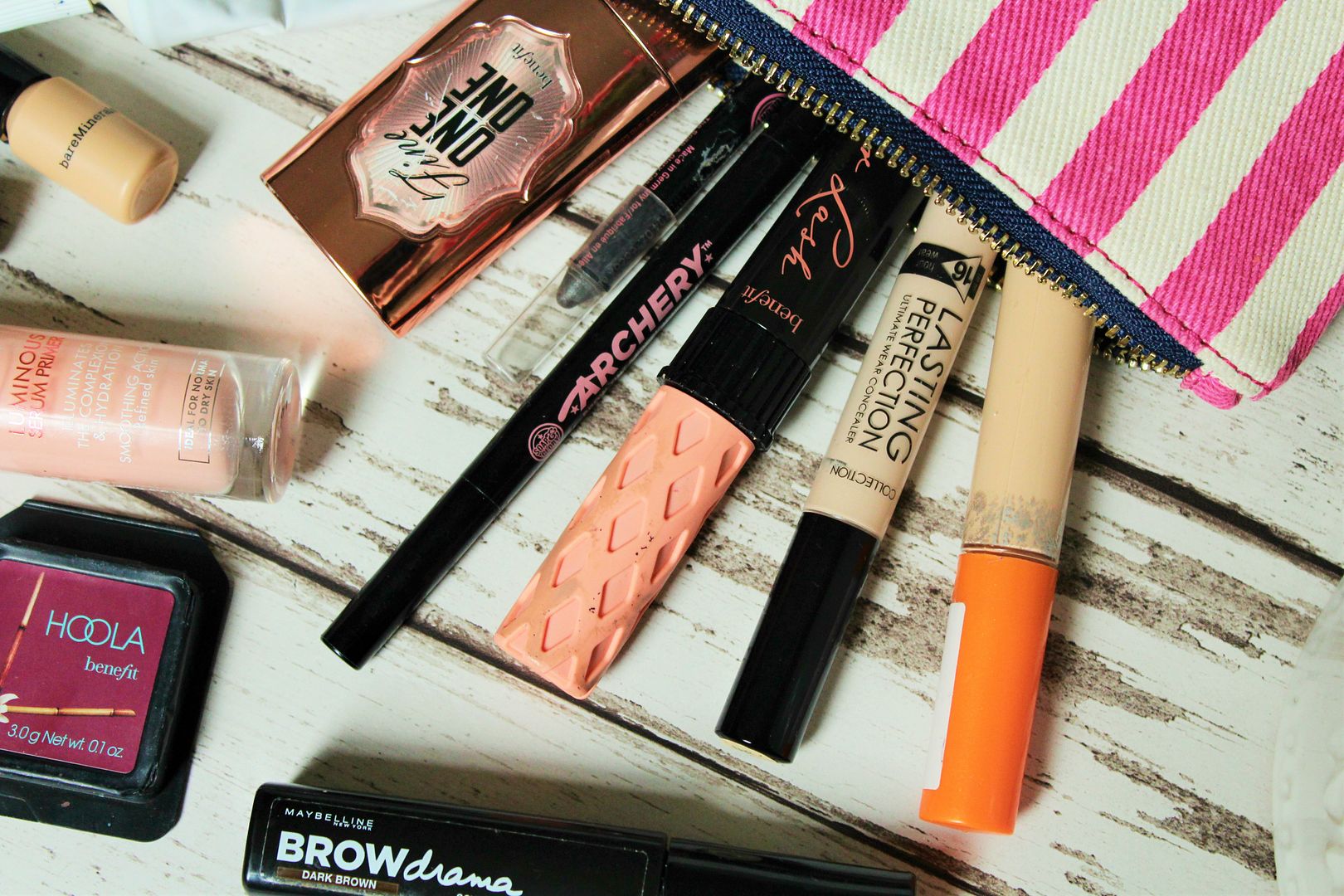 I've recently been testing out the Bareminerals Bare Skin foundation after popping into Boots and getting a small sample. This is a very light weight foundation that has buildable coverage yet offers a skin like finish that is natural and healthy looking. I'm still unsure whether I like this foundation yet as I do like the natural finish however as it's lightweight, the wear time isn't amazing. I'm hoping it will be a nice product for the Summer and I'm thinking of trying the Bare Skin kit that includes this foundation, the brush designed for this product plus the Bare Skin Perfecting Veil powder. Let me know if you've tried this foundation as I would love to hear your thoughts on it!
I've also been testing out the Bourjois Happy Light Luminous Serum Primer as I love products that help give my skin a healthy glow during the Spring and Summer months. So far I am liking this product because of it's lovely formula and the fact it smells amazing! I will definitely review this for you within the next few weeks so do keep an eye out for that!
Another product that's impressed me recently is the little Seventeen Eye Shadow Trio in Barely There which contains some lovely everyday shimmery shades. I've had this in my collection for a while but it's only been within the past few weeks that I keep reaching for it as the colours all work so well together. As always I've also been sticking to a few favourites such as the Collection concealer, Roller Lash mascara and the Porefessional. I feel like these will always be staple products in my everyday makeup routine as they work so well for me.

What products have you been using on a daily basis?