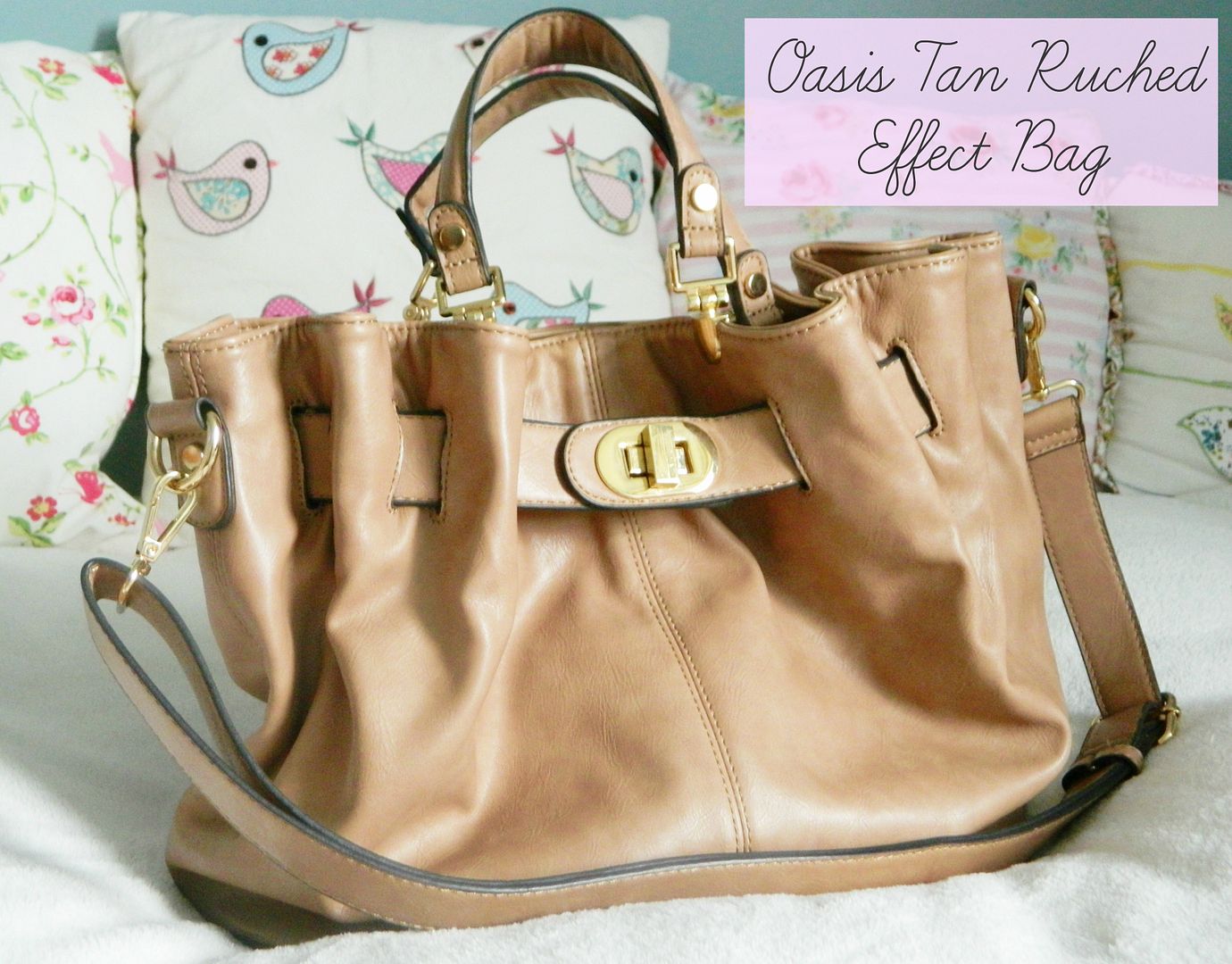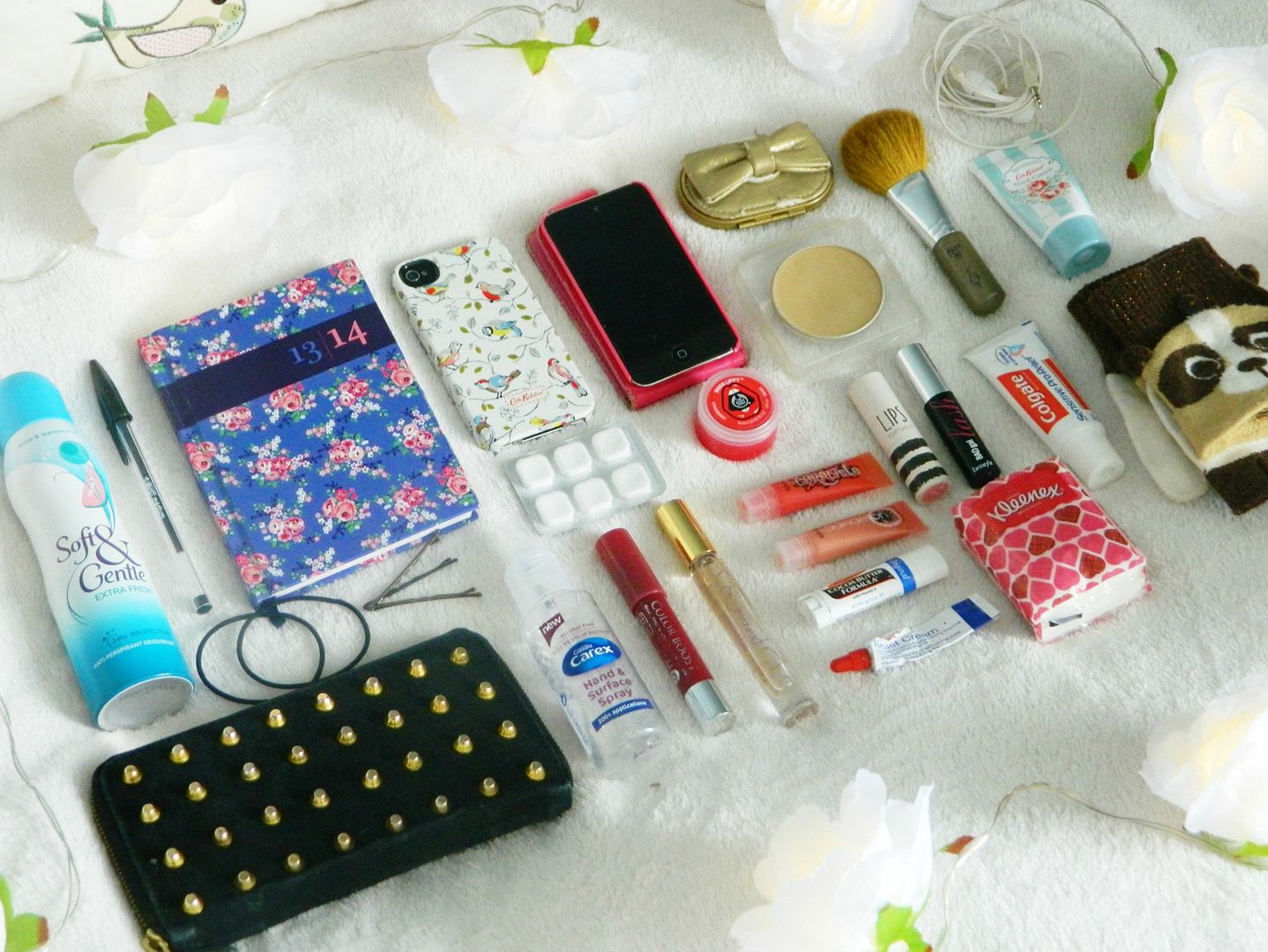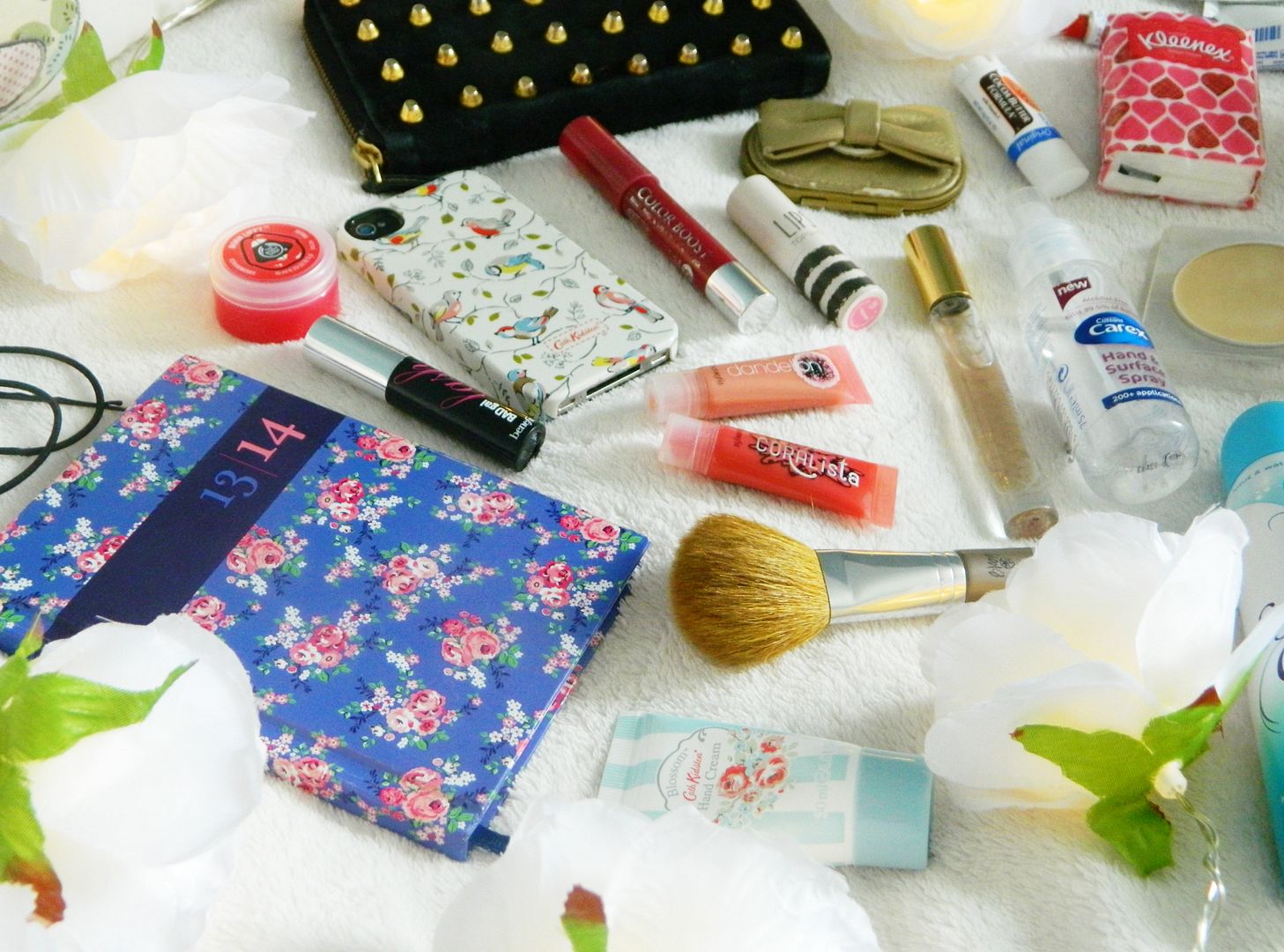 Hello everyone! Today I thought I would do an updated version of what I keep in my everyday hand bag. I love reading these sorts of posts as I'm really curious (nosey more like!) as to what other people keep in their bags. The last time that I did this post was almost 2 years ago, so my bag and its contents have definitely changed since then. If you would like to compare my new What's In My Bag post to my old one,
click here
to read it!
My bag was from the
Oasis
Christmas sale at the end of last year and I don't believe it's available anymore. This bag is a gorgeous tan colour made from a faux leather material. It clips together with a magnetic popper and the ruched effect detailing is created by the gold clip at the front. I do wish this bag had a zip on it to make it a bit safer, but I adore how it looks!
There are certain products that are essential to keep in my bag at all times. My purse and phone are probably at the top, and I'm sure they are for many people. I also like to keep my diary and pen so that I know whether I have to be somewhere at a particular time or whether I'm free on a certain date. I also like to keep a hand sanitiser and cream as I do suffer with very dry hands, especially in the Winter time! I've been using the Cath Kidston Blossom hand cream recently which comes in a really pretty tube and this keeps my hands feeling moisturised all day long.
As for makeup essentials, I always bring my face powder and a travel sized brush with my for touch ups throughout the day. I also like to keep a mini Bad Gal Lash mascara and my lip product of the day with me. I feel that with these 3 makeup products in my bag I can refresh my makeup look in a matter of minutes and then I can get on with my day.
If you were looking closely, you may spotted a random mini tube of toothpaste - don't worry, I'm not weird and like to brush my teeth on the go. I actually had a dentist appointment earlier this week and I picked up a free travel size toothpaste and completely forgot to take it out of my bag!

I'm quite proud to admit that I don't seem to hoard too much rubbish in my bag as I do like to clean it out on a regular basis. However, I am one to keep one too many lip products in my bag and completely forget that they're even in there! As you can see there are 7 different kinds of lip products currently sitting in my bag ranging from balms, glosses, crayons and lipsticks! Every time I leave the house I always have to bring the lip colour that I'm wearing, so over time I end up lugging around pretty much my entire lip product collection!

So this is everything that's currently sitting in my bag (minus the toothpaste, I've taken that out now haha)! Thank you for reading today's post, I really hope you enjoyed it. If you've written a What's In My Bag? post then do let me know in the comments as I love reading them!

What essentials do you keep in your bag?