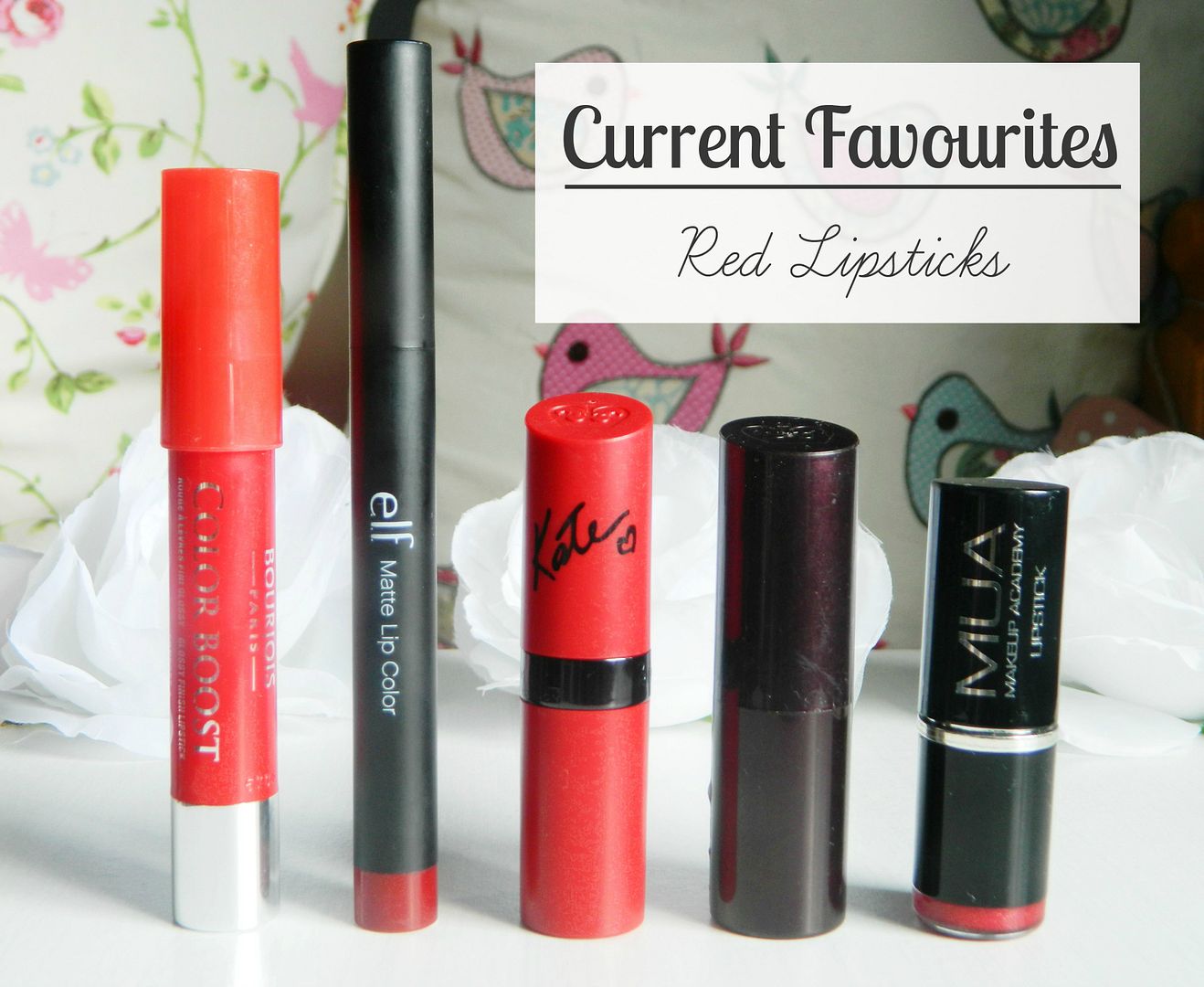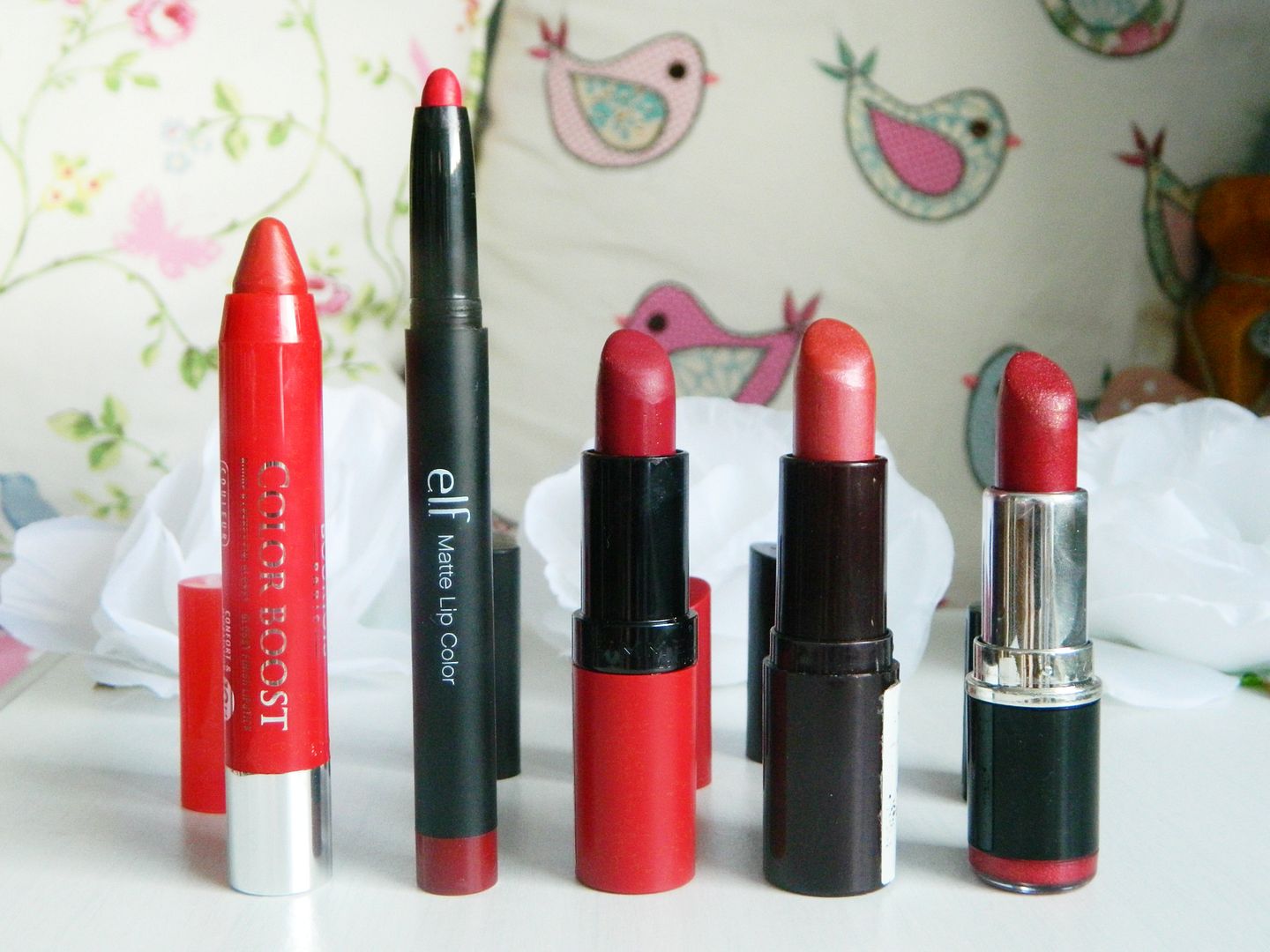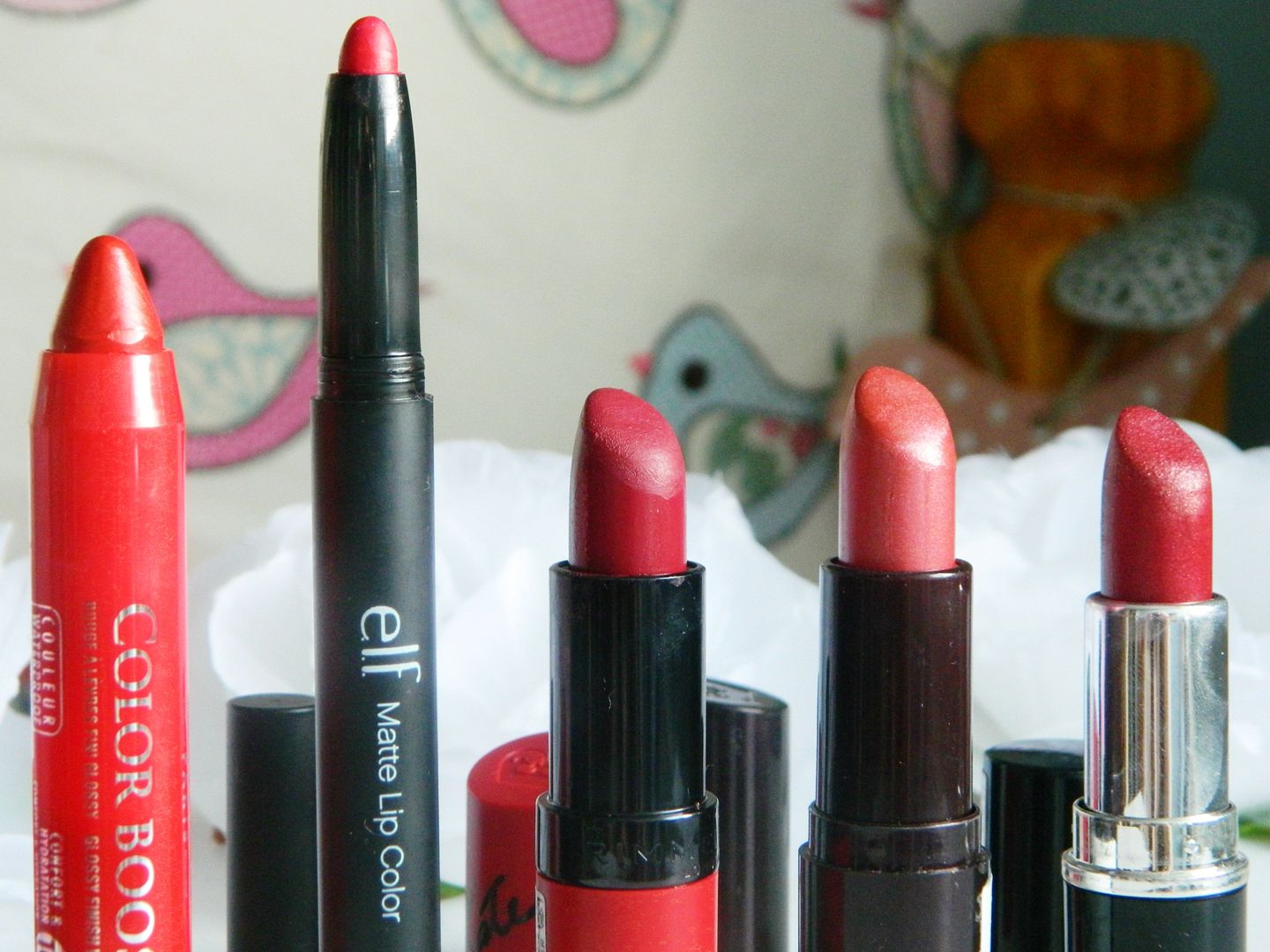 Hello everyone! I can't believe today is the last day of February, yes it is the shortest month of the year, but this year is going way too fast. Spring is well and truly on its way which means out with the Winter makeup and in with the brights and pastels! Over the last few weeks I've been embracing the end of Winter and been wearing lots red lipsticks. I always associate red lip products with the Winter time as it does seem like a really festive shade. So I thought I would make a little post showing you a selection of the red lipsticks I've been wearing recently. I've devised each shade into its own category as to when I have most likely worn the shade, which should hopefully make this post more helpful to those looking for a particular shade for a certain occasion!
The Every Day Red | Bourjois Colour Boost Lip Crayon in Red Island | LINK
One of the first red lipstick shades I've been wearing a lot recently is Bourjois Colour Boost Lip Crayon in Red Island. This is a gorgeous bright pink-toned red that has a glossy balm like finish. I find this a perfect everyday red shade as it is really moisturising on the lips and does contain SPF 15 which will help protect your lips from the sun (yes, even in the Winter when it feels like the sun has given up on us)! It also has a buildable colour pay off, so whether I want a subtle red tint or a full on red lip look, I still can use this product to achieve both of these outcomes.
The Night Out Red | ELF Matte Lip Colour in Rich Red | LINK
Recently I've been loving a bold, bright pillar box red lip on a night out purely because it looks so lovely against dark hair and fair skin. To get this look I've been using ELF's Matte Lip Colour in Rich Red which comes in a thin pencil like tube that allows you to precisely apply the colour. I love that this have a matte finish as it lasts a long time on the lips (compared to the Bourjois shade I just mentioned) which is something you want on a night out - no one wants to keep reapplying lipstick every 5 minutes!
The Vampy Red | Rimmel Kate Matte Lipstick in 107 | LINK
I'm all for a vampy red lip during the Winter time, in fact, I'm really going to miss being able to wear the Kate by Rimmel lipstick in 107 during the Summer. Of course you could still wear it on a night out but I think this lipstick looks amazing paired with a simple eye look of winged eye liner during a Winter's day. This is a perfect bold, statement lipstick and is always the shade I go for when I want a deep and vampy look.
The Your Lips But Better Red |
Rimmel Lasting Finish Lipstick in Drop Of Sherry |
LINK
I do tend to feature this lipstick shade on my blog quite a lot, but it's just too pretty not to include! I always gravitate toward Drop Of Sherry as, for me, it's that perfect light red shade that gives your lips a bit of oomph to make them look a 100 times better! I also like that it has a tint of orange to it which makes the shade suit my skin tone really well. This is one of those effortless lipsticks that everyone should have in their collection as it's great for creating a simple yet beautiful makeup look.
The Sparkly Red | MUA Lipstick in Shade 8 | LINK
My last favourite red lipstick is one of my all time favourites. MUA's Shade 8 is a beautiful pink toned red with lots of glitter in. Now, "glitter" may sound horrible but it does apply really evenly and still feels smooth on the lips. I like to call it "Christmas in a tube" because it really is one of those festive shades that perfect for the Winter time. This is another shade I'll really be missing wearing during the Summer as it does look so lovely on the lips and makes me feel all festive and happy when I wear it!
So these are a selection of my favourite red lipsticks that I've been wearing recently. As it comes closer to Spring, I'm thinking that I'll do similar posts to this but base them around other colours such as oranges, pinks, nudes - what ever you would like to read! Do leave colour and shade suggestions in the comments below, I'm always up for trying out new lipsticks!
What is your favourite red lipstick shade?