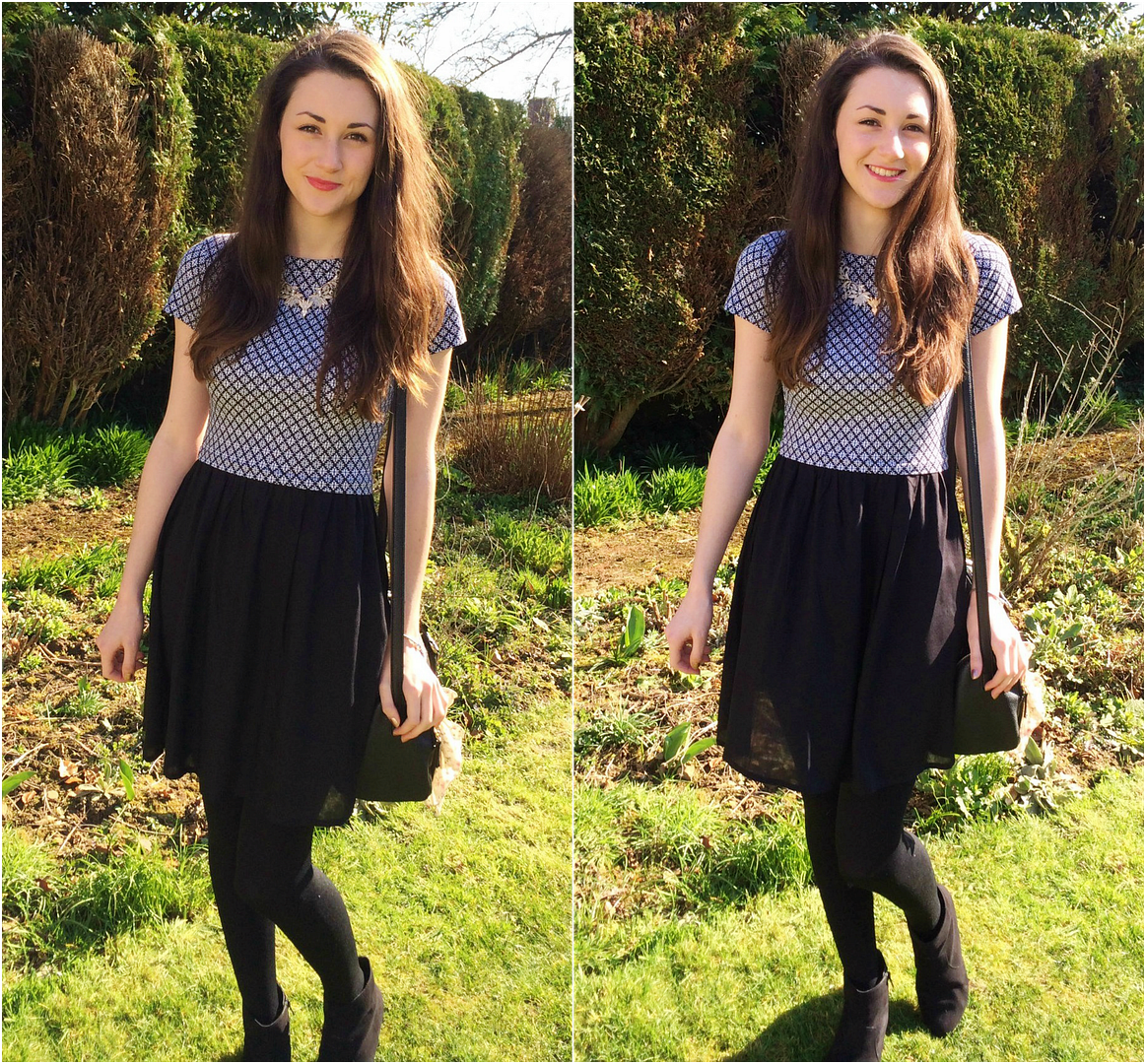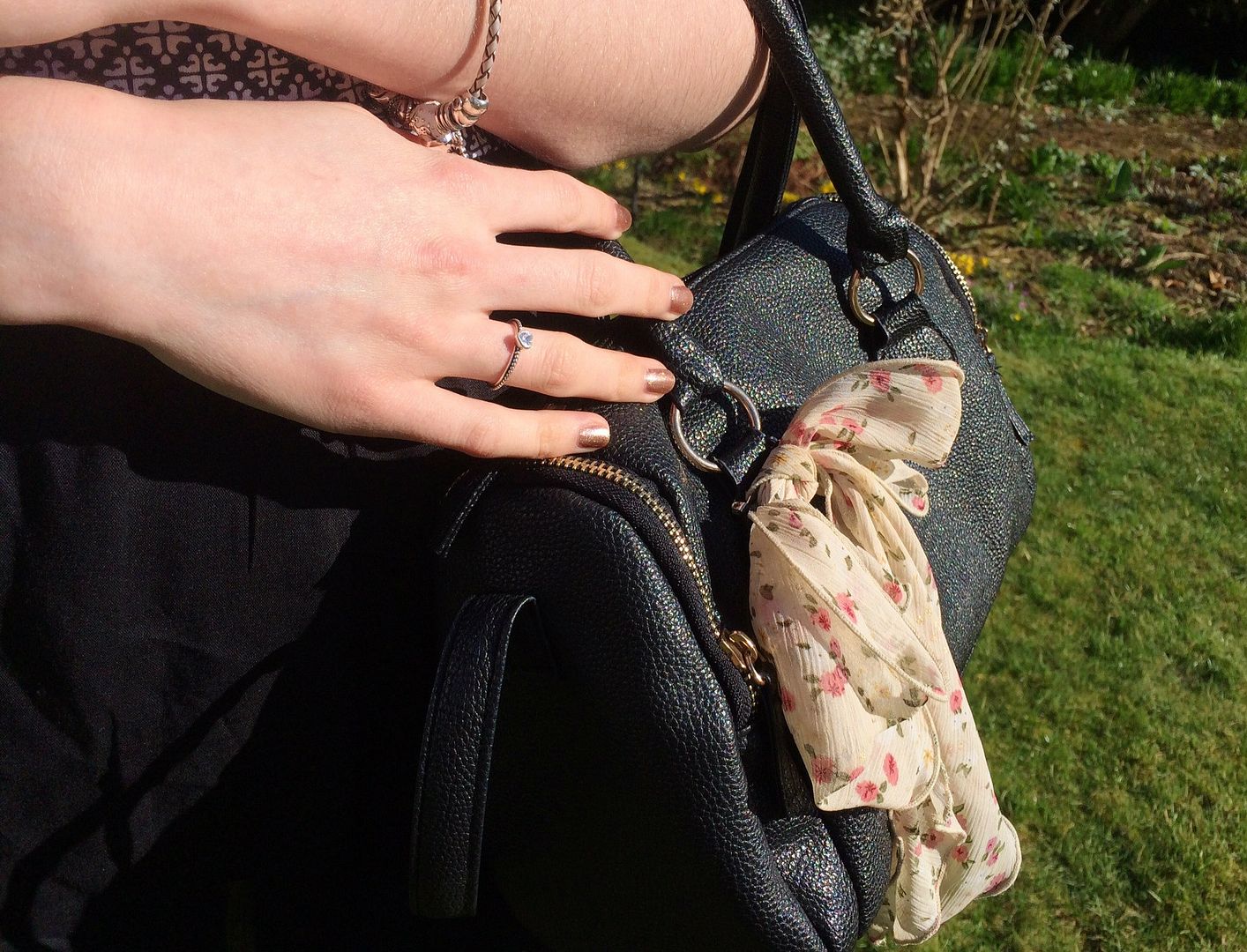 Monochrome Dress - New Look | Black Bag - Primark | Floral Bow - Topshop | Black Tights - Primark | Leather Jacket - Oasis
Hello everyone, I hope you're all having a lovely week! You may have read in my
last post
that last weekend me and my boyfriend took a trip up to the London O2 arena to see Ellie Goulding in concert! This was my very first trip to a proper concert because I've never really been a "music person" and tend to stick to my favourite artists, with Ellie being one of them. Knowing that she always puts on an amazing performance at her shows, I had to pick up a couple of tickets as soon as they went for sale! Today I thought I would share with you all what I wore this weekend plus I've included a few pictures from the night itself!
A couple days before the event, I picked up this beautiful monochrome dress in the New Look sale for just £10. I loved how perfectly it fitted and I always find the floaty, skater style dresses look flattering on my body shape. I also thought the print on the top half was very pretty and it's the sort of dress that can be easily dressed up or down depending on what accessories you pair with it. I decided to go for a gold statement necklace, some thick black tights and my trusty New Look boots! As we've been experiencing some sort of heatwave in England recently, this outfit wasn't all that comfortable during the day but once we actually got to the arena, it became much cooler. Paired with my leather jacket this is a great little outfit to wear during the miss-match weather of March!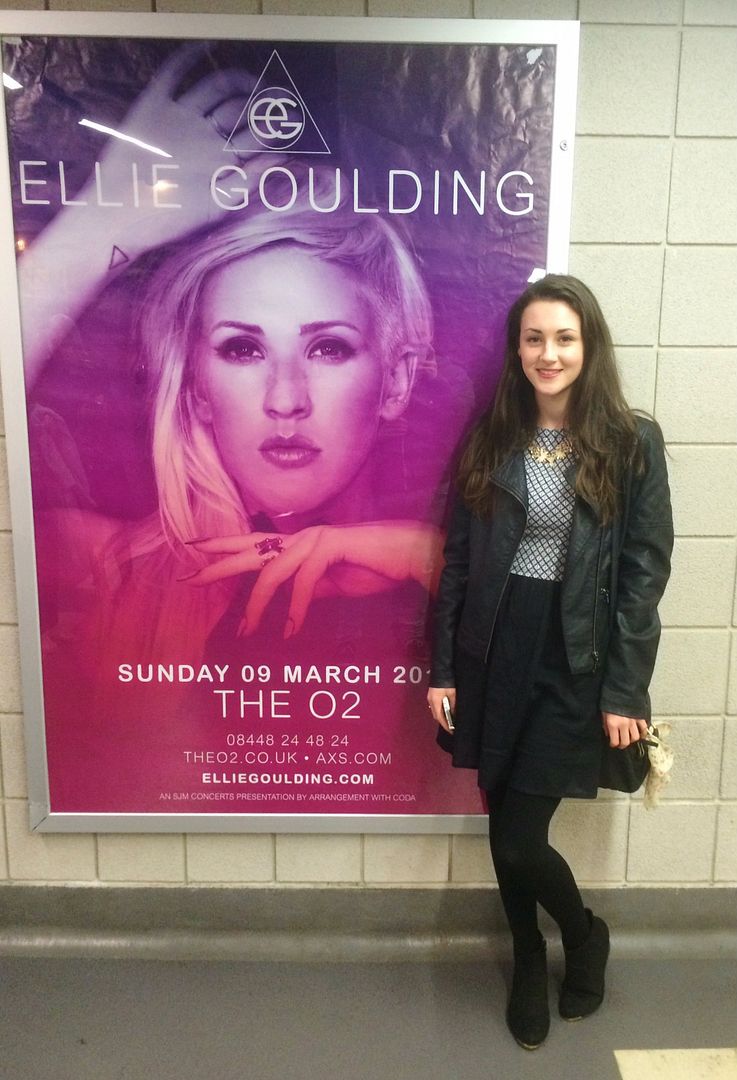 As for the night itself, we made sure we got to the O2 early so that my boyfriend could eat at one of his all time favourite restaurants, TGI Friday's! I went for the Jack Daniels chicken, chips and vegetables and it's safe to say we were both stuffed afterwards! Once we'd eaten we headed to the queue and filed ourselves into the arena and headed to our seats. I was so surprised at how good our seats actually were! We were on the front row of the seating area directly in front of the stage - this is great for short people like me as there was no annoying tall person standing in front haha! After a supporting act and a lot of waiting patiently, Ellie finally made it on to the stage and delivered an amazing performance! I enjoyed every minute of it (except when the people behind spilt a bit of wine on us!) and would definitely recommend everyone to go and see her in concert - she is just absolutely brilliant!
I hope you enjoyed today's more lifestyle sort of post! I would love to hear your thoughts on my outfit and do tell me what fashion trends you've been loving recently. Thank you for reading and I'll speak to you all very soon!
What are your thoughts on my outfit?
Have you been to see anyone in concert recently?