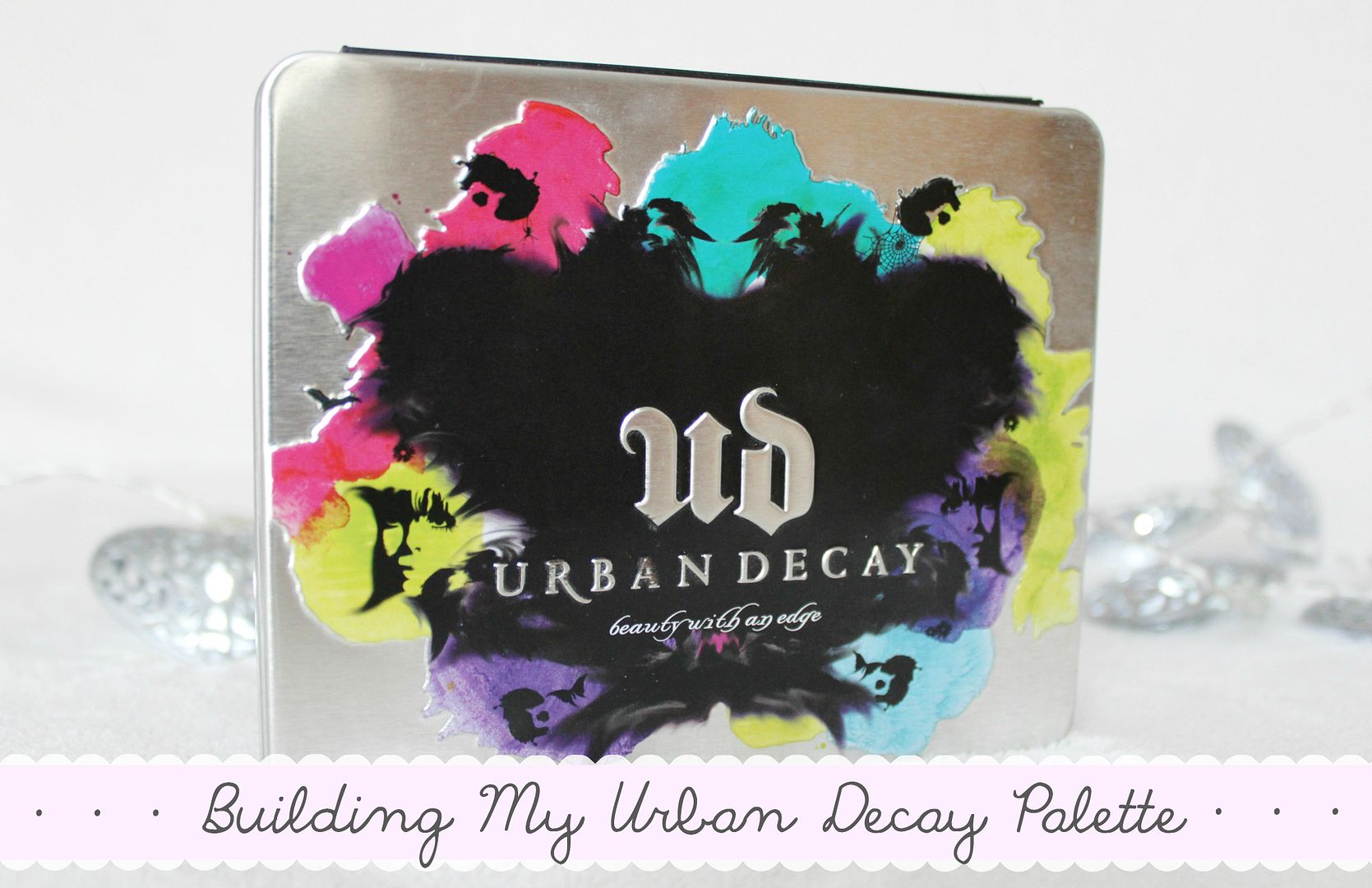 Hello my lovelies, today wanted to share an eye shadow palette with you that's currently a work in progress. Being a huge fan of Urban Decay eye shadows, last year I decided to pick up one of the "build your own" palettes from the House of Fraser's sale so that I could store my single shadows together. I'm not personally someone who will take away singular eye shadows when I go travelling as I much prefer to have everything I need in one little palette.

Urban Decay have a small range of build your own palettes available, each in different designs, sizes and some even come with a free eye shadow. I'm not entirely sure what my version is called as it's no longer available, but it has a gorgeous bright paint splatter effect on the front and has space for 6 individual shadows. It came with a free travel sized flat shader brush and there is also a large mirror that sits inside the lid of the palette which makes this a travel friendly piece to have in my collection.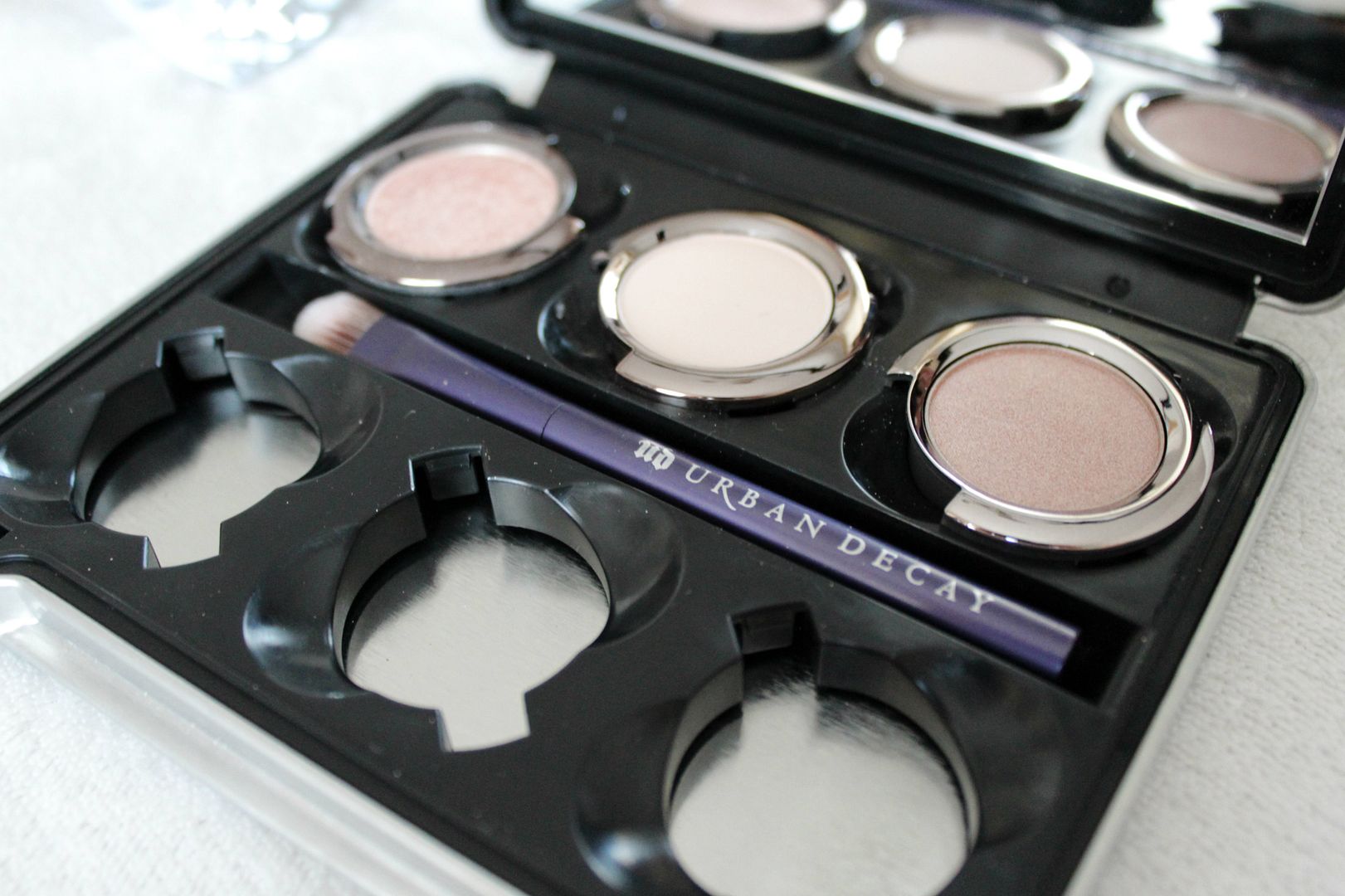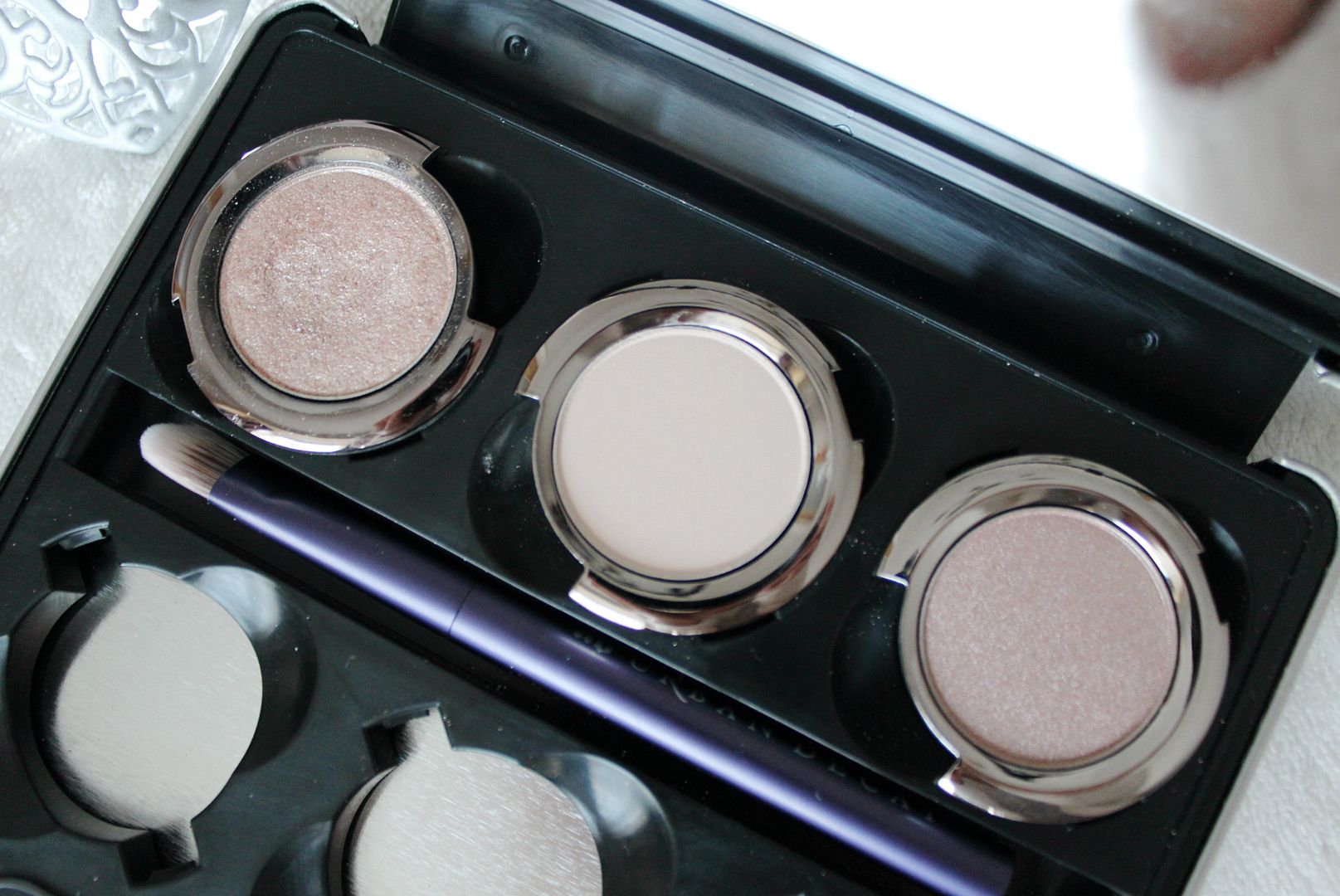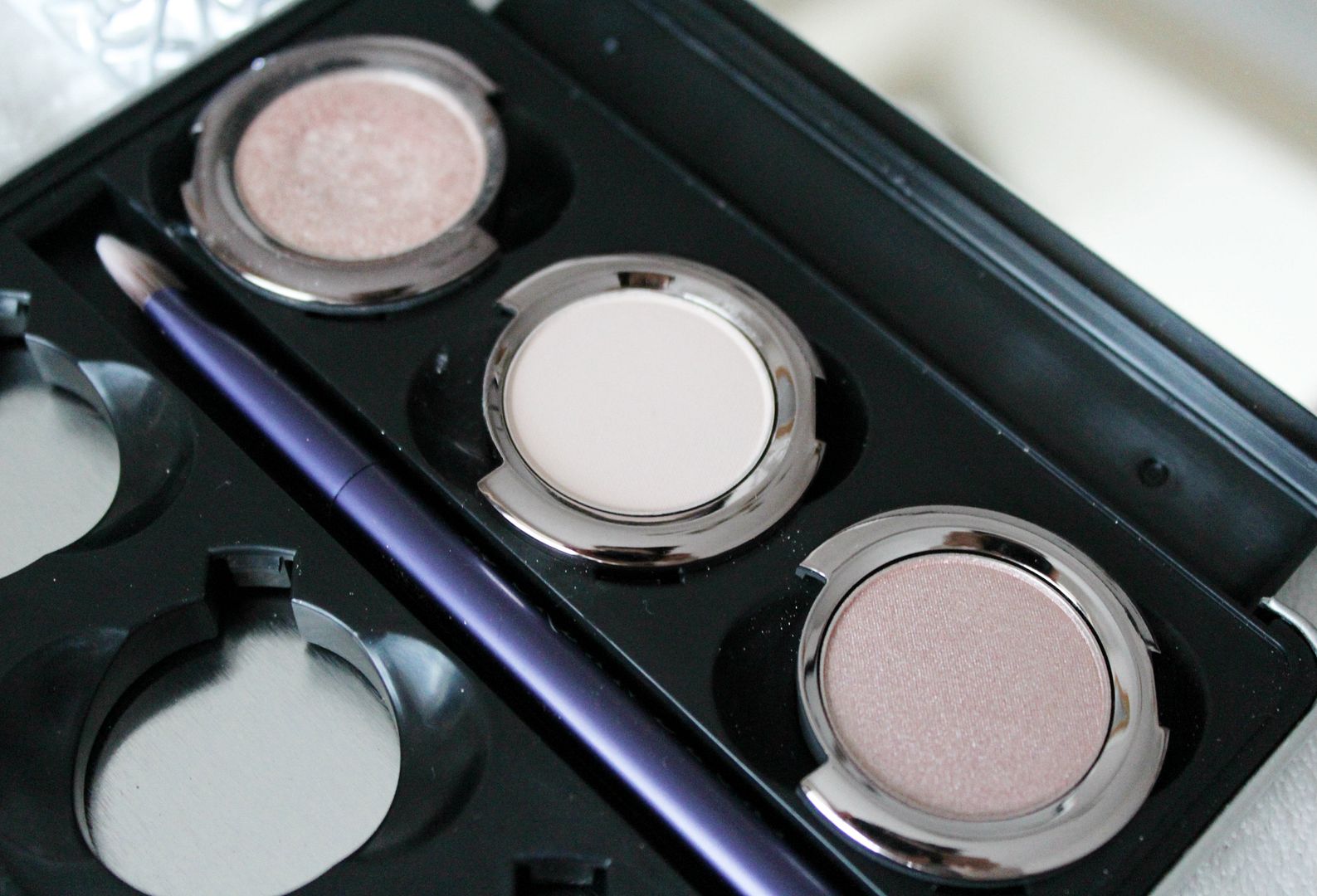 One of the first single eye shadows I owned from Urban Decay was a shade called Midnight Cowgirl. Being one of the first Urban Decay shadows I'd tried, I wanted to keep it a simple and neutral shade yet at the same time something I could wear day or night. Midnight Cowgirl is a warm sand colour with shimmer, so it's neutral enough to wear daily but also has that beautiful glitter in it for an evening look. This is a really beautiful shade that doesn't get much of a mention on blogs, but this is definitely a shade I'd recommend people trying if they like a bit of shimmer!


With the build your own palette I also got the eye shadow shade
Walk Of Shame
for free which I was really pleased about. At this point I was using my
Urban Decay Naked Basics palette
religiously and Walk Of Shame had quickly become one of my favourite base shadow shades. As this shade is a light matte nude, it's the perfect colour to create a clean, natural lid that will help blend together any other shadows you apply. After using this shade all the time, I have now really hit pan on Walk Of Shame in my Basics palette so I'm glad I picked up this palette when I did! Now have I have a back up of one of my favourite eye shadows plus I remember only paying around £9 for both the palette and shadow so it was a complete bargain!
My final eye shadow in my palette is one I have used for years, my beloved
Sin
! This beautiful shimmery champagne is a very popular shade amongst bloggers and features in the
original Naked palette
. Like Walk Of Shame, I have completely hit pan on this shadow so I was super excited to have received a brand new one for Christmas to pop in my palette! Sin may look exactly the same as Midnight Cowgirl, but I find Sin is much more pink compared to Midnight Cowgirl's golden tone and both look different when on the lid. This is a beautiful shade and if you're going to try out your first ever Urban Decay eye shadow, then I would say give this one a try as it looks really flattering in any eye look!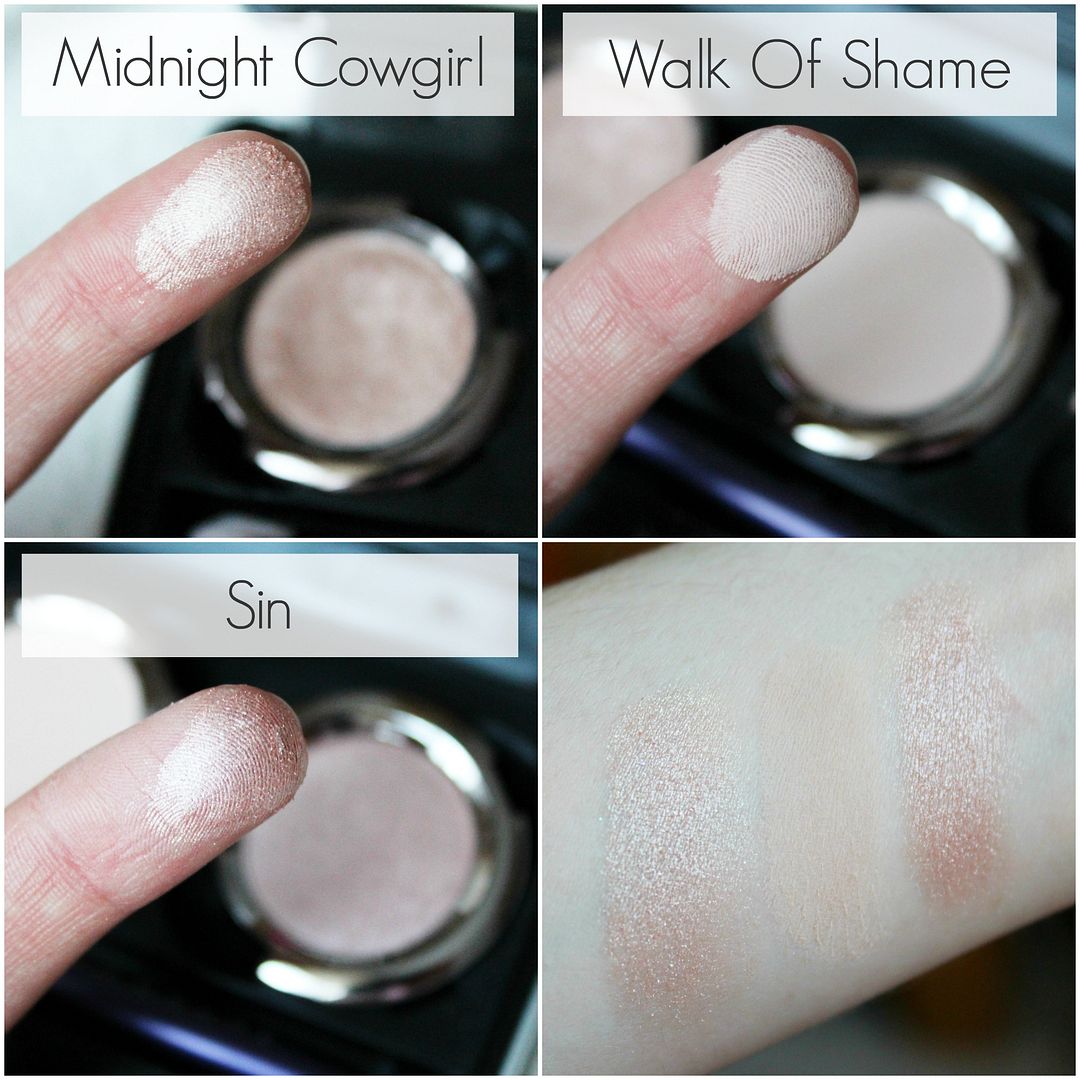 As you can see from the swatches (or can't see as these shades are all very light and natural - sorry!) all 3 shadows are buttery smooth and are well pigmented. I adore all of the shades in my palette and cannot wait to pick out the next 3 to complete it. What's great about these build your own palettes is that you can swap and change the shadows you put in it depending on what looks you want to create - so there's no reason for me not to buy more shadows! I would love to hear in the comments what other Urban Decay eye shadow shades you think I should add to my little palette as I would love to complete it soon.

Once I have completed this palette I'll update you all with what eye shadows I have decided to put in it! Let me know your thoughts on the 3 shadows I have already chosen and whether you own them as well. Thank you for reading today's post and I will speak to you again next week!
What are your favourite Urban Decay eye shadow shades?
Do you own one of the "build your own" eye shadow palettes?