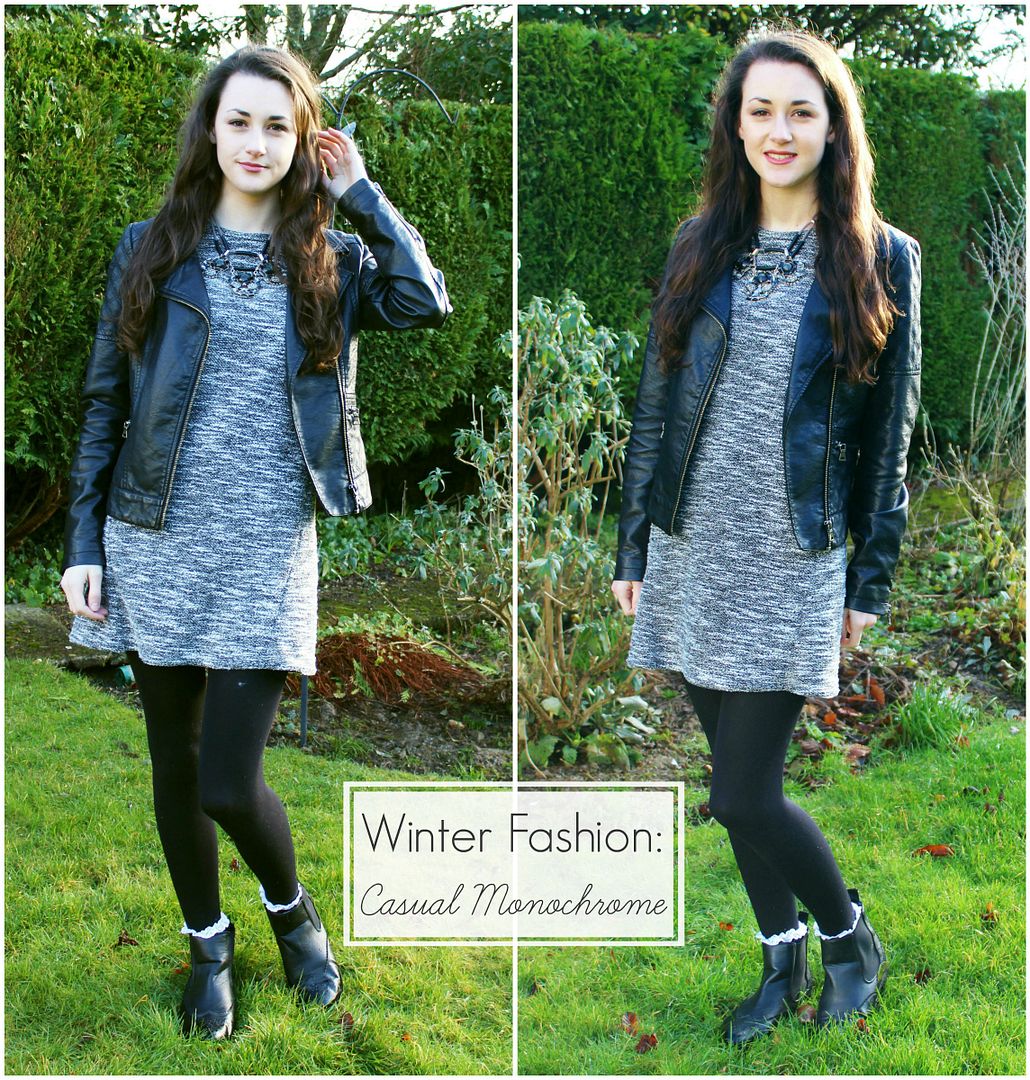 Dress -
Miss Selfridge
| Leather Jacket - Oasis | Necklace - Oasis | Tights - Primark | Socks - Oasis | Boots - Primark
Hey lovelies, I hope you've had a great weekend! Over the past few months I've developed a slight obsession for wearing monochrome clothes. Anything black and white has been instantly catching my eye and on my last trip to Miss Selfridge, this lovely little jersey shift dress became one of my newest purchases! I loved the boucle texture and it's very different to anything I own in my wardrobe, yet at the same time it's such a simple everyday dress.
Being a shift style dress made from such a stretchy fabric, I wasn't sure whether it would sit right on my body and be slightly unflattering. But I was pleasantly surprised when I tried it on that it's a beautiful fit and is one of those dresses that can easily be dressed up or down depending on what accessories you pair it with! As it's such a comfortable material, I've been wearing this dress for casual occasions such as shopping and spending time with friends and I thought I'd show you how I wear this gorgeous piece.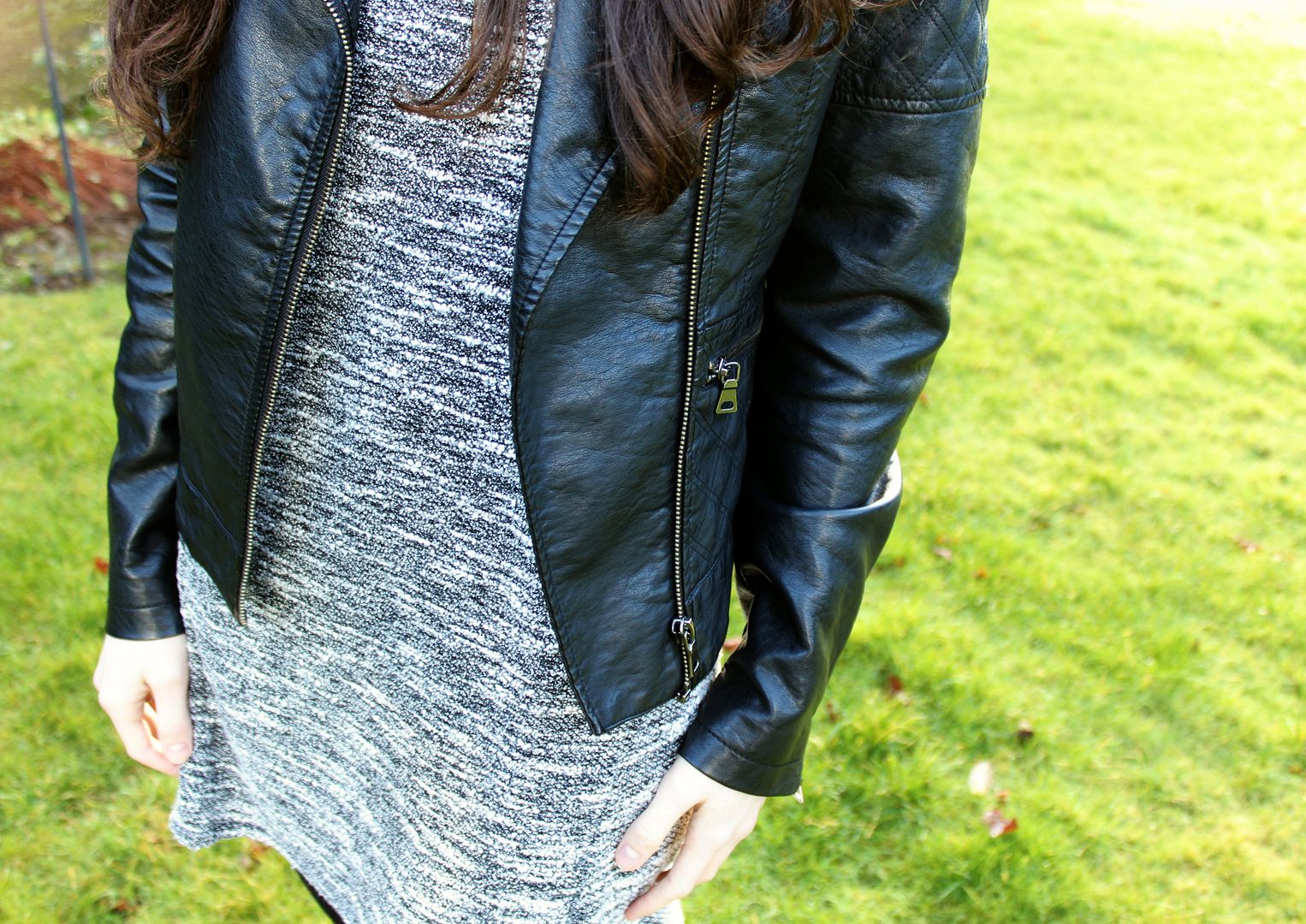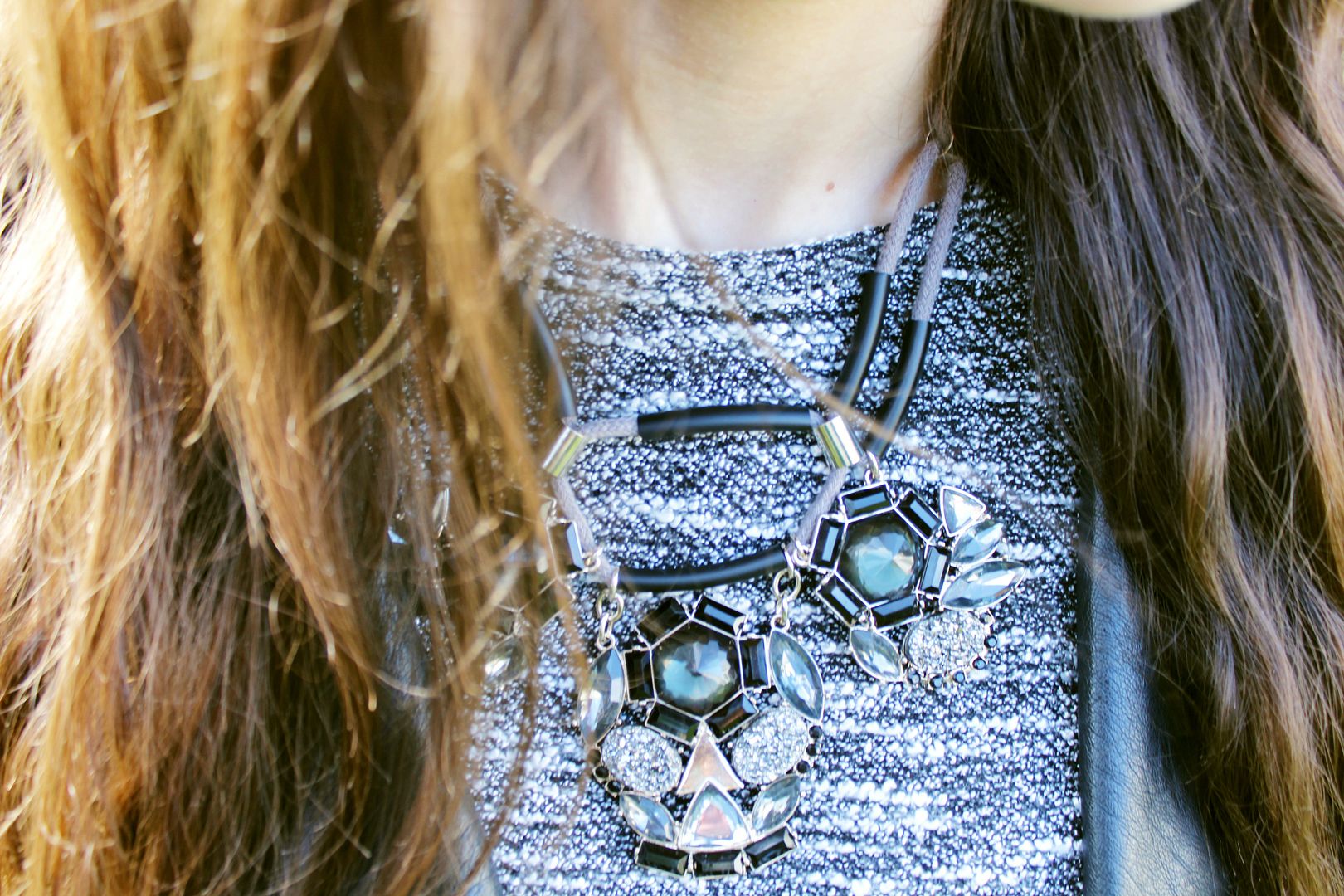 As this dress is quite short, I don't like to wear my long parka coat with it so I've been pairing it with my beloved faux leather biker jacket from Oasis. I love pairing this leather jacket with dresses as it gives the look an edgier feel, especially with the quilted shoulders and zip detailing. But then, to keep the look girly I've also been wearing cute little socks with ruffles and frills at the top which I think looks really sweet when they pop out the top of your pair of boots!
To complete the look I wore my gorgeous new statement necklace from Oasis which ties in beautifully with the dress as it has grey, silver and black stones and detailing. I've been after a rope statement necklace for ages and was really excited to find this little beauty in the sale! I've literally been wearing it non-stop and I think it completed any simple outfit perfectly.
Let me know in the comments your thoughts on my casual monochrome outfit and how you would style this dress! I think to dress it up I'd wear a pair of black boot style wedges and accessorise it with the same necklace but also add a bright coloured clutch bag - a perfect outfit to wear out for some drinks with the girls! Thank you for reading today's post!
What is your favourite fashion style to wear during the Winter months?