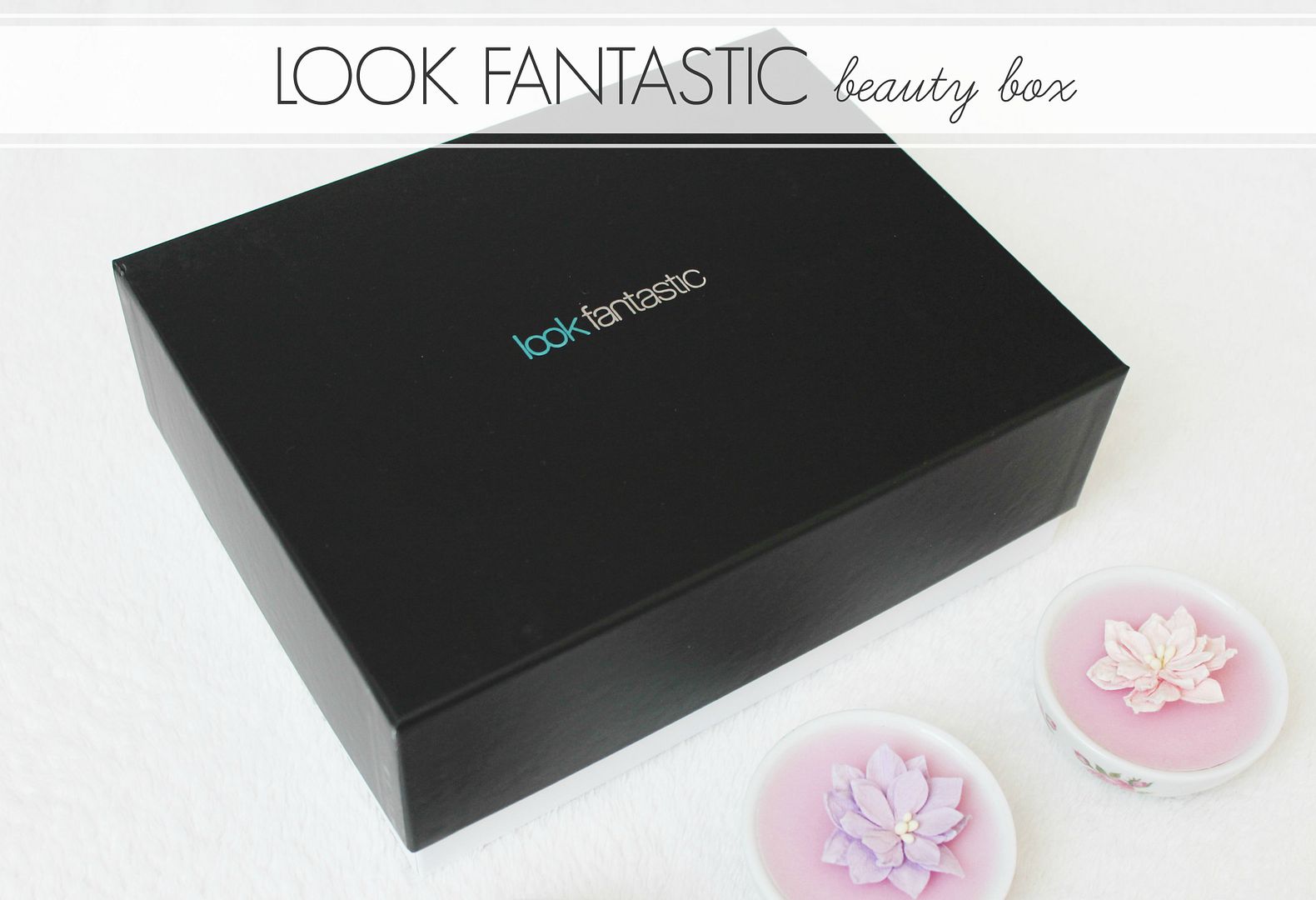 Look Fantastic April Beauty Box* | £15.00 | LINK
Despite watching countless unboxing videos and scrolling through endless posts, I've never been someone who got into the whole beauty box craze. The idea of receiving a bunch of beauty and makeup products to your door every month sounds great, but I've always been put off by the uncertainty of what's actually going to be in the box! I guess I've just always been very careful and would hate to waste my money on a box of products that I'd never use.
As a little thank you for hosting a giveaway for
Voucher Box
and
Look Fantastic
, I was sent one of the
April Look Fantastic Beauty Boxes
to try out! As I've never received a beauty box before I was very excited to see what sort of products it would contain and whether it would sway me to try out more in the future. Their April box contains 6 beauty, body, hair and cosmetic products that are worth £45, so these are a great way to try high end products at a cheaper price!
My first impressions of the Look Fantastic Beauty Box were great. It comes in a sleek black and white box which are super handy to keep for storing makeup or little bits and bobs in. By looking at other reviews, these beauty boxes always seem to come in the same packaging of grey tissue paper and black shredded paper. I think it would be great if they swapped up the colours each month to keep it fitting for the season, but of course it's all about the products that are inside!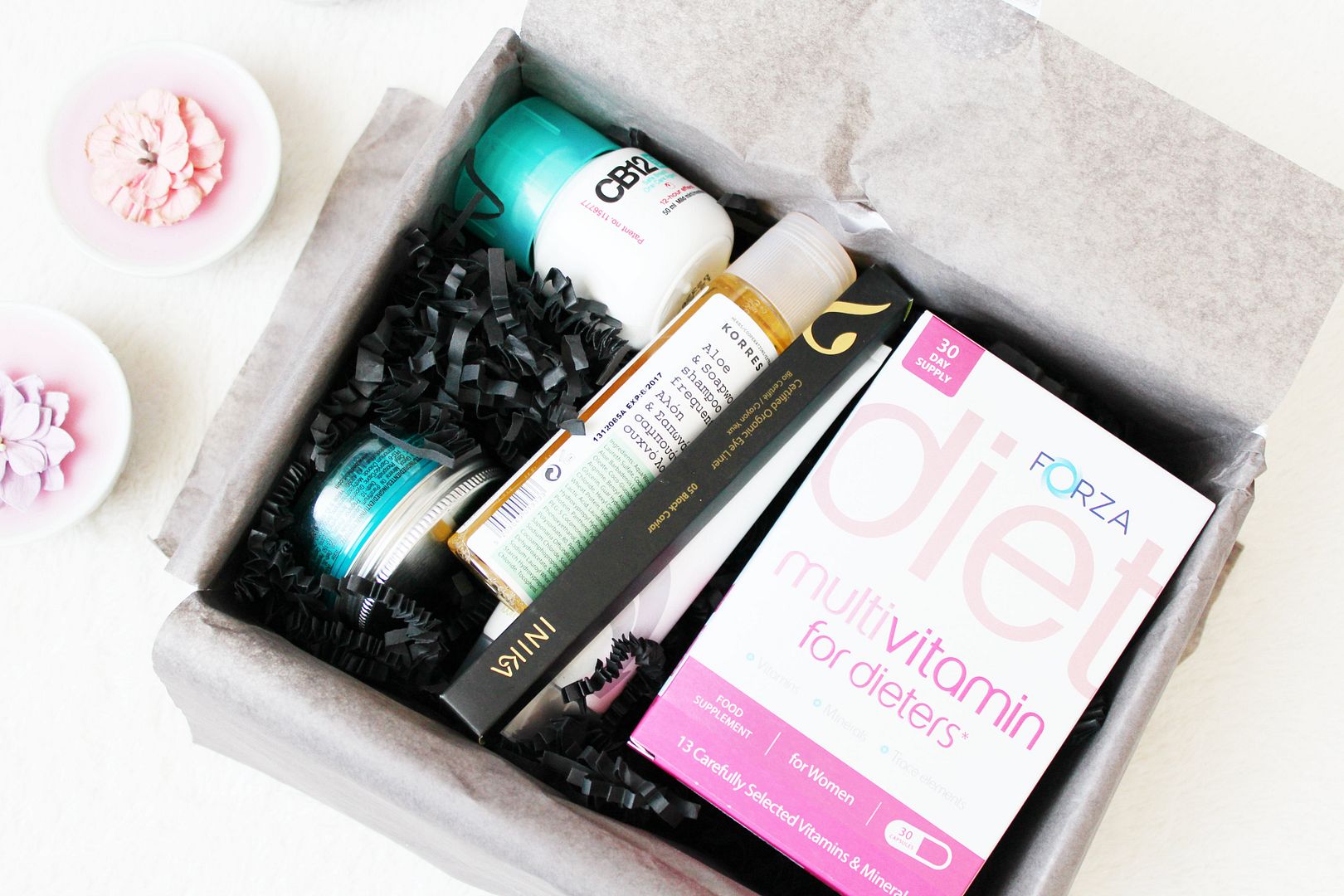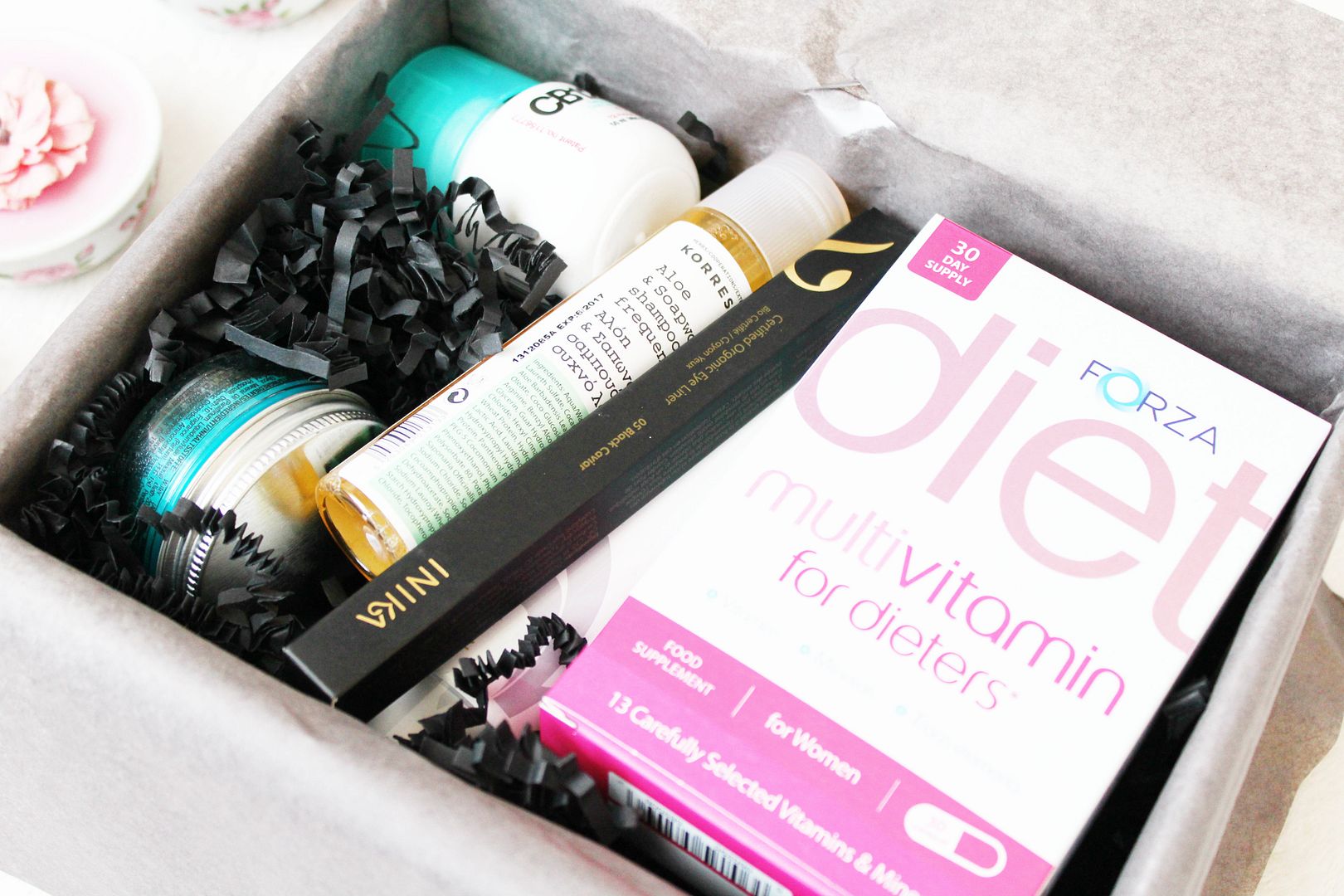 Forza Multivitamin For Dieters (Women) - 30 capsules | LINK
The first product that stands out in this month's beauty box is the large box of Forza vitamin tablets. These are designed for women who are dieting and want make sure that they are still getting all of the vital vitamins that they need to stay healthy. To be honest this was bit of a "meh" product for me as I've never dieted and wouldn't plan to as I'm naturally quite slim. Obviously for some people these tablets would have come at a great time as the Summer is a popular time for people to start dieting before their holidays! What I do like about these tablets is that there's a helpful guide inside that has a range of healthy meal plans/ recipes plus lots of exercise and diet tips.
Korres Aloe & Soapwort Shampoo - 50ml
I was rather excited to receive this little shampoo sample in my box as I've always wanted to try some products from Korres! This shampoo is designed to cleanse your hair whilst moisturising and protecting it at the same time. This will be a great product to use every couple weeks to cleanse your hair of product build up or to pop in your travel beauty bag due to how small it is. I really like the fresh, natural clean scent plus the fact that it's free of nasty and unnecessary products!
CB12 Mild Mint/ Menthol Mouth Wash - 50ml | LINK
This was a bit of a weird product to find in a beauty box, but at the same time I was strangely excited to give it a try! The CB12 mouth wash helps to remove plaque build up and prevent tooth decay by reducing the amount of bacteria in your mouth. Again, this will be a great product to take travelling as it's small, compact and super handy!
TIGI Bed Head Manipulator - 30g | LINK
Textured hair is a must for the Summer time so I was excited to receive this little pot of Bed Head Manipulator paste that's designed to give loads of volume and body! You only need a small amount so even this mini pot will last a good amount of time. I've never tried anything like this before but I'm definitely looking forward to giving it a go as it smells really nice!
Inika Certified Organic Eye Liner in 05 Black Caviar - full size | LINK
The only makeup product in this month's beauty box is a black pencil eye liner from a brand I haven't heard about before called Inika. What's great about this eye liner is that it's made from organic ingredients, is vegan and not tested on animals. Despite all these good points, to me it feels like a normal black eye liner and doesn't feel like anything special as it's not overly creamy or pigmented. I much prefer brown eye liners anyway as they look much more natural, however this would be a good product to use for a smokey eye as it is quite blendable.

Balance Me Revitalising Hand and Body Wash - 100ml
The last product in the April box is a good size hand and body wash from Balance Me. I really like this brand as they use lots of natural ingredients in their products and they feel fresh and clean on the skin. This revitalising hand and body wash has a lovely zesty scent and would be a great pick me up product to use in the morning to wake you up!

Overall, this was an okay beauty box to try but at the same time I'm still unsure whether I would purchase one myself as there are a couple of products in this box that I'm not overly impressed with - mainly the vitamins and eye liner! This is just because I personally wouldn't use them, but I'm sure to some people this would be an amazing beauty box to kick start the Spring and Summer! Looking at previous boxes, Look Fantastic Beauty Boxes do offer some amazing products but I do think this box hasn't reached that same level and feels slightly lacking.

Have you tried Look Fantastic's beauty boxes?
What's your favourite beauty box subscription?