As we go into the Spring and Summer I've felt like I've needed to add some new makeup pieces to my collection as I haven't really bought any cosmetics in quite a while. With the added factor of lots of new high street beauty releases, I thought I would take advantage of Boot's latest 3 for 2 offer and try out some new pieces! I also managed to find some little gems in the Boot's clearance section, which is a very rare phenomenon I'm sure you'll all agree!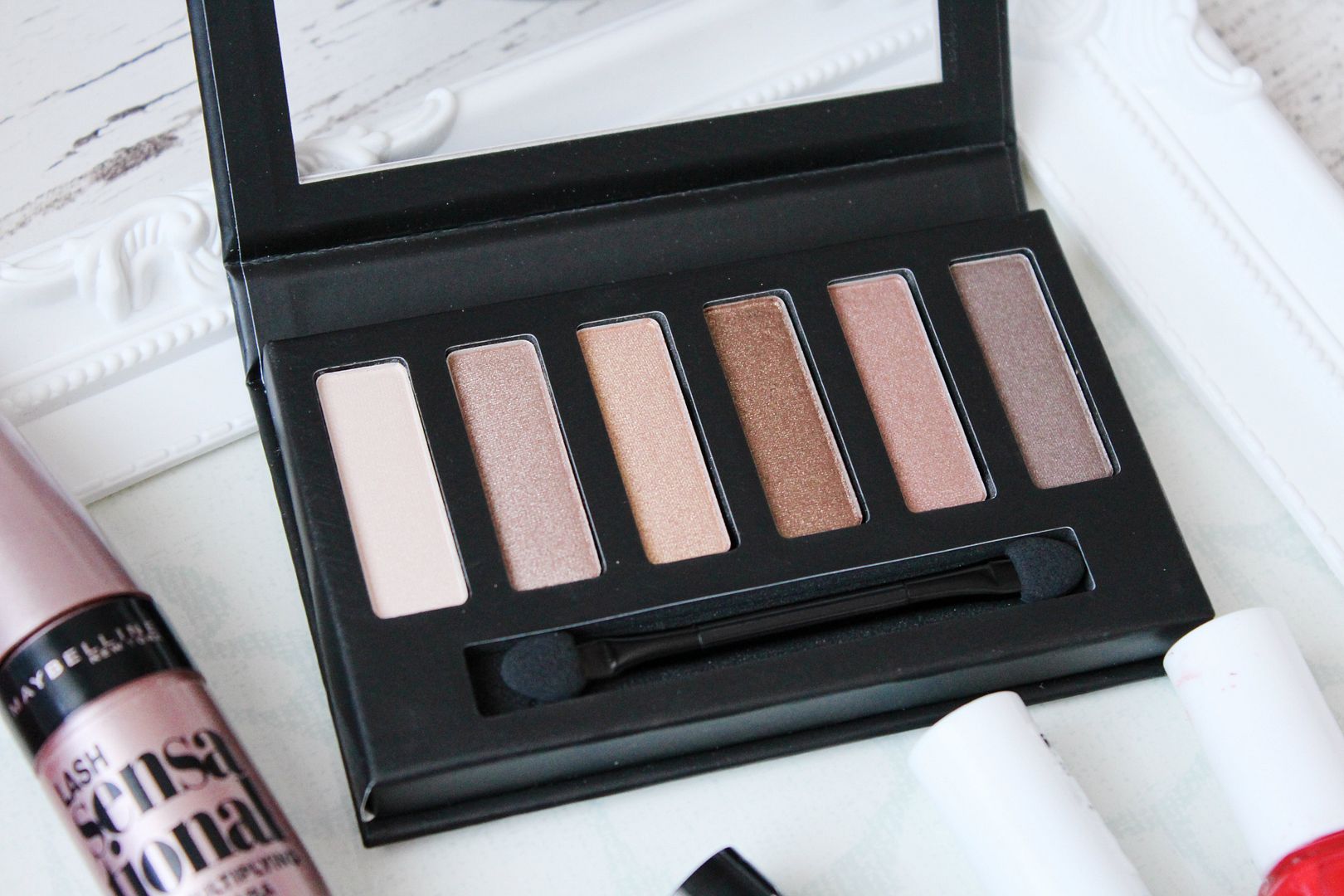 Collection Eyes Uncovered Nude Bronze Palette | £3.99 | LINK
These new little eye shadow palettes from Collection seem to have taken the beauty world by storm so I thought I would finally try one out. I decided to go for the Nude Bronze palette as it contains some gorgeous shimmery gold/ bronze shades. My mum also picked up the Nude palette which I thought looked very similar to the Urban Decay Naked Basics palette. The other version is the Nude Grey which is obviously more grey toned which I didn't pick up as I personally don't find grey/ silver shades suit me as well as golden eye shadows. In these little palettes you get 6 good sized shadows that can create a variety of eye looks. There's also a doubled ended foam applicator which is nice of them to include but I much prefer to use my brushes! I'll definitely do a review of this soon as I can imagine this will be a beautiful everyday palette!
Bourjois Colour Boost Lip Crayon in "Sweet Macchiato" | £7.99 | LINK
I absolutely love the Bourjois lip crayons and when I heard that they released a few more for Spring 2015 I had to pick one up! Out of the 3 new shades I thought I would try Sweet Macchiato which is a brown/ nude toned red that is very easy to wear. It's almost like a darkened version of your own natural lip colour, so works really well for an everyday look. I wasn't too impressed with the other shades Pinking Of It and Proudly Naked, mainly because I'm not a fan of bright pink lips and the nude was far too sheer for my liking, but I would highly recommend the rest of the collection!
Maybelline Lash Sensational Mascara in "Black" | £7.99 | LINK
After falling in love with Benefit's Roller Lash mascara, I thought I would try out the new high street alternative from Maybelline called the Lash Sensational Mascara. The wand is a very similar shape to the Roller Lash and does give your lashes lots of volume and definition. I'm thinking of doing a comparison post on my blog soon so do keep and eye out for that!
Bourjois Rouge Edition Velvet Lip Lacquers in "So Hap'pink" & "Peach Club" | £8.99 each | LINK
I've seen these lip lacquers from Bourjois on lots of blog recently, but I don't think these are the newest releases. However the colours and shades in this range instantly attracted me and I thought I would try out a couple of shades for the Spring/ Summer time! The 2 I picked out are So Hap'pink which is a bright dusty pink and Peach Club which is a gorgeous peachy coral shade. These lip lacquers are super pigmented and feel really comfortable on the lips despite having a velvet/ matte finish. They also last such a long time on the lips, even if you've been eating or drinking which is amazing!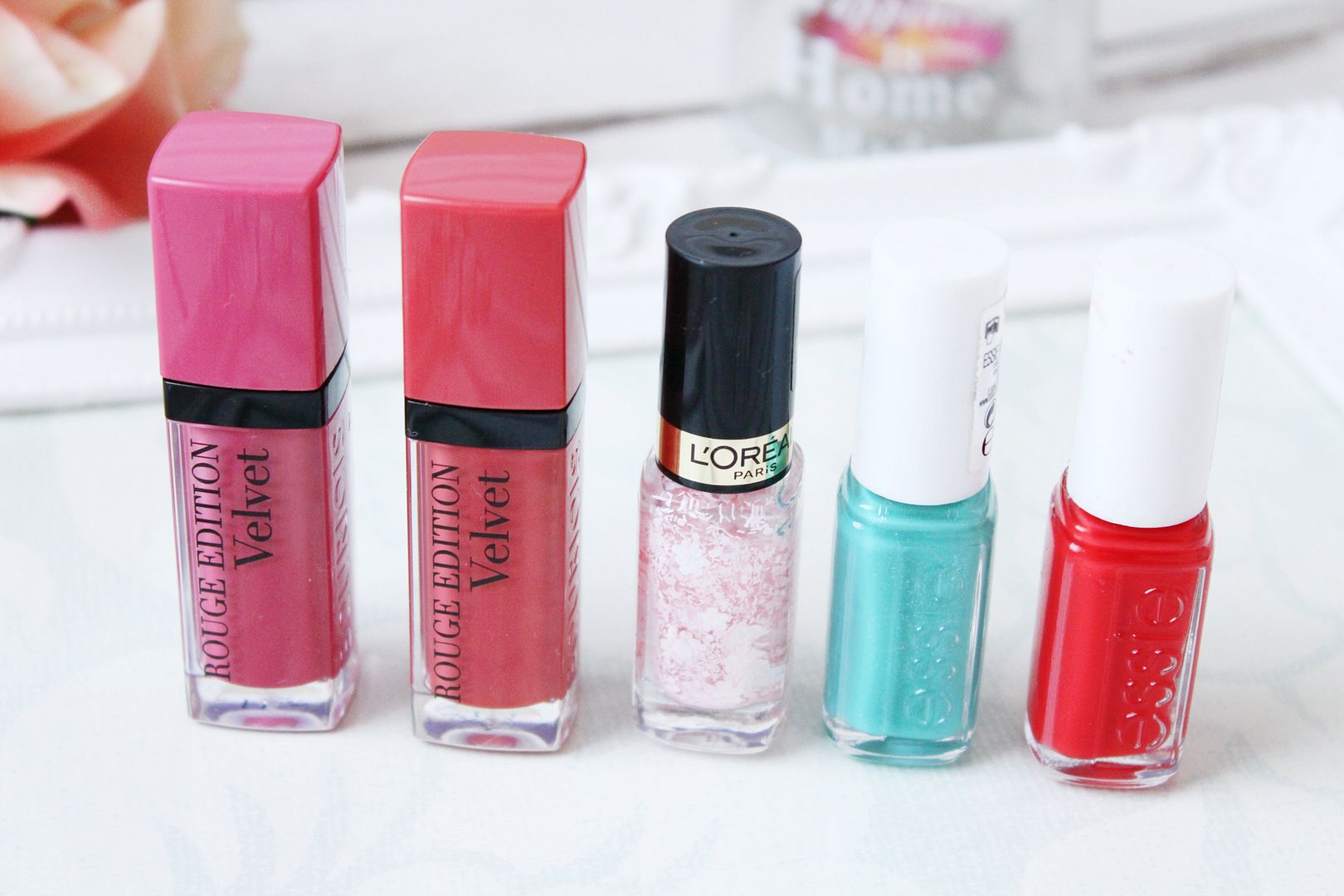 L'Oreal Top Coat Flower Boheme in "Boho Look" | £4.99
As soon as I saw this super cute top coat I had to pop it into my basket! It contains little flecks of pink strands plus white flowers that look lovely against a pale pink nail polish. This is definitely a great top coat for the Summer as it adds a real girly twist to your nail polish. I also found that this top coat helps keep my nail polish chip free for a good few days.
Essie Mini Nail Polish in "Naughty Nautical" & "Snap Happy" | 50p each | LINK
My final purchases from Boots were my clearance section finds in the form of 2 mini Essie nail polishes! These are smaller versions of the standard Essie polishes, so they had obviously come loose from a set which is why they were just 50p each! The first shade I found was Naughty Nautical which is a beautiful blue/ green colour with a subtle silver shimmer. This is actually a shade I've wanted to try for ages and I was so excited to find this in the clearance section. I also picked up a stunning blood orange shade called Snap Happy which will be perfect for this time of year!

So this is everything I've picked up from Boots recently! I'll definitely be posting some reviews of these products but do let me know in the comments which ones you'd like to see first. I'm so excited to give everything a go, especially the Collection eye shadow palette and my bargain Essie nail polishes!
Have you picked up any new beauty goodies from Boots or Superdrug recently?