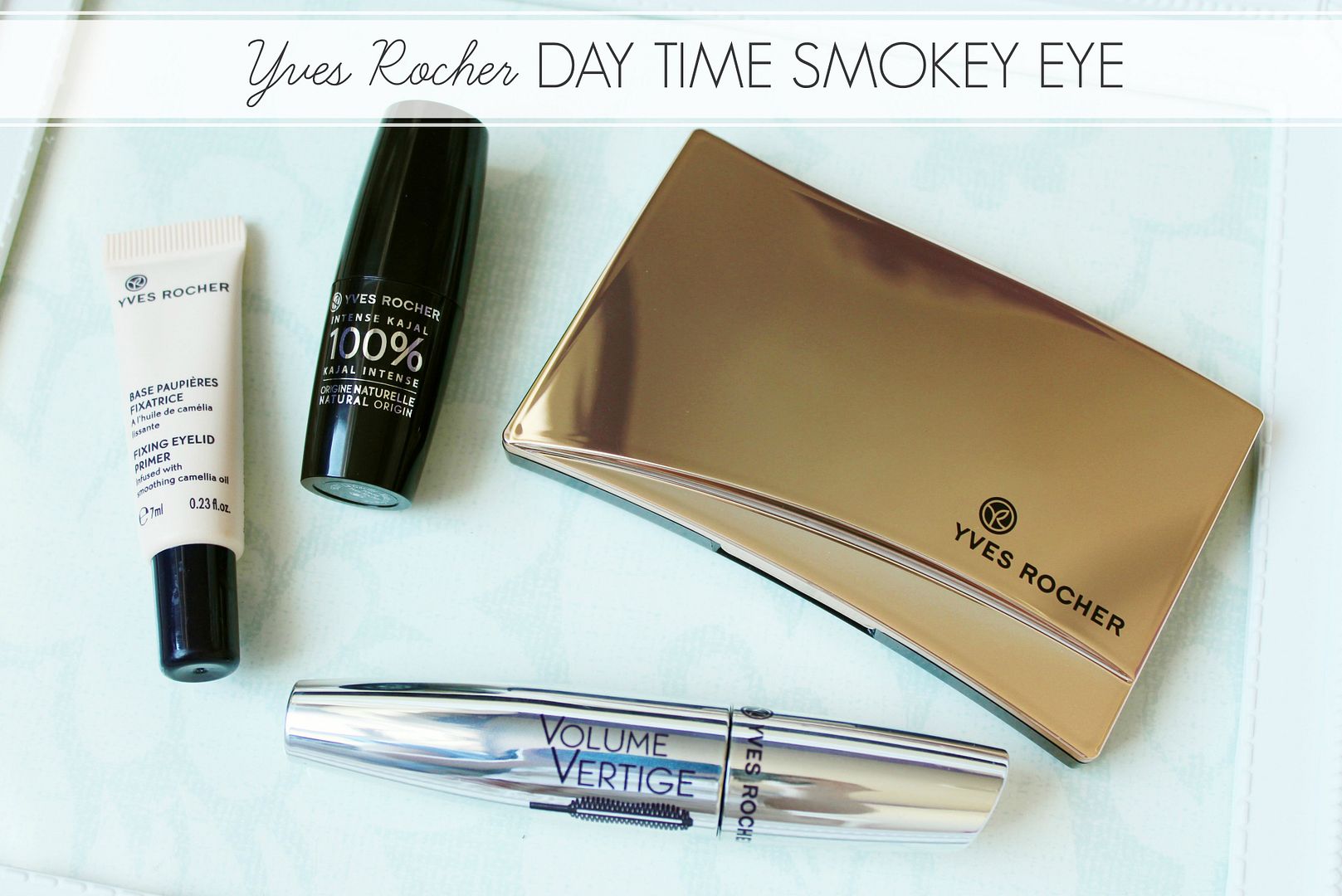 Ever since getting into doing my makeup properly on a daily basis, I would always go for a natural smokey eye. They're simple to do and you can experiment with so many colours and shades to find the right combination for you! I was recently contacted and asked to try out some new makeup products from the brand Yves Rocher that together would create the perfect day time smokey eye. I'll be honest and say nothing gets me more excited than a good neutral eye shadow palette, so I was super happy when this little package arrived at my door! As well as the gorgeous eye shadow quad, I was also able to try an eye primer, mascara and eye liner to help complete the look!

If you haven't heard about this brand before, Yves Rocher is a French company that is sold in 88 countries worldwide with 30 million customers. The great thing about their brand is that they are so committed to ethical product development and do so by focusing on using natural ingredients in their beauty products. They're also passionate about their botanical brand values and actually have their own botanical garden in La Gacilly where they grow more than 1,100 species of plant to be used in their own products! Brands like this are amazing in my opinion as I'm always looking for ethical brands who's products use good quality natural ingredients!

If you would like the chance of being winning this gorgeous smokey eye makeup set, then do keep reading until the end of the post where you can enter a giveaway!
Sumptuous Color Eye Shadow Quad in "Red Hot Brown"* | £25.00 | LINK
Out of these products, I was most excited to try out this gorgeous golden compact eye shadow quad as it contains 4 beautiful neutral brown toned shadows. The top left shadow is a light champagne highlighting shade that contains a slight touch of shimmer. The top right shadow is a beautiful taupe with a satin finish that looks amazing as an all over lid colour. On the bottom left is a medium golden brown shade, again with a satin finish, that makes the perfect crease colour. Finally in the bottom right is a matte deep brown that can be used to deepen the crease or be used as a shadow eye liner! Together these 4 shades create the perfect brown toned smokey eye and each of the shades compliment each other perfectly.

The quality of these shadows are amazing, the 3 lighter shades are buttery smooth and are incredibly pigmented. The only shadow that isn't so pigmented is the dark matte brown which is slightly more chalky than the rest. However, as you can use these shadows both wet or dry, if you add a spritz of water to your brush then this eliminates any chalkiness and makes the shadows really intense! The lasting time of these shadows is also amazing and I can definitely see this will be one of my go to palettes for a simple day look!
Volume Vertige Mascara in "Black"* | £22.00 | LINK
This mascara has become one of my latest makeup obsessions and I'm so impressed as to how amazing it is! The Volume Vertige mascara offers your lashes so much volume, length and makes them very black - pretty much everything you need in a mascara! The plastic bristle brush coats each lash perfectly with minimal clumping so makes your lashes still look natural, but just fuller and thicker looking. I also love that this mascara doesn't smudge or flake during the day so it's great for all this lovely warm weather we've been having recently!
Fixing Eye Lid Primer* | £12.50 | LINK
When doing any eye shadow look, you need to have the right primer to keep your eyes looking perfect all day long! The Fixing Eye Primer is a skin coloured primer that helps smooth out your eye lids and fills in any fine lines around the area. As it's enriched with Camellia oil it's super soft and feels so luxurious when applied to the eye. I've definitely noticed that my eye shadows (powder and cream) stay put all day long when I use this primer and I haven't had any problems with creasing. I will definitely keep using this eye primer as I'm so impressed as to how well it works!
Intense Kajal 100% Eye Liner in Black* | £15.90 | LINK
The final product in my smokey eye set is a jet black eye liner that comes in a wind up tube. Unfortunately when my eye liner arrived it had snapped at the base so I couldn't apply it as it was intended to be. Instead I've been applying this with a small eye liner brush and I've found it works just as well as the product is really creamy and easy to apply and blend! In the photo below I've also set this eye liner with the dark matte shadow from the quad palette to make the colour even more intense and longer lasting plus it also gives it that extra smokey effect!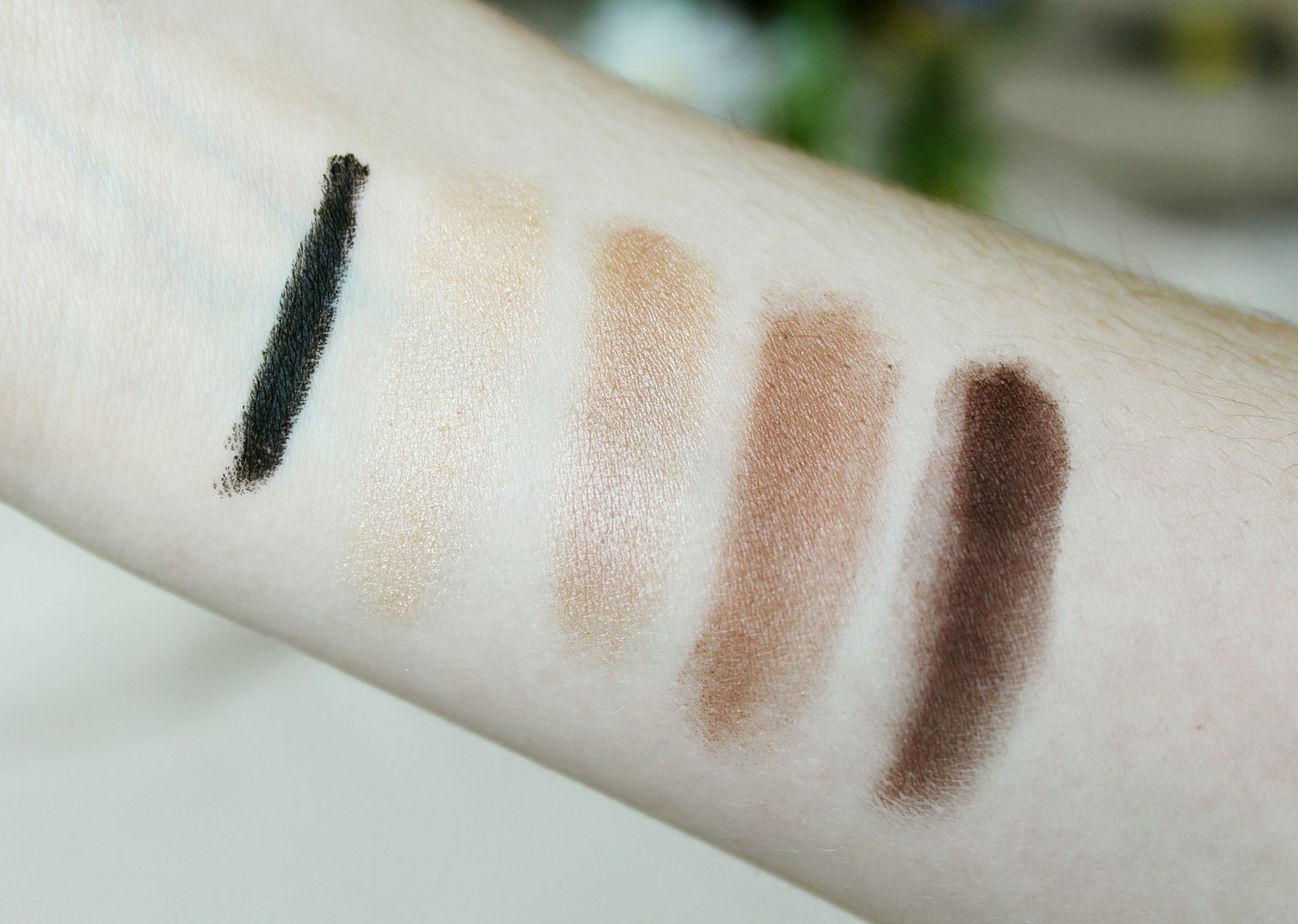 Lipstick - Soap & Glory "Perfect Day"
As you can see all of these products together create a beautiful and easy to wear smokey eye that's perfect for any occasion. You can skip out the darker brown shades if you want it more natural or you could add more if you want to deepen it up for a night time smokey eye, it's such a versatile look! You really can't go wrong with a smokey eye and I would totally recommend trying these products out to create one - they're all amazing!
If you would like the chance to win your very own Yves Rocher smokey eye makeup set then fill out the widget below! There is
1 set to be won
which will contain all of the products mentioned in this post. This giveaway is open to
UK residents only
and it will be open for 2 weeks until
30th April 2015
! Good luck!
As an added treat for all of my readers I also have a discount code for the UK Yves Rocher website which gives you £6 off a £26 spend plus free delivery - just enter 6OFF26 at the checkout!
What product from this set would you like to try the most?
Let me know your thoughts on my day time smokey eye!