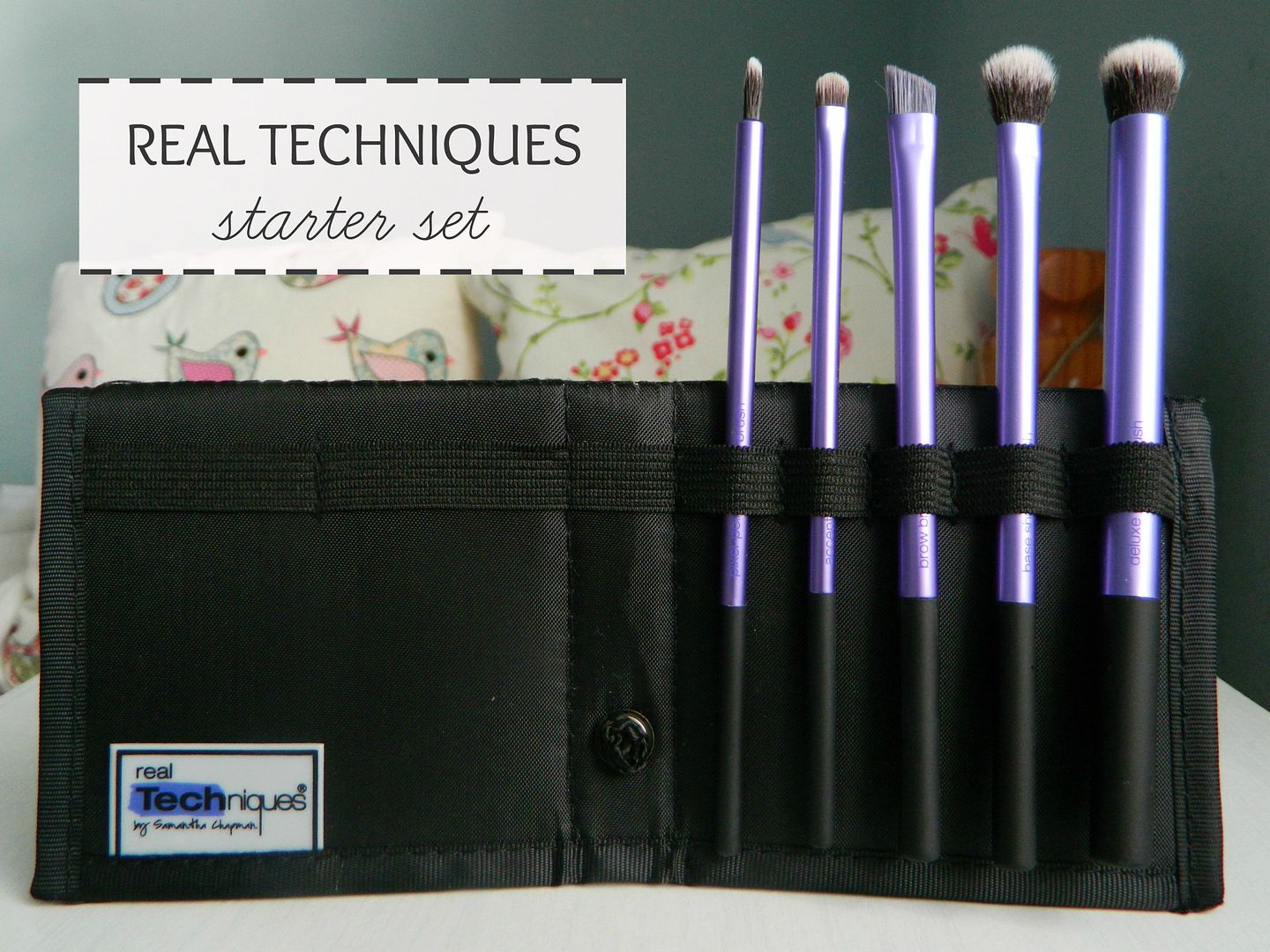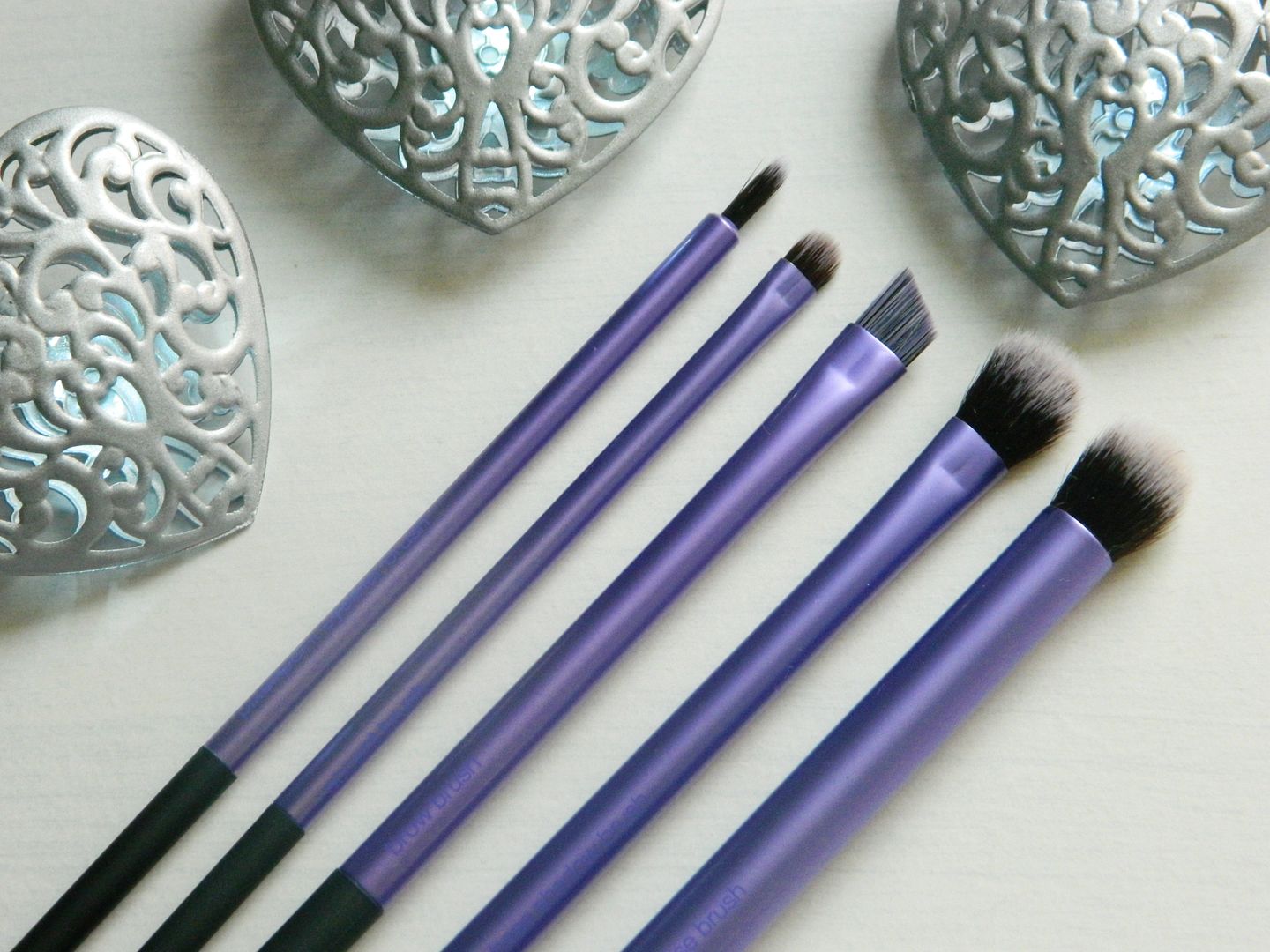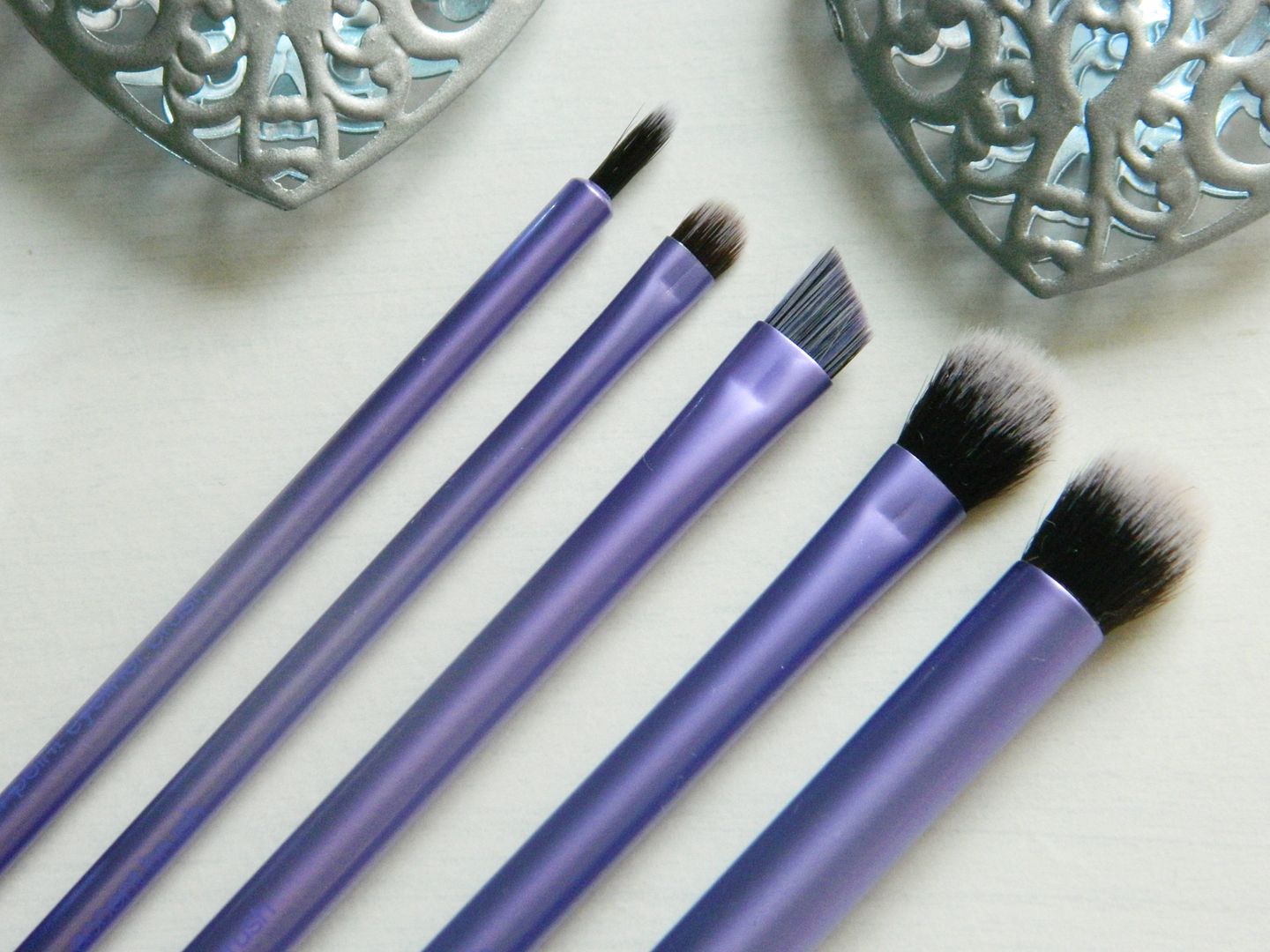 Hello everyone, I hope you're all doing well and that you're looking forward to your weekend. Today I thought I would finally get a new review up on my blog - my first one of 2014! It's actually been almost 2 months since my last one which is so bad for a beauty blogger, so I thought I would do a much over due review of the Real Techniques
Starter Set
brushes. I got this set for my birthday last year and lots of you wanted to see my thoughts and opinions on them, so now I've finally gotten round to it! I absolutely love Real Techniques brushes and when it got to a point that I felt that I needed to expand my eye brush collection, it was only natural to pick up their Starter Set.
The Real Techniques Starter Set contains 5 makeup brushes all made from synthetic bristles. They also come in a black brush case that can either store your brushes when your travelling or display them in a stand like in the first photo. All of the brushes have a purple coloured handle that helps define that these are from the eye brush collection from Real Techniques. These brushes are also very light weight and easy to use, which means anyone can have these brushes in their collection - especially if you're just starting out with makeup!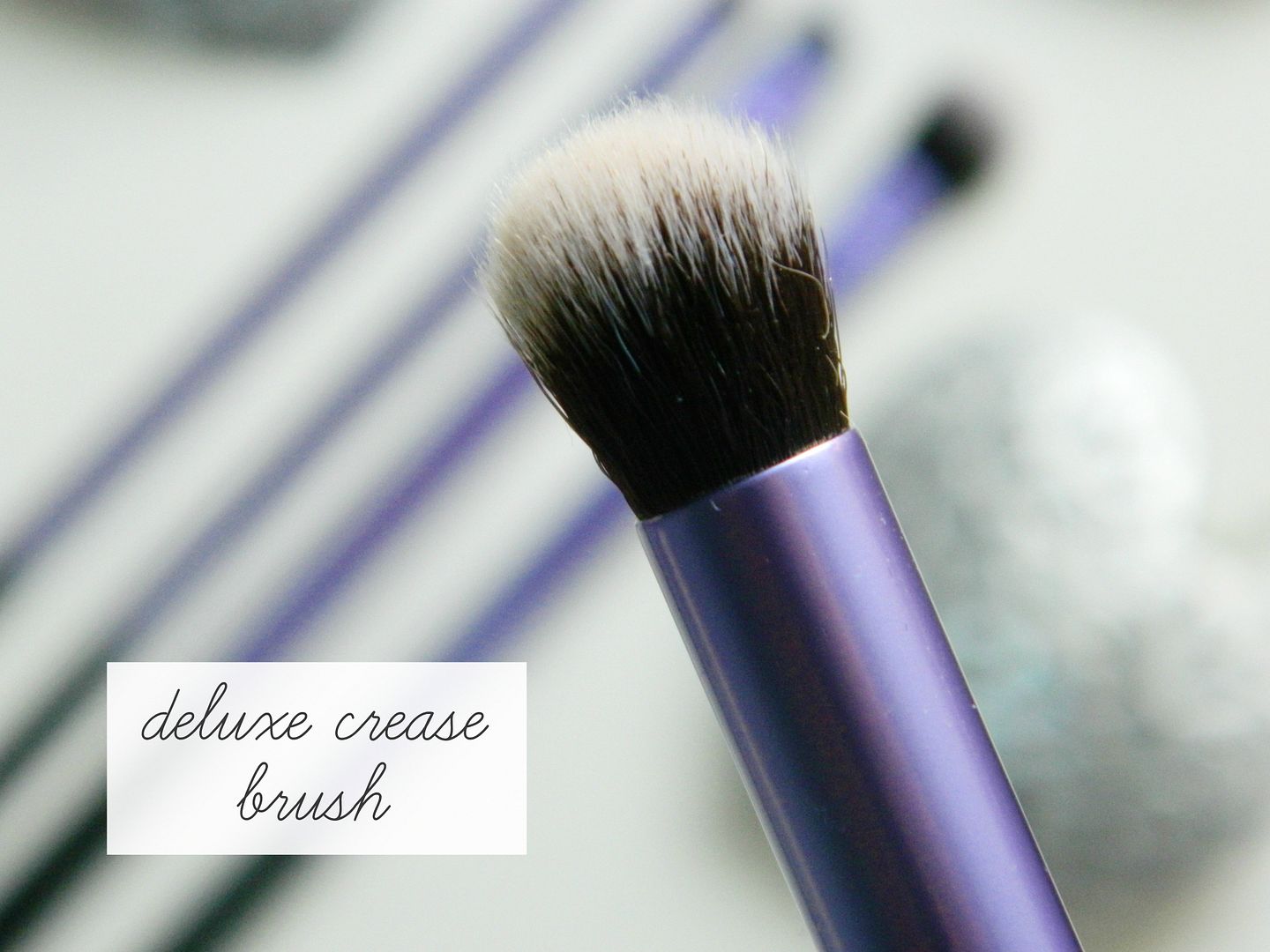 | Deluxe Crease Brush |
The first brush you get in the Starter Set is the Deluxe Crease Brush. This is a big, soft brush that is designed to be used to contour your eyes by applying a shadow into your crease. The bristles are dense which helps pick up plenty of product so that you can create an effortless eye look. I personally think this brush is a bit big for my crease and I much prefer to use this as a base/ lid colour brush. It applies lid colour so smoothly and as it's big, it covers a larger area very quickly. I really like this brush and is one of the brushes from this set I use every time I do my makeup!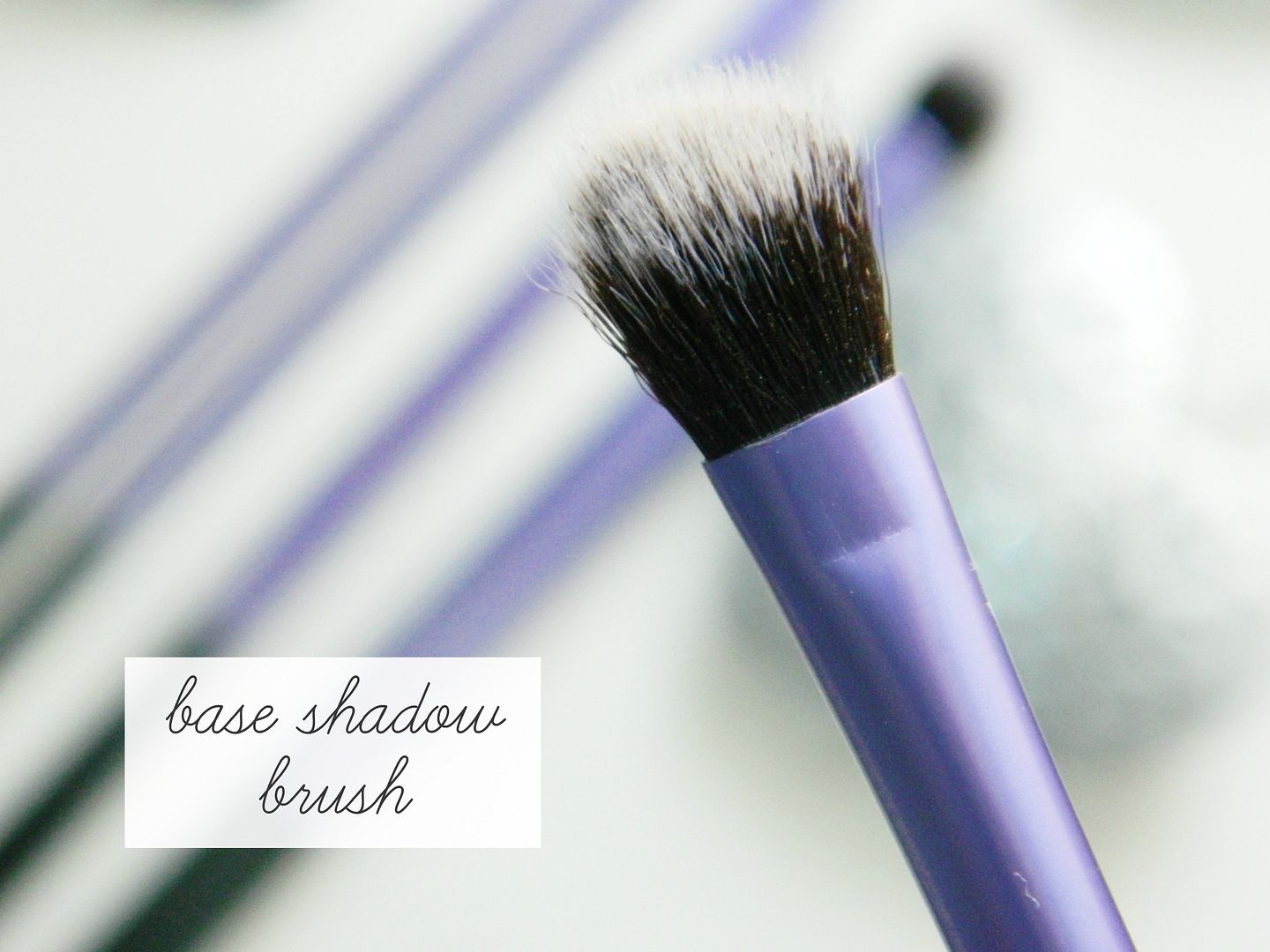 | Base Shadow Brush |
The second brush from this set is the Base Shadow Brush and again is a brush that I use every time I do my makeup! This is designed to apply your lid colour and as it's very soft and dense, it does so flawlessly. I also enjoy using this brush as my crease brush - yes I know, I use the first 2 back to front, but for me I find that they work better this way! As the Base Shadow Brush is smaller than the Deluxe Crease Brush, I find that it applies the right thickness of shadow to my crease to create the perfect contoured look. I think if I had to choose to have only 1 eye brush in my collection, then I would definitely choose this one as it is very versatile and works amazingly with powder eye shadows!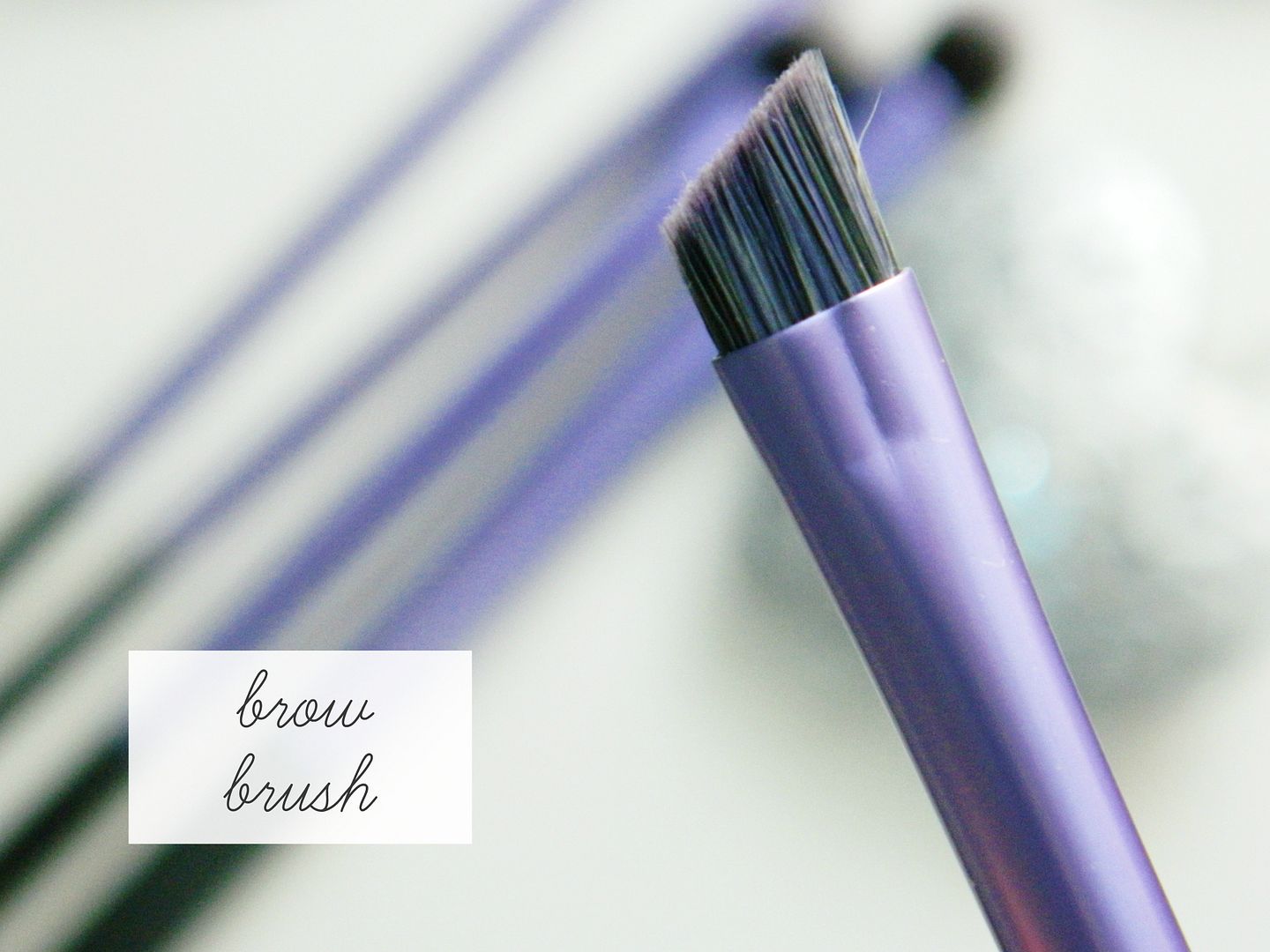 | Brow Brush |
The next brush in the Starter Set is the Brow Brush. This angled brush is designed to apply powder to your eye brows to create a softer and more natural brow look. I much prefer applying shadow to my brows compared to a pencil or felt tip brow liner, so I was very happy to have this brush in my set. However, for me this brush is too big and it feels like I can't achieve smaller brush strokes to create the natural look I like. Luckily I do have a smaller angled brush that I use, so now I use the Real Techniques Brow Brush as an angled eye liner brush. When I apply pencil liner to my lash line, I always like to set it with a powder and this is when this brush comes into action. It picks up plenty of product and is slim enough to apply it close to my lash line. This is a nice, dense brush that works really well and is one I do use on a regular basis!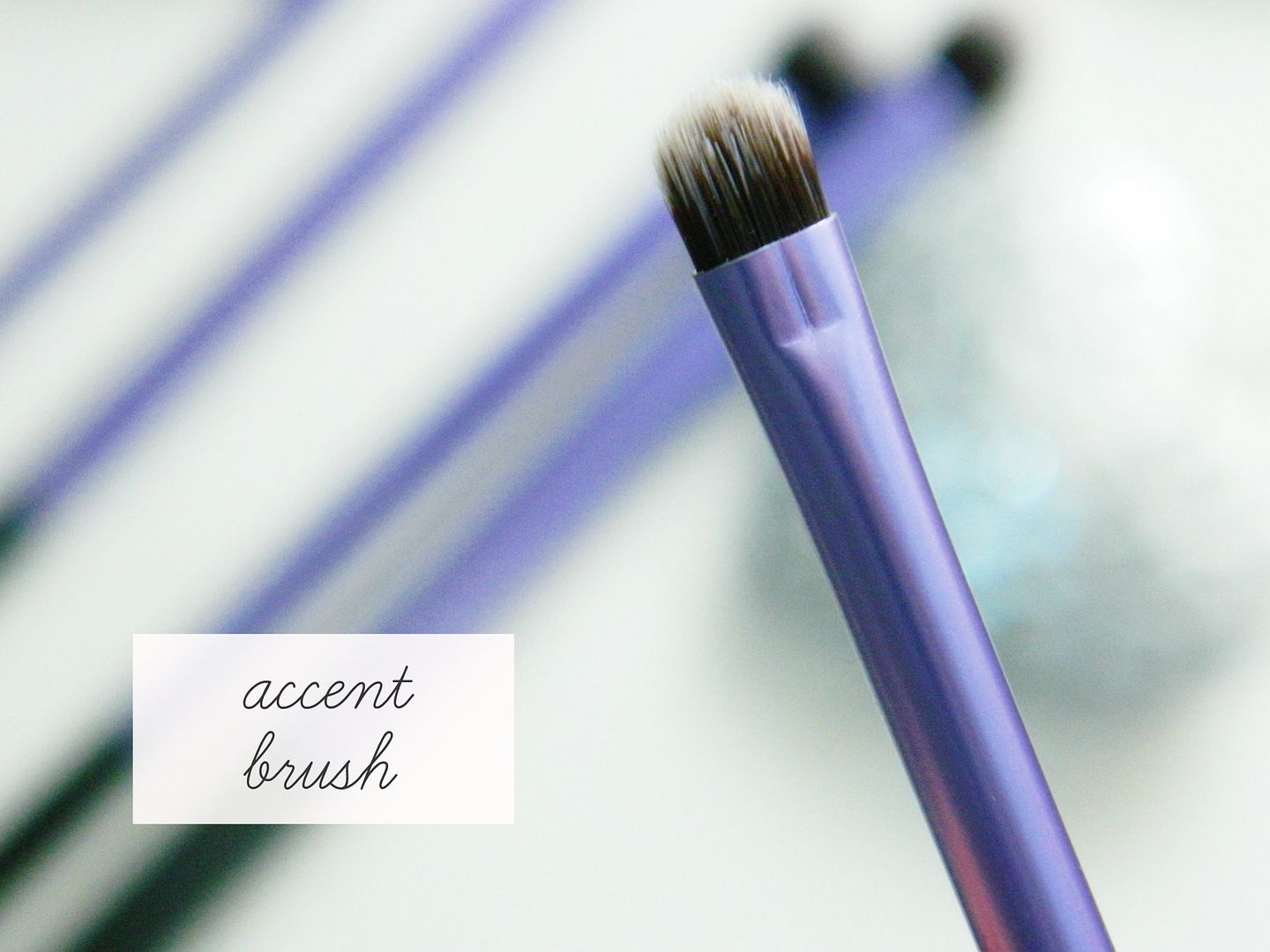 | Accent Brush |
Next up is the one of the smallest brushes in the set, the Accent Brush. This is meant to be the perfect brush for applying inner corner or brow bone highlighters or smudging out shadows or liners. The bristles, like all of the Starter Set brushes, are dense which means it's very good as smudging or smoking out liners. I also think this is a nice brush to apply a lower lash line eye shadow colour as it's small and can blend it out well.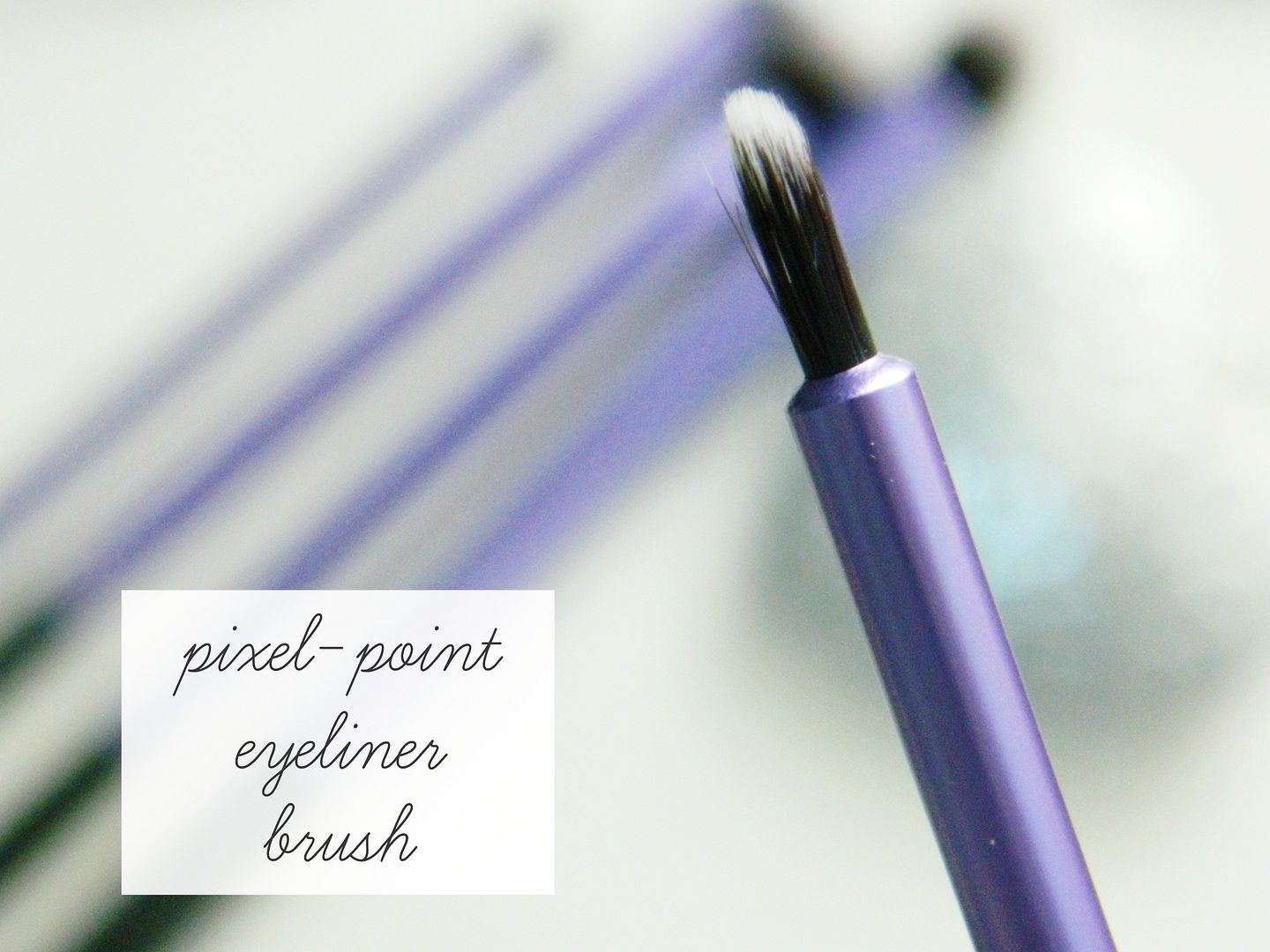 | Pixel-Point Eyeliner Brush |
The final brush in the Starter set is the Pixel-Point Eyeliner Brush. This is the perfect brush for applying cream and gel eyeliners as it's slim and has a fine tip. This is the brush I use the least as I don't actually use any gel/ cream liners (if you have any recommendations of some I would love to hear them in the comments !). This could also work well as a lip brush as it is small and dense so it will apply the colour smoothly and evenly!
So these are my thoughts on the Real Techniques Starter Set! I absolutely love this set and highly recommend it if you're looking to expand your makeup brush collection. They're amazing quality and I think the price is really reasonable as it works out as just over £4 a brush! These are the perfect everyday eye brushes and I always find they apply my makeup beautifully. If you're interested in seeing what I think of the rest of my Real Techniques brush collection, including the
Core Collection
, then
click here
for the post!
Have you tried the Real Techniques Starter Set brushes?
What is your favourite Real Techniques brush?