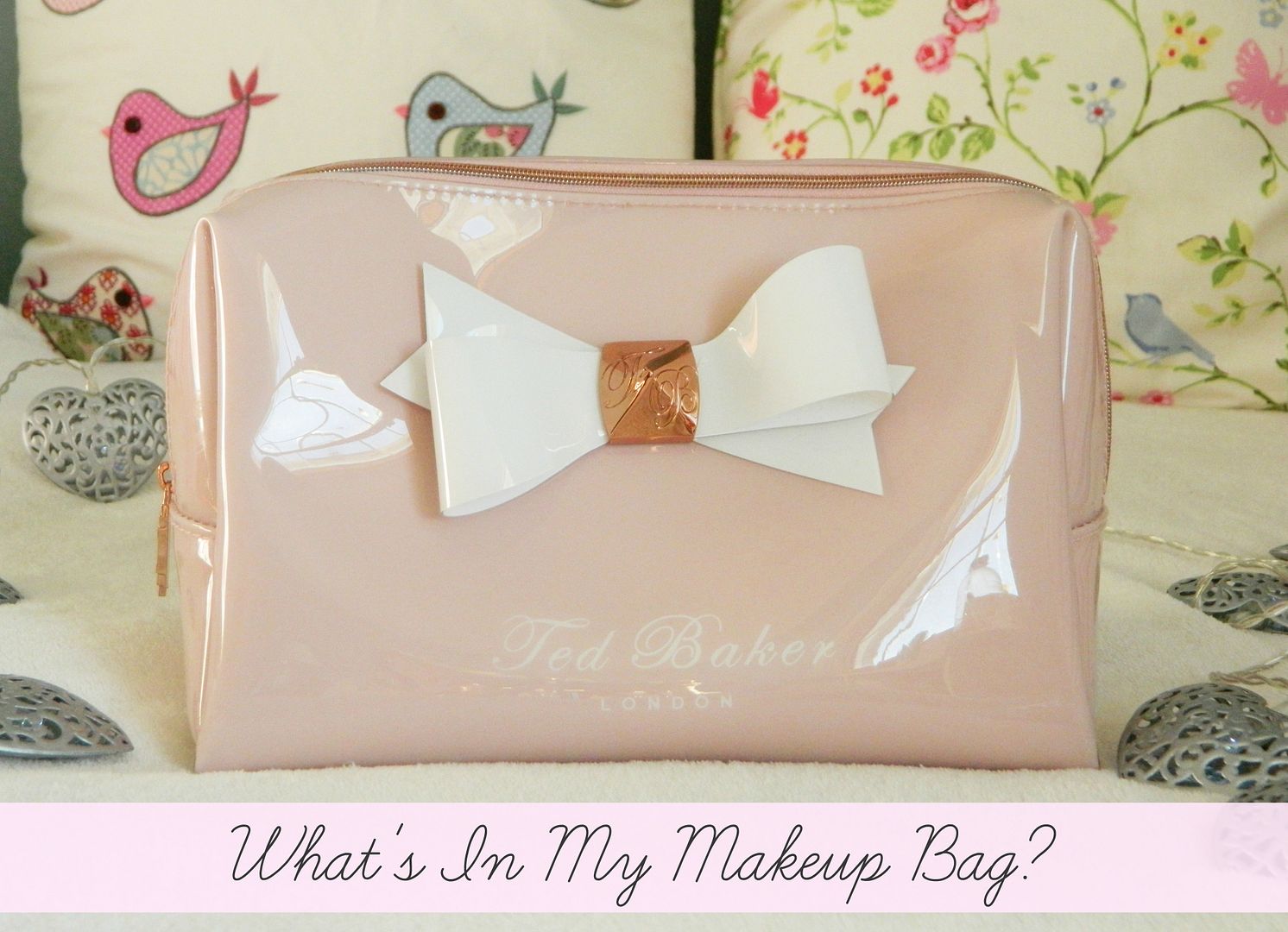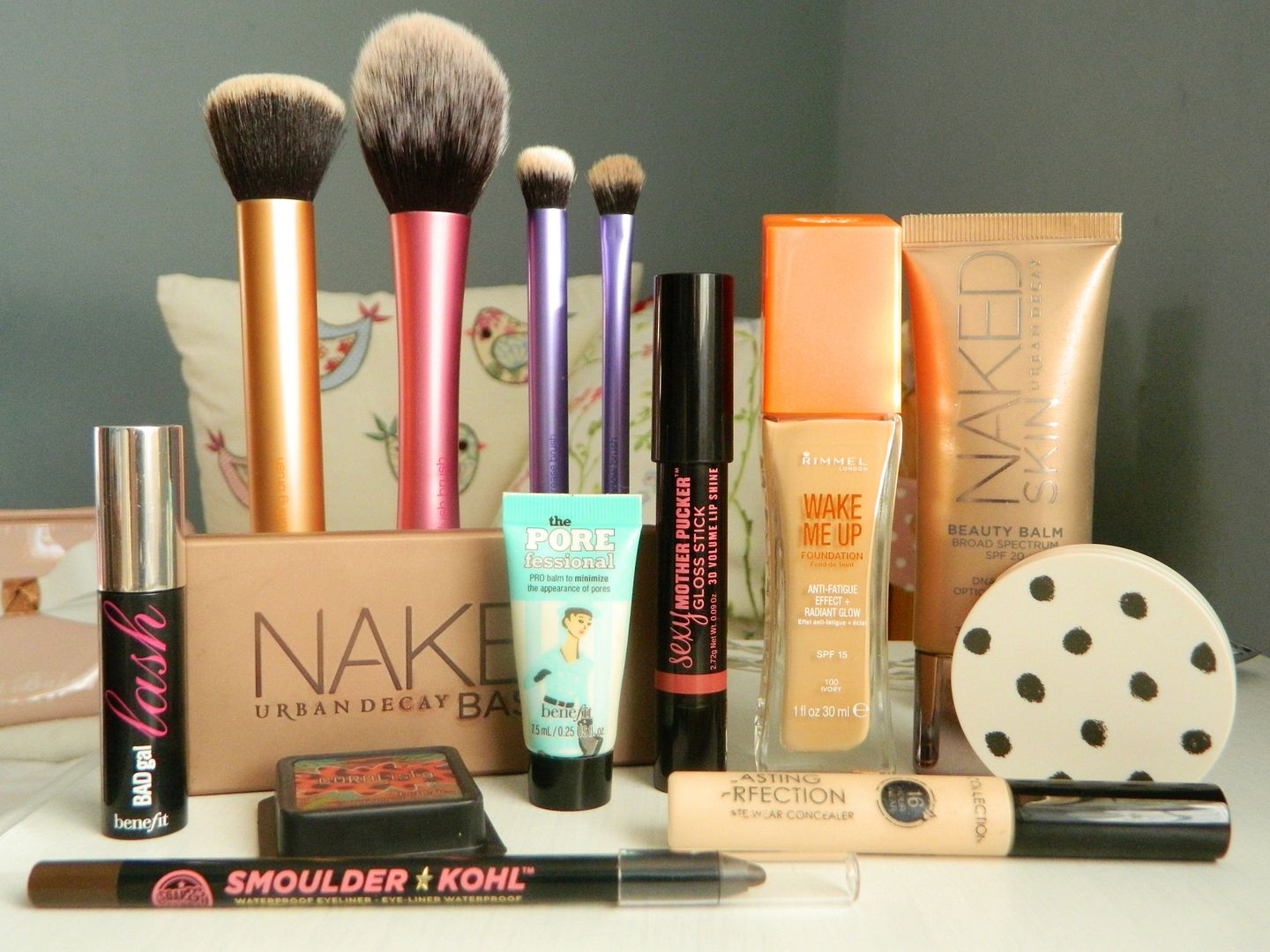 Today I thought I would do an updated "What's In My Makeup Bag" post. Since my
last post
(which was made in 2012) I have tried and tested a lot of makeup products, so naturally the products that I use on a regular basis has changed. I don't keep all of the makeup I use everyday in a makeup bag, these products and brushes are the ones that I usually grab when I'm going away for the weekend to stay at my boyfriend's for example. On a daily basis I do use a lot more products so for me, these makeup items together do give me a natural look that I can wear for any occasion!
Firstly I thought I would talk about the actual makeup bag that I use. This is my gorgeous pink and white
Ted Baker Leda Large Wash Bag
that I featured in my last
birthday haul
. This was a present from my boyfriend and I absolutely love it! It's big enough to fit all of the makeup I need, plus any skin care bits that I want to throw in as well. These wash/ makeup bags are quite pricey but I think they're completely worth it as they're so big and look beautiful! If you're thinking of buying one of the Ted Baker bags, then I highly recommend you doing so!
I always bring a lot of face makeup products with me when I go away for the weekend. I feel that as long as my skin looks nice, then I can get away with minimal eye and lip makeup! For base products I like to use my Urban Decay Naked Skin Beauty Balm and the Benefit Porefessional. Both of these products prime the skin ready for you to apply your foundation and concealer and I find they both work really well together! The Urban Decay beauty balm also gives my skin a little oomph of colour and glow and helps my foundation blend into my skin colour a lot better.
For my foundation, I'm still in love with the good old Rimmel Wake Me Up Foundation. I absolutely love the coverage, consistency and finish of this foundation - for me it's an all time favourite! I'm sure you're all bored of seeing this foundation on my blog, but I feel that if I've found something that works for me, why should I change it for something else? The same is said for my concealer too! I love the Collection Lasting Perfection Concealer as it always managed to cover up any redness, blemishes and dark circles. Once buffed into my skin with the Real Techniques Buffing Brush from the Core Collection, these two products create a natural yet flawless looking base!
The final face products I keep in my makeup bag are blushers. On my skin tone, the Benefit Coralista blush works as both a blusher and a slight bronzing powder. It has a warm tone to it that helps gives my cheeks a glow that some people try to achieve with a bronzer. I apply this blusher with my Real Techniques Blush Brush and I find it blends the product into my skin beautifully! The other blusher I've been try is the Topshop Cream Blush in Prime Time. I would use this blush for when I need to create a more "done up" look as it is a very bright pink shade. This looks gorgeous on the apples of my cheeks and gives my skin a nice rosy tint that I like in the Winter time.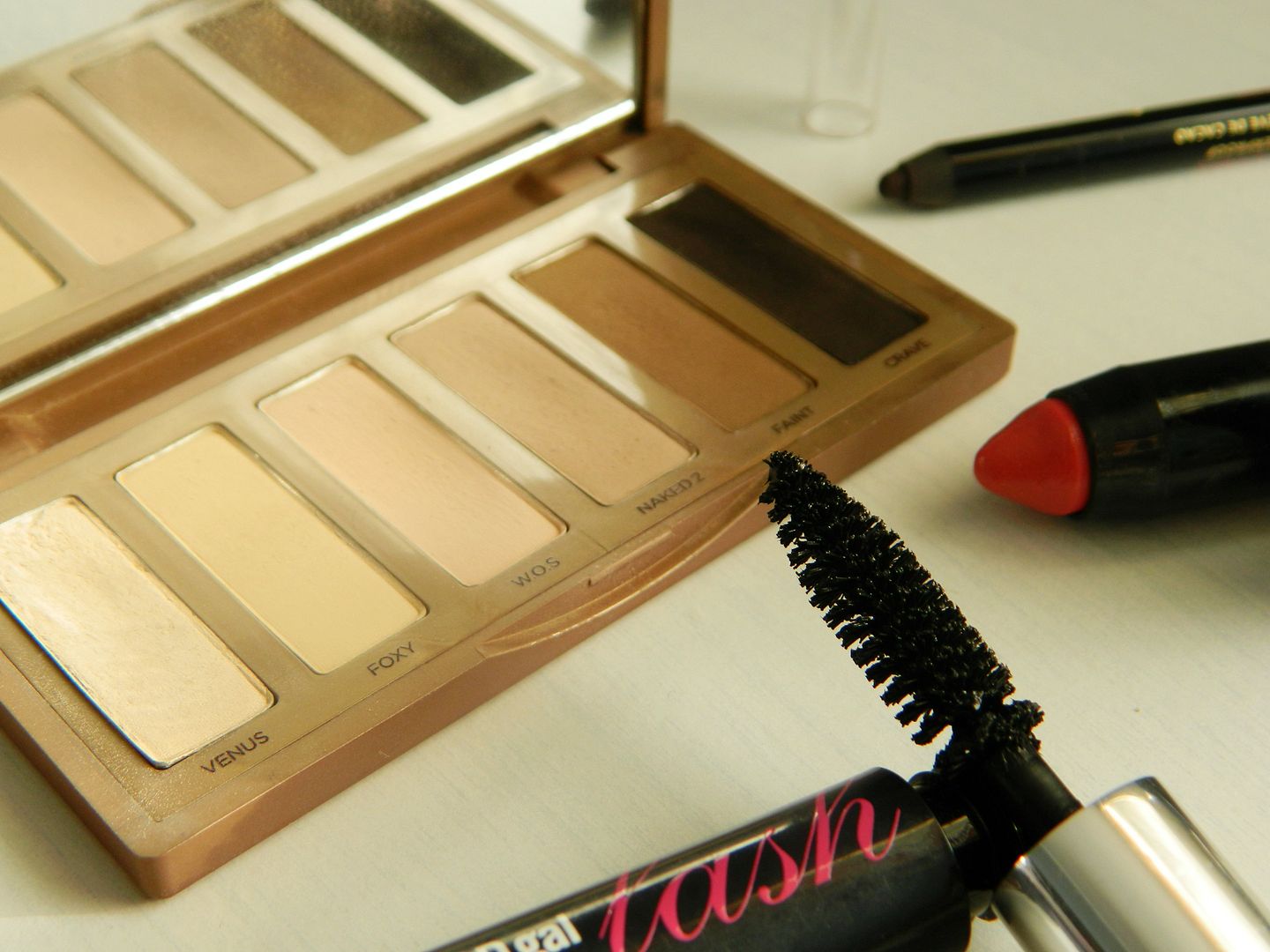 For my eyes, I always keep my Urban Decay Naked Basics palette in my makeup bag. It contains 6 different shades that can create all kind of natural looks. I love applying Walk Of Shame as a base shade, Naked 2 as a lid shade and Faint in my crease. This creates a natural brown smokey eye that can be done lightly for the day or, if you use more of the Faint shade, can be brought into the evening. I use the Real Techniques Base Shadow Brush and Deluxe Crease Brush when ever I apply these shadows, the only two brushes you need to create a quick eye look!
I've also been pairing this look with the Soap & Glory Smoudler Kohl in Cocoa Bean as both my upper lash line and my tight line liner. It has a water proof formula that is smooth to apply and lasts all day. Finally I keep this mini Benefit Bad Gal Lash Mascara in my makeup bag as it's small, compact and gives my lashes a lot of volume and length.
Finally, the only lip product I've been keeping in my makeup bag recently is the Soap & Glory Sexy Mother Pucker Gloss Stick in Nudist. This lip crayon is amazing! It has a really smooth formula that tastes amazing! The shade Nudist is a pretty nude pink that works really well as a day time lip colour. I can't wait to pick up more of these gloss sticks too add to my collection - I think they may be as good as the Bourjois crayons!
I hope you enjoyed this post and that you've found some new makeup products to try out! Do let me know your thoughts and opinions in the comments below and I will talk to you all soon!
What essential makeup items do you keep in your makeup bag?