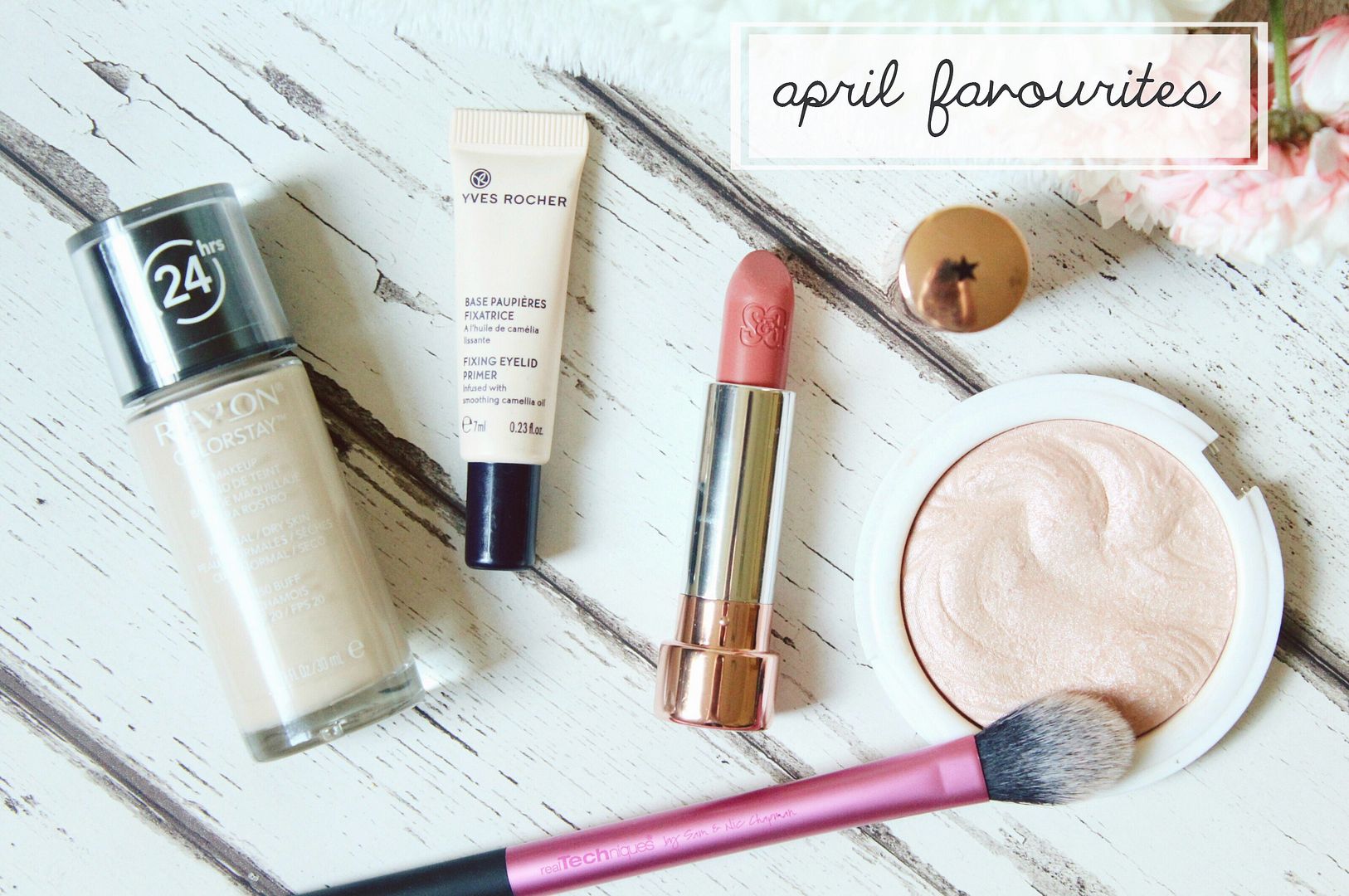 So I'm back today with another monthly favourites post! This month has flown by but I'm excited for it to start getting into the Summer months and being able to wear sandals and finally go bare legged - might even try and brave it this week! This month I've been loving a couple new beauty products plus I've fallen back in love with a few old ones so I thought I would share these makeup loves with you.
Revlon Colorstay Foundation for Normal/ Dry Skin in Buff |

LINK
I have a new foundation favourite this month which is the classic Revlon Colorstay foundation. I've wanted to try this product for quite some time, but I was always under the impression it was a real heavy duty foundation with a matte finish. This month I thought I would finally give it a go and I was really surprised how lovely this foundation actually is! I picked up the version for dry/ normal skin which has a satin finish and I love how it looks and feels on the skin. It's definitely a medium coverage but is easily buildable and makes the skin look flawless yet still natural. This is a new staple in my makeup collection and glad I finally picked it up!
This month I've started to use my Yves Rocher eye primer again to help my eye shadows stay put all day. This is a really nice product, it helps conceal discolouration on the eyes as it's slightly tinted and keeps your eye shadow looking great all day long. It's nothing revolutionary but I've enjoyed using it this month and does the job well.
This is quite a new lipstick to my collection but since picking it up a couple weeks a go I've used it pretty much everyday! Naked Talent is such a gorgeous nude shade that's really easy to wear and looks lovely with any makeup look. I love the texture and formula of these lipsticks as they're really moisturising and smooth.
I've re-kindled my love this month with the MUA Undress Your Skin Highlighter. This is a really gorgeous natural looking highlighter that gives a lovely glow to the skin. I believe there are some different shades of this highlighter available now so I'm definitely going to have a look at them! I've been applying it with my
Real Techniques Setting Brush
that I picked up this month. This is a great multi-purpose brush that's designed for setting powders but is also great for highlighting and contouring.
Thank you for reading today! I hope you all had a lovely weekend and are looking forward to the beautiful weather ahead - fingers crossed it is going to be as warm as they say! I would love to hear about any beauty, fashion or hair favourites you've had this month in the comments below.
What have you been loving this month?