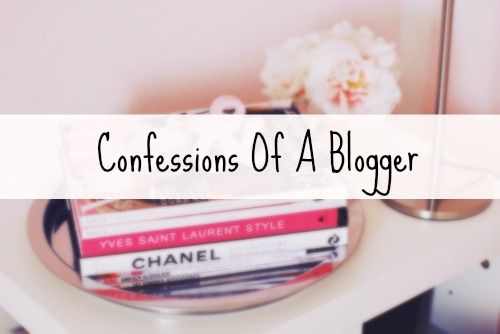 I was tagged by the lovely Aly from
Wonderland Beauty
to do the Confessions Of A Blogger tag! I think tags are a great way to see the person behind the blog at a more personal level and get to know them a little better!
When did you start your blog?
I started my blog on 11th June 2012. It was a spur of the moment thing after I had come home from a Psychology exam, but I had actually wanted to make one for quite a while! Just never plucked up the courage until then!
Have you had any other past online presence before (Other blog, YouTube)?
Nope, I've never done anything like this before! I loved reading and watching beauty bloggers so I thought I would just give it a go.
Why did you start your blog?
I loved reading other people's blogs and knew I wanted to create my own space on the Internet. I've always been an arty person and enjoyed creative writing, so thought this would be a great place for me to share my interests! I made my blog at the same time I decided to study Beauty therapy and thought it would be a great to put on my CV to show my love for beauty and makeup! Very quickly, I fell in love with writing all different kinds of posts, from reviews to favourites, so now this blog is my hobby! It's something I love doing and was one of the best decisions I've made.
When did you become serious about your blog?
To begin with, I had no idea whether I would stick with writing a blog and if it would be for me, so it wasn't serious at all. After a month or so, I realised my blog was going somewhere. I began to really enjoy updating it and other people seemed to like my posts! I wouldn't call myself a "hard-core" blogger, but someone who spends their free time working on my little creative outlet. I would say within the last few months I have become a lot more serious with my blog and I enjoy it this way!
What was your first post?
Oh no haha! My first post was an
introduction about me
, but my first proper blog post was my
Barry M Nail Paint Collection
. I used my iPod as the camera so the pictures are terrible quality! Luckily it's not too embarrassing, but I am thinking of remaking that post!
What has been your biggest challenge about blogging?
I wouldn't say I've come across many challenges with writing my blog, I usually just go at my own pace and try not to get too stressed about it. Sometimes I have huge blogging blocks and have no idea what to post about, but that gives me the chance to take a mini break and think it over, I would never like to force myself to write!

Where do you see your blog in one year?
Well, one thing's for sure is that I will still be here! I love my blog and don't see myself giving it up anytime soon. To be honest though, I have no idea! I haven't even been blogging for a year and I'm already very overwhemed with how it's turned out! If it's anything like this year, bring it on!
What is the most rewarding thing to you about blogging?
I would definitely have to say the amazing community and the support everyone gives you! Anything from a lovely comment to knowing that there are people out there you can easily talk to and ask for help if you needed it!
What is the most discouraging thing that happens to you?
I've never had anything too discouraging happen to me, I've had quite a positive experience so far. The only thing I'm quite guilty of is comparing my blog to others and then feeling down that mine isn't very good! It's not a case of jealousy, just "ahh why didn't I think of that" or "her font's better than mine", very silly things. I know everyone's blog is personal and different, so I shouldn't feel down about it! But I guess it's a natural feeling and to be honest, it's not very often at all that I feel this! I am happy with my blog!
What's your lasting inspiration or motivation?
Every blog and every blogger I've seen! All of them inspire me in someway to help me develop as a blogger. Just seeing a good post or reading about someone's experience can inspire you to keep going. This is why I think the blogging community is such a wonderful place! On a more personal level, my main motivation is bloggers who are strong people and will carry on with their life even when the going gets tough! I'm trying to become a stronger person myself, so I'm always inspired by those people.
I hope that you enjoyed this tag and that you answer these questions yourself, I tag you all! If you've already done this tag, I would love to read your responses so feel free to link them below!

Twitter | Instagram | Facebook | Blog Lovin' | YouTube