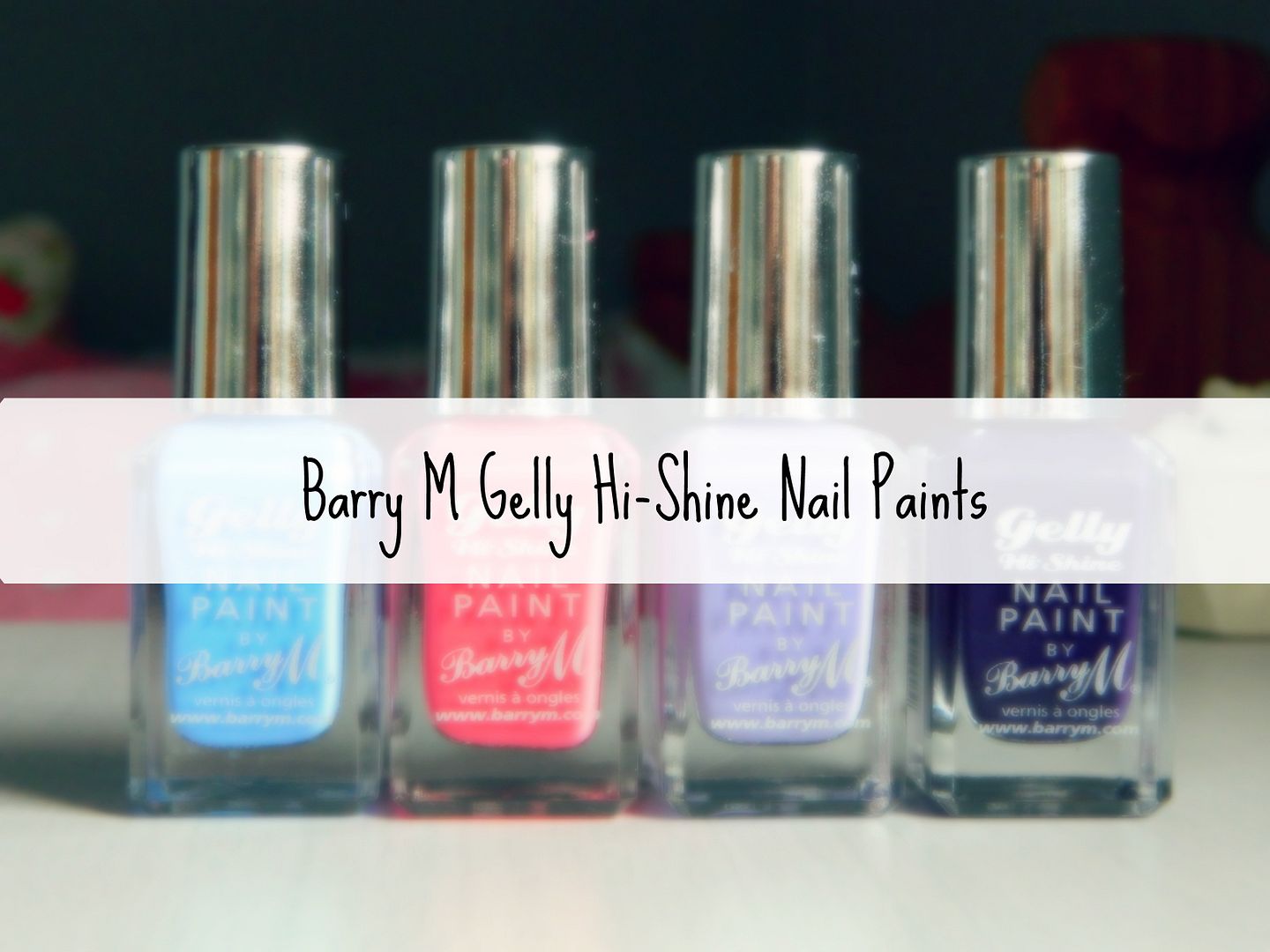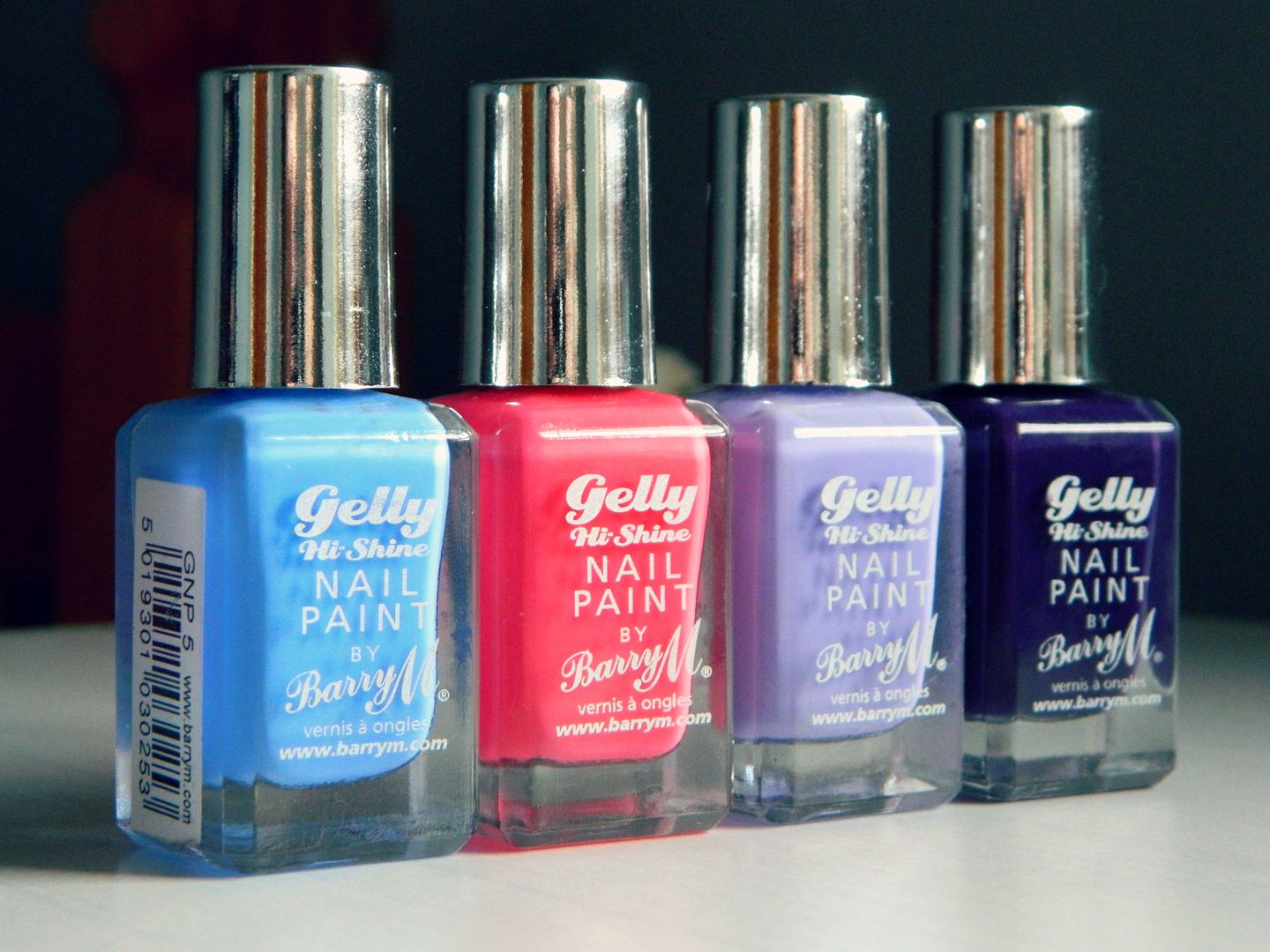 Left to right: Blueberry, Grapefruit, Prickly Pear & Plum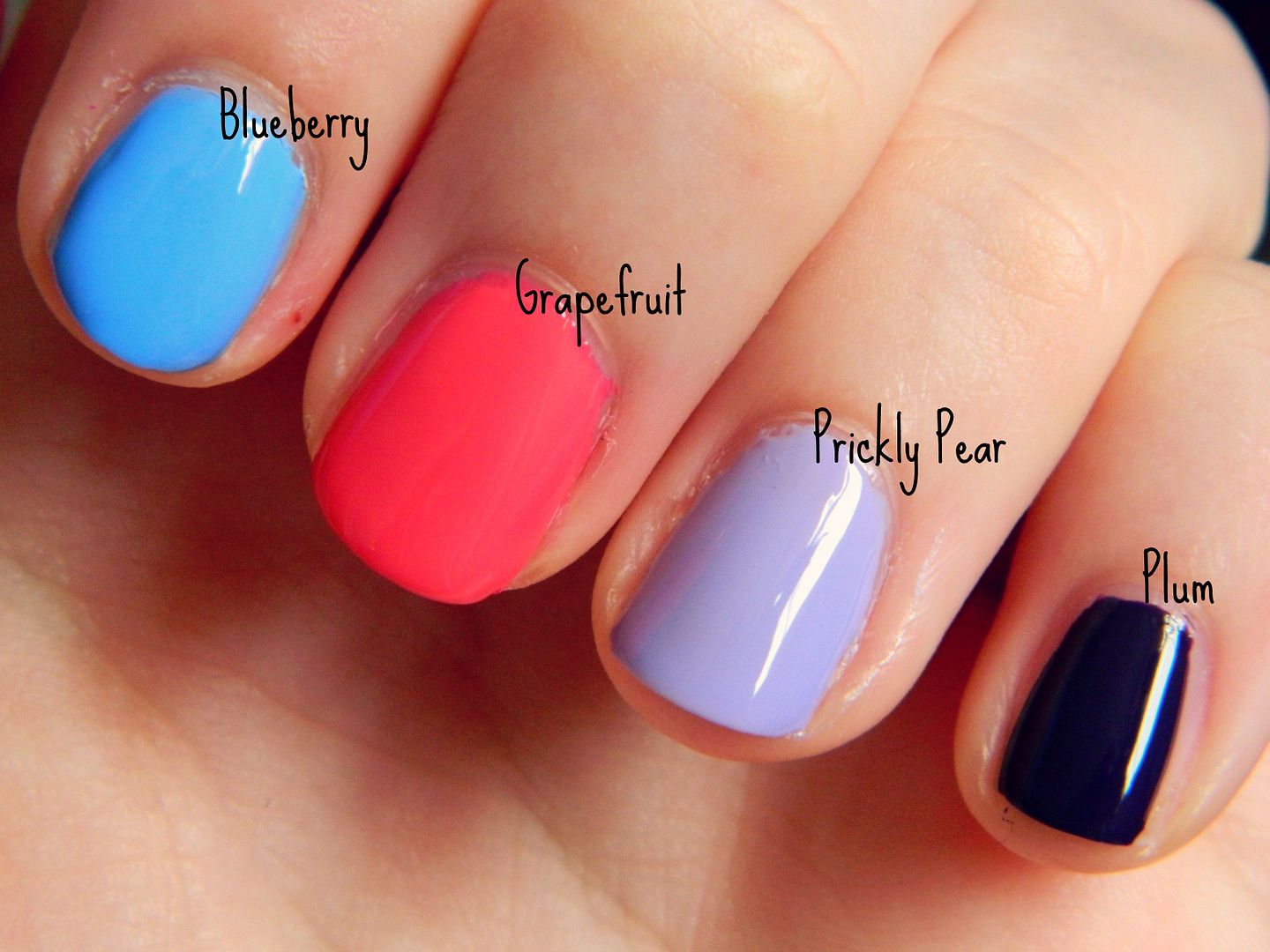 I have always been a huge fan of
Barry M's
nail paints and over the years, I have collected quite a few of them! The quality and range of their nail paints is amazing for how cheap they are. One of the latest collections to be released was the "
Gelly Nail Effects
" which are meant to look like gel nails. I fell in love with the colour selection and decided to pick up two in Blueberry and Prickly Pear. I was then lucky enough to win Chelsea's, from
Through Chelsea's Eyes
, giveaway where I received 2 new shades in Grapefruit and Plum (plus another Prickly Pear which I gave to my mum because she loves lilac nail polish!).
I'll be honest and say that when I first tried these nail paints, I was rather disappointed! I found that they applied really thin and streaky and just didn't live up to the standard nail paints! However, I later found out that you need to apply these nail paints much thicker than normal nail polish in order to have an opaque finish. Or, you could build up lots of thin layers for the same result, but I don't think I would have the time to do that. In the photo I am wearing 2 thick coats of each polish and as you can see the result is lovely! These polishes are really nice to apply and the finish is opaque and glossy without the need of a top coat! But, because you need to apply so much nail polish, the drying time is so long! They take forever to touch dry and even after then you have to be extra careful because it's so easy to smudge and ruin the polish. I also find that once they are dry, as there's so much polish on your nail, they're quite easy to peel off and chip so a thin layer of top coat is essential to keep them on your nails!
Despite these faults, I think these nail paints are lovely and absolutely perfect for Summer! The colour selection is amazing and there isn't a shade that I wouldn't buy. If you love the look of bright, glossy nails then these nail paints will be perfect for you. There is also a Summer collection of shades which include: Lychee, Dragon Fruit, Greenberry and Papaya, all of which look so pretty. Papaya and Dragon Fruit are definitely the next ones to buy on my list though, especially that Barry M nail paints are usually on offer!
Have you tried the Barry M Gelly Hi-Shine Nail Paints?