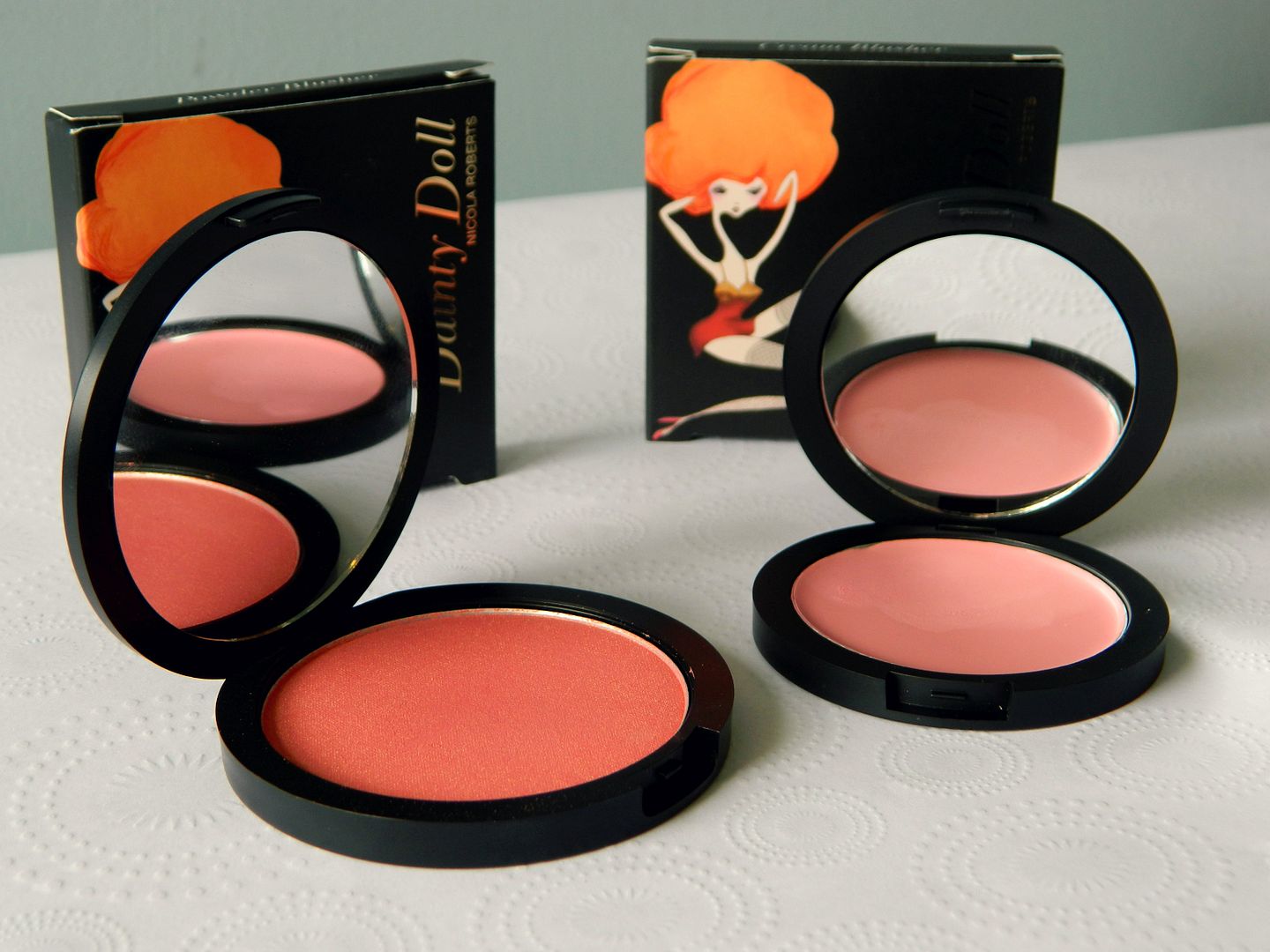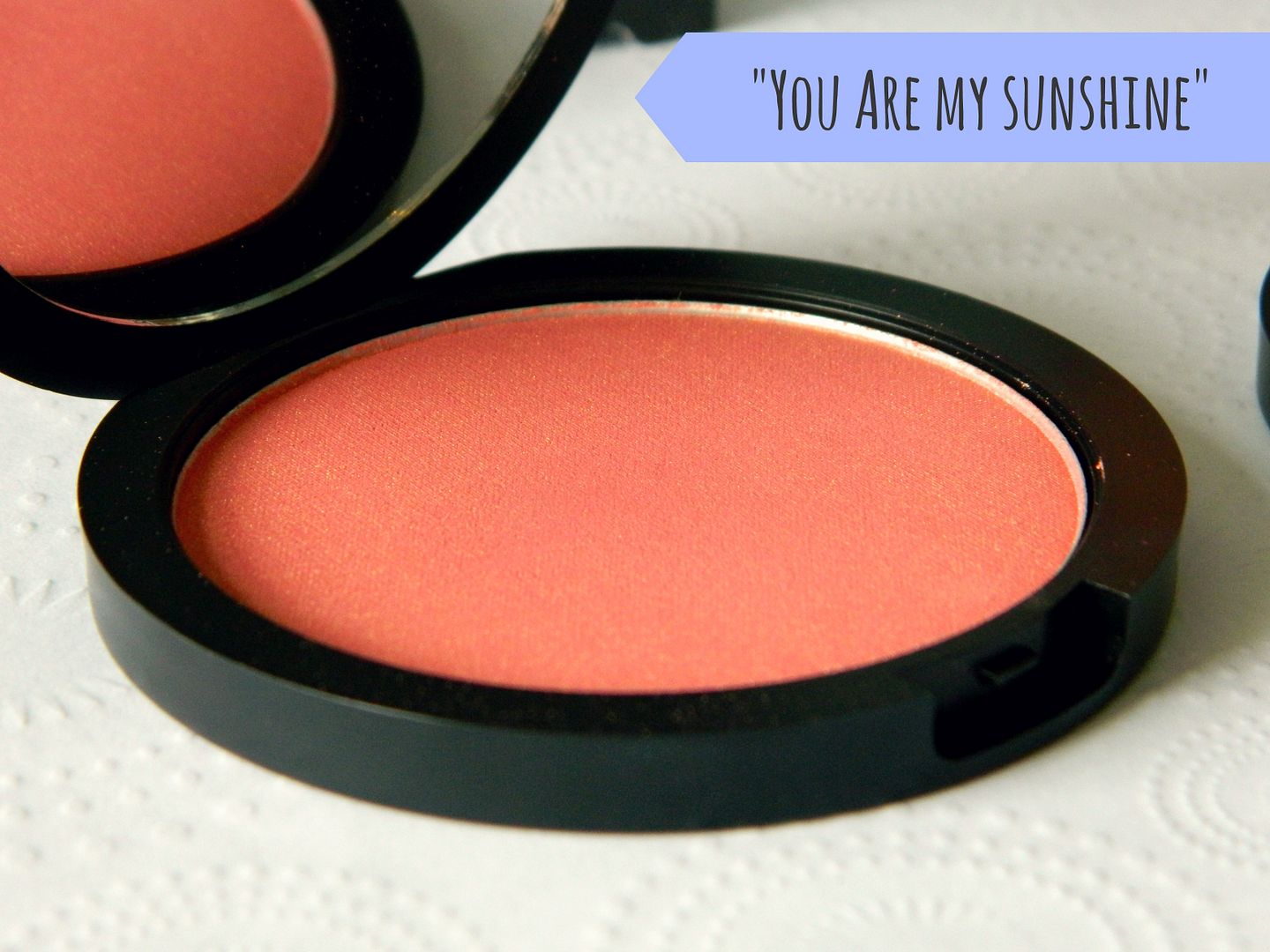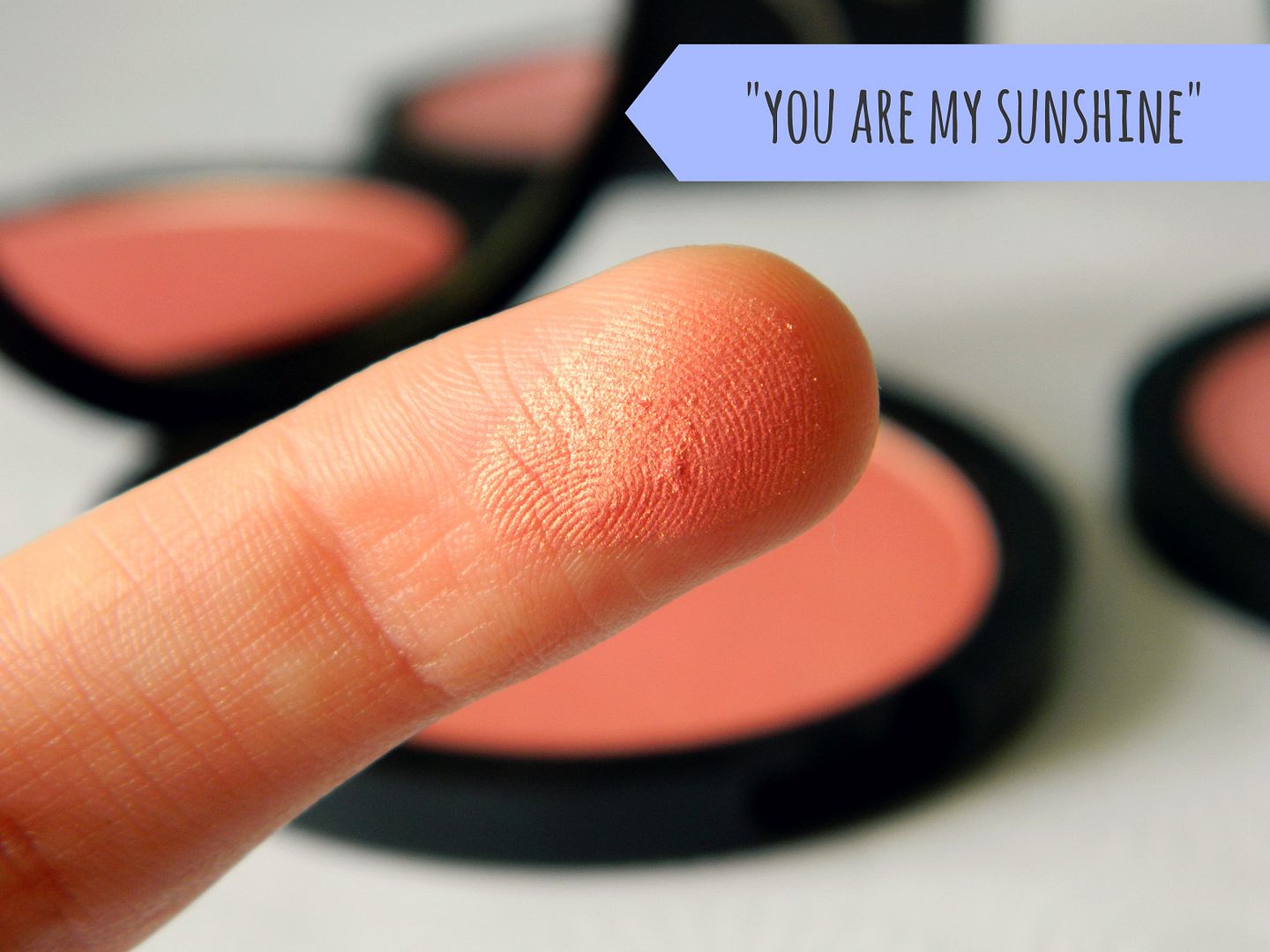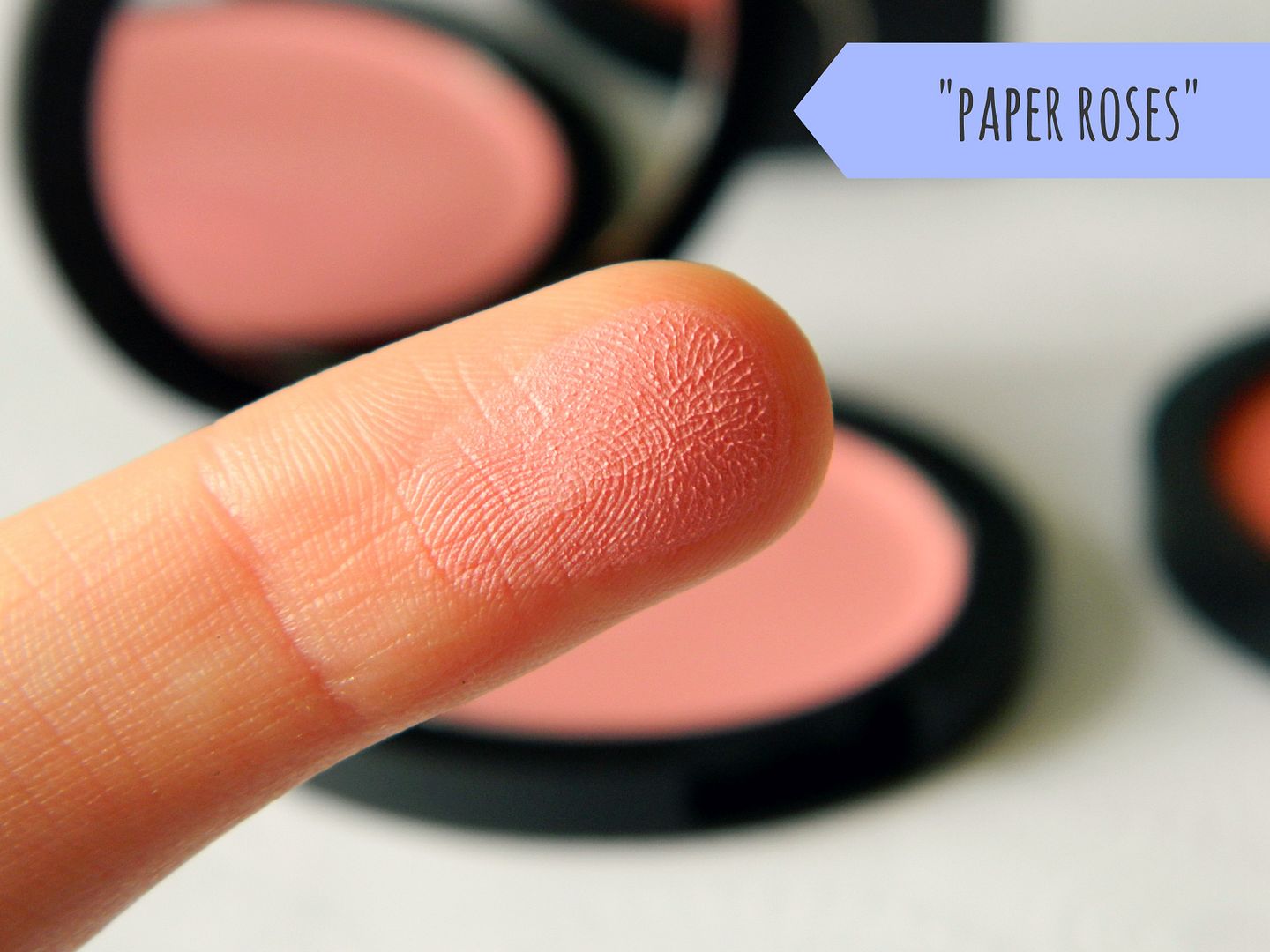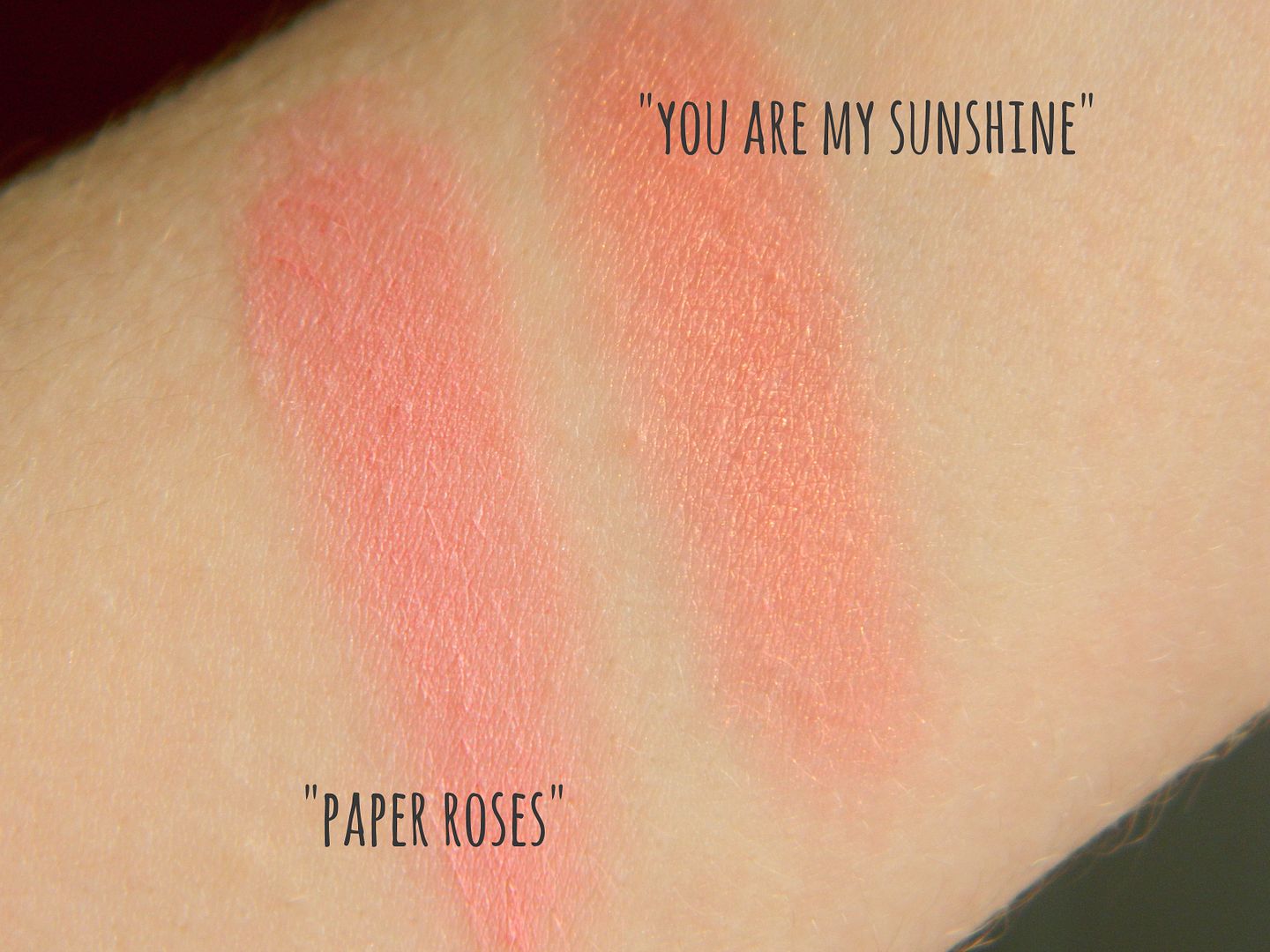 A couple weeks ago I finally jumped on the "Dainty Doll bandwagon" and bought a couple of their blushers from
Fragrance Direct
(read the haul
HERE
)!
Dainty Doll
is a makeup brand designed by Girls Aloud's Nicola Roberts and is tailored for girls with pale skin. Being a pale skin girl myself, I knew I wanted to give some of the products a go! I was originally going to buy some lipsticks but they were all sold out on Fragrance Direct, so I decided to go for some blushers instead! I spent quite a while picking and choosing different ones until I found the 2 gorgeous shades "
You Are My Sunshine
" and "
Paper Roses
". I knew I wanted to try a powder and a cream formula, purely out of blogger curiosity, and these were the shades that stood out to me the most!
Firstly, the packaging is absolutely lovely and everything you would want in a blusher! Each product comes in its own black box with a cartoon lady on the front (I'm guessing Nicola Roberts herself, right?). The blushers come in a black compact each with their own little mirror inside which makes these perfect for popping in your hand bag and using on the go! I really like the packaging of these blushers and makes them look and feel like a high end product.
"
You are my sunshine
" was the first blusher I picked out. This is a powder blusher in a gorgeous golden peach shade. It has the perfect amount of shimmer in to give your cheeks a lovely glow, plus the pigmentation is amazing and gives your cheeks a peachy flush of colour! The formula is really soft, easy to blend and applies really well with my "Elite Models Beveled Blush Brush". I love the gentle colour it gives my skin but I can tell you can build this up if you prefer a strong colour to your cheeks. I also find it lasts on my skin for a good amount of time, almost all day, which is much longer than many blushers I've tried before! This has definitely become my favourite everyday blusher and I think this will look gorgeous in the Summer when the sun can reflect the golden shimmers to make you look extra glowy!
"
Paper Roses
" is my second Dainty Doll blush and this comes in a cream formula. It's a very pretty, delicate pink shade and I think would look amazing on very pale girls. This blusher has a matte finish and is really well pigmented considering it's a cream formula. I've had past experiences of cream blushers offering little to no colour at all, so this is one of the best I have tried! It gives a gorgeous flush of pink to the cheeks and due to the formula, can be used on the lips to give a hint of colour. As it is a cream blusher, I simply apply and blend this with my fingers, however I find this can make it look a bit patchy so I might pick up a stippling brush to apply this with! For me, this blusher doesn't last as much on the cheeks as the powder one, but I think that is down to its cream formula. I think this is a lovely blusher but right now, I feel that I need to find the perfect brush to go with it so I can start to enjoy using it!
So overall, I am really impressed with Dainty Doll's blushers and I am tempted to pick up another shade next time I order with Fragrance Direct (if they're not all sold out that is!). I would recommend these blushers to any girls with paler skin and can't seem to find makeup that suits them properly! They are currently £1.99 on
Fragrance Direct
, saving you £11.51, an amazing deal to miss out on!
Have you tried anything by Dainty Doll?

My exclusive advertiser of the month is Paris Alma. To find out how you can advertise with me, click HERE.