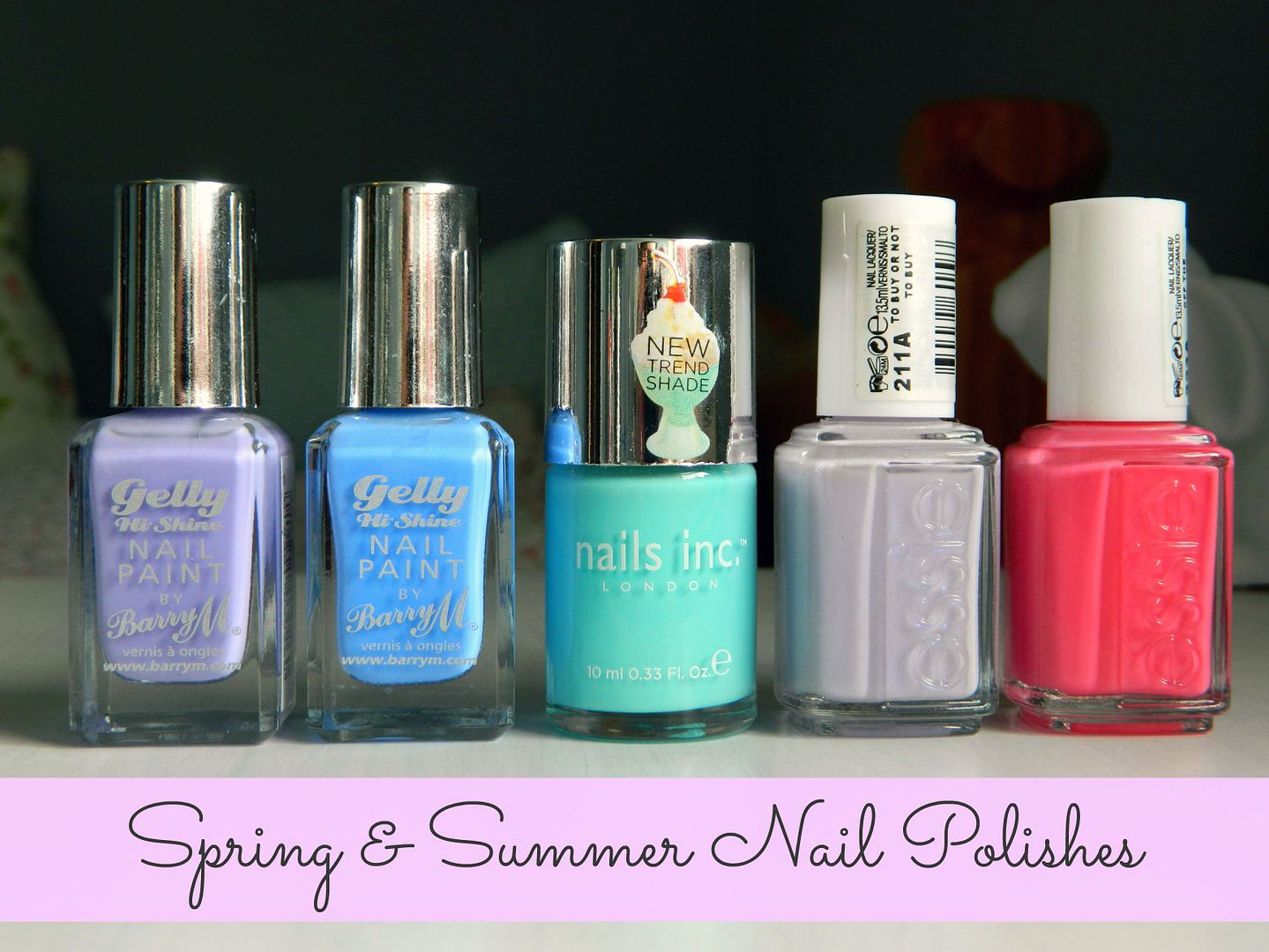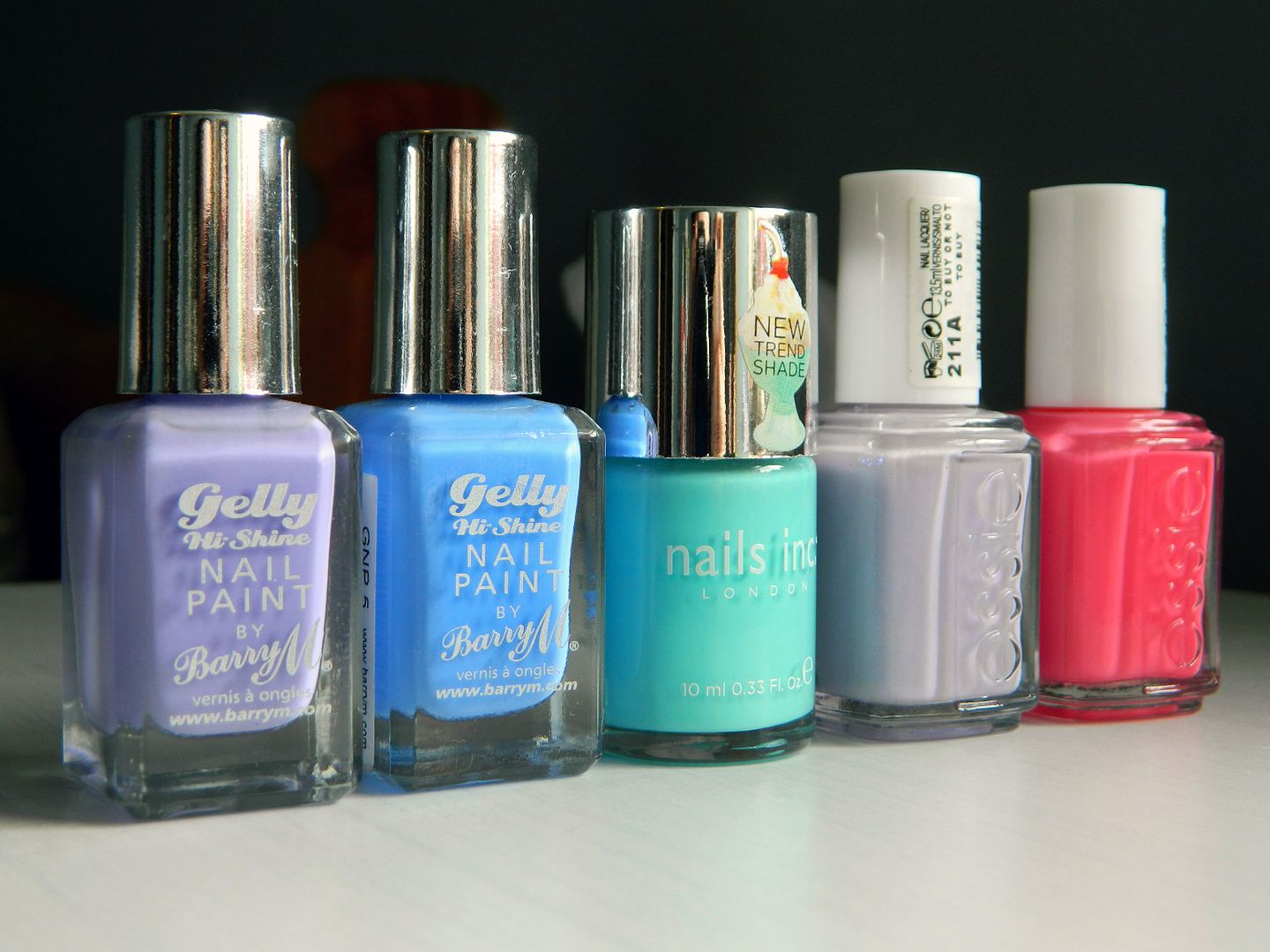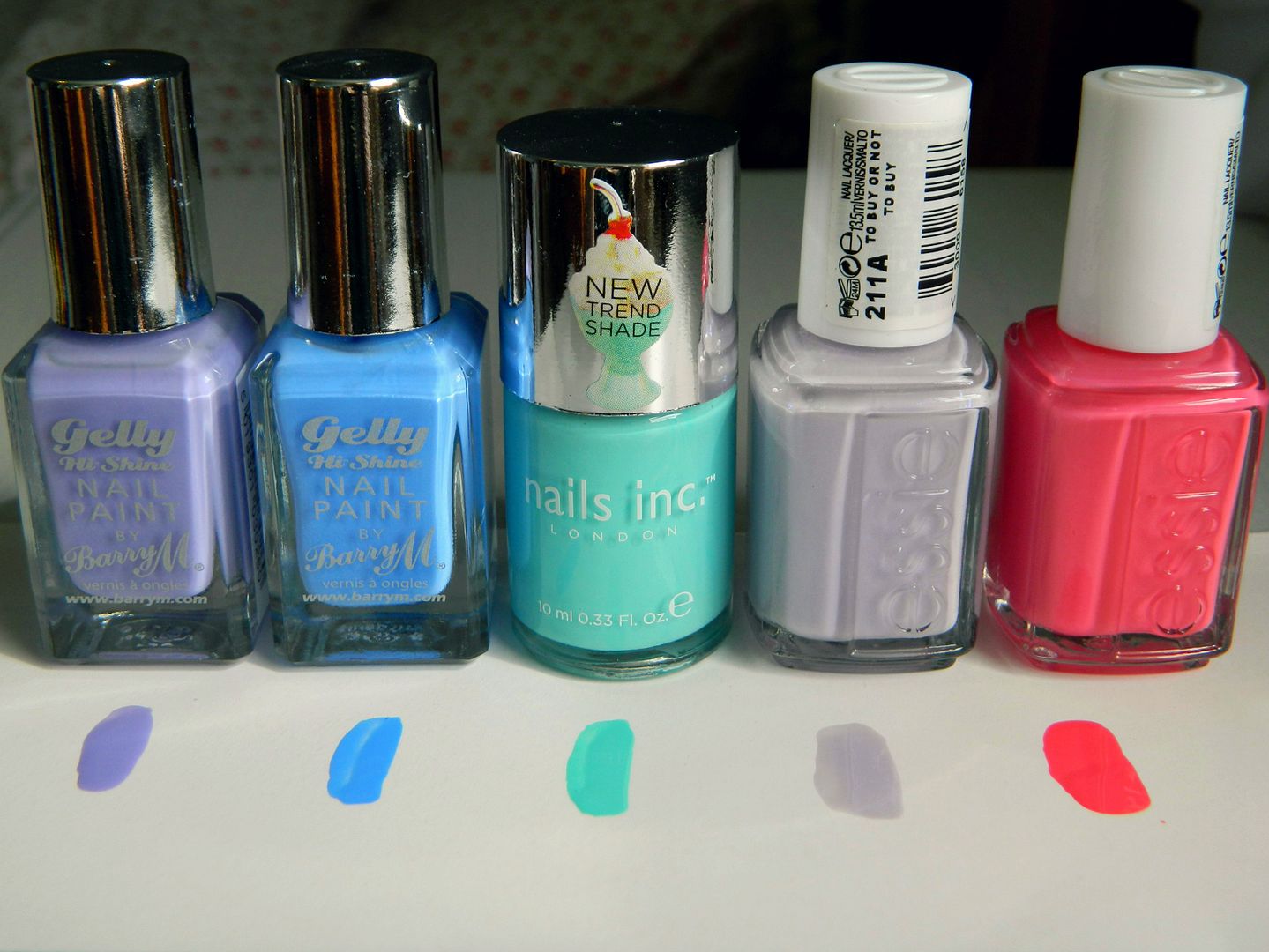 As it's been a bit more sunny and "Spring" like in England for the past couple days, I decided to make a post on what nail polishes I will be wearing this Spring/ Summer! I'm a girl who loves bright nails and I really look forward to this time of the year where I can wear my colourful nail polishes. I have chosen 5 of my absolute favourites which I have loved wearing so far and probably will do so right through the Summer!
Barry M is one of my favourite brands for nail polishes and this year they have released some amazing new finishes and effects! My first Spring/ Summer favourite is this gorgeous lilac shade in "Prickly Pear". This shade is so pretty and has a glossy finish which means you can have amazing looking nails without a top coat. Lilac has always been one of my favourite nail polish shades and I think it will look great all through Spring and Summer.
Yes another Barry M Gelly polish, but I just find the colour range of these polishes right up my street! "Blueberry" is a bright, bold blue which looks stunning on the nails after 2 coats. I've really been into blue nail polish recently and "Blueberry" has to be one of my favourite shades!
I don't think I could ever get over how gorgeous this nail polish is! "Royal Botanical Gardens" is a bright cool mint shade and is part of the new "Trend Shades" by Nails inc. I think this shade will go perfectly with a tan and is one of the nail polishes I'm thinking about taking on holiday with me in July! This shade is so bright and colourful it just screams "Summer", I had to put it in my top 5!
I bought a set of 4 Essie polishes from TK Maxx last year and "To Buy Or Not To Buy" was the one that stood out to me this most. Again, this is a lilac/ lavender shade but is much lighter than "Prickly Pear" and has tiny blue shimmers running through it. Essie polishes have an amazing formula and their brushes make it so easy to apply, a big must have during the Summer when you want neatly painted nails. This is a really pretty pastel shade that is perfect for this time of the year!
Essie Nail Lacquer in "Off The Shoulder"

LINK
This is one of the newest polishes in my collection (read the haul
HERE
) and has jumped straight on to my "favourite nail polishes" list! "Off The Shoulder" is a hot pink shade which has something about it that makes it look amazing on my nails! It's bright but not too in your face and just looks really pretty and girly. Pink nail polish is such a staple shade to wear during the Summer and this polish is my new go to one this year!
So these are the polishes that I think will look perfect this Spring and Summer!
Barry M
,
Nails inc
and
Essie
have to be my favourite nail polish brands. The quality and colour range of each of the brands is amazing and I think they are well worth trying out!
What is your favourite nail polish for Spring and Summer?
My exclusive advertiser of the month is Paris Alma. To find out how you can advertise with me, click HERE.