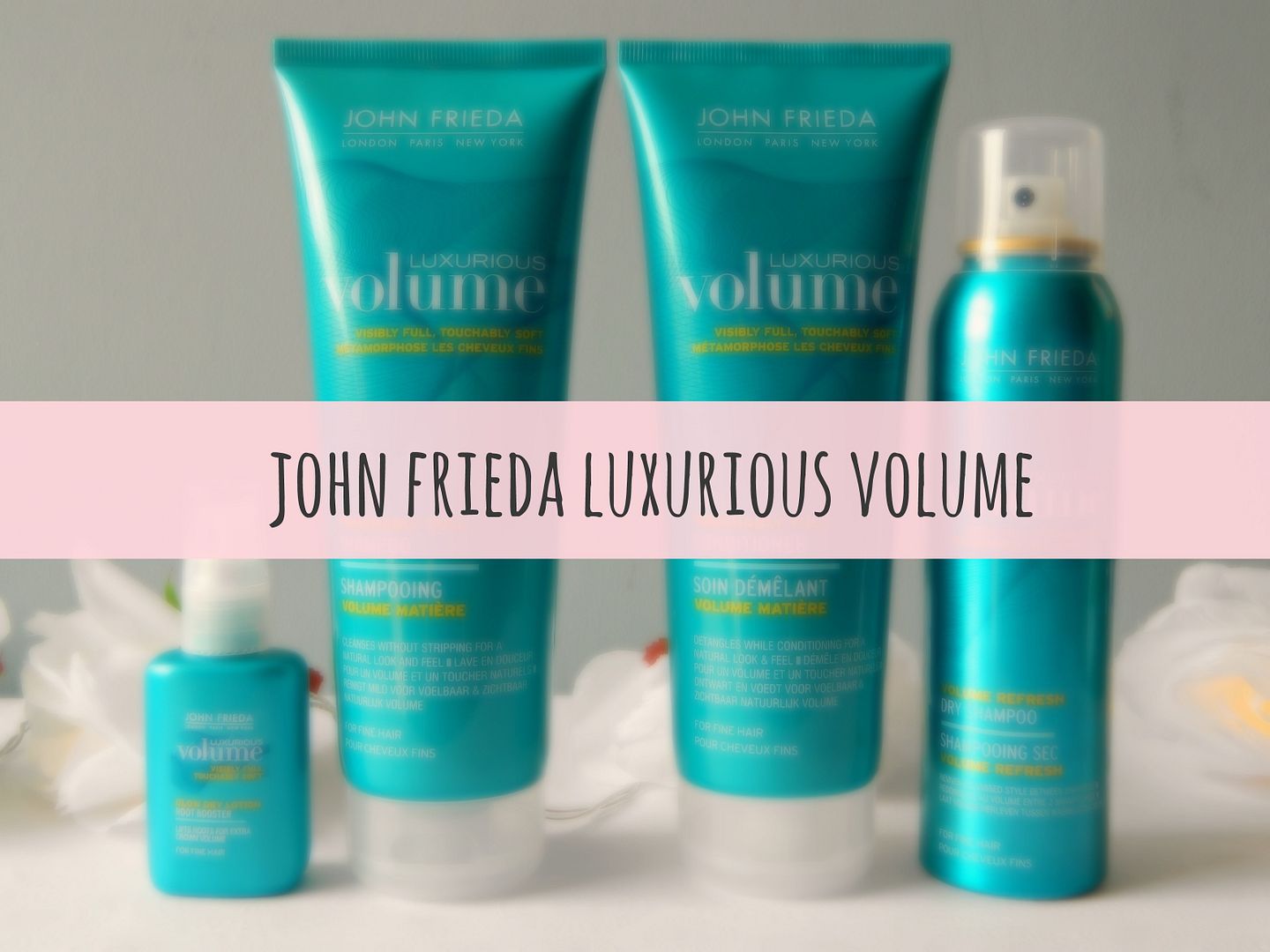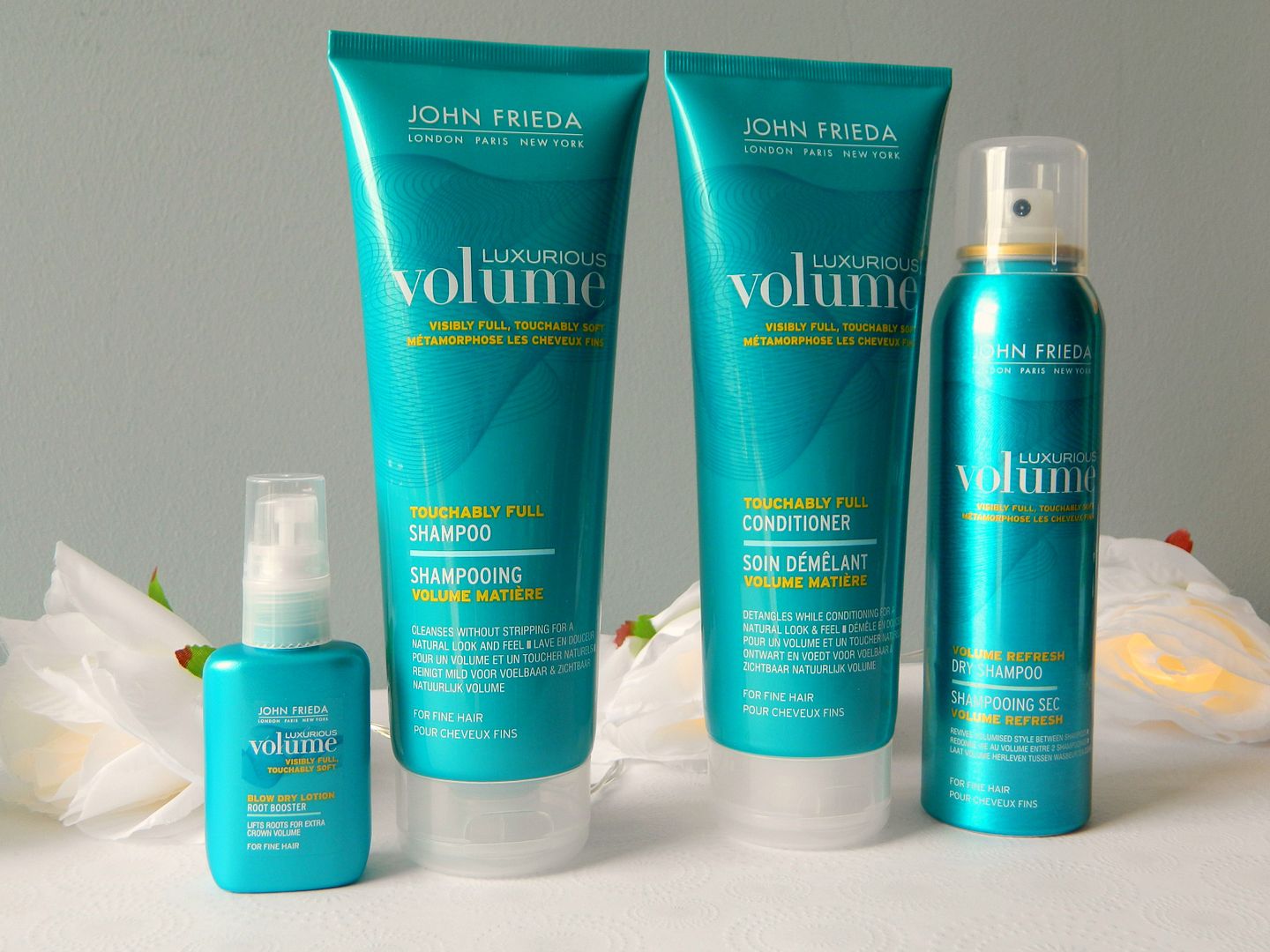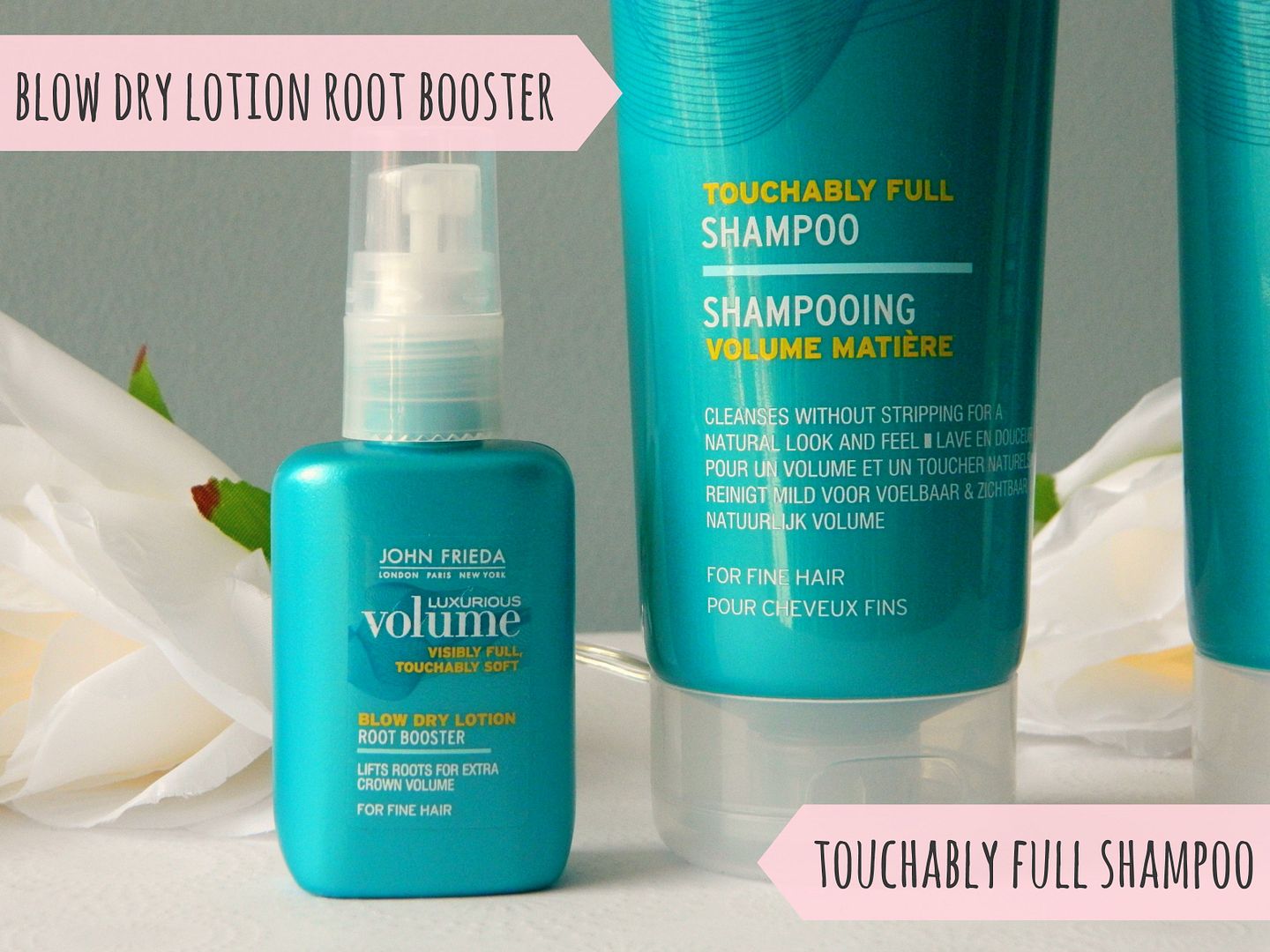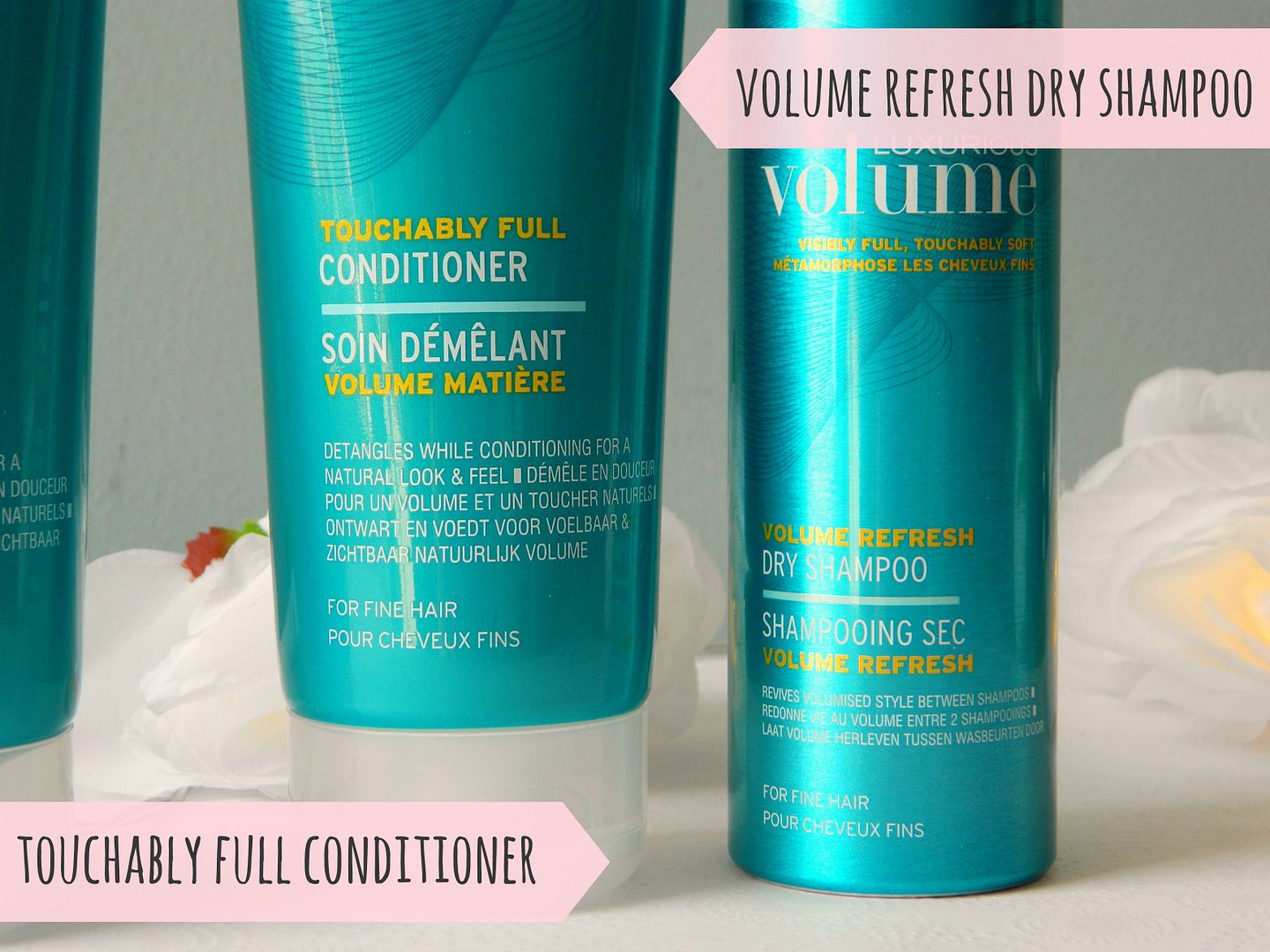 Hello everyone, I hope you're all well and had a lovely weekend! Today I am going to be reviewing some products from the
John Frieda Luxurious Volume
range that I was kindly sent to try. As you may have read in my
hair care post
, I suffer with very fine hair and I am always looking out for products that can add that bit of volume! I especially lack lift and volume at my roots because my hair is very long and weighs itself down. I was very excited to try these products as I've had positive experiences with John Frieda products (especially the
Sheer Blonde Tone Correcting Shampoo and Conditioner
) and think they're brilliant value for money!

The John Frieda Luxurious Volume product range has recently been improved and now comes in this bright turquoise packaging that really stands out on the shelf! All of the products in this range are targeted at fine hair and are designed to give thickness, fullness and lift without weighing down your hair. They also have the same fresh, clean scent that I really like as it makes your hair smell freshly washed all day!

John Frieda Touchably Full Shampoo* & Conditioner* 250ml [£5.89 each]
The first John Frieda Luxurious Volume product I tried was the
Touchably Full Shampoo
. This shampoo is designed to gently cleanse your hair to remove any product residue to leave your hair clean, fresh and volumised! The Touchably Full Shampoo comes out as a clear liquid and is very easy to lather up on the hair. This is something I like in a shampoo as it feels like it's actually cleaning my hair and doing its job properly! Even though it creates a good lather, this shampoo is very easy to wash out and leaves your hair feeling squeaky clean!
After shampooing, I then used the
Touchably Full Conditioner
. The conditioner is meant to give weightless conditioning to leave your hair feeling soft and full of volume! I can agree that this is light weight as the consistency is much thinner than other conditioners I have used before, but this means your hair can keep some of its natural volume and texture for fuller looking hair! Despite the consistency being thin, the Touchably Full Conditioner left my hair feeling really soft and healthy. These two products work really well together and I love the natural looking lift they give the roots of my hair. I also noticed the lengths of my hair were much fuller looking and not thin and limp like they usually are!
John Frieda Blow Dry Lotion Root Booster* 25ml [Approx. £2.00]
The next product I tried was the
Blow Dry Lotion Root Booster
. This product is designed to be used on towel-dried hair and is then sprayed over your hair, focusing at the roots to give you volume at the crown. You then blow dry as normal and you are left with fuller looking hair with a lot of lift at the roots! I was worried about spraying this in my roots as products like this can leave a greasy residue and make your hair look horrible even though you've just washed it! However, I found the Blow Dry Lotion very light weight and it didn't feel like I had product in my hair at all, so that really pleased me! The results of using the blow dry lotion were good, my roots had a lot more volume than when I leave my hair to dry naturally plus the lengths of my hair were fuller looking but not frizzy! One problem I found with this product is that the pump doesn't always allow the product to spray evenly across the hair. I had to spray it a couple of times to get the pump working properly and then I could use it on my hair. As I don't blow dry my hair on a regular basis (I find my curls look better when they've dried naturally), I probably wouldn't repurchase this product but I know I will use it whenever I can as I like the volume it gave at my roots!

John Frieda Volume Refresh Dry Shampoo* 150ml [£5.89]
The final product from the Luxurious Volume range I tried was the
Volume Refresh Dry Shampoo
. This was probably my most favourite product out of the 4 as I do enjoy a good dry shampoo! This product works by refreshing your hair on days it hasn't been washed and revives any volume you have lost! You focus this product at the roots which is where the hair can get the oiliest on days it hasn't been wash. This product does exactly what it says on the bottle and is one of the nicest dry shampoos I have used! The smell (like the rest of the products) is fresh and clean so makes your 2nd or even 3rd day hair smell and feel like it's just been washed! The product comes out as a fine mist and leaves absolutely no colour or residue on your hair, perfect for us darker haired ladies! I find this dry shampoo really does banish any excess oils on my hair, gives it a nice amount of volume and leaves it looking and feeling fresh.
Overall, I have really enjoyed trying out the Luxurious Volume range and will definitely included the products into my hair care routine, especially if my hair is feeling limp and lifeless! All of the products mentioned gave my hair volume which lasted around 1 to 2 days and the dry shampoo was brilliant at maintaining that volume, which I think is great! I would recommend anyone trying this range if they have problems with creating volume and lift with their hair. For me these products didn't give me the effect of big and volumised hair, just a natural lift that will makes my hair a lot easier to work with! Of course this will depend from person to person as everyone's hair is different. I also thought you'd like to know, John Frieda have their own
YouTube channel
and they have a video (watch
HERE
) all about creating volume with the Luxurious Volume products. If you're interested in using these products to give your hair that volumised finish, the video is well worth a watch!
Have you tried the John Frieda Luxurious Volume range?

My exclusive advertiser of the month is Paris Alma. To find out how you can advertise with me, click HERE.