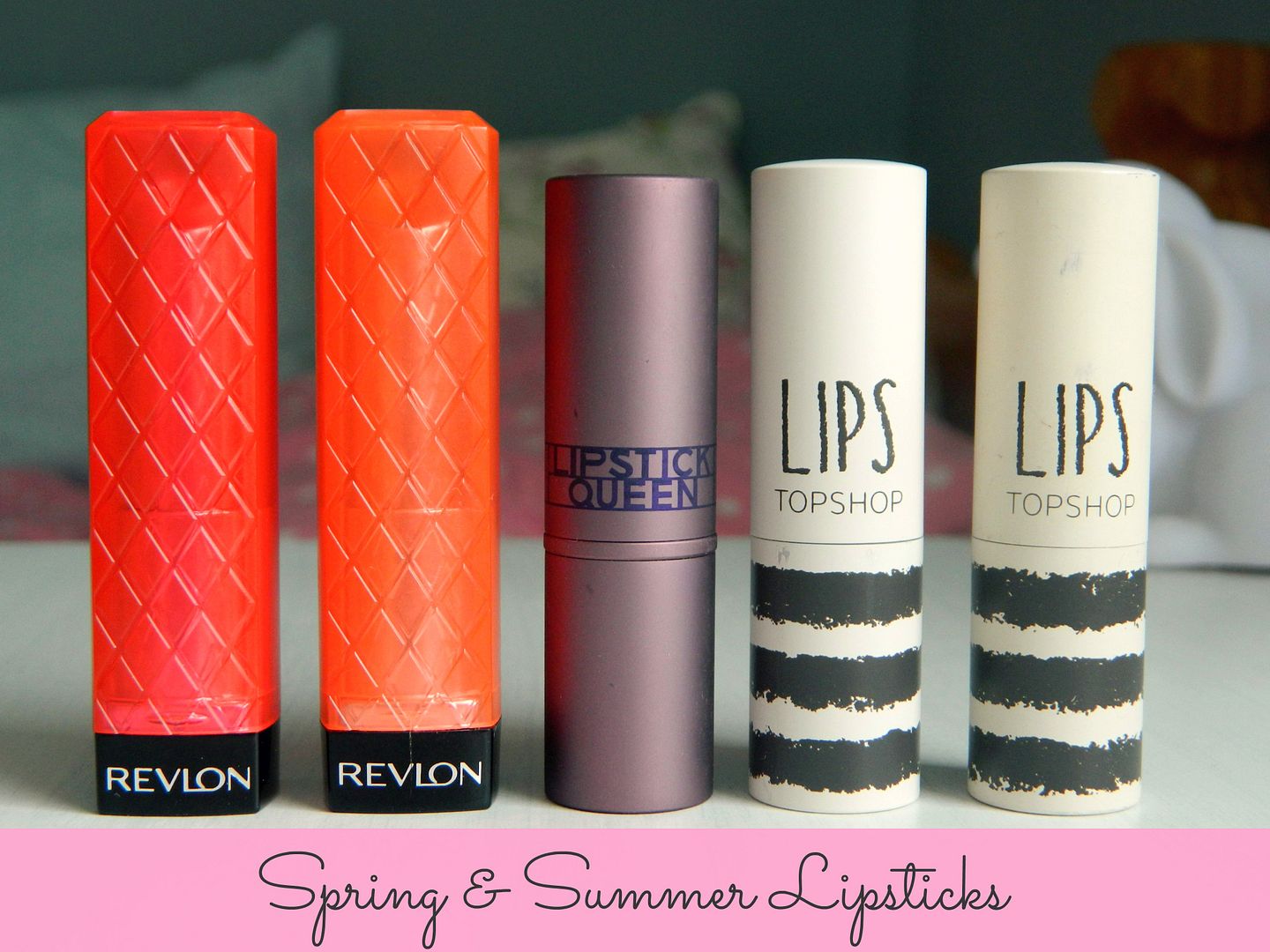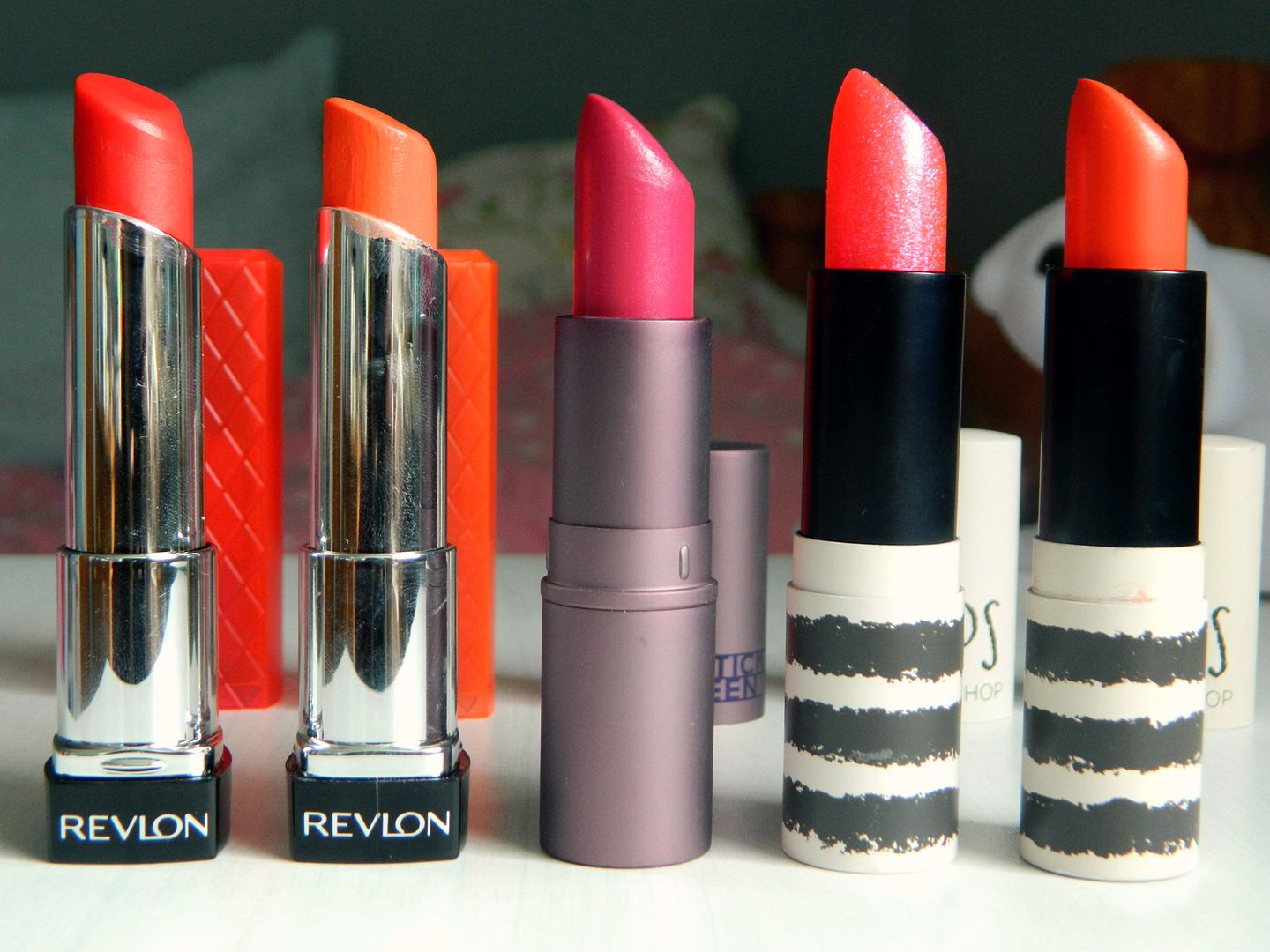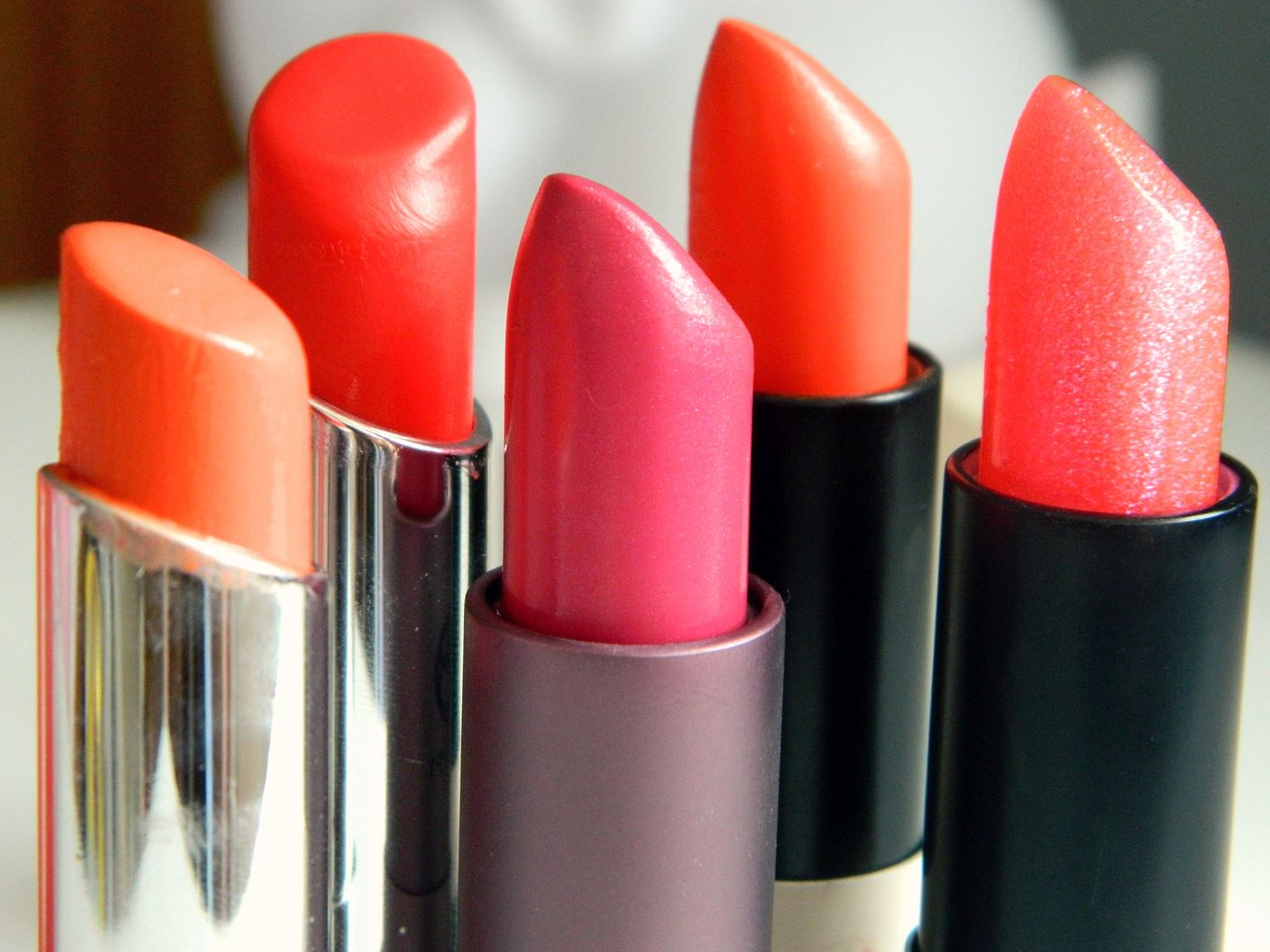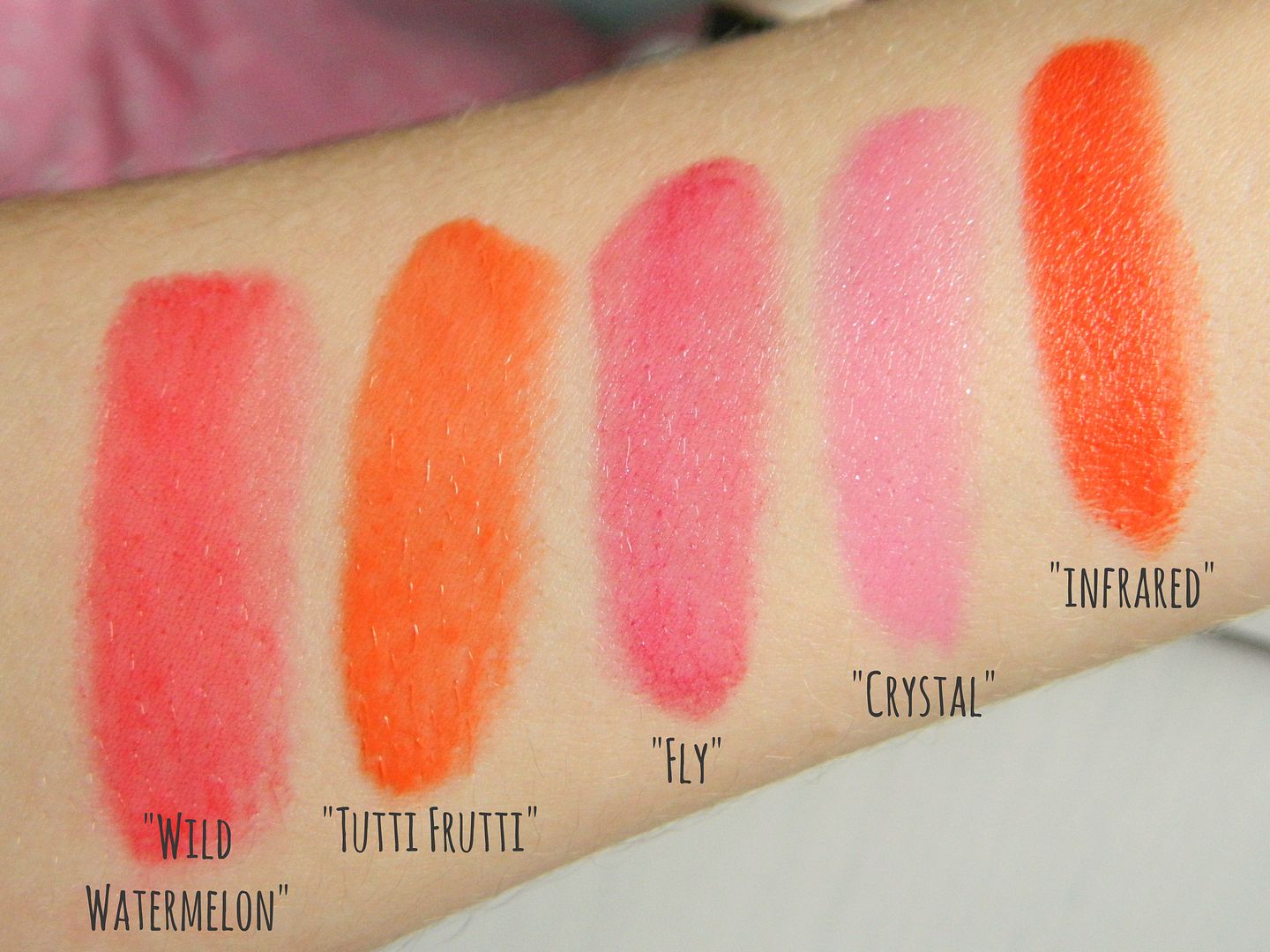 Hello everyone! I would like to start this post with a massive thank you to you all for helping me reach over 1000 followers through gfc! I'm so happy to have reached such an amazing milestone in this short amount of time (my blog will be 11 months old tomorrow - almost a year!). I really can't believe so many of you enjoy reading my rambles on here and I wish I could give each and everyone on of you a hug! Thank you so much!
Today's post is all about my top lipsticks for Spring and Summer! You may have seen my
Spring & Summer Nail Polishes post
, so you could call this the next post of the series. During the Spring and Summer I love wearing bright lipsticks, especially hot pinks and oranges! I've picked out a few lipsticks I have loved ever since last year, plus a couple that I've recently picked up and have been using non-stop!
I'm a massive fan of the Revlon Lip Butters and think they're one of the most perfect lip products for Spring and Summer. Their formula is smooth, moisturising and give a lovely amount of colour to your lips! The shade "Wild Watermelon" is a bright red/ pink which looks amazing at this time of year. You may have read in my April favourite's that I like to pair this with Benefit's Benetint to give it an extra pop of colour as on its own, it can look a little sheer! This shade is part of the limited edition Spring/ Summer collection, so I would recommend you trying this out as soon as you can!
"Tutti Frutti" was on of my first lip butters I bought last year after as this is when I started to wear more orange toned lipsticks. This lip butter is a bright orange shade that is very nicely pigmented with just a few coats! It has the same moisturising formula as "Wild Watermelon" which makes it feel very nice on the lips. If you're someone who wants to venture out into bright shades this Summer, this is the perfect lip product for you as you can build up the intensity of the colour to suit your preference!
"Fly" has featured in my favourites posts before and is really a perfect all-year-round lipstick. It may look like a standard pink lipstick, but the reason why I love it so much for Summer is because it has turquoise shimmer running through it which makes your teeth look whiter! It really brightens up your smile as well as looking pretty on your lips. I also love the formula and pigmentation of this lipstick; it really is one of the nicest products I've tried!
Topshop Lips Lip Tint in "Crystal"

LINK
This is my most recent purchase and has quickly jumped into my "favourite lipsticks" category! "Crystal" is a lip tint that reacts to the PH-balance of your lips to create a unique shade of pink that suits you! It also contains a lot of glitter (which surprisingly doesn't feel rough on your lips at all) and makes your lips sparkle in the sun light. This really is a gorgeous lipstick, even just to look at, and I can't wait to use it more over the Summer months! I already have my eye on picking up
"Jewel"
which is the orange version of this lipstick, it looks amazing!
Topshop Lips Lipstick in "Infrared" [Review]
My final Spring and Summer lipstick in the infamous "Infrared" by Topshop. I love this lipstick to bits and think the red/ orange tone suits my skin very well. The formula is also very smooth, pigmented and has a velvet finish which I really like. "Infrared" is probably my most worn lipstick during the Summer time and would highly recommend it to anyone who's thinking of trying it out!
So there's my favourite lipsticks for Spring and Summer time! I hoped you found this post useful if you were looking for some new lip products to try for the warmer months. Thank you for reading and I'll talk to you in my next post!
What's your favourite lipstick for Spring & Summer?