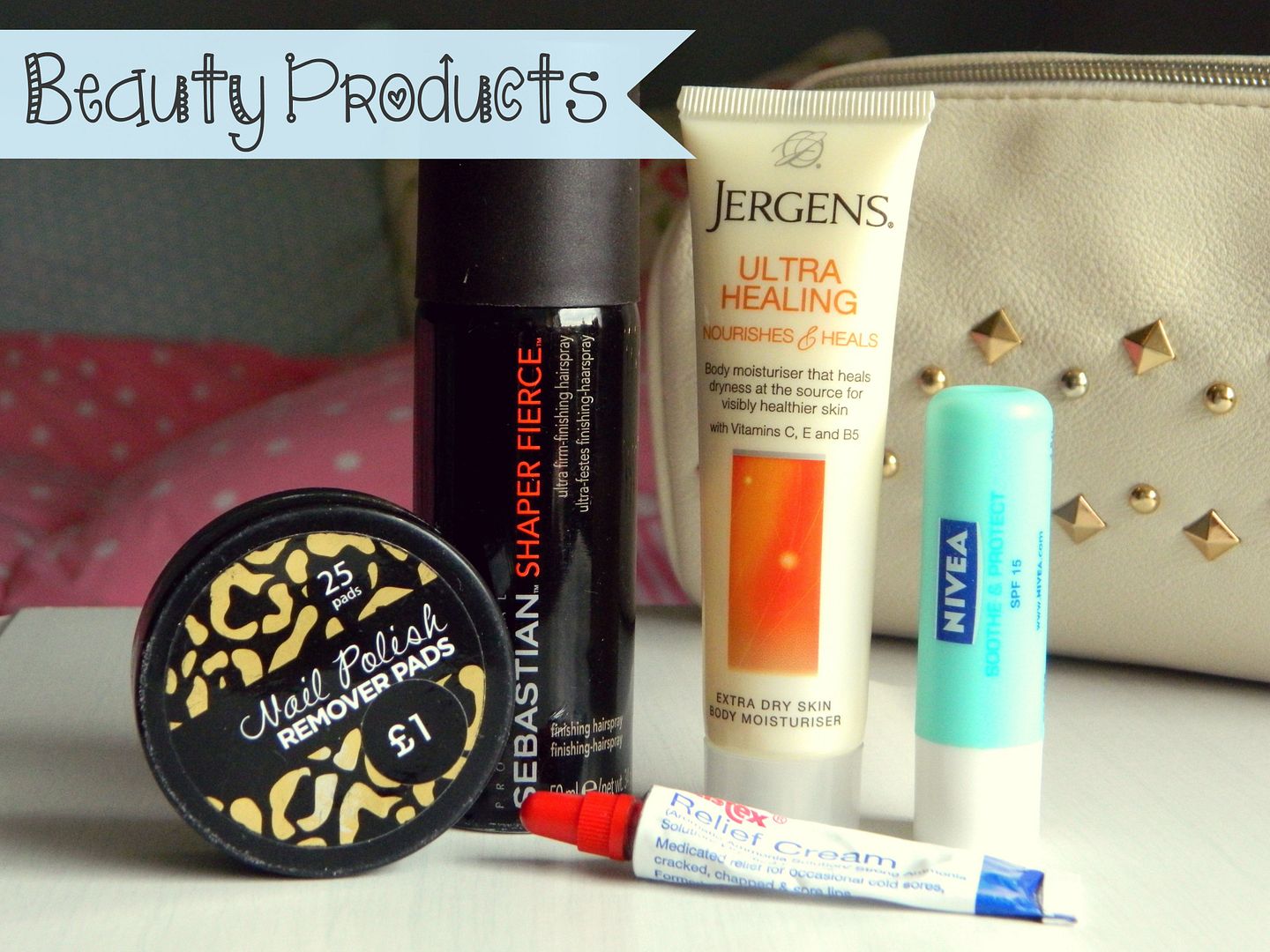 Hello loveies, today I'm going to show you what products I like to keep in my beauty bag! These are the things that I always take out with me in my handbag and that I class as "on the go beauty essentials". I'm someone who doesn't like to bring a whole selection of makeup, rather just a couple pieces plus a few other useful products! I have done a
"What's In my Makeup Bag"
post before, but I thought I would update you with what I am currently taking around with me. If you read the last post, you can see that I have a new makeup bag which again is from Primark and I believe it was around £3! I absolutely love the stud detailing and think it looks so pretty against the white leather effect.
♥ Makeup ♥
Like I said, I do bring a couple pieces of makeup with me where ever I go just for touch ups during the day. Firstly, I always bring my lipstick I am wearing that day and in this case it is
Topshop's Lip Tint in "Crystal"
. I recently picked this up and I am in love with it! It's such a pretty pink shade with lots of glitter in, definitely a perfect lipstick for Summer! Another lip product that's always in my beauty bag is
Bloom Cosmetic's Lip Butter in "Queen Of The Night"
. This is a sheer deep red/ pink and gives my lips a hint of colour, so is perfect for when I leave my lipstick at home! I also bring a mini sample of mascara with me for touch ups throughout the day and the one I'm currently using is
Benefit's They're Real
mascara. This came in the "She's So Jetset" kit I got for Christmas and to be honest, I'm not 100% keen on it. I like how it makes my lashes look but as it wears through the day, I can find it quite uncomfortable on my eyes! However, I am going to keep on trying it and hopefully use it up soon. Finally I always bring this mini sample of
Jane Iredale Powder Foundation* in "Golden Glow"
so I can touch up any shiny areas on my face. This is a lovely powder with great coverage and I find mattifies my oilier areas very well.
♥ Beauty Products ♥
The first beauty product I always bring with me is my mini can of
Sebastian Professional Shaper Fierce Ultra-Firm Hairspray*
. This hairspray is amazing and I completely agree that it's an ultra-firm hold as you only need a tiny amount to make your hair stay in place! I love using this to create volume at the roots when my hair has fallen throughout the day. Next up is a sample of the
Jergens Ultra Healing body lotion
that was a freebie in Marie-Claire last month. Areas of my skin, like my elbows, can get very dry throughout the day and I find this is perfect to apply to help soften them back up! It sinks in quickly, has a very nice smell and because I liked it so much, I also bought it in the
hand cream
version which is just as lovely! The next 2 products that are always in my beauty bag are my 2 favourite lip balms, the
Blistex Relief Cream
and
Nivea's Soothe & Protect balm
. Lip balms are an essential to your handbag and I find these ones together keep my lips chap free and super soft! I really recommend these 2 brands for lip products as I always find they help my lips when they're sore, especially in the Winter. Finally, I keep this little pot of Primark Nail Polish Remover Pads for days when my nail polish chips so much, I have to take it off! These are surprisingly very good, however they do contain acetate which can temporarily turn your nails white and dry them out, so I wouldn't recommend using these everyday. But they are great for an "emergency" or if you've been swatching too many nail polishes on your trip to Boots!
♥ Perfumes ♥
For keeping perfumes in your bag, samples are your best friend! I've accumulated a few over the past few months and I think they're really handy to keep in your bag for when you need a bit of sprucing up! The ones I have are:
YSL Manifesto
,
Ellie Saab Le Parfum
and
Van Cleef & Arples Oriens
. I like having different scents in my handbag as just having the same one can get a bit boring after a while! Finally I also have a roller ball version of
Vera Wang's Princess
which is my all time favourite perfume and is perfect for using as a little pick me up during the day!
So they're all the products I bring with me in my beauty bag every time I go out. I also have a golden bow compact mirror and packet of mini nail files (you can see them in the picture of all the products) which I think are a necessities for any girl's handbag! I hope you enjoyed this post and if there are any products you want a full review on, then please ask in the comments below!
What is your essential beauty product you always bring out with you?